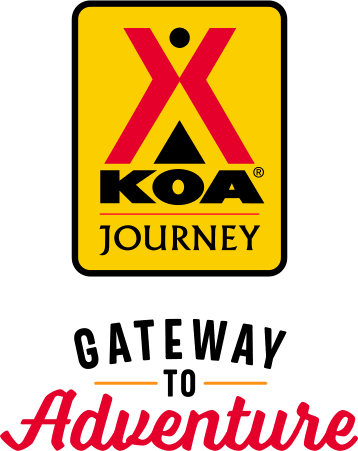 KOA Journey Campgrounds
KOA Journey campgrounds are the perfect oases after a day on the road. Whether it's along the way or a quick getaway, they've got you covered. Located near the highways and byways of North America with long Pull-thru RV Sites, they deliver convenience to the traveling camper. Pull in, ease back and take a load off.
KOA Journeys Feature:
Pull-through RV Sites with 50-amp service
Premium Tent Sites
Well lit after hours check-in service
Directions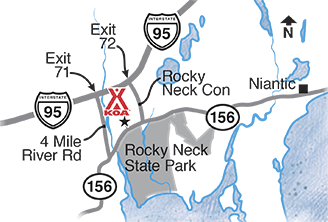 Interstate 95 North OR South to Exit 72. Turn Right at the bottom of the ramp and Campground Entrance is 800 feet on the right
Get Google Directions
Apr 05, 2021
Very quiet and accommodating.. Sites were flat and well maintained. Nice place to bring your furry friends with plenty of trails and play area to keep them busy. I would recommend Niantic koa
Mar 03, 2021
Great place, close to beach, maintained well, water pressure is too low,
Jan 08, 2021
My wife, daughter and I only stayed here for one night, but it was a great site. The staff was extremely friendly and helpful, especially since we were delayed and didn't arrive till late in the evening.
Nov 26, 2020
Loved the size of the site. Staff was friendly and polite. We went the last week of the season and leaves were an issue.
Nov 11, 2020
We were lucky to have one last camp out for the season here at Niantic KOA. The staff were still there friendly selves, and the autumn foliage did not disappoint. Our site had a nice canopy of trees, and the bath houses were clean.
Nov 10, 2020
Staff extremely friendly and helpful.
Nov 10, 2020
Very safe location and clean. Bubbles was extremely helpful and checked to make sure I did not need a thing. He led me to the glamping site and gave me a thorough walk around. The tent was nice and clean and the refrigerator was spotless. Everything was ready for me when I got there. Although it was cold at night the bed was equipped with a heating pad. So my night was toasty warm. Loved the site.
Nov 09, 2020
Just stayed 1night. Large camp sites, very friendly people and great camping atmosphere.
Nov 09, 2020
As usual we had a great time camping and staying at this camp ground. Thank you for a relaxing weekend!!!
Nov 08, 2020
I guess they can charge what they do based on the campground's location............because the facilities are poor. Old and tired. Nice enough staff, but everything needs updating and improvement.
Nov 04, 2020
We've stayed at a few KOA in the Fall and this one isn't as appealing to the others. Leaves not blown away from campsites, no real store, playground needs to be redone and more for kids.
Nov 02, 2020
It was cold and I ran out of wood - the staff came right over with more wood and gave me suggestions on how to keep fire going. I cant wait to visit again in the spring!
Oct 26, 2020
They are perfect! Small personal campground feel with the amenities of a KOA!
Oct 26, 2020
The stay was very nice. The owners were accommodating for us. And gave us good suggestions on places to eat. The only complaint is the loud music from the vehicle that pumps your camper out. We had a great time though
Oct 26, 2020
The staff was so friendly and accommodating. We had a great site and the bathrooms were very clean. We are looking forward to going back next year.
Oct 26, 2020
It's a small campground with not much to offer. I think it's pricing is a bit high for no sewer hookup. It's good for a quick weekend in the fall or spring but no pool or much activities
CAMPGROUND RESPONSE / COMMENTS:
Thanks for staying with us at the end of October, it is true we do not offer a lot of activities then besides Fire Truck, Wagon, Tie Dye, Rock & shell painting but during the Summer we have a full activity schedule for the family as well as a shuttle to the beach and much more to come Stay tuned.
Oct 25, 2020
Friendly, accomodating staff. Convenient location.
Oct 22, 2020
Will be back! Loved our glamping site, staff was absolutely wonderful and had plenty of activities for the kids.
Oct 20, 2020
I just love it there the workers and the owners are so friendly and helpful they're improving the Campground every day it's a great location lots of things to do in the area and in the campground looking forward to next year's camping season
Oct 20, 2020
Exceptional Service & personal with fantastic attitudes. Clean bathrooms, Warm Showers, Propaine & Pumpout services, Stable Electric. Internet needs ro be improved. On a scale of ten, this is a 9.9 facility. Highly recommend
Oct 20, 2020
Our grandson loved his weekend stay! He wants to go back again soon!
Oct 19, 2020
I really enjoy this campground. We have been there several times this year. My only issue was at our last visit. We were in site 101 and there is a huge tree stump on the site and I tripped over this stump head first. I went to front desk and wanted talk to someone and was told the owners would come see me and I never saw them.We would like to stay at this campground next yr for a month if possibl
Oct 18, 2020
Bubbles was wonderful. He helped us dump and hook up. He was so very friendly. Kudos
Oct 16, 2020
Staff was Very pleasant and Very helpful, love love the dump site with hose. It was raining so didn't get a chance to much of the park.
Oct 14, 2020
I'VE had a great stay !! All the staff are very hard working and Helpful and Friendly...
Oct 14, 2020
Good location, close to many day trips and hikes. Only small complaint is hard to find the gray water hook ups at site. Grate place for kids to ride bikes, with Rocky Neck State Park across street.
Oct 13, 2020
Staff professional and friendly! Site are tight, but well maintained.
Oct 13, 2020
We Really liked our stay in Niantic. The Staff was very helpful. My one complaint was the presence of political signs and a large flag depicting a skull with crossed automatic weapons. We felt with all the little kids around there was no need for that stuff. Vacation, should be just that, a chance to get away and have fun. Thank you
Oct 13, 2020
Site was a dirt pit. very tight location. High cost for what is offered. No sewer.
CAMPGROUND RESPONSE / COMMENTS:
We do not advertise sewer hookups and are very clear that we offer grey water disposal(sink and shower) at the site. Our site descriptions are clear; we do not offer "dirt pits" and as for cost, it was a holiday weekend with a 3 night minimum, which you were aware of before placing your reservation.
Oct 12, 2020
Staff was very friendly and helpful. Bathrooms were clean. Can tell they are trying to upgrade, new electric has been installed, gravel has been spread to level sites and one new set of bathrooms have been installed. Still alot of older seasonal units on the grounds and we ended up between two. May visit next year as like the area and know they are working on improvements.
Oct 08, 2020
The Staff John, and Bubbles hands down the reason why we stay true to this KOA never have i seen a worker not owner treat there guests like they themselves want to be treated. Than add in an owner that backs there employees, its what you want to see in a establishment, and where you want to stay
Oct 07, 2020
Very pretty campground! Staff was friendly and helpful. We would stay here again when visiting family.
Oct 07, 2020
Wonderful nights
Oct 05, 2020
The staff here are amazing. We were taking our camper out for the very first time and everyone we came into contact with offered help and advice. They deliver wood and ice to the campsite, and there were plenty of activities for the kids. The campsite is also nicely situated if you want to see nearby attractions. We will definitely return! Thank you!
Oct 05, 2020
Sites are tight.
CAMPGROUND RESPONSE / COMMENTS:
Your site was 90 ft long and at least 40 ft wide. Maybe you meant a different park
Oct 02, 2020
Met our son and his family for a grandparents campus. Great time. Lots for kids
Sep 30, 2020
Very friendly staff!
Sep 29, 2020
Very convenient location with friendly staff. We had a nice end site but very dusty with no grass on our site. Some older seasonal sites need tidying up but overall good!
Sep 29, 2020
Good location with a Pull through with water and electric - no sewer. Lots of dirt and the place has a lot junk laying around. At $70 a night, it's overpriced.
Sep 29, 2020
Everyone was friendly and helpful especially John.