COVID-19 ANNOUNCEMENT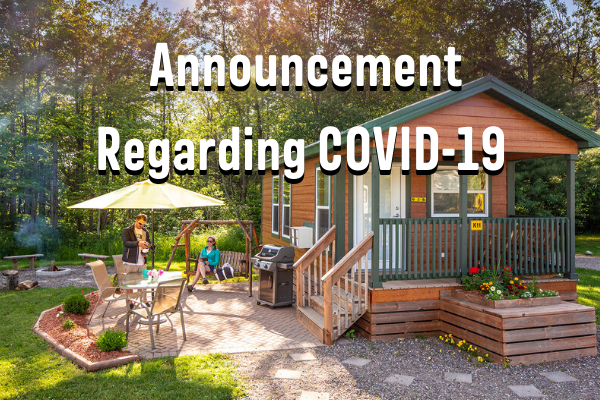 The following policies will go into effect immediately at the Niagara Falls KOA Holiday in an effort to abide by local government recommendations to slow the spread of COVID-19.
Please note: RV and Tent sites will remain open at this time, and available for future reservations.
Starting today, will be implementing the following changes:
• Suspending all accommodations through April 20, 2020. This includes reservations made to Camping Cabins, Deluxe Cabins, Airstreams and other unique accommodations. We will be reaching out to customers with existing reservations during this time-frame to modify or cancel.
• Closing indoor recreation and event space. This will also include group activities and events that could put guests at risk.
• Amended check-in. We will be modifying the check-in process to deter gathering indoors and limiting person-to-person contact.
• Limit access to outdoor recreation space to encourage social distancing for the next 30-days.
We do not take these cancellations and restrictions lightly, but the safety and security of our campers and staff are our main priority. We are still accepting reservations for RVs and tents and will encourage social distancing during this time.
Further, the KOA National Cancellation Guidelines will allow our campers to either modify or cancel their existing reservations between now and April 30, 2020 up to 24 hours ahead of the scheduled check-in without a $10 cancellation fee or the loss of their deposit. Campers who cancel within the 24-hour time window of arrival will forfeit their deposit.
We appreciate your cooperation and understanding during this difficult time. We look forward to seeing you this summer.