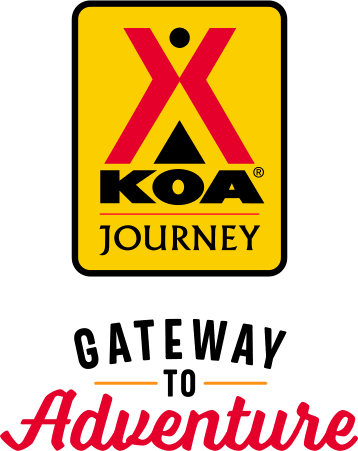 KOA Journey Campgrounds
KOA Journey campgrounds are the perfect oases after a day on the road. Whether it's along the way or a quick getaway, they've got you covered. Located near the highways and byways of North America with long Pull-thru RV Sites, they deliver convenience to the traveling camper. Pull in, ease back and take a load off.
KOA Journeys Feature:
Pull-through RV Sites with 50-amp service
Premium Tent Sites
Well lit after hours check-in service
Directions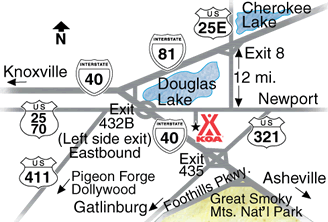 From I-40: Take Exit 432 to 25W-70, then 1.6 miles to KOA on right.
From I-81: Take Exit 8 to 25E south for 12 miles, then right on 25W-70 to KOA 1/3 mile on left.
Get Google Directions
May 10, 2021
This RV park is in a beautiful setting…wooded and scenic. I would rate it higher except the amenities are fairly minimal and the facilities are older. The sites are good but sewer stations, etc. are old and seem to be in need of maintenance. Love the setting and all of the trees. It is very close to I-40 so if traffic noise bothers you, you may not be happy.
May 09, 2021
This KOA should not be rated as a KOA. The park is old and not well care far. Far too many permanent residents. It reminded me of an old run down Mobile Home Park. We did not feel safe and would have left if other lodging was available. We will never return; nor recommend this park to others.
May 08, 2021
For my visit, the noise from I40 was too loud. The WIFI was very poor and impacted our planned activity (work related). Laundry facilities hours were not convenient.
May 08, 2021
Our pull thru site was narrow and uneven. The wifi was very slow. Laundry room had daytime hours. I would use again only for an overnight stay.
May 06, 2021
Mostly full timers. Next to I-40 with lots of traffic noise. Very narrow road entering with small bridge without guard rails. Lots of trees too close to sites. Fire pit was full of cigarette butts and wrapper. Not a place to feel good about.
May 06, 2021
Loved all the open area to walk the dogs. We are not used to the road noise, so that bothered us some at night. We loved the dog park area for our dogs. The bench does need repairs. We were afraid to sit on it. The camping sites were great and evenly spaced. The office staff was friendly and eager to help.
May 06, 2021
Great shady sites, fantastic laundry room, friendly people and staff.
May 03, 2021
Tight sites, very clean and quiet.
May 02, 2021
Excellent place to stay. It's clean and quiet. The staff was great!
May 01, 2021
Really nice campground with very friendly helpful staff. I stayed there at the beginning of the week on my way to Kansas City and made it a point to stay there on the way back rather than driving any further that day. Will gladly make a travel stop again.
Apr 30, 2021
We love it at this park. This was the third or fourth time here. Last time was in October and the leaves were beautiful. Friendly people. Very nice laundry room.
Apr 30, 2021
There was nothing but sand and we had to pay eight dollars for two visitors to visit for one afternoon. If they were to come back the next day we had to pay another eight dollars.
Apr 29, 2021
The worse part was the spots on either side had different people there every morning. I would rather to be beside someone that would be there for a while and not people coming in at 10 at not and setting up
Apr 29, 2021
Beautiful area! It was nice having the half bath in the cabin (no midnight walks to use the restroom)! The restroom/showers were being repainted, but it didn't cause an issue in using the facilities. It was a nice touch with the offering of free firewood! Thank you!
Apr 28, 2021
Very nice camp ground. Clean and neat.
Apr 26, 2021
Site was not at all level. Leaned to right. Campground was very unkept. Ok place to stay but when I book a KOA I expect a certain standard. Surprised they have a KOA rating
Apr 26, 2021
Great location to enjoy the smokey mountains or even ashville. Is located next to the interstate so bring your sound machine or turn on the AC. Camp hosts are very nice and accommodating to late arrivals. Would definitely stay again.
Apr 25, 2021
Older park, the best sites were taken by long stay campers. All roads and campsites are gravel but there was plenty of fresh new gravel on the loop roads. Good for a one night stop or if you plan to spend most of your time away from the campground. It is extremely close to I-40 and traffic noise was quite loud. I would recommend for a one-night stop.
Apr 19, 2021
Staff was great. However, load music played from cabin behind our campsite until 1 am. People staying there were loud and we could not dleep
Apr 16, 2021
Bad direction to camp ground from east bound on I 40. Not enough near level sites and no cable TV. Management was not will to come to our unit to discuss the problems. The greeter was relunted to help us to get to our site.
Apr 15, 2021
Nice Park. Traffic noise is a bit loud.
Apr 13, 2021
The staff was very friendly and helpful. My only complaint was our fire ring hadn't been clean out in sometime.
Apr 13, 2021
Site was not very level and the campground was way too close to the interstate. We had a full hookup site but were unable to empty our holding tanks because the sewer line was plugged.
Apr 12, 2021
Loved it! Efficient staff, friendly and helpful. Great facilities, really liked the cabin with the bathroom. Thank You!
Apr 12, 2021
Nice campground, clean, staff very friendly. This was my first KOA stay, and I did not like how close the campsites are to each other. I will now just stick with state park or private campgrounds so that the neighboring campers are not right outside my front door. Good campground, just way to close to the neighbor for me.
Apr 12, 2021
Very friendly people and nice campground. Would definitely stay again
Apr 11, 2021
No cable on that site
Apr 09, 2021
Our first time in our new camper. Staff was friendly and helpful with all our questions. Very clean! Highly recommend!
Apr 09, 2021
Early closing, not but shut down, gravel everywhere, super skinny sites-firepits only feet from neighbor, high price
Apr 08, 2021
Always feels like home.
Apr 08, 2021
70 yards from the major I 40 interstate that carries EVERY semi across the state. It sounded like we were near a runway, a race track & a hydroelectric plant. Our parking spot was on a huge mound & impossible to level our motor home. Interestingly, there were 5 vacant very level sites all around us. We won't return. They shut off power at 8:15 pm for 3 hours! ���
Apr 08, 2021
I was disappointed. When I got there at 2 pm I was told that the cabin was not cleaned. They called the person that cleans and said it would be a while. To my surprise they only took 5-10 minutes. The cabin was not cleaned very good and my son and I decided to leave after about 4 hours. We were not happy with the condition of the cabin. We won't get a cabin again.
Apr 07, 2021
This is our second trip. Great place. Friendly and helpful people.
Apr 14, 2021
Just great people
- Charles Northern on Google
Apr 06, 2021
Picturesque and peaceful, lovely in Spring. It was my first visit but my family's second and we are already planning a future visit.
- Julie Jackson on Google
Apr 01, 2021
So nice. Wish we had more time.
- A Upton on Google