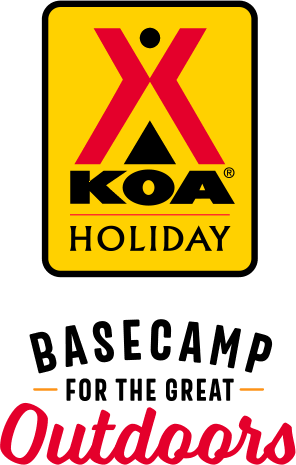 KOA Holiday Campgrounds
Whether you're exploring the local area or hanging out at the campground, KOA Holidays are an ideal place to relax and play. There's plenty to do, with amenities and services to make your stay memorable. Plus, you'll enjoy the outdoor experience with upgraded RV Sites with KOA Patio® and Deluxe Cabins with full baths for camping in comfort. Bring your family, bring your friends, or bring the whole group – there's plenty of ways to stay and explore.
KOA Holidays Feature:
RV Sites with a KOA Patio®
Deluxe Cabins with full baths
Premium Tent Sites
Group meeting facilities
Directions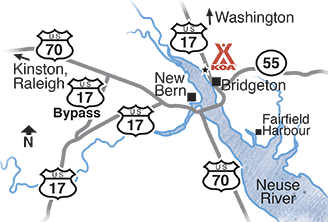 GOING 17 North (FROM WILMINGTON) - take 17 Bypass to Hwy 70 East, exit (147A). Follow 70 East to exit 417 onto Hwy 17 North (toward Washington). Campground on left in 4.8 miles on Hwy 17 North.
GOING 17 South (FROM WASHINGTON) - Campground on right 5 miles from historic New Bern.
GPS: N35.136150, W77.027164
Get Google Directions
Sep 15, 2021
Lovely and green, so friendly and safe. Close to great places to see and the beach too. Would really like more big wooden swings near the dock.
Sep 15, 2021
Very helpful and nice staff. Bathhouse was super clean and the whole campground was well taken care of.
Sep 15, 2021
Nice and clean camp site with all amenities.. I stayed here to participate in MS Bike Ride. Plenty to do within campsite or near by New Bern downtown.
Sep 15, 2021
Quiet, clean, level spots and beautiful view. Thank you - we'll be back!
Sep 15, 2021
Except for the trains, It was a GREAT STAY.
Sep 14, 2021
Always a great place to stay. We noticed all the new upgrades that have been made, great job!
Sep 14, 2021
great place to stay
Sep 14, 2021
It was our first time visiting New Bern and the KOA there. There are so much to do in New Bern I didn't think that there are a lot to do in the site. But while staying, my daughter played in the jumping pad and playground. Played with sand all day and made friends. We were able to see her from our cabin. We also did kayak and fishing which were the highlight of our trip. We will be back.
Sep 14, 2021
Property was emaculate and the staff were super friendly. You can tell they take pride in this campground. It was peaceful, plenty to do and the views of the river were outstanding.
Sep 14, 2021
It was my first time at a KOA and it was a great experience! Check in with Becky was very quick, easy and she was helpful with any questions we had. Me and my husband stayed in a deluxe cabin with our puppy and it was small and cozy but enough for us! Grounds were very clean and well kept. Campground was very quite and peaceful and the river views were breathtaking! We will definitely be back!
Sep 14, 2021
Awesome campground and customer service!!
Sep 14, 2021
Very nice campground, clean bath houses, friendly staff.
Sep 14, 2021
Just a great place to stay. The staff there are awesome and the campgrounds are very well kept! Will continue going back!!!
Sep 14, 2021
Love being able to see the water from out camping site after the brush was cleared! They're always improving and it is still our favorite campground!
Sep 14, 2021
Loved the view of the river from our front porch, the grounds have such a beautiful water view, would come back again to have more time to take advantage of the kayaking available! The cabin was so comfortable and pet friendly, the reason we didn't stay in a hotel, we will be back next time we have business in the area!
Sep 13, 2021
Price is getting too high for campers who are seniors on Social Security.
Sep 13, 2021
Robin was amazing!!! She helped us get checked in and also helped us become a KOA rewards member! We come down and stay for Bike MS every year but this stay made us want to come more often. Thank you so much for the cleanliness and amazing hospitality! Oh and you can't beat the views!
Sep 13, 2021
Very nice Just like last time
Sep 13, 2021
Cabins were immaculate and well stocked, amenities were clean and ample, staff very accommodating
Sep 13, 2021
Wonderful, relaxing, and kind staff.
Sep 13, 2021
Great campground Excellent staff
Sep 13, 2021
Clean bathrooms! We loved fishing and riding bikes all weekend!
Sep 13, 2021
Stay here at least 4 times a year. Very friendly staff , clean restrooms and close to downtown New Bern.
Sep 13, 2021
We had a wonderful stay. Everyone was very nice and friendly. The view of the river was very nice. The bathhouse was clean and well maintained.We really enjoyed the boat dock/pier area.
Sep 12, 2021
Clean and quiet. We were just 2 adults but I can see it would be great for families too.
Sep 11, 2021
Nice cool(great working A/C) small cabin, located close to shower and bathroom. Wish we had more time to relax.
Sep 11, 2021
Best Ever! Camping since 2010 in a class A from Fairbanks, AK to Key West, FL and from the Maine coast to San Diego, CA. This is our number 1 campground.
Sep 09, 2021
Park was beautiful and very clean. Lots of activities going on. Only issue I saw were there seem to be a lot of dogs without leashes and running onto other lots and in the road
Sep 08, 2021
Great campground with awesome staff and amenities!!!
Sep 08, 2021
We stayed at regular cabin over Labor Day weekend, we liked that there we a lot of activities for kids, but my son didn't to participate in most as there were no social distancing. But we liked Ice Cream party. Camp was very clean, we like separate bathrooms just near our cabin. Stuff was very welcoming and answered all questions. Negatives : Dogs with no leash; people smoking near cabins.
Sep 08, 2021
Super staff and location! It is a beautiful campground.
Sep 08, 2021
Staff was very friendly and welcoming. Bath houses were clean! Enjoyed the fishing and quiet night away!! Only issue was fleas in the cabin which was handled very promptly after I brought it to staffs attention. Will definitely return
Sep 07, 2021
Staff was very nice. Park was nice and clean. Only comments I have is our picnic table had one bench that was really bent and bench by checkers/chess had really bent boards as well.
Sep 07, 2021
Excellent facility and friendly staff make every stay with them fun and memorable . Centrally located to some of North Carolina's finest fishing. Making it a great base camp with lots of stuff for the family to do while your out fishing.
Sep 07, 2021
Lots to do!! We had a great few days to enjoy our new travel trailer! We will definitely be back!!
Sep 07, 2021
Everyone was super friendly and helpful!! A++ team all around! We'll be back!
Sep 07, 2021
Wonderful as always.
Sep 07, 2021
Great campground. Had a wonderful weekend.
Sep 07, 2021
Everyone that works here is absolutely amazing! The activities they have planned are perfect for adults and kids. Everything is clean and the whole park is laid out perfectly. We cannot wait to come back!
Sep 07, 2021
Wonderful Staff! Especially Mrs Pat, Robin, and Mr. Fred! This was our first KOA stay and we will definitely go again! Loved it
Sep 07, 2021
My wife and I spent our anniversary at the New Bern KOA. The campground was absolutely beautiful and the staff were kind and helpful. We definitely plan to come visit again. My only "complaint" would be that the bathroom facilities were not the cleanest, trash was often full but it's completely understandable on a holiday weekend when the campground is packed. Thank you!
Sep 07, 2021
Staff is very friendly. I just didn't like our site being older couple with no children being placed by the play ground and the pool is to noisy would rather have a spot near the back. And the DJ was very loud for us. Working in a school with 40 students during the week looking for quiet.
Sep 04, 2021
Very nice very clean
- terry kresge on Google
Aug 29, 2021
So much fun lots of things to do great staff clean park
- Rodney Pollock on Google
Aug 21, 2021
One suggestion. Place campers without children anywhere besides pool and playground area. Kids enjoy these areas and are very audible. If no other sites are available at least warn guest of their proximity to the playground area. Please consider this when assigning reservations spots. aware
- Susan Acosta on Google