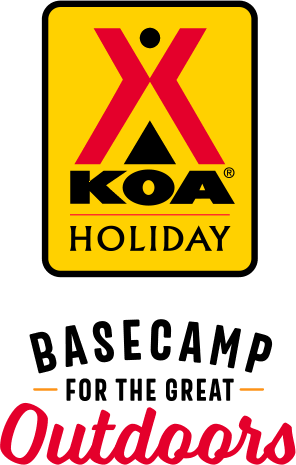 KOA Holiday Campgrounds
Whether you're exploring the local area or hanging out at the campground, KOA Holidays are an ideal place to relax and play. There's plenty to do, with amenities and services to make your stay memorable. Plus, you'll enjoy the outdoor experience with upgraded RV Sites with KOA Patio® and Deluxe Cabins with full baths for camping in comfort. Bring your family, bring your friends, or bring the whole group – there's plenty of ways to stay and explore.
KOA Holidays Feature:
RV Sites with a KOA Patio®
Deluxe Cabins with full baths
Premium Tent Sites
Group meeting facilities
Directions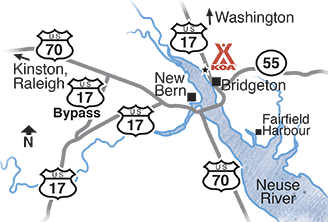 GOING 17 North (FROM WILMINGTON) - take 17 Bypass to Hwy 70 East, exit (147A). Follow 70 East to exit 417 onto Hwy 17 North (toward Washington). Campground on left in 4.8 miles on Hwy 17 North.
GOING 17 South (FROM WASHINGTON) - Campground on right 5 miles from historic New Bern.
GPS: N35.136150, W77.027164
Get Google Directions
Apr 06, 2021
We have nothing but good things to say about the New Bern KOA. Our site was very spacious and the view of the Neuse River was breathtaking. Each and every staff member was friendly and accommodating. Bathrooms were clean. Lots of areas for kids to play. The at site trash pick up and wood delivery were just icing on the cake. Highly recommend!
Apr 06, 2021
Beautiful site. Clean campground. Friendly staff.
Apr 06, 2021
The grounds are beautiful and staff are wonderful. The honking train in the middle of the night I could do without. Otherwise our stay was pleasant. One tip for the owner, the sites are tight but ok and we took note of 10pm quiet time, this time should also be in effect for campers that have those super bright lighting strips that when illuminated light up 5 camp sights (it ruins a campfire glow).
Apr 06, 2021
Super nice, very clean, nice people and great store, grounds where very well kept
Apr 06, 2021
Beautiful park, friendly staff!!!
Apr 06, 2021
This is on our "quick getaway" list. We love the campground, the staff and the beautiful sunsets over the water.
Apr 06, 2021
Beautiful campground - very friendly and helpful staff. :)
Apr 05, 2021
Great people there. Clean and very kid freely. Great playground and bounce pad. The newly paved roads made for enjoyable bike rides. We had issues the morning of check out and they worked with us if we had needed to stay another night but we were able to get things fixed, just had to check out a little later. I would highly recommend this campground. Loved the extra curricular activities they had.
Apr 05, 2021
great service, loved the due diligence of following cdc guidelines, friendly staff and clean bathrooms as well as grounds.
Apr 05, 2021
It was one of our best camping trips yet, we didn't want to leave. Everyone is so friendly, and we were very Happy Campers. Coming back in June
Apr 05, 2021
very nice the staff great
Apr 05, 2021
This was our 1st experience with camping. We absolutely had a blast!! All tye accessible activities you offered were fun had by all!!
Apr 04, 2021
This campground was so friendly, clean and fun for our three kiddos. They had a lot of things for the kids to do and everyone that worked there was very helpful and friendly. We had a great week!
Apr 04, 2021
Beautiful site with helpful, friendly staff. Extreme pride in making each camper's experience memorable. Looking forward to many return trips!
Apr 03, 2021
Our 4 month stay was wonderful. The staff are so friendly and helpful. The campground is beautiful and kept in great condition. It is very clean and Covid precautions were always taken. We have already reserved for next year!! We miss the beautiful sunsets from the pier.
Apr 03, 2021
Beautiful and well maintained campground. The views across the river are great. The staff was very friendly and helpful
Apr 03, 2021
The park is clean, employees are professionals. The reason for the low rating is for some reason KOA camp ground are very unleveled. I have stayed a many KOA'S camp ground and they are NEVER level.
Apr 03, 2021
Very clean and the staff was nice.
Apr 03, 2021
This was our 3rd trip and each time my main complaint is the internet and WiFi constantly going out day or night. That's very important to me and would cause me to consider other places.
Apr 03, 2021
We were incredibly happy with our stay! Leigh Ann at the front desk was very helpful and kind, and helped to make our experience the best one possible!!
Apr 03, 2021
Had a great stay! Very well kept up resort. We had a patio site and it had everything we needed! Will visit again!
Apr 02, 2021
Very clean, great sites and lots of things for kids to do. The office and outside employees were fantastic. Thank You All
Apr 02, 2021
The staff was friendly and the grounds and facilities were very clean and well kept
Apr 02, 2021
Was in the New Bern area working. This park is the prettiest, well kept park I have stayed in. Really friendly, helpful staff. Nice view of the river. Lots of maintenance being done to keep the park updated. New concrete walk way to the pier while I was there. Definite recommendation.
Apr 01, 2021
Clean, well supplied cabin. Super friendly and helpful staff. Wish the fishing accommodations could've been better, with more dock space or shoreline access. Would definitely stay again however.
Apr 01, 2021
Amazing place! Super friendly staff. Will definitely be coming back!
Apr 01, 2021
The campground is an excellent facility. The staff was extremely helpful regarding the smallest of details. There are convenient, super clean bathrooms and showers. The site had lots of amusements for kids, a nice dog park, catch-and-release fish pond, and a new fishing pier and boat launch. Highly recommend!
Apr 01, 2021
Wonderful friendly staff, understanding of our needs and specific accommodations. Respectful and kind. The cabin was wonderful.
Apr 01, 2021
We loved every minute. We already booked at another KOA in May. This KOA was clean, quiet and had an amazing staff!
Apr 01, 2021
everyone was grate good view
Apr 01, 2021
Very helpful staff in and outside of the office. The grounds are well maintained and the bathrooms are kept clean.
Apr 01, 2021
Most everything was great. We were near the dog park. The bright light of the park stayed on all night making it difficult to sleep especially with windows open. Wondering if lights could be turned off after 11 perhaps. Everything else was fine
Mar 31, 2021
Had a great stay!, staff very friendly and courtesy. My only complaint is, I wish they would post a koa sign about a half of a mile sooner, stating it is on the left side of the road. We had to drive 15 to 20 min out of our way to find a spot to turn around.
Mar 31, 2021
Like the improvements in the park. It was just 4 months since our last stay and as we drove in to our site it was like this is different. We liked the paved roads all thru the park verses the gravel. The changes to the back catch and release pond are nice. We also saw the work in progress in the river area. As usual the staff was super friendly and accommodating. We will be back!
Mar 31, 2021
Super pleasant staff, clean bathhouses and restrooms, plenty of things for kids and families, easy to get to from downtown New Bern. Sites somewhat close, but you know that going in. River front with large dock is amazing. It had the feeling of a very well-run establishment, which is comforting to see.
Mar 31, 2021
We love the KOA in New Bern! Awesome staff!!!
Mar 31, 2021
Awesome place.
Mar 31, 2021
Great stay. Friendly and helpful staff . Very clean sites and lots to do
Mar 31, 2021
Friendly staff and very helpful Noce and clean. We had a great time. Thank you
Mar 31, 2021
Very well kept campground with good service and amenities.
Mar 31, 2021
Everything about our stay was perfect
Apr 10, 2021
Great site and great staff This is our new favorite KOA!
- Richard Parker on Google