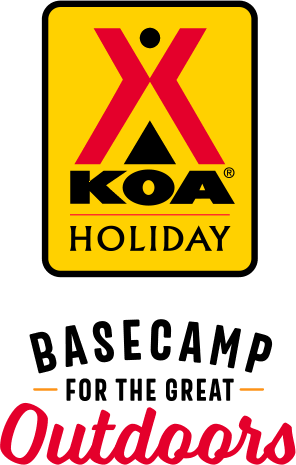 KOA Holiday Campgrounds
Whether you're exploring the local area or hanging out at the campground, KOA Holidays are an ideal place to relax and play. There's plenty to do, with amenities and services to make your stay memorable. Plus, you'll enjoy the outdoor experience with upgraded RV Sites with KOA Patio® and Deluxe Cabins with full baths for camping in comfort. Bring your family, bring your friends, or bring the whole group – there's plenty of ways to stay and explore.
KOA Holidays Feature:
RV Sites with a KOA Patio®
Deluxe Cabins with full baths
Premium Tent Sites
Group meeting facilities
Directions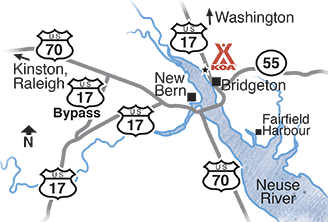 GOING 17 North (FROM WILMINGTON) - take 17 Bypass to Hwy 70 East, exit (147A). Follow 70 East to exit 417 onto Hwy 17 North (toward Washington). Campground on left in 4.8 miles on Hwy 17 North.
GOING 17 South (FROM WASHINGTON) - Campground on right 5 miles from historic New Bern.
GPS: N35.136150, W77.027164
Get Google Directions
Jun 16, 2021
We love the New Bern KOA. This stay we were in the small deluxe cabin and we were not impressed. The AC is not good and our children were REALLY hot at night. I would not recommend the small deluxe cabins.
Jun 16, 2021
This was our second time staying here at this KOA and they are always friendly and accommodating! The facilities are very well keep and very clean!
Jun 16, 2021
Staff was very nice and helpful. Kid friendly park. Very well maintained. One of the best KOA parks we have stayed at.
Jun 16, 2021
By far one of the best KOA's we ever stayed at. Friendly service, cleanliness, accessibility. Everything looks new from the paved roads to the laundry area, And pool furniture. Great for walking and biking too.
Jun 16, 2021
Very nice and clean. Great laid out campground.
Jun 15, 2021
Staff was awesome, lots to do! Great Part, will be back. If anything could be said to help, I would say add a little more gravel to slot 88 picnic table area to help with the black mud, but other than that was a awesome stay!!
Jun 14, 2021
Awesome clean beautiful campground. Best KOA I have ever visited!
Jun 14, 2021
Very clean and well maintained park. Lots of fun activities for families.
Jun 14, 2021
Everything was great except being in a buddy site with no buddy, so we had strangers parked with us which was uncomfortable.
Jun 14, 2021
We had a tent site #2 and it was perfect! Will be back.
Jun 14, 2021
Clean and staff are friendly.
Jun 14, 2021
Great campground for families! We loved the pool and playground area. Very friendly staff.
Jun 14, 2021
Friendly staff, clean campground, enjoyable stay!
Jun 14, 2021
peaceful, well maintained, clean baths and showers, friendly staff
Jun 14, 2021
This is our favorite KOA campground we have ever stayed at. Robin in the front office was so incredibly friendly and every time we needed something she was always willing to help us out. The signature sites were great and the proximity of the campground to the river was fantastic. We already booked our next trip.
Jun 13, 2021
Always amazing. The folks are so kind... my stupid dog got out last time and they rescued him and let the 110 lb beastie drive around in the golf cart with.them till I got home.....
Jun 13, 2021
To bad it rained but love the camp site
Jun 13, 2021
We really liked this KOA. Very nice, very clean, helpful staff. Fun things like big games, etc.
Jun 13, 2021
Wonderful stay, despite the rain. We stayed in Cabin 2. Pat was really sweet and helped us out in a pinch. Robin was awesome, and so was her husband whose name I didn't catch. He helped fix my son's fishing rod at the pond. Very nice staff, very nice campground.
Jun 13, 2021
Awesome staff. Super clean. I came to location to buy a boat. It was bigger than I thought. The staff found a place for me to park it and even helped me back in. Everyone was so friendly. The views are spectacular.
Jun 12, 2021
Very nice as well as clean campground. The staff is pleasant. We had a nice view of the Neuse River. The only thing I would suggest would be to add some activities like Bingo, DJ Dance night or movie night.
Jun 12, 2021
We enjoyed our time with you, rain and all.
Jun 12, 2021
We enjoyed our stay and will definitely be back!
Jun 12, 2021
Clean quiet and well staffed enjoyed our stay and will return in the future
Jun 12, 2021
Had a great relaxing although rainy time. Met lost of great folks. Perfect distance for our shake down trip in the new motorhome.
Jun 11, 2021
Great visit with all the needed amenities.
Jun 11, 2021
Brought grandchildren and stayed in full cabin for cooking option and personal bath. So glad to see so many things for them to do almost on their own.trikes were great and grandson wanted to know where he could buy one!
Jun 11, 2021
Very clean, well appointed. Great place for family with plenty of fun for the kids...pool, playground, fishing, bounce house. Loved it, would definitely return!
Jun 11, 2021
Exceeded all of our expectations! Would love to have stayed longer. The kids want to make this an "every year" trip! The only thing I would like to see is more pool time! The staff was friendly and very patient! They didn't mind answering all of my questions, and I had alot! We have already posted on Facebook vet lengthy recommendation!
Jun 10, 2021
This is one of the best KOA's we've ever stayed at, and we've stayed at many. Clean, neat and friendly. Loved everything about New Bern KOA.
Jun 10, 2021
Awesome place!!
Jun 09, 2021
We enjoyed our stay and the campground and staff were great.
Jun 09, 2021
Very nice overnight wish we could have stayed longer
Jun 09, 2021
So pleasant we renewed our KOA membership on the spot! All the staff we encountered were wonderful.
Jun 09, 2021
Loved it. Everything is so clean and nice. The showers are fabulous, people are friendly. I love the camping cabins. I would be happy to stay there anytime
Jun 08, 2021
This has now become my favorite KOA. We stay all along the east coast and this location by far is the most beautiful and well maintained location. The staff is friendly and very helpful.
Jun 08, 2021
Extremely neat and tidy KOA on the Nueces River. Very friendly staff. Would stay there again
Jun 08, 2021
Wish there were more showers but was good
Jun 08, 2021
Nice campground right in the Neuse River! Very clean grounds and attentive staff! Restrooms were very clean also. Convenient to New Bern also. Highly recommend as a great destination campground!
Jun 07, 2021
This is a well-run, well-maintained campground that has good amenities for every type of camper.
Jun 07, 2021
Beautiful & quiet campground! Staff was extremely friendly and helpful!
Jun 07, 2021
Great experience and a wonderful location!! Will definitely utilize again when we are in the area.
Jun 07, 2021
The campground was very clean and well maintained. Alot to do especially for kids. All the staff was friendly and helpful.
Jun 07, 2021
It was a great time with great neighbors.
Jun 16, 2021
Great RV park.
- Barbara Norris on Google
Jun 15, 2021
One of the best KOA RV camping resorts in the country. 1) very clean park…when someone leaves they ACTUALLY come and clean the sites. 2) restrooms, showers and laundry clean and in great shape. 3) EXCELLENT indoor and outdoor staff. 4) very nice swimming pool, games, ponds for fishing, bikes, paddle boats and nice dock. We loved our stay here even with the RAIN, thunder/lightning, heat and humidity. We will return
- 2013TravelinFool on Trip Advisor
Jun 13, 2021
Wonderful weekend with our family...love this KOA campground
- Kristie Nixon on Google