Local Area Attractions Near New Bern KOA Holiday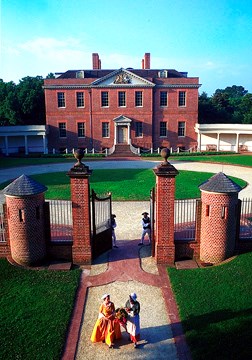 Tryon Palace Historic Sites and Gardens
610 Pollock Street,
(252) 514-4900
Known in colonial times as one of the most beautiful public buildings in America, the elegant Georgian-style mansion served as both home of Royal Governor William Tryon and the capital of the Colony of North Carolina. Restored to its 18th-century glory, Tryon Palace is furnished with an outstanding collection of antiques and art. The grounds are devoted to extensive gardens ranging from English formal gardens to a kitchen garden to wilderness garden areas. The complex includes four contrasting homes of exceptional beauty. Interpreters in period costumes conduct tours all year. An audiovisual orientation program and crafts demonstration, including cooking in the Tryon Palace kitchen, basket weaving and blacksmithing, are offered daily.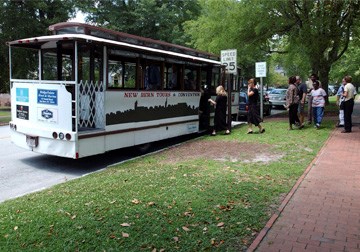 New Bern Tours (Trolley Tour)
333 Middle Street
(252) 637-7316
Discover three centuries of history and architectural beauty in a 90-minute trolley car tour of downtown New Bern. Professional guides will recount the fascinating details of this former royal capital of North Carolina.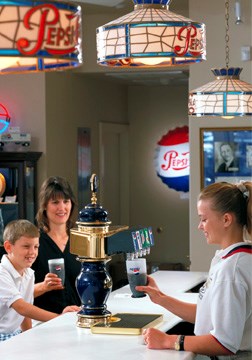 Birthplace of Pepsi
256 Middle Street
(252) 636-5895
On this spot in his pharmacy, Caleb Bradham invented "Brad's Drink," which later he patented as Pepsi Cola. Today you can relax and enjoy a Pepsi Cola at the recreated soda fountain and purchase a souvenir.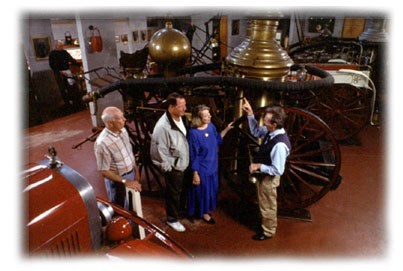 Fireman's Museum
408 Hancock Street
(252) 636-4087
This building houses steam pumpers and an extensive collection of early fire-fighting equipment along with rare photographs, Civil War relics, and even the mounted head of a faithful old fire-horse named Fred, who died while answering an alarm.

North Carolina History Center - Tryon Palace
The new North Carolina History Center has revolutionized the visitor encounter at the state's premier historic site and sets a new standard for the museum experience. History Navigator tours using portable interactive devices add an exciting new dimension to our historic sites. Rotating exhibitions and the wide variety of interactive historical activities keep the experience fresh and exciting with each visit.
http://www.tryonpalace.org/nc_history_center.php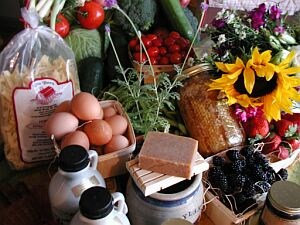 Farmer's Market
421 South Front Street (252) 638-4408 Fresh local produce is available. The Farmer's Market is a location for community gatherings and events and can be rented for special occasions.
Saturdays from 8:00 AM to 2:00 PM
New Bern Civic Theatre
Saax Bradbury Playhouse 414 Pollock Street (252) 633-0567 The New Bern Civic Theatre presents dramas, comedies, musicals and even performances in sign language. Call for a complete listing of performances and dates.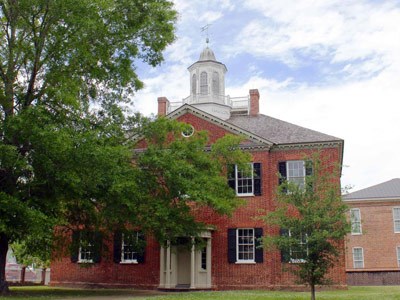 New Bern Academy Museum
Corner of New Street and Hancock Street (252) 514-4951 The New Bern Academy Museum building originally served as a school house for boys and girls, then served as a hospital in the Civil War and in 1881 became part of the New Bern Graded School System. Today there are four permanent exhibits: Early New Bern History, Historic Architecture of New Bern, Civil War and History of Education in New Bern. The Museum is open Monday through Saturday from 1:00pm until 4:00pm and admission is $2 for adults and $1 for students.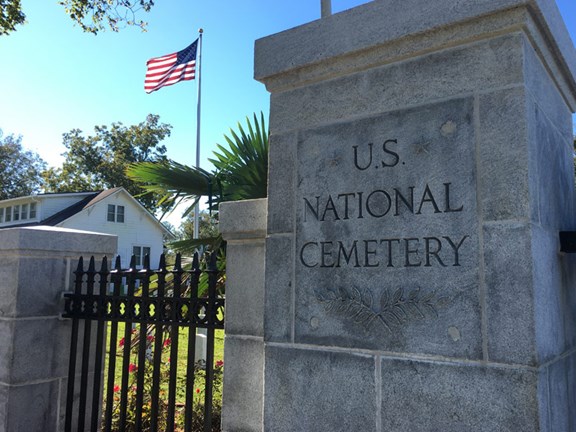 National Cemetery
National Avenue (252) 637-2912 The graves of brave soldiers who fought and died for our country make up this cemetery.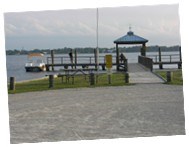 Great Campground Features
Our camping facilities are truly full-service. Plus, we've taken the "roughing it" out of camping by offering camping cabins and deluxe cabins all equipped with heat, air conditioning, fans, and wood framed beds with soft mattresses

Riverfront

Full and partial hook-ups

50 AMP pull-through sites

Camping Cabins

Deluxe Camping Cabins

Clean rest rooms and hot showers

Swimming pool

Laundromat

Full-service camp store

Propane

Cable

Playground

TV/Computer Room

Wireless Internet

Bark Park for pets

Group Pavilion

Soccer Park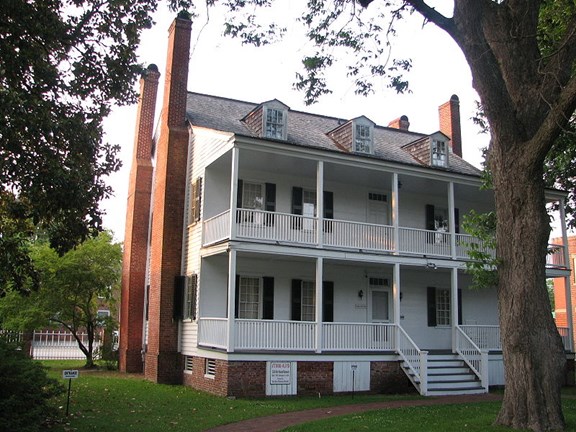 Attmore-Oliver House
513 Broad Street (252) 638-8558 This home (c.1790), headquarters for the New Bern Historical Society, exhibits 18th- and 19th- century furniture and New Bern historical objects, including Civil War artifacts, and a unique doll collection. The house can be rented for special occasions and business meetings.
Craven Arts Council & Gallery
317 Middle Street (252) 638-2577 This former bank building (c.1913), headquarters of the Craven Arts Council and Gallery , is both a cultural and an architectural treat. Changing exhibits of various media such as painting, sculpture, photography, pottery, and fiber art by artists of the southeastern United States are provided free of charge in the gallery area.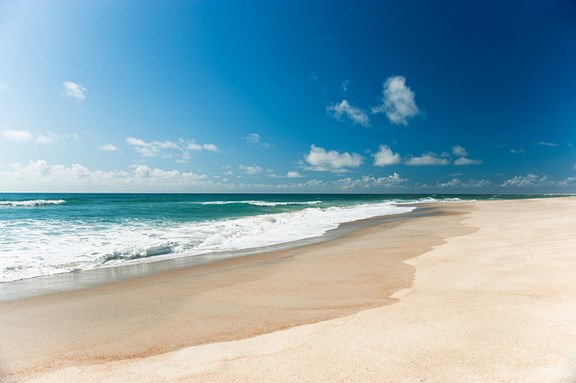 Atlantic Beach, NC
Only a 30 minute drive from the campground you will find the Crystal Coast. Whether you just want some fun in the sun with a little sand in your shoes, this coast is a gorgeous spot to spend the day.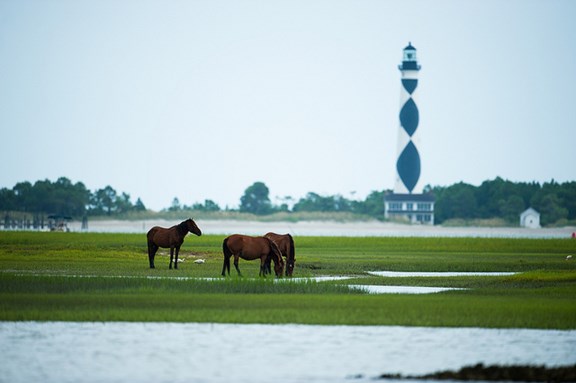 Cape Lookout National Seashore
Take a boat trip three miles off-shore to the islands of Cape Lookout National Seashore. Here you can enjoy remote beaches, watch wild horses and other wildlife, or visit one of the historic districts. Be sure to bring a picnic lunch for the day. Catch a boat trip out of Harker's Island, Morehead City or Beaufort and enjoy a full day of fun.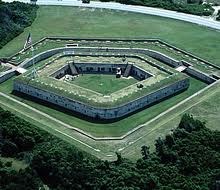 Fort Macon, Atlantic Beach, NC
Only a 30 minute drive, Fort Macon offers public access to the surf, sun and sand of the Crystal Coast—as well as a historic landmark. Located at the eastern end of Bogue Banks, one of a series of barrier islands along the North Carolina coast, the park is surrounded on three sides by water—the Atlantic Ocean, Beaufort Inlet and Bogue Sound. This area of undisturbed natural beauty is the perfect place to explore salt marshes and estuaries vital to the coastal ecosystem.The park is also home to a Civil War fort with a history as intricate and unique as the waterways of the sound. Visit Fort Macon to enjoy the land's natural beauty and soak up some history.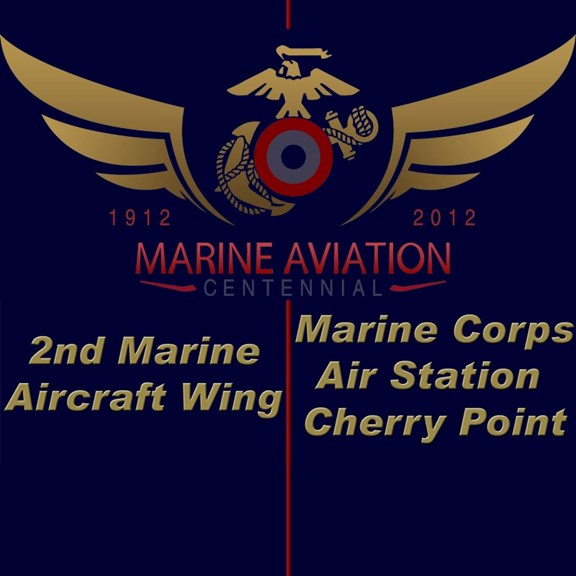 Cherry Point MCAS (Havelock)
(252) 466-4906 The largest Marine Corps air station in the nation. Tours are available and might include observation of military working dogs, flying squadrons such as Harriers, search and rescue helicopters, a crash fire and rescue demonstration, or a windshield tour of air station.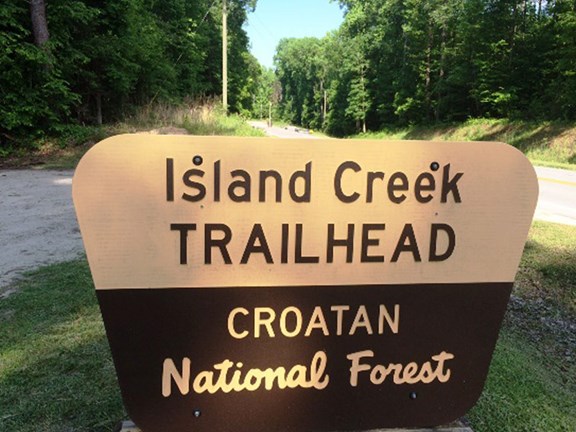 Croatan National Forest
141 East Fisher Avenue (252) 638-5628 This was one site of a battle that was fought in New Bern during the Civil War. Outdoor recreation opportunities include camping, picnicking, hiking, hunting, and fishing.
North Carolina Maritime Museum, Beaufort NC
Visit the North Carolina Maritime Museum in Beaufort for a taste of coastal cultures and maritime history. Exhibits feature the state's rich seafood industry, life-saving stations and lighthouses, and sailboats and motorboats. The Museum is the official repository for artifacts from Blackbeard's Queen Anne's Revenge, which ran aground near Beaufort in 1718.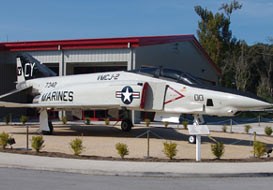 Airplane Aviation Museum (Havelock) Havelock Tourist Center (Havelock)
The Havelock Tourist Center, a multi-purpose meeting facility that can accommodate up to 600, features an aviation exhibit that highlights Marine Corps aviation in Eastern North Carolina. Four aircraft on loan from the United States Marine Corps and Department of the Navy will be on display, along with several static exhibits featuring local aviation "aces." The Tourist Center Complex includes a waterfront park along Slocum Creek featuring a nature boardwalk and boat ramp.