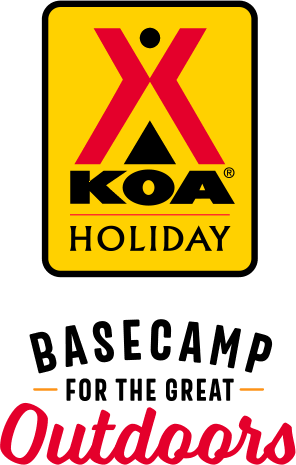 KOA Holiday Campgrounds
Whether you're exploring the local area or hanging out at the campground, KOA Holidays are an ideal place to relax and play. There's plenty to do, with amenities and services to make your stay memorable. Plus, you'll enjoy the outdoor experience with upgraded RV Sites with KOA Patio® and Deluxe Cabins with full baths for camping in comfort. Bring your family, bring your friends, or bring the whole group – there's plenty of ways to stay and explore.
KOA Holidays Feature:
RV Sites with a KOA Patio®
Deluxe Cabins with full baths
Premium Tent Sites
Group meeting facilities
Directions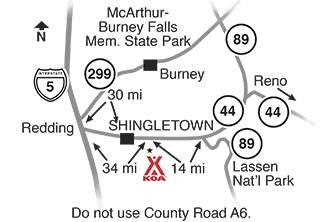 Take Highway 44, Lassen Park Exit off I-5: Go east 34 miles to KOA Road. We are located 14 miles west of Lassen Park entrance. GPS might misdirect you to take Hwy 36 from Red Bluff, California to County Rd A6: This road is not suitable for large RVs and towing vehicles.
Do not use County Road A6.
Get Google Directions
Oct 21, 2021
Staff always go above expectations. Fall Festival has become one of our favorite trips. Thanks again for the memories.
Oct 20, 2021
Very friendly and helpful staff/owners. It is a favorite for my wife and myself. Lots of fun activities, beautiful surroundings, and quiet!!
Oct 20, 2021
PERFECT! The Harvest Festival was an amazing family event. Sunday evening the weather turned cold, and it began to snow. Even though the power went out in the whole Shingletown area, Jim took good care of us, and we kept warm. Thank you for the wonderful stay.
Oct 19, 2021
this by far the best camp ground we have been in we have booked 5 more times for next year can not say enough about the owners and their staff
Oct 19, 2021
I think this was our third time for the fall festival and they just keep getting better all the time (if that's possible). All staff go above and beyond.
Oct 19, 2021
I have staid at several KOAs over the years and the Mt Lassen one is by far the absolute best one. The staff is awesome, the grounds are spotless and the park is in the pine trees where you actually feel like you're camping. I have staid at some that were right outside city limits that felt like we were camping on a parking lot. The Lassen KOA also has the end of summer fall festival. Aweso
Oct 18, 2021
Continually the best camping experience we have every year. Staff and owners are amazing. The grounds are spotless and cared for with love. The new WiFi is outstanding and was previously the only thing that we thought could had been improved. As always, the activities on special weekends were great fun for all! Thank you Jim & Diana and all the staff!
Oct 18, 2021
Outstanding staff! Activities available for all were fun, organized, and entertaining. Optional Tri Trip dinner was fantastic!!!
Oct 18, 2021
Jim and Diane make this a true family atmosphere
Oct 18, 2021
Jim and his team do a great job and we will continue to come back!
Oct 18, 2021
We stayed the 14-17 of October. This marks the 3rd year in a row that we stayed for the Halloween theme weekend. It literally is the best KOA we always have the best time and the staff are outstanding. Not to mention the whole campsite is very clean. If I could give more stars I would. Thank you Shingletown KOA
Oct 18, 2021
Best of the KOA's! Great place to stay!
Oct 18, 2021
My husband and I recently retired and purchased a half acre lot nearby the KOA Campground in Mt Lassen/Shingletown area. We stayed here for 5 nights while we went to work on our property everyday. I have been camping all my life and I must say this was one of the nicest campgrounds and friendliest staff I have ever encountered. I will encourage my family/friends when they visit.
Oct 18, 2021
Spacious, beautiful, super nice staff. Definitely will come back!
Oct 18, 2021
We stayed 2 nights with full hook ups. Staff is helpful and friendly. Grounds are mostly gravel with lots of trees, and plenty of room per site. It was a bit chilly there despite nearby areas much warmer. Great little trails throughout the park.
CAMPGROUND RESPONSE / COMMENTS:
Hi Jill, please let us know how we could have earned 5 stars. Thanks
Oct 17, 2021
if i could rate this any higher i would it is very well maintained clean the workers and owners care about you being there Jim and his wife are really gracious
Oct 15, 2021
Outstanding service and facilities �.
Oct 15, 2021
We love this place! Great amenities, super clean, friendly staff… literally our favorite KOA!
Oct 15, 2021
Only stayed overnight the cleanest shower area I've seen in all the KOA I've stayed at. Good water pressure had seat in shower and outside of shower. Motion light when you left the shower area came on
Oct 14, 2021
Good hot showers. Nice spaces. Lots to do.
CAMPGROUND RESPONSE / COMMENTS:
Hi Gwen, please let us know what we could have done differently to earn 5 stars. Thanks
Oct 13, 2021
This KOA is one of favorite locations - a must visit. The cabins are great! Thanks for also upgrading the WIFI as that is now an added benefit!
Oct 12, 2021
Wonderful time. Really liked the back area. It felt really haunted when we hiked through there at night! Really cool place.
Oct 12, 2021
Beautiful surroundings. Hosts very friendly, attentive and accommodating. Very clean and well maintained. Great playground and activities for kids. One of our favorite campgrounds. Will for sure return for more visits.
Oct 11, 2021
We stayed here 4 nights and had a great time. Clean and organized, courteous staff, and the recreation facilities were fun. Too bad we missed pool season.
Oct 11, 2021
Everyone so friendly once again! And helpful! Bathrooms as clean as always! Even have gloves and sanitizer at the Dump Station! Wow! What else will you think of??
Oct 11, 2021
This is by far our favorite KOA!! It's a gorgous campground, that is kept to high standards.The hosts and staff are warm and inviting. Bathrooms are pristine too. It's obvious they pride themselves on continued improvements. We will be back any chance we can!!
Oct 11, 2021
Being in the RV and camping industry are stay at this location in Shingletown was beyond top notch. The owner Jim and his entire team was amazing. the Grounds were superb. Stayed in the l3 lodge and its got us thinking we want one for are own now. I Very seldom rate stuff on internet so i just wanted to go out of my way to write this review. See You Soon. Mickey and Pebble.
Oct 09, 2021
This is the most beautiful most well-kept most well-run KOA we have ever stayed at gym the host was absolutely amazing along with his entire staff. The campground is immaculate the bathrooms are the cleanest I've ever seen in any public establishment can't really put into words how impressed I am with his location!!!!!!
Oct 09, 2021
Beautiful property and very friendly staff & owner.
Oct 09, 2021
ONE OF THE BETTER KOAS, VERY CLEAN AND THE HOSTS WERE AMAZING, LOVE THIS KOA AND COME HERE FOR FEW NIGHTS YEARLY
Oct 08, 2021
Beautiful wooded sites, numerous amenities all in great shape. Restrooms immaculate, staff and maintenance people were great. Thanks Jim & Diana
Oct 07, 2021
Very friendly staff, extensive grounds and lots of fun activities.
Oct 06, 2021
The best friendliest KOA I've been too, and I've been to a lot of KOA's across the nation. Thank you Jim and Diana and the staff. From site 9....see you all next year for our 8th year.
Oct 06, 2021
Very clean Kampground! Jim and his staff is very helpful and friendly. Love the new propane fire pits! We have had a family reunion at Lassen KOA for the last four years and have had a wonderful experience with the staff every year. The Kampground is perfect for family get togethers.
Oct 06, 2021
Fantastic! I had a horrible trip from Crescent City, CA to Shingletown via 299 and was a mess when I got there. The owner took me to our site which was, unfortunately, not level for my big rig. He immediately gave me a new site and all was well. It had taken me 8 hours to drive 250 miles and I was exhausted. Thank you!
Oct 06, 2021
Our stay was a great experience, Jim, Diana, and the whole team make you feel like family. We have stayed at many KOA's and this one is one of our favorites. They have made many upgrades and keep the park very clean. We will will be returning to this KOA many more times in the future.
Oct 06, 2021
Great park, great Team and Owner. They care and it shows. Beautiful place that will stay one of our go to's in NorCal. We will be back.
Oct 05, 2021
Excellent facility, super friendly and efficient staff and owner, great amenities. Can't wait to stay there again!
Oct 05, 2021
Always a great experience! Super clean and maintained, friendly, personable staff! Jim and Diana always a treat to visit! Thanks again, Merry Christmas, Happy New Year, and see you next season!
Oct 05, 2021
we love this place wish we could get up there more the owners are wonderful .very clean place very well maintained
Oct 05, 2021
Came back to stay and Jim and Diana were awesome hosts again. Also, the crew they have there is always working on the place! Making it look better than the day before. Look forward to the next visit!
Oct 04, 2021
Great owners! Great internet! Great location!
Oct 04, 2021
Love Lassen/Shingletown KOA, always clean, beautiful and the staff are amazing!
Oct 04, 2021
Our families favorite place to go. The staff is great, clean facilities, grounds are always kept up. Burney Falls, Lassen, Cinder Cone and Lava Tubes are close by. Highly recommend this place.
Oct 04, 2021
Best KOA I have ever been to. Over the top amenities, very attentive staff and facilities could not be any cleaner!! Love it �
Oct 03, 2021
Great place ! So well maintained!. Owner is wonderful, helpful and very personable.
Oct 18, 2021
We absolutely love this KOA! Jim his wife and staff are so amazing and accommodating. They are always paying attention to all the campers and their needs with a smile on their face. We just got back from our 3rd year in a row camping durning the Halloween theme weekend. It was a blast everyday there is something for the kids and families to do. First night was movie and popcorn night they had the atmosphere perfect. It was a cold night so they had heaters out which made it so comfortable. The second day started with pumpkin carving, face painting, corn hole, bingo, and jump houses. And that's not all they had a tri-tip dinner and costume contest for all different ages, Including the pets! The kids all got to go trick or treating, then to top off the night they had a hay bail rides into the woods. Couldn't ask for a better time! On the last day they had a free breakfast for all campers. Best KOA ever if you ask me. Go check it out yourself you'll be amazed. Thank you Jim and staff
- sandyjeanclay clay on Google
Oct 13, 2021
Excellent service from the moment we arrived as well as our departure. Jim and his staff were all very friendly and accommodating. Extremely clean park and lots space to walk and explore. Awesome play area for kids, unique and amazing dog play area and extremely clean restroom facilities. Every encounter with a staff member was friendly and warm :-) Thank you for the great hospitality Jim! We will be back for sure !!
- Cowboy Rob on Google
Sep 07, 2021
So, we already knew we were in trouble. Lassen Volcanic was closed (it was on fire), which is the whole reason we were here. Lots of smoke, but the campground wasn't in danger. We came in anyway. This was the last stop before we started home. The campground had a lot of cancellations, so it was unusually quiet. That didn't bother us! We had a back in site - 33. The best site in the campground! It's close to the dog park if you have a dog. The bathroom/shower is 3 sites down. Very clean. Also close to the walking trail, basketball/volleyball courts & a neat tree swing. All this is under tall pines. This isn't a large campground, but it's VERY nice. Has a gift shop at the office. The pool was open. Lots of hornets & 2 people got stung while in the pool. They have traps out, but the hornets are persistent! Laundry I didn't use, but it's there if you need it. Everything was very clean. Service was friendly. So, this is a good base for Lassen Volcanic. Since we couldn't go, there's other things to see. McArthur Burney Falls is a bit of a drive, but well worth it. We also stopped at Subway Cave, which we loved & Hat Creek Rim Overlook (which was a waste of time with the smoke). The rest of the day we chilled at the pool! We will definitely be back someday to see Lassen!
- Cynthia K on Trip Advisor