Local Area Attractions Near Mt. Lassen / Shingletown KOA Holiday
Use the campground as a base camp to explore the local area. We are just 14 miles from Mt Lassen with its thrilling landscape and gorgeous sunsets. Alpine lakes, wildflowers and ground that bubbles with thermal features.
55 miles away is the beautiful McArthur-Burney Falls. The 129-foot waterfall is the main attraction of the park. Each day 100 million gallons of water flow over the falls. Perfect hike around the falls or down to the bottom. 40 minutes away is the city Redding with amazing Sundial Bridge and Turtle Bay.
Lassen Volcanic National Park
All four types of volcanoes in the world are found in Lassen Volcanic National Park . Over 150 miles of trails and a culturally significant scenic highway provide access to volcanic wonders including steam vents, mudpots, boiling pools, volcanic peaks, and painted dunes.
Burney Falls State Park
McArther-Burney Falls Memorial State Park is the second oldest state park in the California State Parks system, located approximately 6 miles north of Burney, California.
The park's centerpiece is the 129-foot Burney Falls, which is not the highest or largest waterfall in the state, but possibly the most beautiful. Additional water comes from springs, joining to create a mist-filled basin. Burney Creek originates from the park's underground springs and flows to Lake Britton, getting larger along the way to the majestic falls.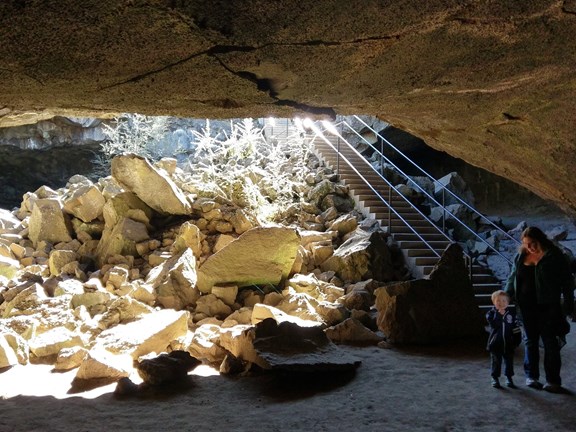 Subway Cave
Enjoy the self-guided trail through Subway Cave. It is a 1/3 mile long lava tube near the town of Old Station. Bring sturdy shoes, a reliable flashlight and a light jacket because the cave remains a cool 46 degrees year around. The cave is open in late May through October and stays closed through the winter months.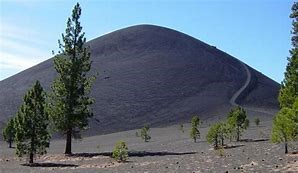 Cinder Cone
Located in the NE corner of Lassen National Park, Cinder Cone Trail offers a magestic view of the surrounding valley and a crater at the top of the mountain. 
Cinder Cone Nature Trail is a 4.8 mile loop trail that features a lake and is rated as difficult. The trail is best used from May until October.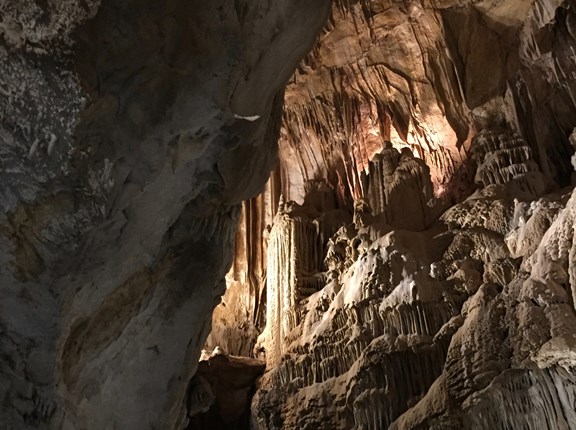 Lake Shasta Caverns Shasta Dam
Lake Shasta Caverns offers 2 hour tours, a gift store, gemstone sluice and a rock box for the kids. The tour includes a boat ride, a bus ride and a one hour tour of the cave. Open year around.
Local Area Recreation Near Mt. Lassen / Shingletown KOA Holiday
Fishing
We have streams and lakes near by. Hat Creek, which is approximately 20 minutes from the campground, is world renown for fly fishing. Our campers have been very successful in catching brown and rainbow trout. Hunting (Deer, Bear, Duck)
Deer, Bear, Duck Beautiful Hiking Trails
Lassen National Park offers many hiking trails including, Kings Creek, Sulphur Works and Bumpass Hell. Additional hiking on the NE corner of Lassen National Park is Cinder Cone Trail with awesome views of the crater and the neighboring valley.Also, there are 5 miles of trails winding through McArthur-Burney Falls Memorial State Park.