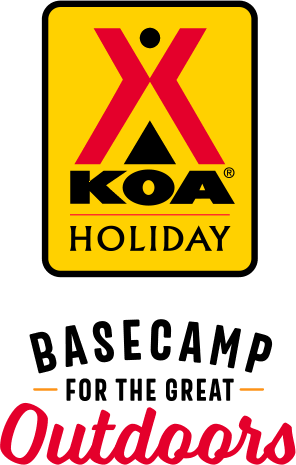 KOA Holiday Campgrounds
Whether you're exploring the local area or hanging out at the campground, KOA Holidays are an ideal place to relax and play. There's plenty to do, with amenities and services to make your stay memorable. Plus, you'll enjoy the outdoor experience with upgraded RV Sites with KOA Patio® and Deluxe Cabins with full baths for camping in comfort. Bring your family, bring your friends, or bring the whole group – there's plenty of ways to stay and explore.
KOA Holidays Feature:
RV Sites with a KOA Patio®
Deluxe Cabins with full baths
Premium Tent Sites
Group meeting facilities
Directions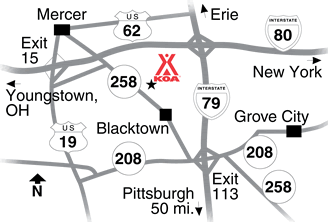 (FYI: LARGE RVs SHOULD NOT USE Exit 15 on I-80.)
Recommended directions for all vehicles:
From I-80: Take I-79 South 3 miles to Exit 113.
From I-79: Take Exit 113 onto Rt 208, go west about 0.3 mile, turn right at light onto Rt 258 north, 3 miles to KOA.
GPS: N41.178629. W80.185844
Get Google Directions
Jul 26, 2021
Great time, Clean campground and friendly people!
Jul 26, 2021
Well managed campground
Jul 26, 2021
It was very good
Jul 26, 2021
We enjoyed the campgrounds with all the fun amenities and lots of shade. Liked getting the text updates. Our spot on 15a was a little tight getting out of Sunday morning, but other than that we will definitely be back!
Jul 26, 2021
Staff was friendly and great to us. My grandson got some lollipops and had a blast at the playground.
Jul 26, 2021
All was fine. With the exception of no internet
Jul 26, 2021
Clean large sites. We stayed in a 40' motor home.
Jul 26, 2021
Very will maintained. The workers were very nice.
Jul 26, 2021
The campground was very well kept, with workers that were like busy little bees. All were very friendly. But where we stayed had sewage smells, very overwhelming. While there there were many times that we lost our water. Thankfully not while showering. Hopefully these things will be taken care of. Unable to rate higher with these issues.
Jul 26, 2021
You have to do something about the septic smell. We were in a different site than usual, towards the back, and the smell was prevalent. It's the only knock on an otherwise perfect stop.
Jul 26, 2021
I stayed 7/23-7/25. We rode our motorcycle with a pull behind camper. When we pulled in I thought the roads were going to be an issue being stone. They were packed down pretty good. No issue on my bike. Campground was maintained very well in my eyes, and loved the updates from the campground during our stay. The only negative thing is that our spot 122 is absolutely awful after it rains...
Jul 26, 2021
Flooded campsites cramped together. Not suitable for tent camping.
Jul 26, 2021
Alex and crew were extremely friendly... Site 75 was nice overall, wished it had sewage hookup though.
Jul 26, 2021
The staff are amazing!! They were very accommodating when our vehicle broke down and our stay was prolonged by 6 days. Thank you!!
Jul 26, 2021
Quite and relaxing. We r from Fl and really enjoyed the atmosphere. We will stay again
Jul 25, 2021
We were staying only 1 night & immediately regretted it! A beautiful park, wonderful employees & nice sites. We were by the playground & as grandparents hearing children laugh, ride bikes & play was music to our ears. Lots to do here but we didn't get to experience them, definitely want to come back again. Social media texts was very informative. Amish bringing baked goods was awesome. Loved it
Jul 25, 2021
Very nice campground, sorry we were on the move and unable to stay longer
Jul 25, 2021
I understand services need maintenance and upgrades from time to time and they told us after our arrival that they were in the process or upgrading the septic system on the grounds, the smell was pretty bad in the evening sitting by the camp fire. The free range chickens and ducks were a little more than we could handle, especially with them doing their business on our picnic table.
Jul 25, 2021
We had a wonderful time, everyone is so friendly. My dog really enjoyed the dog park. The Amish baked goods were delicious. Thank you we will definitely be coming back.
Jul 25, 2021
This the only campground that has ever done such a fantastic job in communicating with us! Bery nice people, grounds were very well kept. It was quiet at night. Campers were courteous as was staff.
Jul 25, 2021
We only slept over night on our way to Lancaster, PA. Don't trust any mapping app to get you to this KOA. Our app took us over a 1 lane bridge where we damaged our RV. Tried both an Apple phone and a Android phone and they mapped the same. Eventually used paper maps to get us around the impass.
Jul 25, 2021
Lovely campsite. Price increases preclude my coming again.
Jul 24, 2021
Very nice quiet, clean and very friendly employees. May consider a spot for the month of August.
Jul 24, 2021
Wonderful vacation, your staff was friendly and helpful. Swimming was great, pool was clean. Had a great time, thank you
Jul 24, 2021
Beautifully maintained Rv park, easy in and out for a big rig. Close to the grove city outlets. Would definitely stay there again!
Jul 24, 2021
Lovely campsites with lots of space. Beautiful landscaping. Nice clean laundry room. We didn't use the bathhouses but we looked at them and the showers were roomy and clean.
Jul 23, 2021
We had a wonderful stay. We will definitely book this KOA site again.
Jul 23, 2021
Peaceful, friendly, helpful, relaxing
Jul 23, 2021
Very nice and quiet stay. We enjoyed the dog park with our Min Pin!
Jul 22, 2021
Absolutely fabulous staff and grounds. Large spacious pull thrus. You can tell ownership and staff take pride in the entire operation. Will definitely stay there again.
Jul 22, 2021
Disappointed about the water pressure issue over the weekend. Only received a notice regarding that their was a problem and it was trying to be resolved We never knew when there would be water. Trying to decide about washing a few dishes or showering was a problem. Somehow we managed to shower without having water turned off in the middle of it.
Jul 22, 2021
Friendly staff, super clean cabins(Deb is the best) ,the grounds are kept in great condition along with all of the amenities and the location is great if you enjoy hiking and/or shopping. There is a warm sense of welcoming here:) Highly recommend!
Jul 22, 2021
We had a couple pleasant days at the campground. Our lot was great and the staff members were courteous and helpful.
Jul 21, 2021
While everyone was very wonderful to talk to there, we had to change campsites the first night because there wasn't any flat/dry ground to put on a tent on. In addition to that I was happy that there were handicap accessible showers but no shower chairs and the bathrooms were not kept clean or dry which caused my partner's crutches to slip and hurt her broken foot more. So we left a day early.
Jul 21, 2021
We loved it there!! Great staff!! You gave us a place to go last minute, when streetsboro koa was flooded!! We will definitely stay with you again!!
Jul 20, 2021
I normally would very likely recommend Mercer/Grove City KOA, but this time was disappointing. There were constant water problems. Either low pressure or no water at all! Also they no longer have Cable TV which was disappointing as well. This has always been our favorite KOA so I hope these situations improve.
Jul 20, 2021
Really love your campground my only suggestion would be more gravel around at least 6 feet out around the fire ring so our chairs are out of the mud after it rains. Thank you see you next time.
Jul 20, 2021
Campground was well maintained and employees were knowledgeable and friendly. Wi-fi service was very dependable. Will definitely return again.
Jul 20, 2021
We were very disappointed with the wifi i couldn't connect to it at all. The TV in the cabin also didn't work at all. We were not there for either but in the mornings it would of been nice to have while laying in bed waking up... Other than that the facility was nice and clean. The staff was friendly couldn't of asked for better service from them. All in all great time!
Jul 20, 2021
Very nice park good sites and clean. Would stay again.
Jul 20, 2021
Campsite was awesome. Plenty of notices about the activity happening over our stay. Staff was very friendly and helpful
Jul 19, 2021
We stayed at Mercer KOA for 8 days and I don't think there could have been a more perfect place in this area. The campground is very peaceful and well kept. We were visiting family in the area and had a patio site that was perfect. The Hostas growing everywhere were an added bonus. The folks that work at this KOA were the best.
Jul 19, 2021
Very nice campground! Lots to do and very organized!
Jul 19, 2021
Wonderful campground! Enjoyed our stay very much!
Jul 19, 2021
Weather was awful! But we still enjoyed our stay. Third time at this campground. We especially appreciate the guides to lead you into your campsite. Everything is clean and well kept. Great location near many things to see and do