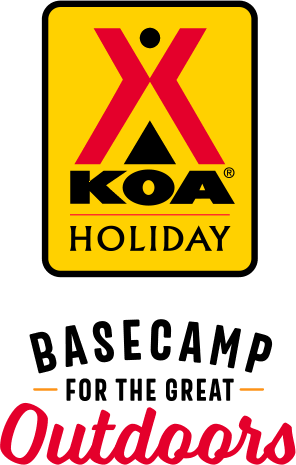 KOA Holiday Campgrounds
Whether you're exploring the local area or hanging out at the campground, KOA Holidays are an ideal place to relax and play. There's plenty to do, with amenities and services to make your stay memorable. Plus, you'll enjoy the outdoor experience with upgraded RV Sites with KOA Patio® and Deluxe Cabins with full baths for camping in comfort. Bring your family, bring your friends, or bring the whole group – there's plenty of ways to stay and explore.
KOA Holidays Feature:
RV Sites with a KOA Patio®
Deluxe Cabins with full baths
Premium Tent Sites
Group meeting facilities
Directions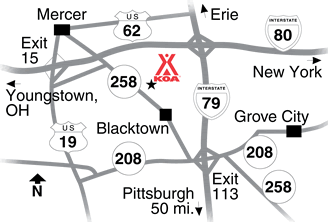 (FYI: LARGE RVs SHOULD NOT USE Exit 15 on I-80.)
Recommended directions for all vehicles:
From I-80: Take I-79 South 3 miles to Exit 113.
From I-79: Take Exit 113 onto Rt 208, go west about 0.3 mile, turn right at light onto Rt 258 north, 3 miles to KOA.
GPS: N41.178629. W80.185844
Get Google Directions
Nov 23, 2020
When I made my reservation, I was assured by the staff that the bathrooms and showers would be available. They were not.
Nov 11, 2020
Very convenient to the Grove City Premium Outlets. Nice looking campground with a large leash free dog park. The only negative was that due to it's location you could still hear some traffic noise from both the road going by the campground and I-80. So if you want total peace and quiet you should camp further out in the woods. If you want a great location in a nice wooded area, then this is it.
Nov 10, 2020
We had a great stay!! The lots were level, the bathrooms were clean, and activities for the whole family!!
Nov 09, 2020
This year has been the best year over the last 10-15 years. Ben/Scott and family made amazing changes during this season. I look forward to seeing what is coming next season.
Nov 09, 2020
Best season yet! The new ownership has been tremendous and we couldn't be more pleased! Looking forward to next year!
Nov 09, 2020
The atmosphere at the campground is very upbeat. The employees are friendly and helpful if needed. The activities are great especially the live bands. We intend to keep our seasonal site for many years to come.
Nov 09, 2020
After a long trip back, we needed a place to park and stay the night. It was great to find this location so late in the season. Great local food.
Nov 07, 2020
We have been seasonal fo 19 years,this has been the best. The new owners and their staff were fantastic. They did upgrades well maintained and very friendly.
Nov 07, 2020
Spent Halloween night October 31, 2020 at the campground. We loved all the Halloween decorations and blow up characters on display through out the campground! We had a great bon fire too! Very nice & can't wait to come back next season!
Nov 06, 2020
It was an amazing year at Mercer KOA. Thank you my kids had an amazing time with all your activities
Nov 06, 2020
We thoroughly enjoyed our stay this season and cannot wait until next year
Nov 06, 2020
A very nice KOA Campground! Will be back for sure.
Nov 06, 2020
We arrived very late, midnight, and left around 8 the next morning. It served its purpose. Clean and easy to find.
Oct 31, 2020
Very good, love stopping here very convenient.
Oct 29, 2020
Great time really clean place
Oct 28, 2020
Nice place to stay but leaves got in the way of visibility to the roadways
Oct 27, 2020
To overpriced, sites are to close . Water and electric are on one end sewage and cable on the other end ..
Oct 27, 2020
Enjoyed the campground very much. Always quiet and restful time there.
Oct 27, 2020
Sites unlevel and rather narrow
Oct 26, 2020
We love the campground but would definitely not stay in a cabin again. The bed was extremely uncomfortable and we are still suffering from back pain due to the poor quality mattress. The sink and shower were horrendous. Water barely came out of the sink in the bathroom and the shower was like being pricked by a million little needles.
Oct 26, 2020
We loved all of the trees in the campground, providing shade on our RV (even though most of the leaves were down since it was end of Oct) We also loved the way the sites were spaced between each other!
Oct 26, 2020
This is the best KOA we have stayed at! The deluxe patio sites are fabulous! They come with a Weber grill that is spotless, comfortable gliders, a nice table with seating and an umbrella, nice fire pit and grill. They pick up your trash bags at your site. The staff is very friendly and helpful! I highly recommend this KOA! We can't wait to return next year!!
Oct 26, 2020
I normally give this KOA a better review. But my stay on 10/23/20 , I had a few complaints. First off the grass was quite tall on my pull through site in the front row. Secondly, the cable was not very good. Pictures of certain channels were worse than other. Friends on another site had no cable because the cable had been cut by either a mower or when they were trimming. Lastly the price was high
Oct 26, 2020
We have stayed here before, it is always a pleasant experience. The place is well kept. It is very dark at night, a few extra lights would probably help.
Oct 26, 2020
Campground was clean and everything was in working order. Staff was friendly and knowledgeable.
Oct 26, 2020
Even though there were no activities due to Covid-19 - still had a pleasant stay - enjoyed our walk on the nature trail.
Oct 26, 2020
Friendly reception with lots of Halloween decorations! Friendly workers & friendly fellow campers! Unless you can somehow control the rain, it was perfect!!!
Oct 26, 2020
Nice Campground We will return Tom
Oct 26, 2020
Had an awesome stay.. Bathhouses were clean staff very friendly and helpful.. Can't wait to go back..
Oct 26, 2020
We had a great stay!
Oct 26, 2020
Loved the wooded atmosphere & Kamp K-9 where I could let my dog run off leash for a while. Nature path was also wonderful. Firewood delivery & trash pickup such a nice option too. Some fun Halloween decorations. Staff was friendly & helpful. Delicious baked goods!! Bath houses need a slight update...but overall this was a nice facility and we had a great relaxing weekend.
Oct 26, 2020
It was absolutely AWESOME!!!!!! We were in town for a Movie video production and decided to give the KOA a try. It was very nice. The Staff was pleasant and the overall experience was GREAT!!! I will definitely keep the Mercer KOA as a definite camping location when traveling
Oct 25, 2020
The staff was very friendly and helpfull
Oct 24, 2020
great campground, close to hiking,biking, boating
Oct 22, 2020
it was very nice
Oct 22, 2020
we liked the pool, but wish it was opened later in the season.staff was very nice and helpful.the price was a little high for camping compared to others in the area.
Aug 21, 2020
We stayed here and loved this place. It is so clean and the staff are soo friendly. We will definitely stay here again!!!!. We stayed in our RV and the staff waved and asked if there was anything we needed. Great place!!!
- Marcia K on Trip Advisor