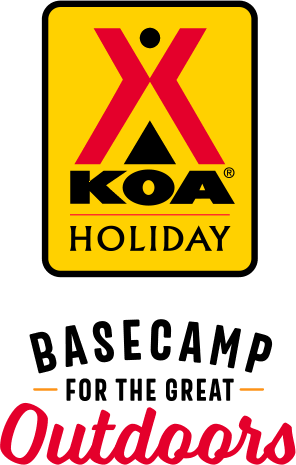 KOA Holiday Campgrounds
Whether you're exploring the local area or hanging out at the campground, KOA Holidays are an ideal place to relax and play. There's plenty to do, with amenities and services to make your stay memorable. Plus, you'll enjoy the outdoor experience with upgraded RV Sites with KOA Patio® and Deluxe Cabins with full baths for camping in comfort. Bring your family, bring your friends, or bring the whole group – there's plenty of ways to stay and explore.
KOA Holidays Feature:
RV Sites with a KOA Patio®
Deluxe Cabins with full baths
Premium Tent Sites
Group meeting facilities
Directions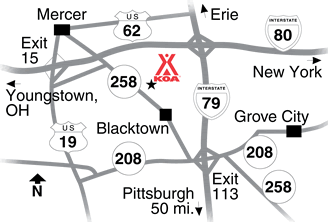 (FYI: LARGE RVs SHOULD NOT USE Exit 15 on I-80.)
Recommended directions for all vehicles:
From I-80: Take I-79 South 3 miles to Exit 113.
From I-79: Take Exit 113 onto Rt 208, go west about 0.3 mile, turn right at light onto Rt 258 north, 3 miles to KOA.
GPS: N41.178629. W80.185844
Get Google Directions
Oct 20, 2021
Greeted with open arms. Felt like we have stayed there numerous times. Great wifi for the kids and us.
Oct 20, 2021
Site was excellent and the staff is very friendly and helpful.
Oct 19, 2021
Staff are the best. Everyone super friendly. Always put on a great Halloween weekend for the campers of all ages.
Oct 19, 2021
Nice, clean friendly facility. They did a great job on Halloween themed weekend. Only concern was that cable was no longer in service. There were lots of channels available for television, but some of them were very weak. Great weekend!
Oct 19, 2021
The only thing I found wrong was the sight was not for us on 8a. If it was full we would not gotten in or out. We could not use both bunp outs and was very cold during the night because of it and we broke our one fender because of the electrical box being to close to camper. Other than that we enjoy Mercer campground and look forward to another stay next camping year.
Oct 19, 2021
This was our second stay here. Our last stay was for a month. This stay was for 2 nights. Our site was flat with full hookups. We have a big rig and had plenty of room for our rig and tow truck. Checkin was quick and easy. The staff was very friendly. We like it there and will return. Plenty to do in the area.
Oct 18, 2021
Nice park, friendly and helpful staff. Will definitely stay here again.
Oct 18, 2021
Fantastic time as always.
Oct 18, 2021
Quickly becoming our favorite KOA (3rd or 4th trip this year). Always plenty of activities for the kids. The halloween festivities were outstanding. The haunted mansion was great. The owners are active and everyone is helpful. This truely is an A+ campground. We will be back (repeatedly) next year as well.
Oct 18, 2021
One of our favorite campgrounds. Always look forward to coming back.
Oct 18, 2021
I can't say enough about the friendly staff.Very clean and a lot of activities for the kids during our stay ( October). A special thanks to Debbie for telling us about some places to go (Daffins) along with some other places to visit. Definitely will be back. Thanks again to the staff, you guys are great!
Oct 18, 2021
Wonderful as usual!
Oct 18, 2021
This was our second time staying here this summer/fall. The crafts need some improvement. They are rushed and pretty simple/basic.
Oct 18, 2021
oh my gosh! We've been camping our entire life....and never have we experienced such sincere and beautiful hospitality. The work crew and office staff went above and beyond. Always smiling! They came with gravel in the pouring rain just so we didn't have to stand on mud. They came with a new fire pit simply because they thought we would like one. They were gracious with our children at the store.
Oct 18, 2021
Be back next year!
Oct 18, 2021
Overall nice location with lots of big beautiful trees. Lacking some necessities though. Only two showers open at the back of the campground and only one men's toilet.
Oct 18, 2021
Great campground & wonderful staff! Keep up the great work & we booked more weekends for next camping season
Oct 18, 2021
Patio site was great, including swing and rocking chairs.
Oct 18, 2021
Fun Halloween weekend festivities for camp residents! Lots of kids in costumes! Very quiet at night! ���
Oct 17, 2021
We found the Camoground clean, well maintained and staff very helpful. We'll be back!
Oct 17, 2021
Lovely and well kept campground. Plenty of activities for families including disc golf, walking trails and a pool. Grove City Premium outlets just a few miles away. Campsites fairly level and easy in and out with many being pull through sites. Did not use the bathhouses so can't comment.
Oct 17, 2021
Beautiful place
Oct 16, 2021
Very Pleased, this was our second stay.
Oct 15, 2021
One of the nicest campground in Pa.
Oct 15, 2021
Great stay. Check in fast and efficient with young staff doing an excellent and professional job. No escort needed to site. Easy to enter and exit. Site as well as grounds and bathrooms very clean and well maintained. Very nicely decorated. Needed jacks to level but no issues. All utilities worked well. Didn't use WiFi and didn't miss cable. Peaceful and quiet during the week. Will return!
Oct 15, 2021
This campground may be the best campground we have ever visited .... From the cleanliness of the grounds in general to the lack of those nuisance items that never seem to be functioning as expected to a group of employees who are well trained and personable ... Just a grand campground to visit !!! Thank you
Oct 15, 2021
Very clean campground. We stayed in October and there was a wonderful Halloween display out front. All the staff was very friendly and helpful. Nice large patio site. Will definitely stay next time we are in the area.
Oct 15, 2021
The site we stayed was very uneven. We had trouble making the trailer level. We never made it level.
Oct 14, 2021
Very nice koa with lots of Halloween decorations, playground, horseshoe pits, etc. new gas grill at patio site was a plus. Only negative was the usual KOA spotty WiFi - would drop connection.
Oct 14, 2021
We stayed in a small one bedroom cabin with bath, and it was nice and cozy for 2 people. Nice porch swing and outdoor furniture. Staff was friendly. Communication via text on procedures for arrival and checkout was appreciated.
Oct 14, 2021
friendly, clean restrooms, it is the way camping used to be
Oct 14, 2021
Great staff. Halloween decorations were fantastic!
Oct 14, 2021
Great campground. Staff very organized and friendly. Large dog park with nice walking trails. Most sites not level but workable. Good power/water pressure/no road noise at night. Many activities on busy Halloween weekend. Lots of happy campers.
Oct 13, 2021
Kids had a great time dressing up and going trick or treating. This is our 2nd time going for Halloween and we will continue to go every year. Friendly staff.
Oct 13, 2021
Very enjoyable. Second time this year.
Oct 12, 2021
Love the Halloween party people drive to fast into camp ground I was on site 2 in a Motor Home already booked for next year
Oct 12, 2021
The biggest issue we had this weekend was the fact that the site we have booked for several years now on the same weekend was booked when we arrived. Most campgrounds allow the person who has booked there the year prior for the same weekend first right of refusal when they are holiday or event weekends. Also a speed bump on the main drag would be a good addition. People fly in and out of there
Oct 12, 2021
Friendly staff and owners! Made us feel welcomed, clean campground
Oct 12, 2021
Had site 107 with the patio and loved it so
Oct 12, 2021
We had a great time there. Very nice campground with lots of activities
Oct 12, 2021
always an enjoyable time! staff is awesome! kids activities are always fun.