Your Perfect Day in Mercer County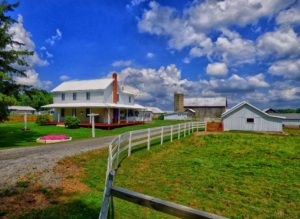 Nestled in western Pennsylvania, midway between Pittsburgh and Erie, lies Mercer County. Our KOA makes a great base camp to explore everything the region has to offer.
Leesburg Falls also known as Springfield Falls is located 10 minutes from the KOA. It's a super easy access waterfall with rewarding views. A small portion of the ruins of the first Iron Furnace in Mercer County are visible across the stream.
McConnells Mill State Park, in Lawrence County, encompasses 2,546 acres of the spectacular Slippery Rock Creek Gorge, which is a National Natural Landmark. Created by the draining of glacial lakes thousands of years ago, the gorge has steep sides while the valley floor is littered with huge boulders. Scenic overlooks and waterfalls are popular natural attractions. Visitors can tour a gristmill and covered bridge built in the 1800s. The park is open every day of the year, sunrise to sunset.
Safaris, Zip-lines, and feeding animals - oh my! Keystone Safari is a whopping 143 acre interactive animal and adventure park located less than two miles off of I-79. Guests of all ages will be delighted by a visit to this unique park that has been years in the making.
Get your shopping tote ready for some mega deals because we're just 3 miles from Exit 113 on I-79 and the Grove City Premium Outlets. If small town shopping is more your pace - be sure to check out - Volant Village. Experience the charm of quaint shops, restaurants, wineries and a distillery.
Keep the small town community going and enjoy country shopping and Victorian styles around 200-year-old Mercer's Courthouse Square. While strolling the town square, visitors can enjoy an old-fashioned ice cream soda, an in-store Lionel train display reminiscent of childhood days, several antique shops, a quilt shop and a bakery.
Being in rural Pennsylvania so naturally makes us think of a zombie apocalypse! Zombie freaks and geeks, this next spot is for you: The Living Dead Museum and Gift Shop. A celebration of Zombies in Pop-Culture. Located in the town center of Evans City, PA, location of the original film, George A. Romero's Night of the Living Dead, the themed attraction takes fans through a visual history of zombies in cinema and pop-culture.
Alas, you'll return to the campground where you will fall asleep under the stars with a smile on your face.
Let Mercer/Grove City KOA be your base camp while you explore all of the delightful places and recreation options this area has to offer. There is something for everyone. Plan your visit soon. We can't wait to share our beautiful region with you.