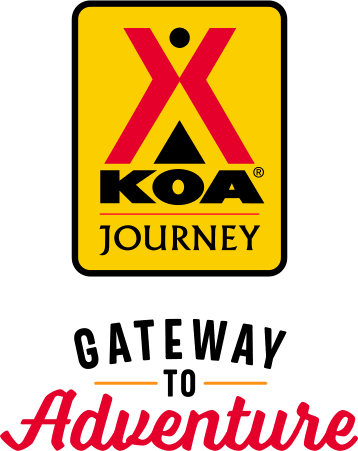 KOA Journey Campgrounds
KOA Journey campgrounds are the perfect oases after a day on the road. Whether it's along the way or a quick getaway, they've got you covered. Located near the highways and byways of North America with long Pull-thru RV Sites, they deliver convenience to the traveling camper. Pull in, ease back and take a load off.
KOA Journeys Feature:
Pull-through RV Sites with 50-amp service
Premium Tent Sites
Well lit after hours check-in service
Directions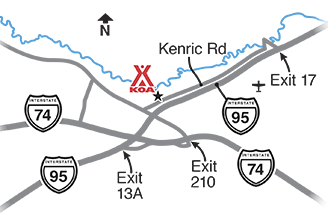 SOUTHBOUND ON I-95: Take Exit 17 turn right @ the stop light Drive 2 tenths of a mile & make the 1st left hand turn onto Kenric Drive. Drive 2.5 miles and the park entrance will be on the right. Our KOA Billboard is at our driveway entrance.
NORTHBOUND ON I-95: Take Exit 13-A to I-74 E toward Wilmington Drive.3 tenths of a mile, Take Exit 210 to Alt-74 . At stop Light turn left & follow KOA signs, turn right onto Kenric Rd @ the SunDo gas station, the park entrance is on the left.Our KOA Billboard is at our driveway entrance.
RESERVATION & CANCELLATION POLICY: To guarantee your site for short term stays, a deposit equal to @ least your first night will be charged to your CC at the time of reservation.  If you need to cancel a reservation, please call (910)739-4372 during office hours, before the deadlines below. ALL cancelations made within KOA's national cancellation policy of 48 hours must notify your KOA by 4:00 pm two days before your scheduled arrival date, ALL cancelations made within this time period will be charged a $10.00 cancellation fee.  Text & email do not apply.  This applies to RV & TENT Sites.  Reservations made within 48 hrs. of arrival date require Non-Refundable deposits.
VISITOR POLICY: All visitors must stop @ the Office before entering the park to register and pay the required visitors fee & to receive a valid parking pass.
REFUNDS: NO refunds for early departure after initial registration. Rain checks may be available for remaining night for current season
SPECIAL EVENT WEEKENDS- are NON-REFUNDABLE per our campground policy.
Get Google Directions
May 10, 2021
It was just for a 1 day rest and was perfect. Easy access from 95. Check in was quick. I'll be back again and stay longer to enjoy the amenities.
May 10, 2021
Only 1 nite traveling north to PA. Easy access, very clean and well kept
May 10, 2021
Easy to find KOA. Site also easy to locate. Bathrooms VERY clean. Enjoyed the bible verses around the facility.
May 10, 2021
Super Clean Place.. Girls/Ladies at the front desk, kind and helpful. Would stay again in a heartbeat..
May 10, 2021
We were there for two days. Beautiful setting, lots of things to do especially for kids and top notch bathrooms.
May 09, 2021
We had an issue when we arrived, we could not out our stairs out as the patio was probably 4" higher than the parking pad. The gentleman working the outside job was fantastic helping us maneuver on the lot to make room for the stairs, this did not work. He the called the office and suggested a lot to them that would work for us. This lot worked great!
May 09, 2021
As always, very friendly and we've made this our stop over off I-95.
May 09, 2021
Interstate noise is excessive and there is a serious drainage issue on the property. Many of the spots had standing water and/or mud long after rain had ended.
May 08, 2021
Easy check in Nice hook ups Great place to stop for a n overnighter
May 08, 2021
Easy pull thru site. Clean facilities and very friendly staff.
May 08, 2021
Nice easy to get in to spaces, clean and easy access to I-95
May 08, 2021
Great overnight place for us. Stay there when ever we head down I95
May 08, 2021
Can't say enough good things about this KOA. Cleanest baths since I left home. Professionally done. STAY HERE, you will live it! Mark and Nancee
May 08, 2021
Very friendly, clean and easy access
May 06, 2021
We had a nice concrete site which included gas grill, fire pit, picnic table and 2 nice chairs. Easy to get on and off highway. Park is pitch dark at night which is great but should have a few lights placed every so often for security reasons. Very clean would stay there again.
May 06, 2021
Friendly efficient was quiet and everything worked
May 05, 2021
The rate is reasonable. The facility is well kept. Bathroom is FAB. Love the place. Will definitely stay here again in the future. Thank you for doing a great job.
May 05, 2021
There was a sewer problem at the site behind us. 2 men were snaking it out. Smelled real bad & we had our windows open. We closed them as soon as we noticed but that grossed us out. Otherwise it was a good place to spend the night while traveling.
May 05, 2021
Very nice campground with some awesome sites...Friendly staff and very well kept...Bathrooms really clean...
May 05, 2021
You definitely want to stay at the back of the park. The front is on I-95 and the traffic noise can ruin your sleep.
May 05, 2021
Very nice camping (not RV) site/ Family-style restroom/shower nicest we've seen in a KOA. Location makes it hard to access from certain directions, but stay was worth it.
May 04, 2021
Don't miss the nature walk at this campground. It is very beautiful. Everything about this campground is done very well.
May 04, 2021
Convenient stopover on I-95
May 04, 2021
Simple . But I little uninformed!
May 04, 2021
Very friendly and helpful. Clean bathrooms!!
May 04, 2021
For just a pull off overnight our site was terrific, a little pricey for that but it was a premium site and all they had left. It would have been a 5 if site was paved.
May 03, 2021
Very Nice and Thanks for the extended time.
May 03, 2021
Many new RV sites added. Unfortunately our new site was very narrow and difficult to pull into and hookup but not able to let our steps out until we repositioned our MH many tries. Not appealing to have the adjacent site's sewer hookup very close and next to our picnic table.
May 03, 2021
This stay was okay just too many dogs barking till 10:11 and fires were burning all through the night could keep the smoke out of our camping didn't get too much sleep Saturday night
May 03, 2021
only stayed one night but everything was great. very friendly staff
May 03, 2021
Very nice, clean, well maintained campground.
May 02, 2021
Great stop. Adjacent to 95 and easy in and out.
May 02, 2021
Very convenient location. Clean site. Well-stocked gift shop. Friendly, attentive, helpful staff. Would prefer for all of them to wear masks when inside. * Appreciated the well-lit, covered sink & eating areas, and level tent pads. Because the tenting area is quite exposed and tents don't have the privacy of an RV, it would be nice if there were bushes/shrubs to visually shelter tenters.
May 02, 2021
Very helpful and friendly staff. The grounds are immaculate and the nature trail is a great place to walk you and your pet after a long day on the road.
May 02, 2021
Great location - super clean bathrooms, easy on and off I95. Professional and friendly staff. A bit of road noise, and only 1 minor complaint - the lights went off in the bathroom when I was still in the shower!
May 02, 2021
Our pull thru site was clean, but we had to request a different picnic table. The boards were extremely weathered and warped, so much so you would not want to use it. The staff replaced it, but why wait until someone complains?
May 01, 2021
Family style bathrooms were clean and big. Friendly staff. KOA standards
May 01, 2021
Check in was easy and fast. Our patio site was very nice. Bathrooms were clean.
May 01, 2021
Excellent campground
May 02, 2021
Loved this place. Hit it on the way down to Florida and on our way home up north. Fantastic WiFi (amazing in the RV world) Easy/clean sites. Accommodating Staff Just great. Everything was so clean!
- Daniel Mac Innis on Google
May 02, 2021
Wonderful
- Nancy Alexander on Google
Apr 22, 2021
Sites are level and connections were convenient. Just what you want from a KOA Journey.
- Klaus Koenig on Google