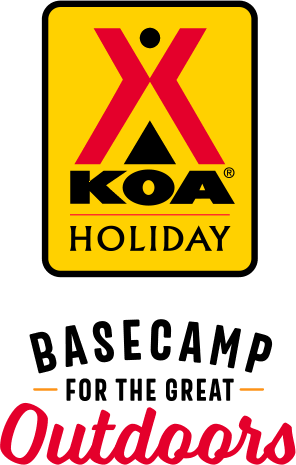 KOA Holiday Campgrounds
Whether you're exploring the local area or hanging out at the campground, KOA Holidays are an ideal place to relax and play. There's plenty to do, with amenities and services to make your stay memorable. Plus, you'll enjoy the outdoor experience with upgraded RV Sites with KOA Patio® and Deluxe Cabins with full baths for camping in comfort. Bring your family, bring your friends, or bring the whole group – there's plenty of ways to stay and explore.
KOA Holidays Feature:
RV Sites with a KOA Patio®
Deluxe Cabins with full baths
Premium Tent Sites
Group meeting facilities
Feb 16, 2021
we stay in a pull thru patio site. love them. we travel in a 46 ft fifth wheel and pull with an f450 dually. so easy in and out. and the staff is always amazingly helpful. Love this place. stay often. highly recommend
Feb 15, 2021
Even during the sub 20 degree weather, Stephen was very helpful for us from greeting us pulling in to getting set up. All the water sources were heated and we didn't have any freezing problems a camper would experience during winter camping. Definitely a spot to return to when we visit Louisville again.
Feb 15, 2021
The first cabin was way too cold. We upgraded to deluxe cabin. Very cute. Dog hair in rug from last person. Steps covered in ice. Coming into park is very dark. Big big pot holes on the way out. Definitely needs more lights. Enjoyed the cabin itself. Quiet. friendly staff.
Feb 15, 2021
Friendly, met us in the dark and lead us to our campsite. Restrooms were clean.
Feb 15, 2021
Nice people and easy on/off for an overnight or two
Feb 14, 2021
aside from the 1/2 in of ice on everything it was a lovely campground! we would stay again.
Feb 14, 2021
Nice park and friendly staff. Stuck for terrible ice storm for 2 days while traveling. Helpful staff, suggested local pizza delivery to campground.
Feb 14, 2021
As nice a stay as one can have in a 1/2 inch of ice. The host was very nice.
Feb 10, 2021
Lovely! The morning we were meant to arrive to tent camp, they reached out to us to share that cold weather was coming and we could switch to a Kabin with heat instead - it was perfect!!! So appreciate the care of them to reach out about that and when we arrived everything was perfect. Impecable bathrooms, clean room to stay in. Easy check in/out. Highly recommend!!!
Feb 07, 2021
We were greeted upon arrival by a man on a golf cart. He took care of our check in and got us to our spot. The park was wonderful and clean. Restrooms were very clean. It was a great stop.
Feb 05, 2021
Excellent as always. It is winter but bathrooms were well heated and spotless. Employees are great and even came over to help with our cable.
Feb 05, 2021
Clean, comfortable, contactless
Feb 03, 2021
Campground is clean and staff very helpful.
Feb 03, 2021
Great place. Glad you're there. You are the closest KOA that is open year round which helps us go back and forth from Michigan to Florida every year.
Feb 03, 2021
Pulled in 5 minutes before close, friendly and accommodating, upgraded us to pull through, nice park clean rest rooms bath area, left next am but want to come back when we have more time
Feb 02, 2021
Stayed one night traveling west toward home. Service and easy pull thru campsite was good! Will stop again and hopefully get to stay longer
Feb 01, 2021
Brief but pleasant
Jan 31, 2021
We had a great stay. Staff was extremely friendly and helpful. We absolutely loved having the nature trails, pond and riverfront available to explore the outdoors with our dogs. Laundry room didn't offer machines with debit card option so you will need change but highly recommend and would stay here again with no hesitation!
Jan 26, 2021
Staff is always friendly always enjoy getting away from the city always Peaceful here
Jan 25, 2021
Sites are close together with no shrubs between them. We were there for one night so no biggie but I wouldn't care for that in the busier months. The service was great: friendly and courteous.
Jan 25, 2021
Great communications.
Jan 24, 2021
Clean heated bathrooms. Staff was great! Will be coming back!
Jan 22, 2021
Easy access to space. Park has a nice out of the way feel even though its just a couple miles to highway 65.
Jan 18, 2021
The only thing I'd improve is the comfort of the bed and pillows. Otherwise loved my cabin and the site overall
Jan 17, 2021
We were an after hours walk in. We were greeted outside the office by a very nice gentleman who assisted me with the check in and escorted us to our site. He was very pleasant and never complained about the -30 degree temperature we were both shivering in. The escort to our site in the dark was immensely help full. Thank You for being so thoughtful.
Jan 12, 2021
The staff were great and the campsite was very nice. I was sleeping in a tent. Noise from airplanes made sleeping difficult.
Jan 10, 2021
The campground was very beautiful and clean. I will back again in the future.
Jan 10, 2021
Great park and staff were extremely helpful.
Jan 07, 2021
The staff was very friendly and helpful upon arrival. The bathrooms and showers were clean and updated which we really appreciated - clean is critical for us. The store is very modern, neat and clean. WiFi was not always available which was possibly due to heavy usage, so would suggest adding more WiFi capability. We would definitively stay there again!
Jan 03, 2021
ALWAYS ENJOY COMING HERE FOR A GETAWAY. ESPECIALLY MY SON HE LOVES THE CAMP FIRES AND THE LOFT AND BUNK BEDS. BUT OVER ALL GREAT PLACE TO GO CAMPING.
Dec 31, 2020
Found this KOA on the 6th day journeying from California. It was so quiet, clean, and welcoming that I stayed an extra day to rest up for the last leg of my trip! Site level gravel, loads of tall trees, easy hookups, cozy, laundry, and friendly, professional hosts. The man who checked me in said he'd many years at this KOA, and a long tradition of pride and care are evident throughout.
Dec 28, 2020
Great campground, clean facilities. My only complaint is there is nothing for little kids to do, no swing set or anything.
Dec 27, 2020
It was just one night. On our way from Chicago to the panhandle. It was pleasant, everything worked as expected.
Dec 24, 2020
The campground was immaculate! The staff was very friendly and helpful as well.
Dec 21, 2020
Great place. Clean park. Immaculate restrooms. Guest service personnel friendly and informed. This is the first place ever that escorted me to the campsite and directed me backing in. All this plus trash pick up and delivery of firewood. All with the COVID restrictions. Kudos to all.
Dec 20, 2020
That was beautiful we will be back
Dec 19, 2020
Campers were spaced out . There was plenty of room between camps .
Feb 25, 2021
Nice well kept campground. Staff was very helpful and the store was stocked with a good assortment of food and misc items. Went in looking to purchase a coax cable and found one there at a great honest price.
- Roman Covarrubias on Google
Feb 07, 2021
An overnight stop. Will stop here again. (Even during covid)!
- Sue Krafft on Google
Feb 04, 2021
Clean, comfortable cabin available the day of check in. Would stay again
- Muriel Goody on Google