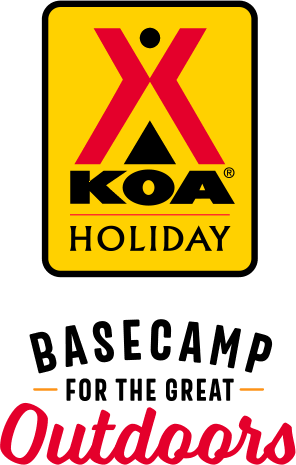 KOA Holiday Campgrounds
Whether you're exploring the local area or hanging out at the campground, KOA Holidays are an ideal place to relax and play. There's plenty to do, with amenities and services to make your stay memorable. Plus, you'll enjoy the outdoor experience with upgraded RV Sites with KOA Patio® and Deluxe Cabins with full baths for camping in comfort. Bring your family, bring your friends, or bring the whole group – there's plenty of ways to stay and explore.
KOA Holidays Feature:
RV Sites with a KOA Patio®
Deluxe Cabins with full baths
Premium Tent Sites
Group meeting facilities
Oct 21, 2021
Spot was not level Spots are awkward Not very clean compared to most KoA
Oct 21, 2021
Extremely expensive for what you get! Our site was over $70 a night and should have been in the $40 range. WiFi is absolutely terrible. Staff was very friendly. Sites were too close together. Park is good for kids but not worth what they're charging!! We will check out another RV park when we return to the area.
Oct 21, 2021
Great staff. Comfortable park. Close to Louisville
Oct 21, 2021
The evening host was very helpful and friendly. The restrooms were very clean. The park is beautiful. Thank y'all for having us.
Oct 21, 2021
Nice stay. Flawless online reservation process. Very friendly staff. Would definitely recommend.
Oct 20, 2021
Stephen and Kristal we're excellent help and very polite.
Oct 20, 2021
This was our second time visiting but our first during Halloween. It was a lot of fun, great activities for the kids. The sites could use a bit of leveling but we were able to level our fifth wheel. All of the staff were incredibly pleasant and helpful. It is a very nice campground and if I am near Louisville I will stay again.
Oct 20, 2021
The stay was excellent friendly and very helpful staff the best.
Oct 20, 2021
Great service.Friendly staff.
Oct 20, 2021
Stayed a couple days and was pleased. Typical KOA tight spots and roads, price seemed a little steep for the area. Got to watch and listen to planes landing.
Oct 19, 2021
We stayed in our Motorhome and used a site with pet containment area, GREAT!!, My son and his family stayed in a Deluxe Cabin for the weekend. We enjoyed the closed street for Trick or Treat so all the children could be safe. This is our second stay for the Trick or Treat weekend and already booked for next year.Staff was Very Friendly and Helpful. As stated we will be back Good Lord Willing!
Oct 19, 2021
Great stay was just overnight. Halloween weekend at the park a lot of activities and fun for kids and adults. Staff was extremely friendly.
Oct 19, 2021
Enjoyed seeing all the kids playing. Would like to see the speed limit enforced. Some long term residents parked in the road and should be made to maintain their site better.
Oct 19, 2021
Fabulous weekend!
Oct 19, 2021
Staff goes above and beyond Great place highly recommended
Oct 19, 2021
Staff was incredibly friendly and helpful and the campground was nice. The activity area is great and they had lots of fun Halloween events planned. The only 2 negatives are: the wifi was very poor/unusable and, because the road is gravel, when it rains it gets pretty messy. Location is convenient to downtown Louisville and other local areas. Have stayed here twice and will stay again.
Oct 19, 2021
We stayed during the Halloween celebration, my family was able to trick or treat in a safe environment. Thank you
Oct 19, 2021
Super friendly and helpful staff, clean grounds and facilities, and so many fun activities for the kids!! Our family loved our stay during one of their Halloween weekends!!
Oct 19, 2021
Wonderful overnight stay. Well maintained. Noise from highway not a problem. Just what I wanted for our needs.
Oct 19, 2021
We came for a Halloween Weekend and it was so much fun! Campground was clean and lots of decorations and activities. Trick or treating was also a blast for our kiddos. Also recommend nearby Bernheim Arboretum to look for the forest trolls and enjoy some fall hiking.
Oct 19, 2021
We loved the location, how nice ALL the staff were, and how clean the cabin was when we arrived. We also loved the deluxe cabin; it was perfect!!
Oct 19, 2021
Great pullthrough, close to bath house. Loved my stay!
Oct 19, 2021
We arrived and left in the dark but it looked nice and had lots to do. The bathrooms needed work.
Oct 18, 2021
11:00 quiet time was not enforced . Party central was in the next campsite to ours on a Saturday night after traveling for 3 days. The partiers seemed to be KOA hosts.
Oct 18, 2021
Always a great place to stay, we stay at this location several times each year. It is always clean and well maintained. Staff is very helpful and friendly.
Oct 18, 2021
Our stay was really good. All the halloween activities were really appreciated. The decorating contest was a disappointment. My boys tried really hard decorating their cabin, and we were told that there was 1st through 3rd place winners. When asked who won, we were told the 1st place winners were and no one knew who won 2nd or 3rd.
Oct 18, 2021
Great campground. Large wooded sites (the ones we had were the deluxe ones) and well maintained area. Super friendly staff. Great location. Highly recommend this campground.
Oct 18, 2021
Wonderful amenities but the cabin had tissue paper stuck in the cracks of the walls. They do not provide any linens or pillows. If you want to do laundry, you need cash and they don't have an atm. So it was okay but as someone from out of town, a lot of hassle.
Oct 18, 2021
The bathhouse was dirty and nasty. so bad I wouldn't shower there.
Oct 18, 2021
We had a great time. Beautiful facilities with so much to do! Thank you for all the help when our truck battery died. We will be back with the grandkids!!
Oct 18, 2021
Very friendly and helpful staff. The grounds are very clean and well maintained. During our visit, the campground offered trick or treating and my son loved it. Would highly recommend this campground.
Oct 17, 2021
The nicest folks greeted us upon our arrival. Our site was great. The campground has a great trail to walk, We have been here several times in the past and will return in the future.
Oct 17, 2021
little tight people are nice trees are an issue with wind and rain dropping large acorns and pecan like shells.. close neighbors i feel fire rings are too close for a fire ,, felt a little high on rate for the facility paid for a lot of amenities could not use..
Oct 17, 2021
Everything was excellent except the bathrooms near our site - they were very warm and odorous, could not use them
Oct 17, 2021
Not as nice as some KOA's we've stayed at. The $89 a night fee was way too expensive for the park and site we had.
Oct 16, 2021
Very poor WiFi
Oct 16, 2021
Very welcoming staff - very clean and well kept campground - it's the best KOA we've ever stayed at! Well thought out and has something for everyone! Have already recommended it! We got to ride our bikes, walked the nature trail, fish in the stocked pond, and relaxed and cooked out on our patio with a warm fire! It was a great week with ya'll! Thank you for all you do!
Oct 16, 2021
Nice level pull through, clean bath house, great power!
Oct 16, 2021
All the amenities you could ask for. Nice Staff!
Oct 16, 2021
Very nice area stayed 2 nights clean facility nice hosts
Oct 16, 2021
Had a great time trick or treating with the granboys!
- Tina Mattingly on Google
Oct 13, 2021
It was so pleasing to pull up into a beautiful wooded size but yet you're close to town very nice Campground an exceptionally nice staff we really loved it we can't wait we hope we get in it's beautiful
- Lany Aldridge on Google
Oct 12, 2021
Nice and quiet, with plenty to do
- Mark Bristow on Google