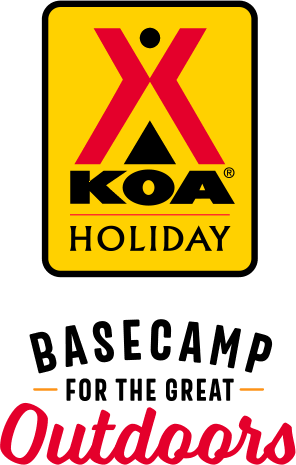 KOA Holiday Campgrounds
Whether you're exploring the local area or hanging out at the campground, KOA Holidays are an ideal place to relax and play. There's plenty to do, with amenities and services to make your stay memorable. Plus, you'll enjoy the outdoor experience with upgraded RV Sites with KOA Patio® and Deluxe Cabins with full baths for camping in comfort. Bring your family, bring your friends, or bring the whole group – there's plenty of ways to stay and explore.
KOA Holidays Feature:
RV Sites with a KOA Patio®
Deluxe Cabins with full baths
Premium Tent Sites
Group meeting facilities
May 07, 2021
We loved our patio site in the back. Nice walking trails for the dogs!
May 07, 2021
Registration was over the phone from the road in our RV. Staff VERY accommodating, friendly and kind. Everything was seamless or as she said to me on the phone..."easy peasy, lemon squeezy!" haha! It was great! THANK YOU!
May 05, 2021
Loved staying g here for the Derby. Thanks for the shuttle service to and back from the Derby.
May 05, 2021
Awesome EASY check in, escorted to site, explained the hookup and answered any questions we had. Site was clean and level, pull thru. Friendly staff, booked next reservation while at the park. Recommend staying here, with kids or without kids.
May 05, 2021
Excellent clean campground. Bathroom super clean and spotless. Super courteous staff. Helped me when I first arrived after hours to hook up electric. Will be back. Can't say enough good.
May 04, 2021
We had an amazing time at the Louisville South KOA for the past 9 months. The staff is excellent, and the facilities are very well-kept. We had friends come visit us several times who stayed in the on-site cabins, and their kids really enjoyed the pool and bouncing pillow. Laundry facilities are spotless, which was appreciated. We can't wait to return next time we're in the area.
May 04, 2021
Wonderful park and staff. Signage could be little better.
May 04, 2021
Pros: nice wooded setting off the interstate, easy access to grocery stores, Walmart, Lowe's and restaurants, nice hiking trails and fishing pond, playground, dog park. Cons: planes start coming in for a landing at Louisville airport around 4:30-5:00am right over this area. Most sites are gravel and a little muddy when it rains.
May 04, 2021
Very engaging, welcoming KOA! After 2 days of really hard rain, Staff was hard at it cleaning and trying to dry things up. Only negative has little, or nothing, to do with Louisville South KOA, but a little better dog control (barking!) would go a long way to making it a perfect stay!
May 04, 2021
We had a great time!
May 04, 2021
Everyone went out of their way to meet our needs. We will for sure stay here again.
May 04, 2021
Everyone was so friendly to us. They are very accommodating during our stay. The best part ever was that they even welcomed our small dog that we brought along as part of our family and theirs.
May 04, 2021
Nice campground friendly and helpful staff
May 04, 2021
Very clean and comfortable
May 03, 2021
Excellent as always
May 03, 2021
This is a very nice campground, sites are pretty level and dry. Easy access to our spot and close to the clean and well maintained comfort station.
May 03, 2021
VERY CLEAN AND FRIENDLY!!!!!
May 03, 2021
Karen and her husband were amazing!
May 03, 2021
Need a larger dog park. Not big enough to let my dog to run
May 03, 2021
Very nice setting. Great place for kids. Lots for them to do. This was just an overnight stay. Site was roomy for 45 foot class A towing a pickup truck. Leaving site would have been a challenge if the folks across from us didn't have their vehicle entirely within their site - good neighbors!
May 03, 2021
This was our FIRST adventure with our new RV (we have always been tent campers). Your location came highly recommended. The location was close to home and we could still go see our granddaughter play softball. This trip gave us an opportunity to learn our RV before we start out on a big trip. Your staff was AWESOME. Your campground was so clean and well kept. Everyone was very helpful Thank You
May 03, 2021
Staff was friendly, very clean
May 03, 2021
Great Derby Weekend!!
May 03, 2021
It was amazing. Definitely coming back again.
May 03, 2021
Nicely appointed campground. Stayed in a cabin and it was comfortable. Restrooms and showers were clean. If the Louisville airport is using 35R and 35L runways, be prepared for a long night of jet approaches directly over the campground.
May 03, 2021
Too expensive for our one night stay.
May 03, 2021
The campground was very clean, which was nice. Lots to do for the kids when weather permits. The play areas didn't have sanitizing wipes or anything for people to use between turns and the price is very high compared to other campgrounds around but again you have more to do than most other campgrounds so I understand a small price increase. Will stay again
May 02, 2021
We stayed one night in a studio cabin. It was very clean. Like the set up of the campground with the playground centrally located. We enjoyed the nature trail, immensely.
May 02, 2021
Our first stay was for 3 days i had requested a site that would be accommodate handicapped.Our site was unlevel and to reach electric water and sewer i had to park our rv where our steps came out over a sewer clean out cap plus 2 other sewer caps.Our 2nd stay on April 30th was just a overnight stay site was very unlevel price was unreasonable for this site,Will never visit again!!!!
May 02, 2021
Very friendly helpful staff, clean, pretty site.
May 01, 2021
The cabins were clean, late check-in was easy, and the staff was friendly. My only issues, which aren't necessarily a deterrent, just think others should be aware of: noise from air traffic is awful- bring ear plugs and the entrance to the campground is confusing and not well lit at night. time.
Apr 30, 2021
Nice clean campground. Convient to Louisville. Very friendly staff. Welcoming and accommodating.
Apr 30, 2021
Very nice campground. Very quiet, clean, well maintained. We arrived after office hours but our check in packet was ready for us right next to the office door with clear directions on finding our site. Lots of activities for the kids. Everything clean and well maintained. A little ways out of Louisville but worth the extra few miles. Would definitely stay here again.
Apr 29, 2021
We planned to visit for one but stayed a second evening. It was a refreshing time, enjoying the adjacent nature trails. Our canine was content to stretch out in the site's private playground. The staff were attentive even though the sites were mostly filled when we arrived.
Apr 29, 2021
The folks are wonderful here! Plus it's quiet and clean, great area for picnic, hiking and dog area. Perfect spot to take a break from the road and have a great day/evening/night/morning rest! LOVE IT!
Apr 29, 2021
Very nice and comfortable. Easy in and out.
Apr 28, 2021
Overnight stay. Great outdoor reception for check in. Smooth and quick. Greeter recognized we needed larger site for our toad than was initially provided which eliminated hassle of making a change after the fact.
Apr 28, 2021
Very nice and pleasant people.
Apr 27, 2021
Friendly staff, very clean park, respectful of COVID-19 protocols.
Apr 27, 2021
Beautiful little cabin!
May 07, 2021
We just stopped in to make reservations. The ladies are super friendly and helpful. We're so excited to stay here.
- Sabine Beard on Google
May 06, 2021
I liked this KOA! Nice, level, full hookup drive though site on gravel. Nicest accommodating staff ever! Some sites not much privacy but very comfortable and very quiet. Peaceful setting in a hilly environment. Laundry a little expensive about $3 a load. Prices comparable to most KOAs.
- Will Stein on Google
May 06, 2021
Very nice campground, sites are spacious, grows well kept and very accommodating for big rigs.
- Phyllis Rowe on Google