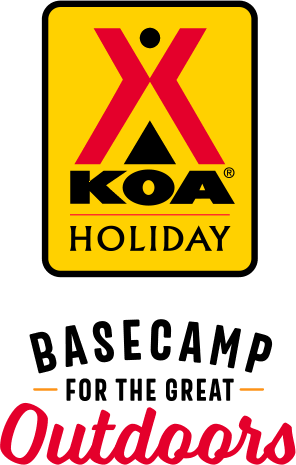 KOA Holiday Campgrounds
Whether you're exploring the local area or hanging out at the campground, KOA Holidays are an ideal place to relax and play. There's plenty to do, with amenities and services to make your stay memorable. Plus, you'll enjoy the outdoor experience with upgraded RV Sites with KOA Patio® and Deluxe Cabins with full baths for camping in comfort. Bring your family, bring your friends, or bring the whole group – there's plenty of ways to stay and explore.
KOA Holidays Feature:
RV Sites with a KOA Patio®
Deluxe Cabins with full baths
Premium Tent Sites
Group meeting facilities
Jul 23, 2021
Plenty of space between sites, would have preferred more options for a concrete site, versus gravel, but overall good experience. We didn't use any of the amenities, due to off site activities we had scheduled, but good campground. For a Big Rig, some of the turns were a little tight in the campground.
Jul 22, 2021
Beautiful campground! Lots to do just in the campground and plenty of space to walk your fur babies. Great staff with a cute little gift shop/essential items. Quiet and peaceful. Would definitely stay again when in the area.
Jul 22, 2021
It was our first experience. Great location & plenty of activities for the kids. Pond was stocked with blue gill & the younger kiddos had a blast. Wifi service worked decent at our campsite but worked perfectly at the pavilion. I was able to work & watch the kids swim. Bathroom was clean & the shower was nice too. We'll definitely be back!
Jul 21, 2021
Nice camp, friendly staff, and clean restrooms/showers.
Jul 20, 2021
Great staff and very friendly.
Jul 20, 2021
Great pull-through. Showers well kept. The newest shower house was awfully hot. The shower curtains could be longer in order to keep the water overflow from getting onto towel drying area. We enjoyed having a Saturday night movie to help end the day!
Jul 20, 2021
Pool very crowded and water semi clean.
Jul 20, 2021
The staff was great I got there 8pm the office was open. They took me to my site and helped me park. The camp ground was clean and well patrolled. The bath rooms were clean for a camp ground with a pool. Great amenities you could go there just to camp we went to visit Kentucky kingdom. My only complaint would be the seer hook up for site 218 is unusable because it is up hill
Jul 20, 2021
Very nice and clean campground. Was only there for one night but would definitely stay there again.
Jul 20, 2021
This stay was our first time to camp in our new RV. There were activities and the park was impeccable clean. The bath houses were very nice and clean. The staff was fantastic!!!!
Jul 20, 2021
Only downside is the placement of the dump station. It was right in front of our site, and backed up in the morning where we couldn't get out. Plus, the smell was awful
Jul 19, 2021
Chill environment. Good for families. Really nice pool and a jump pad. I thought the premium sites were a bit overpriced but very nice and better than some of the others in the park.
Jul 19, 2021
If ya have young kids lots to do if not ask to stay in a quieter site. Otherwise very nice park.
Jul 19, 2021
Always great to stay great people working
Jul 19, 2021
First time with the kids camping other then the backyard, and we only stay a night but they didn't want to leave they had a ball with everything you guys offer. Definitely coming back and making it a regular thing. Thank you for providing a family oriented place
Jul 19, 2021
Very happy with the stay. This was our first trip in the RV. We will definitely be back. Thank you for everything. Ken and Pam Hurley
Jul 19, 2021
Super friendly and helpful staff. Nice, well-kept grounds. Shower heads need adjustment as the water blows right through the shower curtain and floods the dressing area.
Jul 19, 2021
The Louisville South KOA is fantastic! The front desk staff was friendly, personable, and efficient. The guest services personnel were extremely helpful. The campground was perfectly maintained and the amenities were plentiful. It was just perfectly quiet and serene at night. The fireflies dancing around the trees were a bonus! This was our favorite campground on a 4500 mile trip!
Jul 18, 2021
Nice and friendly
Jul 18, 2021
Welcoming experience
Jul 18, 2021
Beautiful campground with lots of activities for the family!
Jul 17, 2021
Very nice friendly staff
Jul 17, 2021
Worst stay I have ever had at a KOA. Our reserved spot was given away and we got the worst spot in the entire campground (even though we reserved and locked in our spot since we were camping with my mom and sister). We were verbally assaulted by a staff member who had such an awful attitude. KOA needs to look into this location. It's made me rethink using KOA.
Jul 17, 2021
The staff is awesome, especially the girls in the office. We needed to check in early and they made it happen. Kids activities are great. Girls working them are very helpful. Will be back.
Jul 17, 2021
Amazing staff Jed the amazing property even better. Still the best overall KOA we've ever stayed at! Karen, Mike, Wendi and the entire crew are wonderful. Thanks!!
Jul 16, 2021
The KOA is very nice, the only thing Iwe as a family do not like about it is the sand around the jump pad. We have been coming for the past 5 years, loved the playground you took out. We would love to see tire chips around the jumping pad instead. It's a much cleaner for the kids and parents.
Jul 16, 2021
liked the site, staff was courteous and helpful, enjoyed the stay...we will be back
Jul 16, 2021
Great swimming pool. Loved our campsite. Friendly KOA people in the office
Jul 16, 2021
The campground was ok. The staff are very friendly. WiFi not very good.
Jul 16, 2021
Good location, very good utilities (water, sewer and power), wife poor. Good family campground. Staff very friendly and helpful. Nice amenities
Jul 16, 2021
Stayed at this KOA before, nice clean campground and we will go again
Jul 16, 2021
We enjoyed our stay despite the frequent rain. We will be back to stay again soon. The facilities were clean and the staff very friendly and helpful.
Jul 16, 2021
Clean campground with lots of trees and grass! Employees are gracious and accommodating.
Jul 16, 2021
Our site was overgrown grass and a mud pit. Electricity kept popping the breaker. First time, breaker was replaced with 20 amp instead of 30 so someone had to come back again and replace it. Still couldn't run ac and microwave at same time. I walked the whole campground and ours was only site with so much mud and standing water. Couldn't even set out chairs. Requested a discount but so far not
Jul 16, 2021
Great place for families
Jul 16, 2021
The campground was beautiful, but the bathrooms needed some attention.
Jul 15, 2021
Grass was a little tall and drainage on the roads need to be addressed
Jul 15, 2021
Just a terrific campground. Great spacious sites with wonderful shade trees. Close to all site seeing activities.
Jul 15, 2021
Short stay so didn't get to use amenities. Great family with children place. Good showers. Staff was very helpful and cooperative.
Jul 17, 2021
Great place for That. "feel good took the kids camping" !! Loved how the playground had different activities not just a back yard juniper gym and it's placed right in the middle of everyone's camping so your kids can play safely.
- Stephenie Moneymaker on Google
Jul 17, 2021
This campground was awesome. We stayed in a cabin. They had events planned for the kids, we went during hippy week. They painted rocks and made tie dye shirts and at the end of the day they played a movie in the play area. Definitely will come back.
- Jamin Slack on Google
Jul 15, 2021
Cute place with a lot to do
- Robert Marsh on Google