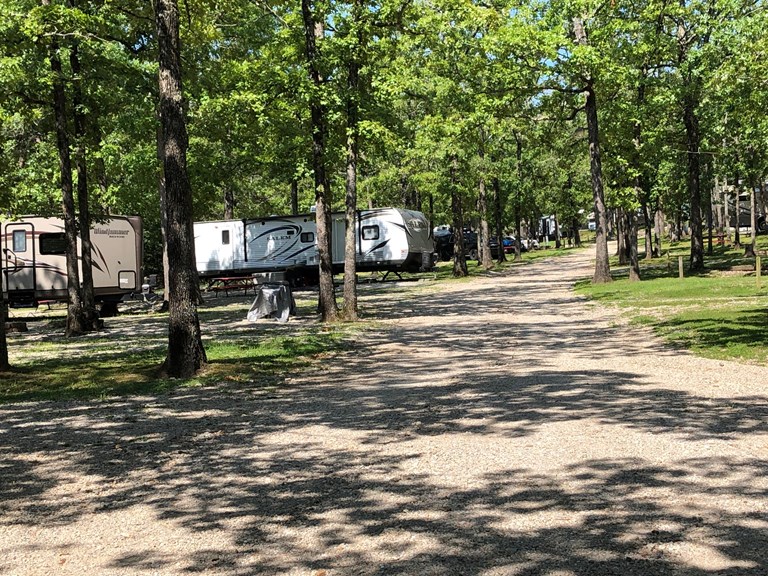 Lake of the Ozarks / Linn Creek KOA Reviews
Directions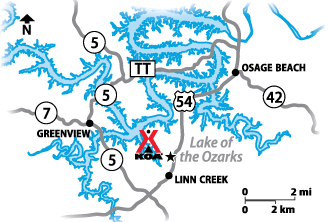 Northbound on Highway 5 turn east on Hwy 54 for 3 miles. Southbound on Hwy 54, 10 miles south of Osage Beach.   Best to use 1 Campground Road for GPS when looking for camp.
Get Google Directions
Jun 16, 2020
Very enjoyable
Jun 15, 2020
Very friendly and helpful staff! Great area for being close to so many attractions at the Lake of the Ozarks. Would definitely go back!
Jun 15, 2020
Good facilities and friendly staff. They made sure that we had what we needed for our one night stay. Bathroom and shower was very clean and nice.
Jun 15, 2020
Too squashed together. Our site had no green orcpatch at all, just gravel. Too close to highway. Nowhere really to hike around.
Jun 14, 2020
This campground had beautiful trees all over the grounds. This is a new KOA. Staff was friendly. It was a bit tricky getting into our spot which was up the hill. But the spot was level. Enjoyed the pool. Would stay here again.
Jun 14, 2020
Friendly, helpful hosts. This is a new KOA so it's a work in progress. Only drawback it's right off a 4 lane highway.
Jun 14, 2020
Very friendly and accomodating staff! Restrooms and showers are new and very well kept, which is essential on campgrounds. Good playground and swimming pool for kiddos. Easy access to many area activities since off the highway (though can get some noise at night from semis, sirens and traffic).
Jun 14, 2020
The area was nice but the RV site was on a Hill and the wood they sold us for our fire was wet. The wood was not seasoned at all. Also when I called to reserve a spot, the lady that answered the phone was nicely rude.
Jun 13, 2020
The owners were great. The campground was nice. It is right next to the highway, so a bit noisy. The trash was overflowing, but there was no smell of that or sewage. The bathrooms are really nice, the showers are huge and clean. Overall I would stay there again.
Jun 09, 2020
Been too many KOA campgrounds. The grounds need to be better maintained. The gravel roads are very rough, especially for a RV. When getting to leave spot #41, had to have a vehicle moved, and still then was very tight to get out. Positive, the personnel was very polite and courtesy, thank you.
Jun 09, 2020
Nice tree sites, Roads need work and map provided was unreadable
Jun 08, 2020
Most accommodating folks. Loved our stay.
Jun 08, 2020
Really like the sites that were spaced out and had plenty of shade from an abundance of trees. Pleasant surprise to not feel like a sardine in the can. The owner was very nice and the pride he showed in his business was evident by the cleanliness of pool and showers. He even made multiple trips a day around the sites to ensure that everyone had what they needed. We definetly will return!!
Jun 08, 2020
Helpful workers. Clean facilities! Thanks!
Jun 08, 2020
Helpful staff. Nice bathrooms and showers. All gravel (some of it very loose) so if on a motorcycle it is challenging. Driveway is right on the highway with no merge lane.
Jun 05, 2020
Friendly staff, nice clean showers and bathroom
Jun 04, 2020
Truck broke down so our RV was towed to them. People are very nice. Sites are deep wood and not level. We paid for 3 nights. Left in two as soon as our truck was fixed. The area is very pretty
Jun 03, 2020
Didn't get the adjoining camp ste with relatives and some confusion on number of people who could camp on a site, but owner came by several times to check on things and family especially the grand kids enjoyed the pool and playground. Nice quiet camping and excellent, clean restrooms!
Jun 03, 2020
Great staff. Lots of trees for cover. Pool and amenities were great. Gravel pads. I would have given it a 5 except for the roads and sites need grating and leveling. Will come back
Jun 03, 2020
Thought we had full hookups but no sewer. Trash was VERY overflowing. Put us in spot with 20 amp service. Roads VERY rough and cable wiring exposed, trip hazard. Setting beautiful but MUCH work NEEDS to be done.
Jun 02, 2020
Restrooms were outstanding. Nice campground. Pool was clean. Staff was friendly. Only issues were strong sewer smell each night and the trash dumpster was extremely over-filled.
Jun 02, 2020
Great bathrooms! Staff not super friendly and a bit condescending. No one to pick up trash and an overflowing dumpster. Pool was nice. Playground, roads, and especially campsites all need work. No wifi at our site and cable was not good. Not quite up to KOA standards yet in my opinion.
Jun 01, 2020
This place has great potential but it was not yet up to the standard of the other KOA's. The amenities are there, but they are run down or in poor condition. It was a very large campground, but only 1 trash can that was overflowing the entire time we were there. It wasn't a terrible experience, but I expected better from a KOA.
Jun 01, 2020
They state they have a dog park. There isn't one on the property.
Jun 01, 2020
Some work needs to be done on the road leading to the primitive campground. It has been washed out and has ruts that are pretty large. The bathrooms are very nice and clean.
May 29, 2020
We came in as a 3 day stay over on our way through and totally enjoyed our stay. It is a newer KOA but they are working hard to get it in shape and up to KOA expectations. I encourage anyone to support them. It's a great location and ran by good people. Thank you for your hospitality.
May 28, 2020
Nice trees and the feeling of being in the woods. Close to all the attractions. We will stay again.
May 28, 2020
This was our 1st stay at a KOA and this particular one as well. The staff from check-in until leaving were very courteous and very friendly. They were always on the go during the time we were there. The bathrooms and shower house were very clean. The cable at the campsite was a nice bonus too. We will definitely be back and stay at the Linn Creek KOA in the near future.
May 28, 2020
Kind of a different time to be in a park due to Covid, but the owners were very welcoming and the stay was great. Convenient to both sides of the Lake and many attractions.
May 27, 2020
Very nice park. The park was full but it was also quiet. Lots of trees and easy to get to nearby towns. The bathrooms were great, nice tile work. It looks like it just recently became a KOA so some things weren't quite ready like the dog park, the store, checkin was not smooth. The only real issue was getting safely off the highway. It wasn't clear where to park in order to be off the highway.
May 27, 2020
Stayed 2 nights (tent) every one was so nice.very clean,only went on 1 trail but it was really nice
May 26, 2020
Very nice campground. Would give 5 stars. However I called to setup a reservation for the weekend for my parents and I so we needed two spots close together. They claimed they had us together. When we showed up we were at opposite ends of the park and at first told they couldn't do anything. With enough complaining they got us right next to each other. So all and all great trip.
May 26, 2020
2 nights, close to numerous hiking trails, restaurants, and marinas, very friendly hosts
May 26, 2020
In communication with the campground all week between me & some friends, we were in Sight 28. Upon arrival they put us in 23 which was really too small for our rig, on a slope where the picnic table was actually at a 45° angle and rotted and mossy on the underneath side, the breaker kept tripping, I did complain and told them they would get a bad review, they said I was rude & asked us to leave
May 26, 2020
We have stayed at this location many times. This is the 1st time I have any complaints. The bathrooms were not cleaned as should be. They ran out of hand soap so put bar soap in which is not sanitary. Also there was a bad sewer smell at campsite and trash piled up. And this is the 1st time we have not had a fire ring. We had to go buy one to use. Also we had no picnic table.
May 25, 2020
We have been to several koa campgrounds this one by far was the worst camping experience ever dirty bathrooms and the front office staff were rude , we will never go back
May 22, 2020
Very friendly and helpful!
May 21, 2020
Staff was very friendly and helpful. The bathrooms were shockingly clean and nice.
May 21, 2020
Newly changed to a KOA. Needs alot of work to get up to KOA standards. Has alot of potential and is in a great location.
May 20, 2020
Staff was friendly and helpful. Bathrooms were very nice. Beautiful trees. But... Site was nowhere near level. Roads were washed out. So many dogs off leash. Not much grass, the grass that was there was knee high. Trash was not picked up and the feral cats kept getting in it. Then there's the trailer homes; old trailer homes with people living in them in the park. Will not be back.
Jul 12, 2020
Great camping spots...for new KOA they have some kinks to work out but should be a great place to visit.
- Paul Siemonsma on Google
Jun 28, 2020
We stayed in the moose cabin. Nice and clean. Good amenities.
- Preston Faudere on Google
Jul 08, 2020
Stayed in the "Downstairs Apartment", not a camp site, for our overnight stay as we were trying to avoid hotels during our necessary COVID-19 road trip. The room was very comfortable, with a kitchenette for us to prepare our own food, clean bed and bath and the comfort of being in nature and not some typical hotel environment.
- gadgetguy2k on Google

Lake of the Ozarks / Linn Creek KOA
Open All Year
4171 US-54
Linn Creek, MO 65052
Check-In/Check-Out Times
All Sites
Check-in: 2:00 pm, Check-out: 11:00 am
Operating Hours
Sunday: Open 24 hours
Monday: Open 24 hours
Tuesday: Open 24 hours
Wednesday: Open 24 hours
Thursday: Open 24 hours
Friday: Open 24 hours
Saturday: Open 24 hours
Lake of the Ozarks / Linn Creek KOA
Get Google Directions

© 2020 Kampgrounds of America, Inc.