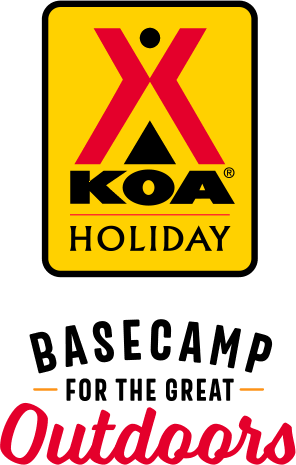 KOA Holiday Campgrounds
Whether you're exploring the local area or hanging out at the campground, KOA Holidays are an ideal place to relax and play. There's plenty to do, with amenities and services to make your stay memorable. Plus, you'll enjoy the outdoor experience with upgraded RV Sites with KOA Patio® and Deluxe Cabins with full baths for camping in comfort. Bring your family, bring your friends, or bring the whole group – there's plenty of ways to stay and explore.
KOA Holidays Feature:
RV Sites with a KOA Patio®
Deluxe Cabins with full baths
Premium Tent Sites
Group meeting facilities
Directions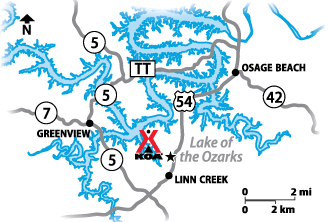 Northbound on Highway 5 turn east on Hwy 54 for 3 miles.
Southbound on Hwy 54, 10 miles south of Osage Beach.   
If coming from Camdenton, take the Y road exit, cross the bridge and then turn right to get back on Highway 54.
GPS: Best to use 1 Campground Road for GPS when looking for camp.
Get Google Directions
Nov 24, 2022
We were there for two weeks, clean, staff was friendly and responsive.
Nov 16, 2022
Beautiful small campground that is about 10 minutes from town. The Staff was accommodating and friendly. The sites are large and have patios with chairs and a fire pit. If you stay I highly recommend going to Ha Ha Tanka state park! Beautiful area with castle ruins you can see and amazing views of the lake! We had a great stay!
Nov 16, 2022
Facilities were always clean and accessible. Only complaint is that the lock on the men's bathroom door doesn't always work correctly ... the number 7 is difficult to press, and since the code has the number 7 in it, sometimes you're stuck out in the cold trying to open the door.
Nov 13, 2022
Hosts were prompt to meet us, despite being short handed and away from the office. They were easily contacted by cell phone and responded quickly.
Nov 09, 2022
We had a good stay at the linn creek KOA. The only 3 things that kept me from giving it 5 stars were: road noise was loud and we were halfway up into the campground, staff was not in the office during the posted hours, and the roads in the campground although better than the last time we stayed there are still rough in many places and hard on your truck and RV.
Nov 07, 2022
Had a great stay in the Gazelle! Very friendly and helpful staff, loved the campground. Would absolutely stay here again!!
Nov 07, 2022
We just loved our spot in #3!!! It was very windy that day and leaves were everywhere. But when we got to our site, it had been blown off…just love that KOA hospitality at Linn Creek!!!
Nov 04, 2022
I thoroughly loved the campground! Loved the hiking trails.
Nov 04, 2022
We love staying there always so friendly and very clean
Nov 02, 2022
Visit was good. Stayed there in a deluxe patio site f/h for 5 days to visit the Ha Ha Tonka state park. Friendly and fast check in. Escort to our site. . Built on an incline like a lot of campgrounds in this area. Not bad. Gravel, but is well kept up. Friendly and helpful owners and staff. Small store. They are beginning a step by step upgrade of the whole place. Which is a good thing. Fall trip.
Oct 27, 2022
We stayed in site 56. It was fairly level, very long, and fairly wide. They were very accommodating of our needs. The restrooms, shower, and laundry facility were very clean. The game room is old, but still nice and has several activities available such as a pool table, foosball, air hockey, giant checkers, comfy couches & big screen tv. We are going again, but to a site that we liked better.
Oct 25, 2022
We arrived at dark and our key and cabin information we easy to access. The cabin was quite adorable! Tasteful furnishings, cleanliness, and a private patio made us feel comfortable. In walking the property, the pool, playground, and outdoor sport courts, provide family activities without leaving the campground. There was also a Fall Festival providing food and fun for all those staying there
Oct 22, 2022
Camp sites are nice. Host was nice. Didn't visit amenities. Scraped our levelers a little getting onto the site pad. But other than that, would consider staying again.
Oct 22, 2022
Close to area attractions. Campsites have plenty of room and nice fire pits. Facilities are well maintained and the game room has some nice options for indoor play. Staff are friendly and very helpful.
Oct 22, 2022
2nd time coming to the campground and we like it a lot. Friendly staff, clean campground and close to everything
Oct 14, 2022
Atvs and utvs riding around. The neighbors next to us were working on their atv until 1 am. Roads in and out were tight for longer campers. Wifi was good, the ladies in the office were nice and helpful. Sight was level!
CAMPGROUND RESPONSE / COMMENTS:
Why did you not contact us so that we could address the issue while it was happening?
Oct 11, 2022
Everything about the stay was perfect! Perfect location, loved our camp site and the folks working there were the very best! Thank you
CAMPGROUND RESPONSE / COMMENTS:
Thank you for your positive comment. Hope to see you again!
Oct 11, 2022
The couple managing the property are lovely. They are working hard to shape the place into a nice campground. The site we were in was long and narrow and that doesn't work with our camping routine. Proximity to the highway presented another issue. The volume of traffic, the engine braking, hot rodding of the locals till late was just very loud and not very pleasant. I can't recommend this KOA yet.
CAMPGROUND RESPONSE / COMMENTS:
We never knew you were not happy with your site. We would have gladly changed you to a different site if you had let us know. We want our campers to have a positive camping experience.
Oct 10, 2022
Nice but pricey
CAMPGROUND RESPONSE / COMMENTS:
Thanks for stopping. Did you notice the new gigantic chess board? Did you play in the game room? The outside bowling alley being constructed? They are for our campers/ enjoyment.
Oct 08, 2022
Beautiful brand new cabin!!
Oct 08, 2022
The only thing I can say about this place is the have great WiFi. There was cable TV at the sites with no service. Our sewer connetion was up hill. There were no exit sign posted, You just found your way out. I am glad it wasnt raining while we were there. There were washout area, that had not been repaired. We stay at mostly KOA while we travel. This was not quality KOA by any means
CAMPGROUND RESPONSE / COMMENTS:
We explained to you that we had had to repair a site and therefore, the cable was not available. It is also on our website. Did you notice the nice bathrooms, the newly updated game room or the bath mats in the bathroom for our guests' convenience?
Oct 06, 2022
The original site was way to small but they immediately upgraded us to a very nice campsite. I will be returning in April. Had a great time.
CAMPGROUND RESPONSE / COMMENTS:
So glad your camping experience was positive.
Oct 04, 2022
Our stay was great. The grounds were clean and quiet. The shower/restrooms looked newly upgraded. The location is right off the highway so you can hear the traffic and the turn in coming from the south is tricky as you have to make a U-turn but overall would recommend.
CAMPGROUND RESPONSE / COMMENTS:
So glad you enjoyed your visit! Unfortunately, we don't have control of the highway. Thank you for your comments.
Oct 01, 2022
Very welcoming folks!!
CAMPGROUND RESPONSE / COMMENTS:
Thank you!
Sep 30, 2022
fine
CAMPGROUND RESPONSE / COMMENTS:
Is there something we could have done to improve your camping experience? We are always open for ideas.
Sep 28, 2022
Very nice campground ,plenty of trees and shade,employees very nice and extremely helpful
Sep 26, 2022
So happy they were there, we had unfortunately booked a stay at a local rv park that on paper looked wonderful. Needless to say it was anything but, we called Linn Creek and they said they could accommodate us. When we got there an hour later they helped us get in a spot that was level and quiet
CAMPGROUND RESPONSE / COMMENTS:
So glad your stay was a pleasant one! Glad we could help you out.
Sep 25, 2022
This was the most "rundown" KOA I've stayed in. The dog run was covered with waste. The lanes were narrow/difficult to navigate. Our site was poorly configured, had to go into the neighbors space to hook up electric/water which you had to scramble through rocks to get to it. Lots of trash and debris in the surrounding woods. It was quiet though.
CAMPGROUND RESPONSE / COMMENTS:
Our goal is to provide a positive camping experience for our campers. If you did not like your site, why did you not speak with us and we would have gladly moved you to another. You were here seven days, more than enough to change to a different site. Did you notice the excellent wifi?
Sep 22, 2022
Beautiful campground. Really friendly staff. The restrooms are gorgeous and well-maintained. We will definitely be back.
Sep 21, 2022
Well kept campground with a friendly staff. Nice campers. The only downfall I saw with this KOA was the cheap toilet paper in the bathrooms. There was always toilet paper on the floors - why? cuz it was terrible toilet paper. I also prefer paper towels in the bathrooms as well. It is nice to clean up after myself and I like to put a town down to set my toothbrush on.
CAMPGROUND RESPONSE / COMMENTS:
Thank you for your comment. Did you notice the bath mats we have for our guests convenience in the shower house? We do not have paper towels because our guests leave them on the floor vs putting them in the trash can. Thicker toilet paper clogs our drains.
Sep 21, 2022
So , the staff is friendly and helpful but this year we got charged extra ,last year our pool apt. Was pet friendly, not this year.. Bougger is the cleanest ever dog you will ever meet! Why do you guys not have a toilet paper holder ?? If you can't have it on the wall you can get a stand up one at Walmart's, they are cheap ! Having your TP ��� on the floor is just wrong !! �
CAMPGROUND RESPONSE / COMMENTS:
Thank you for your comment. We will take it into account, We feel it is more sanitary to have the paper on the back of the toilet versus on a floor stand but we will look for more options. It would have been appreciated if you had shared that information with us while here.
Sep 20, 2022
The cabin was terrific, clean, comfortable and better than the two subsequent hotels we stayed in on our way home...and half the price! Great staff too. Great memories made. Thanks!
Sep 20, 2022
It was just ok ....... park is a little messy
Sep 20, 2022
The staff was very friendly and pleasant. The camp store was not convenient due to a labor shortage (I completely understand this issue). I did not care for the camp site. I had difficulty getting my RV level and the site itself was very sloped. We could not set up our chairs near the RV (to be under the awning) and it was a huge step up into the RV. One person fell and one chair tipped over.
Sep 20, 2022
First of all, I want to say that I had an absolutely amazing time in your facility is wonderful! Second, the only thing that I have a concern on is that we stayed up in Turkey Hill. My kids, dogs and I wanted a more primitive setting. However, Turkey Hill is infested with seed ticks and unfortunately my dogs and my daughter had thousands of bites. We had to come home and fumigate everything.
Sep 19, 2022
Quiet and layed back. Very under staffed. Looks like some of the construction and repair work is being done by high school kids.
Oct 03, 2022
Very nice park! Very quiet and the regular there are super nice! But if you need flat land to walk around then this is more of hiking koa! Make sure you have car to site see I heard the lake is beautiful. The showers could used more pressure!!!!! Thats for sure!!!
- Lisa on Google
Sep 27, 2022
Nice place Great location
- Thomas Clemens on Google
Sep 21, 2022
Amazing KOA! THE BATHROOM!!! 😍😍😍 it was heaven!!! So nice. Everyone who works there is super friendly. Luis delivered us firewood one night, which was awesome! We had a RV site with a patio and fire pit which we got a lot of use out of! We used the pool which was amazing and hiked on the paths in the woods. We really enjoyed our stay! Thank you!
- Danielle Thiede on Google