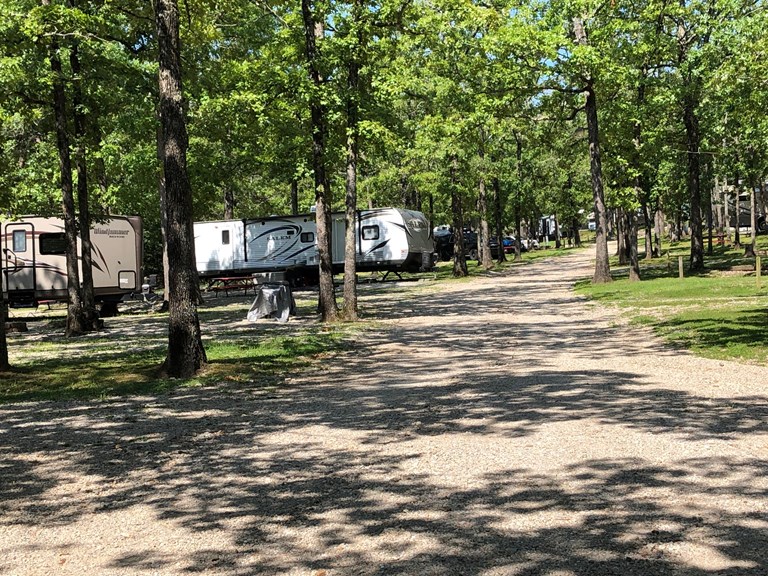 Lake of the Ozarks / Linn Creek KOA Reviews
Directions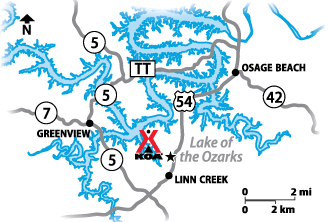 Northbound on Highway 5 turn east on Hwy 54 for 3 miles. Southbound on Hwy 54, 10 miles south of Osage Beach.   Best to use 1 Campground Road for GPS when looking for camp.
Get Google Directions
Sep 15, 2020
It was a nice Park. The staff was very friendly and helpful! Our only complaint was our spot (#41) was a bit tight, but it was right across from the very clean/nice restrooms/shower house.
Sep 14, 2020
Employees are very friendly and curious, the first. Night there it rained and u was surprised they was concerned about me and my stay i was pleased the help the provided me with everything.
Sep 14, 2020
We enjoyed our stay very much!!! The only thing I thought was pricey, was the cost of the "fire wood" all it was, was tree limbs that were wet.
Sep 11, 2020
The staff was helpful and worked with us to find the right campsite. We had noisy neighbors multiple times and they took care of it asking other campers to turn their music down.
Sep 10, 2020
It was very nice peacefull.
Sep 09, 2020
The campground was very well maintained. The staff was super friendly especially Jim who escorted us to our spot and even helped us level out our camper. The only negative thing I would have to say was how close the spots were together. I did see that not every spot was that close of quarters but we took what we could get short notice. Other than that, the campground was awesome!
Sep 09, 2020
What an amazing KOA! Very nice facilities, pool, campgrounds, hiking trails.... wow! What a great stay! Will definitely be back!!
Sep 09, 2020
The staff was very friendly and helpful. The location was perfect between all the tourist destinations. Clean nice bathrooms and showers. Decent pool and rec room. Only negatives are the roads are very rutted and the tent sites are not well defined.
Sep 08, 2020
Great place, needs a ramp up to the office, steps are not my friend.
Sep 08, 2020
Wish there were more family sites. Great park. Clean shower house.
Sep 08, 2020
Camp was easy to find. They were able to loan us an adapter so we could connect because we have a 3 prong plug and they have 4 prong outlets. The restrooms and showers were recently redone and clean, but there were no ADA facilities. The gravel roads were rutted and rough. The site we were on was tiny and all gravel, no grass. Staff was friendly and helpful!
Sep 08, 2020
Nice park that recently became a KOA. There is some work to do, but overall it is really nice. The only drawback was the road noise from the Hwy.
Sep 08, 2020
Our stay was great Quiet and peaceful. The staff is great and super friendly, the place is looking better every day. The Wifi is awesome, I had a football draft over Zoom I was on 2 hours not once did I drop the call. They installed new BBQ pits on Poles great upgrade. Overall great experience will for sure be staying there again.
Sep 08, 2020
The park has a nice pool, is shady and generally okay but the roads are rutted and uneven and need a lot of grading work. The sites are close together, although not so close that we couldn't put our awnings out.
Sep 07, 2020
The bathrooms were super clean and everyone was so polite and helpful. I initially requested a long pull through site and they accommodated me… Super job!
Sep 07, 2020
We came for a family funeral -had to extend for a 2nd death that was occurring. The folks were very helpful, we had to change sites for the second week. Then after the 2nd death we had to return to MI. earlier than planned as we were out of meds. which are crucial to my son, a disabled vet. Through all of this, the staff was very helpful and kind.
Sep 07, 2020
Very friendly staff! Spacious campsites.
Sep 07, 2020
Quiet but traffic noise fairly noticeable, lots are shady and level, utilities worked perfectly. Restrooms well maintained and clean. Roads are gravel and could use some attention but not horrible. Loved the access to nature trails. My only complaint was no curb side check in, had to go inside where no employees or customers were wearing masks and it was difficult to social distance.
Sep 04, 2020
We enjoyed our stay!
Sep 02, 2020
Everything would have been so much better is they did NOT lock the bathroom doors at night. How are you to lock the doors when people are camping there in tents? Thank god we were in a camper but if You pay for the amenities why are you not aloud to use it!??
Sep 02, 2020
Improved since last stay. A work in progress.
Sep 01, 2020
Staff were friendly and helpful. They accommodated my request to move my camping site from the one I chose (which was a very small site- note: if there isn't a picture of the site, don't choose it because it's likely not a good one). Firewood was available. Showers and bathrooms were sparkling clean, and so was the pool.
Aug 31, 2020
Love the office crew.. the roads I think need a little help.
Aug 29, 2020
Great people I will be coming back for an extended stay in 2 weeks.....exellent
Aug 27, 2020
The staff is very friendly and helpful. The bathrooms are the nicest and the cleanest we've ever seen. The only reason I didn't give 5 stars was because the gravel roads are very rough and need to be graded. We enjoyed our stay there.
Aug 26, 2020
The place needed a lot of work. Big ruts in the road and the grass needed cut. The dog park was full of poop, where there was grass it was as long as my dog. There were no poop bags. The noise shook my trailer but it stopped when they saw us. There was a dead mouse in the sink in the laundry.
Aug 25, 2020
Terrible. We were given a site that was very uneven, rocky and tight. Never again in this site.
Aug 24, 2020
Nice weekend However the interior roads need some attention. There are a lot of very deep ruts to navigate through.
Aug 24, 2020
Debbie and the staff here are amazing. Best place to camp!
Aug 24, 2020
Great staff and clean sight. First time staying in a KOA and was very impressed. Will stay again. My only request would be that sites were slightly wider so I could fully extend awning but that expectation was never set when reserving site. Great staff that went above and beyond. Bathrooms were amazingly clean and in very nice condition.
Aug 24, 2020
Really enjoyed our stay. Very clean bathrooms and shower stalls. Comfortable surroundings but lots of noise at night from adjacent highway. Staff very friendly.
Aug 24, 2020
Road to the tent area was really rough. SUV needed. The tent area had a lot of litter and overflowing garbage can, so I was concerned about animals. Also, the tent area was hard-packed dirt. If it rains, it will be a muddy mess. Too close to the highway. I heard cars all night long. Wifi does not reach back to the tent area. The bathrooms were nice. Great to have hot water.
Aug 23, 2020
not a bad location. hiking trail was not maintained. found a family of 5 baby raccoons in their dumpster one morning...helped them out. no one closed the dumpster overnight even after i reported that to office. I do not use facilities as our trailer is sufficient. nice campground...or it could be with some work. in fairness....the stupid virus could have caused alot of issues with help etc.
Aug 23, 2020
Alround good. Air mattres sucks and fix the stool lid
Aug 21, 2020
Short 3 days of getaway, friendly staff and helpful people all around
Aug 19, 2020
Great campground! Clean and the staff are awesome! We stayed in the Elk cabin the only problem there is the loft stairs are very steep ����a pull out couch would be nice.
Aug 18, 2020
Loved it, a beautiful park in a gorgeous area.
Aug 17, 2020
Nice facility.
Aug 17, 2020
Great location I will be back. Kids loved it and people were very helpful.
Aug 17, 2020
The hospitality was great restrooms and showers were always clean help was always friendly
Aug 17, 2020
Other than the pool not being open when the sign said it was it was very nice! It was clean & quiet & had all the amenities we needed.
Aug 17, 2020
The gravel driveways were terrible. Large ruts, uneven, poorly maintained. Bad for RV traffic. Camp sites were extremely tight/small and there were no permanent fire pits. Odd. No trash receptacles throughout grounds.. Showers were nice.. Pool was ok. The desk clerk was very nice.
Aug 17, 2020
Tina did the very best she could with what we were given. When we stopped in to inquire about the accommodation for our family we were told there was a great place right by the pool. The lady pointed to the house. She said there was two full beds and a pull out. Well that was not what we got. We were told our dog was not allowed but someone checked in above us with a dog.
Aug 17, 2020
I called 4 times because I thought we were going to miss our check in time and no one answered. I just risked me and my three girls being out of luck if they didn't let us in. Luckily they had our site info pinned to the board outside and we got in. The bathrooms were nice but very far away from the tent area. I would think the campers (with their own bathrooms) would be parked farther. Still fu
Aug 17, 2020
It was great. The bathrooms were clean, everyone was very nice. I would definitely stay there again.

Lake of the Ozarks / Linn Creek KOA
Open All Year
4171 US-54
Linn Creek, MO 65052
Check-In/Check-Out Times
All Sites
Check-in: 2:00 pm, Check-out: 11:00 am
Operating Hours
Sunday: Open 8:30 AM to 6:30 PM
Monday: Open 8:30 AM to 8:00 PM
Tuesday: Open 8:30 AM to 8:00 PM
Wednesday: Open 8:30 AM to 8:00 PM
Thursday: Open 8:30 AM to 8:00 PM
Friday: Open 8:30 AM to 8:00 PM
Saturday: Open 8:30 AM to 8:00 PM
Lake of the Ozarks / Linn Creek KOA
Get Google Directions

© 2020 Kampgrounds of America, Inc.