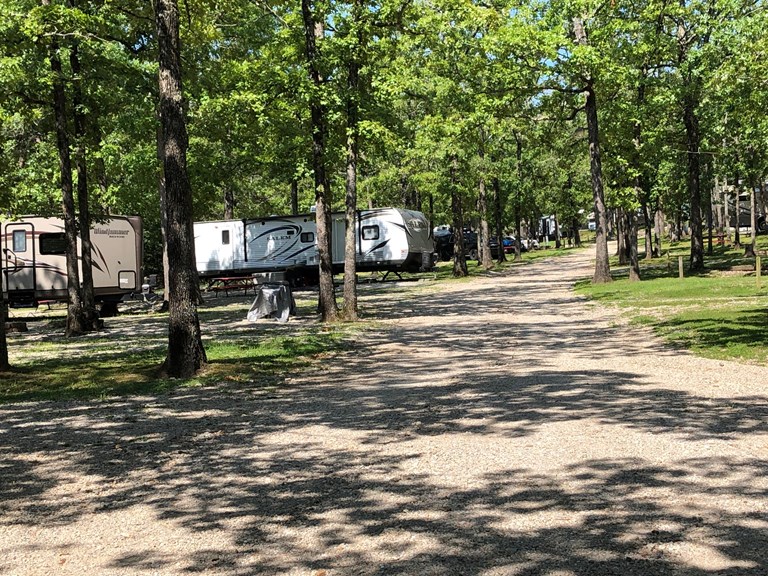 Lake of the Ozarks / Linn Creek KOA Reviews
Directions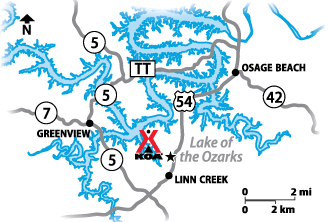 Northbound on Highway 5 turn east on Hwy 54 for 3 miles. Southbound on Hwy 54, 10 miles south of Osage Beach.   Best to use 1 Campground Road for GPS when looking for camp.
Get Google Directions
Jul 09, 2020
This camper comment has been removed by KOA due to profanity.
Jun 30, 2020
very small camp sites. my bbq pit was a tire rim someone left behind. your right next to the rvs and campers so you get to deal with that noise. i booked 3 nights and on the 2ed day they tried to get me to scoot my stuff over a little for someone else to share my site because they double booked it. wont be back. no picnic tables just rocky ground. over priced for not much
Jun 29, 2020
The drive up to the tent sites was a little sketchy but it added to the experience I think. Everything else was great! Clean, and comfortable! Staff was friendly!
Jun 24, 2020
The area was very clean as we are the restrooms. The price was also very affordable.
Jun 23, 2020
The website wasn't clear on whether you were selecting the primitive camping or individual camping sites. We ended up getting the primitive camping site. There were very few picnic tables or fire rings. The website should be clear on primitive vs individual sites. There was trash left as well. A tent and satellite dish in the middle of the site.
Jun 19, 2020
nice place with reasonable rates
Jun 05, 2020
Friendly staff, nice clean showers and bathroom
Jun 01, 2020
Some work needs to be done on the road leading to the primitive campground. It has been washed out and has ruts that are pretty large. The bathrooms are very nice and clean.
May 27, 2020
Stayed 2 nights (tent) every one was so nice.very clean,only went on 1 trail but it was really nice
May 26, 2020
We have stayed at this location many times. This is the 1st time I have any complaints. The bathrooms were not cleaned as should be. They ran out of hand soap so put bar soap in which is not sanitary. Also there was a bad sewer smell at campsite and trash piled up. And this is the 1st time we have not had a fire ring. We had to go buy one to use. Also we had no picnic table.
May 21, 2020
Staff was very friendly and helpful. The bathrooms were shockingly clean and nice.
May 13, 2020
Bathrooms were amazing, clean and up to date. Check in was quick and easy. Campground was over all very clean
May 04, 2020
It was truly amazing staying at this camp site. Debbie was super sweet! beautiful camp site we stayed in a tent in the primitive area.
Nov 22, 2019
Staff were very friendly and accommodating. Bathrooms were the best campground bathrooms I have ever been in-clean, warm showers, heated in cold weather. Nice recreation/game room. Nice tent sites. Good prices for campfire wood.
Jul 12, 2020
Great camping spots...for new KOA they have some kinks to work out but should be a great place to visit.
- Paul Siemonsma on Google
Jun 28, 2020
We stayed in the moose cabin. Nice and clean. Good amenities.
- Preston Faudere on Google
Jul 08, 2020
Stayed in the "Downstairs Apartment", not a camp site, for our overnight stay as we were trying to avoid hotels during our necessary COVID-19 road trip. The room was very comfortable, with a kitchenette for us to prepare our own food, clean bed and bath and the comfort of being in nature and not some typical hotel environment.
- gadgetguy2k on Google

Lake of the Ozarks / Linn Creek KOA
Open All Year
4171 US-54
Linn Creek, MO 65052
Check-In/Check-Out Times
All Sites
Check-in: 2:00 pm, Check-out: 11:00 am
Operating Hours
Sunday: Open 24 hours
Monday: Open 24 hours
Tuesday: Open 24 hours
Wednesday: Open 24 hours
Thursday: Open 24 hours
Friday: Open 24 hours
Saturday: Open 24 hours
Lake of the Ozarks / Linn Creek KOA
Get Google Directions

© 2020 Kampgrounds of America, Inc.