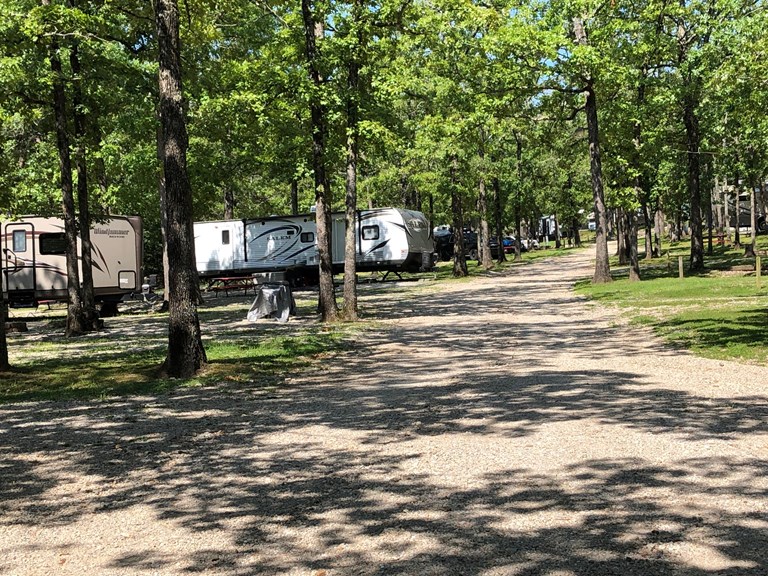 Lake of the Ozarks / Linn Creek KOA Reviews
Directions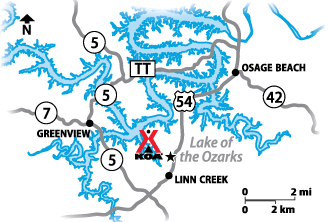 Northbound on Highway 5 turn east on Hwy 54 for 3 miles. Southbound on Hwy 54, 10 miles south of Osage Beach.   Best to use 1 Campground Road for GPS when looking for camp.
Get Google Directions
Jul 09, 2020
Rough roads. No WiFi. No trash pick up.
Jul 09, 2020
I didn't have a very good spot with small children on the main drive in across from the dumb station, not your fault, I did have 2 bundles of wood delivered that was pretty green never could get it to light, we left it. picnic table was completely across and behind our camper, escort that drove me in saw it didn't send anyone down to help move it to the correct location. Front desk staff was nice.
Jul 09, 2020
This camper comment has been removed by KOA due to profanity.
Jul 08, 2020
Quiet campground and making worthwhile improvements
Jul 08, 2020
Internet wouldn't connect but otherwise good stay.
Jul 08, 2020
The campground was ok. The pool was really dirty. Every time we went there was a lot of debris in the pool. It was 4th of July weekend, and I know there is social distancing for COVID-19, but there wasn't a single thing scheduled for family activities. I know other KOAs had activities that could be done while social distancing. It was disappointing.
Jul 08, 2020
Friendly Staff, my wife and I stopped by for just one night but enjoyed the pool and showers. And the WiFi signal was strong in our site! Thank you!
Jul 07, 2020
We were in a site that turned into a mud pit.. surprised that fireworks were allowed in the campground. Kept us up past midnight.
Jul 06, 2020
We stayed in one of the non-smoking apartments and it reaked of cigarette smoke . Also, someone must had froze fish in the freezer and then thawed in the refrigerator. Both, the refrigerator and freezer smelled like fish. Each time they were opened, they caused the apartment to smell like fish. Another complaint is that the three apartments had to share a grill and fire pit.
Jul 05, 2020
This campground was super crowed. Our awning from our camper touched the very large motor home parked next to us. Needs upgrades, roads washed out during storm, power went out for almost 24 hrs, we left early.
Jul 04, 2020
Staff very nice and helpful. We could see that they were working on all areas of the grounds to bring it up to KOA standards.
Jul 03, 2020
Very updated showers & restrooms & laundry. Had a great spot & we will probably come again next year.
Jul 03, 2020
Had a nice pull-through site. It was a nice touch to be led to our site by KOA staff! Nice picnic table and bonfire pit on site! Good pool, shower house! Enjoyed our stay!
Jul 02, 2020
Many big trees and quiet park
Jul 02, 2020
Office closed at 430 when we arrived. no WiFi code given and no one answering the phone. Sites are not level and are right on top of each other. some of the dirt/gravel roads were heavily rutted from rain. The trash bins were overflowing. Did not feel like a KOA
Jul 01, 2020
This Koa is very well kept up and the showers and bathrooms are very clean. The owners are on-site and are super friendly and kind. Nice hiking trail next to the campground. I really liked the fact that the campsites are not to close together and lots of trees. I highly recommend this Koa.
Jun 30, 2020
Overnight only. No use of facility or amenities. Need better signage on the highway. Only sign is at the gate
Jun 30, 2020
very small camp sites. my bbq pit was a tire rim someone left behind. your right next to the rvs and campers so you get to deal with that noise. i booked 3 nights and on the 2ed day they tried to get me to scoot my stuff over a little for someone else to share my site because they double booked it. wont be back. no picnic tables just rocky ground. over priced for not much
Jun 29, 2020
Everyone & everything was very helpful and very clean. It was a very pleasant stay & we will be back.
Jun 29, 2020
The drive up to the tent sites was a little sketchy but it added to the experience I think. Everything else was great! Clean, and comfortable! Staff was friendly!
Jun 28, 2020
Could be a nice place if sites were level, roads cleaned up and they did not crowd non monthly stays in to one corner. Showers looked recently redone and were quite nice
Jun 26, 2020
Great campsite! Attentive staff.
Jun 24, 2020
We used this KOA as our home base for various trips to the Ozarks. It is located within 10 minutes of several attractions. Very friendly staff, clean bathrooms, showers and pool. Sites level but fairly close together. I would stay again if we are in the area.
Jun 24, 2020
The area was very clean as we are the restrooms. The price was also very affordable.
Jun 23, 2020
Pleasant stay. Was able to bring the dogs. Didn't use all the amenities, but everything seemed to work fine. Hosts were very nice. Overall, would recommend!
Jun 23, 2020
Campsites was too close. I had no room to park my truck once I had unhooked from the camper. We had issues with the Cable hook-up.
Jun 23, 2020
stayed friday to monday over Fathers Day weekend. looking for property to buy. good stay nice and quite. we were in space 74 just a little unlevel. no dish network received there. but the cable was great. when we come back we want over in that same section.
Jun 23, 2020
The website wasn't clear on whether you were selecting the primitive camping or individual camping sites. We ended up getting the primitive camping site. There were very few picnic tables or fire rings. The website should be clear on primitive vs individual sites. There was trash left as well. A tent and satellite dish in the middle of the site.
Jun 23, 2020
Debbie is super nice and very helpful!
Jun 23, 2020
Reservations were made requesting 50 amp site. Site wasn't ready when we arrived so they put us in a 30amp site. Which didn't work for us. 2 hrs later our site was done but we made it work. For our trouble owner said she would take off 10% and we are still waiting for that
Jun 23, 2020
The location for us could not have been better. To enter and exit the park is a little concerning, getting off and on the main roadway is challenging with on coming traffic, The Staff was great, helpful, polite. The phone conversations were friendly and polite, over all it was a nice quiet place with a lot of good people we look forward to going back again.
Jun 22, 2020
The cable tv - it was terrible. Gravel roads thru the park - dust was bad. We would stay again, just have to know, no tv and my car will be filthy.
Jun 22, 2020
Staff was very friendly. Enjoyed the nice shaded spots.
Jun 22, 2020
The staff was very nice and friendly. You can tell they are making improvements. We were in site 62 and my only suggestion is they need to level it more. we had to use a lot of blocks in the front to get it level. If we are every in the area again we will consider staying there . I would recommend this KOA.
Jun 22, 2020
Called ahead to make sure pool was open and available for stay, they shut down pool for half our stay. Felt like bait and switch. Newly acquired KOA facility and you can tell. It's not quite up to most KOAs I've stayed at.
Jun 20, 2020
New koa and they are trying to improve but as far as koa standards we felt they aren't there yet. They are very friendly and courteous.
Jun 20, 2020
Nice clean restrooms.
Jun 19, 2020
It was fine- stayed during COVID and zero signs about social distancing. It also smelled like poop many times by our campsite.
Jun 19, 2020
nice place with reasonable rates
Jun 16, 2020
Lost power for about 2 hours. The majority of the campground was out. Very limited supplies in the store. Staff was very friendly and helpful.
Jun 16, 2020
Owner and staff were very affable. The grounds were clean and they were making changes.
Jun 16, 2020
We stayed at KOA Linn Creek from 6/10/20-6/15/20. We absolutely can not say enough positive things about this Campground.�ϋ���������The staff Debbie to Luis were such kind and welcoming individuals. Lori the owner was so helpful and welcoming. They have done amazing things to this campground. We enjoyed our apartment we rented above the pool. It was a wonderful "home away from home" e
Jun 16, 2020
Sites were generous in size, but, it'd be nice if the full hookup sites were more level. Also, I wish the sewer lines had a threaded connection...we had to stack rocks! Didn't realize how noisy it would be due to the highway...nice campground though and would stay again if other options are not available
Jun 16, 2020
First time out in the camper ever. Nice quiet camp ground with plenty of shade.
Jun 16, 2020
Great stay for our first time RVing in our new trailer! The staff was very friendly and helpful. The sites were shady and well maintained, the pool was clean, and the playground facilities were great. There were great hiking trails just west of the campground. The only concern I had were the off leash dogs. My dog was leashed and quiet all times; others should do the same. Thanks for a great stay!
Jul 12, 2020
Great camping spots...for new KOA they have some kinks to work out but should be a great place to visit.
- Paul Siemonsma on Google
Jun 28, 2020
We stayed in the moose cabin. Nice and clean. Good amenities.
- Preston Faudere on Google
Jul 08, 2020
Stayed in the "Downstairs Apartment", not a camp site, for our overnight stay as we were trying to avoid hotels during our necessary COVID-19 road trip. The room was very comfortable, with a kitchenette for us to prepare our own food, clean bed and bath and the comfort of being in nature and not some typical hotel environment.
- gadgetguy2k on Google

Lake of the Ozarks / Linn Creek KOA
Open All Year
4171 US-54
Linn Creek, MO 65052
Check-In/Check-Out Times
All Sites
Check-in: 2:00 pm, Check-out: 11:00 am
Operating Hours
Sunday: Open 24 hours
Monday: Open 24 hours
Tuesday: Open 24 hours
Wednesday: Open 24 hours
Thursday: Open 24 hours
Friday: Open 24 hours
Saturday: Open 24 hours
Lake of the Ozarks / Linn Creek KOA
Get Google Directions

© 2020 Kampgrounds of America, Inc.