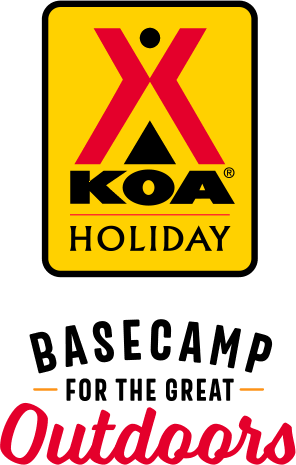 KOA Holiday Campgrounds
Whether you're exploring the local area or hanging out at the campground, KOA Holidays are an ideal place to relax and play. There's plenty to do, with amenities and services to make your stay memorable. Plus, you'll enjoy the outdoor experience with upgraded RV Sites with KOA Patio® and Deluxe Cabins with full baths for camping in comfort. Bring your family, bring your friends, or bring the whole group – there's plenty of ways to stay and explore.
KOA Holidays Feature:
RV Sites with a KOA Patio®
Deluxe Cabins with full baths
Premium Tent Sites
Group meeting facilities
Directions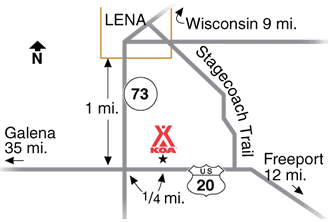 On US Hwy 20, 40 miles west of Rockford. From I-90 take US 20 Rockford Exit Freeport/Galena.  Galena is 38 miles west. Chicago O'Hare is 110 miles away.
GPS: N42.357085. W89.826536
Get Google Directions
Sep 17, 2021
Nice facility, good people here.
Sep 16, 2021
Lovely landscaping and a nice cabin!
Sep 14, 2021
This campground is small but friendly staff and very well up keep. Love the brick around the fire rings also. We will be back. :)
Sep 14, 2021
Very intertwining love it will be back
Sep 14, 2021
Prettiest campground around, best staff too!
Sep 14, 2021
This is an amazing place to stay. We will definitely return.
Sep 13, 2021
Great campground and we go back every year. Joe and his crew keep the place immaculate and always a great stay.
Sep 13, 2021
I love going to the Lena KOA. Cleanest campground around and the cabin was outstanding. Thank you!
Sep 13, 2021
One of the best campgrounds we ever stay at,, always look forward to our stays there
Sep 13, 2021
Very well kept up. Quiet after 10 pm. Pool was clean and the restrooms too. Booked again for September of 2022.
Sep 13, 2021
Great place for fun. Very clean and well taken care of.
Sep 13, 2021
We felt that this was one of the best campgrounds we stayed at. The staff was very friendly and helpful. Everyone was having a good time. We would recommend it highly.
Sep 13, 2021
We were a last minute booking. We stayed one night in the Teepee. Great phone booking, the person at the Lena KOA was very helpful. They took care of delivering firewood to our site and picked up our recycling and trash the next morning. We will definitely be back!! The
Sep 12, 2021
All I can say is that it is always GREAT!!!!!!!!!!
Sep 12, 2021
Great Place. Everything was nice and clean. Staff was very nice and Friendly!!
Sep 11, 2021
BEST KOA EVER
Sep 11, 2021
Love the deluxe site and the staff
Sep 10, 2021
We certainly enjoyed our first visit to LENA KOA. We have passed by for many years on our annual trek to southern Wisconsin to visit family. It will become a mainstay in our future plans. It is definitely a well kept facility and a tribute to the management and staff. Thank you.
Sep 09, 2021
Always the best
Sep 09, 2021
Great stay like always
Sep 08, 2021
You are too far from Denver! You need to open the same thing in Colorado!
Sep 07, 2021
There were lots of great activities but not so many we didn't feel like we couldn't sit back and enjoy the amenities. The staff was friendly, the grounds and facilities were clean, and the kids had as much fun as we did. We'll be happy to return!
Sep 07, 2021
We have an annual family Labor day camping trip. There were seven families which included a teepee,cabin,popup ,travel trailers and rv. We were VERY well accommodated. We were all together . It was marvelous. We enjoyed all the activities. We have been coming here for years !!!
Sep 07, 2021
Always friendly staff and the campground is in great shape which keeps us coming back year after year
Sep 07, 2021
My boys and I stayed at this KOA for their first ever camping trip and it was a great experience. By far the cleanest and most well maintained campground I have visited. Plenty of activities for the boys to do with clean bathrooms and facilities. My only suggestion would be to expand the playground equipment to account for a larger number of kids. Not complaining at all just a suggestion.
Sep 07, 2021
Great job by the LONG family, very nice communications and the place was in great shape.
Sep 07, 2021
We had an amazing time! The owners and all whom work there are very helpful and kind. Cannot wait to plan our next time to the Lena KOA
Sep 06, 2021
Very beautiful camp. Everything was exceptional!
Sep 04, 2021
I don't know if we've ever stayed at a more beautifully maintained park. Friendly staff and fantastic amenities. We'll definitely be back.
Sep 02, 2021
I recently stayed at the Lena KOA for 6 nights. The campground is clean and well kept! On the weekend, there was a lot for the kids to do! I highly recommend staying here!
Sep 02, 2021
Well kept campground. Convenient to Freeport. Site fairly level, clean and easy to park. Courteous owners. Ha e stayed here before a year ago.
Aug 31, 2021
We have a family reunion weekend here every year. We rent 6 cabins that are close to each other and use the beautiful open spaces and patios to gather. The owners are very nice and keep the campgrounds immaculately groomed, with landscaping and garbage pick up. The amenities for use by all are very nice, with the younger ones in our group enjoying the pool, volleyball, and other games.
Aug 31, 2021
We have been able to rent cabins for our large annual family campout for the past several years. We all love it. Great location, many amenities and friendly staff. �ϋ�
Aug 31, 2021
We love staying at Lena koa. Staff is very helpful. We had a problem with our rig and the staff was very helpful to show us how to resolve the issue
Aug 30, 2021
Great campground,very friendly and helpful staff.Owners are always available working themselves "if" you need something requested.
Sep 07, 2021
We stay at this KOA all the time. Joe and Diane are excellent hosts. The campground is beautiful and so much to do. This past Labor Day Weekend they had a Labor Day parade. The seasonal campers decorated there golf carts and drove around the campground and even threw out candy to the kids. What a great weekend. Would definitely recommend this KOA!
- Tammy Wybourn on Google
Sep 06, 2021
I was a bit nervous making the reservation… I had never heard of Lena, Illinois though I'm a lifelong Illinois girl. Let me just tell you that by the time we left I had booked another weekend and signed up to be on a wait list for a permanent spot. I fell in love with this campground and will cherish the memories we made this Labor Day weekend. From the moment we pulled in I knew I had found something special and a place we would come back to for years to come. This campground feels wonderfully nostalgic yet it's very up-to-date, it is meticulously clean and the grounds are kept nearly perfect. Staff and permanent guests are so very friendly, helpful and accommodating. The owner is very present and you can tell he loves what he does. Prices were fair and I NEVER felt the price gorging and extra charges so many other campgrounds have resorted to. My kids have been to MANY campgrounds but by the time we left they were saying this was their favorite! (My little guy asked to have his next birthday there.) This campground is for family, friends and a lifetime of memories! If you are thinking about booking a stay, give it a try, you will not regret it!
- c gill on Google
Aug 31, 2021
Cool cabin on a hot and humid day in August, 2021.
- Mark Mallerdino on Google