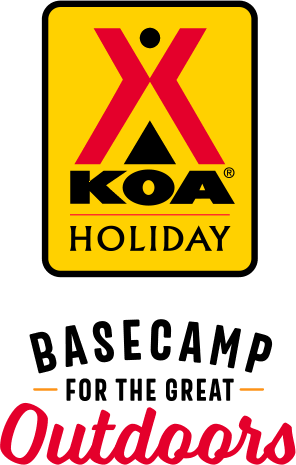 KOA Holiday Campgrounds
Whether you're exploring the local area or hanging out at the campground, KOA Holidays are an ideal place to relax and play. There's plenty to do, with amenities and services to make your stay memorable. Plus, you'll enjoy the outdoor experience with upgraded RV Sites with KOA Patio® and Deluxe Cabins with full baths for camping in comfort. Bring your family, bring your friends, or bring the whole group – there's plenty of ways to stay and explore.
KOA Holidays Feature:
RV Sites with a KOA Patio®
Deluxe Cabins with full baths
Premium Tent Sites
Group meeting facilities
Directions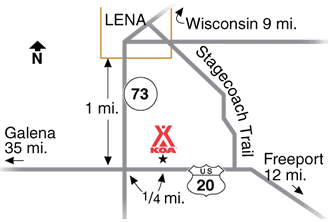 On US Hwy 20, 40 miles west of Rockford. From I-90 take US 20 Rockford Exit Freeport/Galena.  Galena is 38 miles west. Chicago O'Hare is 110 miles away.
GPS: N42.357085. W89.826536
Get Google Directions
Nov 30, 2020
We broke down upon departing and ended up having to stay an extra five days after they closed for the season. The owner Joe was awesome and we can't wait to go back! Beautiful campgrounds, great sites and great people!
Nov 11, 2020
Stayed there the last week they were open! Very cold but had a good time.first time there this year Joe knew me by name the best koa I ever stayed in. See you next year.
Nov 09, 2020
It was a very cold weekend but we had a great time.
Nov 05, 2020
Best run KOA
Nov 03, 2020
I am a seasonal camper and this was another good year.
Nov 03, 2020
As soon as we drove into the campground if felt nice. We felt very welcomed and at home. Our deluxe cabin was perfect. My sisters and I have a wonderful stay. Your hospitality was incredible. Thank you!! We will definitely be back!!!
Nov 02, 2020
Great place to stay. The Long family are wonderful hosts.
Nov 02, 2020
Best Campground in the State !
Nov 02, 2020
Amazing campsite! The staff is friendly, helpful and courteous. The Long's should be commended for keeping us all happy for so many years. We feel like we're at home with friends every time we go.
Nov 02, 2020
Had a great time with family and friends. Good memories!! We will be back next year! Thanks Joe!
Nov 02, 2020
Our spot for fall camping! The views of changing leaves is quite incredible for the area. The park itself is very well kept/maintained, the people are friendly and very helpful!
Nov 02, 2020
We have come to this campground in the past several times and it is always a wonderful experience. Staff is very friendly and everyone is very helpful. Can't wait to come back in the spring!
Oct 31, 2020
We loved our stay! Although it was a chilly week, since it was the last week before they closed for winter , it was pretty quiet and peaceful. This was our second time at this KOA this year. Very friendly staff and all the COVID precautions are taken. We love the K9 park for our dogs! We'll be coming back next year.
Oct 29, 2020
Very clean, very quiet and VERY relaxing!!!
Oct 28, 2020
The weather was windy and chilly, but as always we found ways to enjoy our stay. We already have time at the Lena KOA booked for next year.
Oct 28, 2020
Too short, but we will be back..Our first snow with our new trailer. Toasty warm and dry..The campground was fantastic, clean, and well organized..
Oct 27, 2020
We missed the events for Saturday, specially the ride with the mini train, hopefully you will consider doing more activities during the rest of the week
Oct 26, 2020
Very helpful owner always on site. Staff is friendly and very helpful. Grounds are very well kept. Stuff for the kids. Cabins available. We ALWAYS enjoy our Lena stays.
Oct 26, 2020
Very clean great place to stay with activites. Daily site side garbage pick up and they deliver wood right to you site. Well run and friendly staff.
Oct 26, 2020
Always a clean, fun time!
Oct 26, 2020
We had alot of fun and most of the staff are very friendly.
Oct 26, 2020
Great campground with a family orientation. Campground is well maintained, and has lots of trees. The folks running the campground are nice and accommodating. Highly recommended!
Oct 26, 2020
Sat afternoon the neighbors dog barked all afternoon while in the camper until they came home. Despite that, we had a very nice weekend. My 2yr old granddaughter loved the bounce pillow and play ground. We will be back next summer, love the pool.
Oct 23, 2020
Very good but, my WIFI keep going in and out.
Oct 23, 2020
Although we were there in October and most KOA activities were done for the year, there was enough to do in the area. Very clean and well maintained.
Oct 22, 2020
This was our third stay at Lena KOA this year. Very friendly and helpful staff and very clean campground with a lot of planned activities even while social distancing. Joe, the owner, who always makes us feel welcome even took time out of his busy schedule to talk with us. This is one of the best campgrounds we have been to. Looking forward to coming back in 2021.
Oct 21, 2020
Nice large pull through site. Bathrooms and showers were immaculate. Friendly staff and grest price. We will be back!
Oct 21, 2020
Fantastic campground, clean facilities and an awesome, friendly staff. Love this place and can't wait to come back and stay again next year!
Oct 21, 2020
Great campground with lots of activities for the kids; very friendly and helpful staff, and friendly co-campers as well. This was our second year in a row staying here and we will be back again next year.
Oct 21, 2020
The staff at the Lena KOA is wonderful and very helpful. The facility is well kept up which in turn helps attract the friendly campers that stay there. Keep up the great work!!
Oct 21, 2020
Very clean and so much to do for the kids!! Employees are very nice and helpful!! We had a clog in our black tank and they were very willing to help.
Oct 21, 2020
Staff was super nice, the camp ground was well maintained and in the warmer months ton for the kids to do! We will be back for sure! The only things I would say for areas of improvement are- beds in cabin are very uncomfortable and in the area above the front door there are hundreds of dead flies.
Oct 20, 2020
We come here every fall for the past 4 years. Always have a great time.
Oct 20, 2020
We love the activities from the ice cream social to the trick or treating. Plenty to do for kids. The staff was helpful and courteous. We already booked for next year and have recommended to several friends to join us. Can't wait for next camping season.
Oct 20, 2020
Great campground. Great customer service.
Oct 20, 2020
Even though we mainly stayed at our site. Everyone who worked there were helpful and nice We did take walk around and it was a clean campground. When we were able to have a fire, because of weather. We thoroughly enjoyed it and will come again.
Oct 20, 2020
It was our anniversary weekend we stayed in a deluxe cabin the only thing I didn't care for that the bathroom was not as clean as it should have been but I cleaned it myself but overall it was a fantastic weekend and we thank you for that
Oct 19, 2020
Always enjoy our stay, clean camp grounds ��see you next year
Oct 19, 2020
Well maintained campground and everyone is very friendly.
Oct 19, 2020
We had an amazing weekend. Very nice campground.
Oct 19, 2020
We had a great time for our last outing of the year. The weather did not cooperate and blew our tent down, but thankfully we had some friends in a camper that we stayed with the second night. The campgrounds were clean and super inviting. The kids had an amazing time playing on everything and trick or treating!
Oct 19, 2020
Lovely campground. Lots of activities for the kids! Very clean. Well stocked camp store. Friendly staff, very helpful!
Jan 04, 2021
Very fun place! And away from most civilization, which I believe really shows the night sky potential
- Jonatan Reyes on Google
Nov 04, 2020
I'm not one for the outdoors, but this place was wonderful! Friendly people wonderful attention. The details were amazing . I would definitely go back and recommend this KOA.
- Marcia Souza on Google
Oct 31, 2020
Very nice campground
- J J on Google