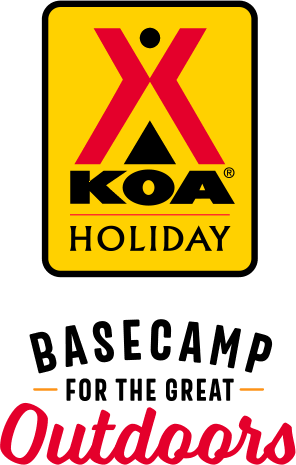 KOA Holiday Campgrounds
Whether you're exploring the local area or hanging out at the campground, KOA Holidays are an ideal place to relax and play. There's plenty to do, with amenities and services to make your stay memorable. Plus, you'll enjoy the outdoor experience with upgraded RV Sites with KOA Patio® and Deluxe Cabins with full baths for camping in comfort. Bring your family, bring your friends, or bring the whole group – there's plenty of ways to stay and explore.
KOA Holidays Feature:
RV Sites with a KOA Patio®
Deluxe Cabins with full baths
Premium Tent Sites
Group meeting facilities
Directions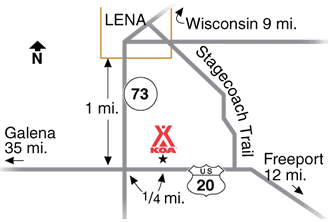 On US Hwy 20, 40 miles west of Rockford. From I-90 take US 20 Rockford Exit Freeport/Galena.  Galena is 38 miles west. Chicago O'Hare is 110 miles away.
GPS: N42.357085. W89.826536
Get Google Directions
May 04, 2021
Great Stay as always. Spotless campground and friendly efficient staff.
May 04, 2021
Windy. Great time even with the wind
May 03, 2021
Great way to start the camping season!! Wonderful weather even though it was windy, I was able to catch up with a bunch of Permanent campers I haven't seen in over a year and talk about what we have done over the past months and enjoy time at the KOA! I even had tme to run into Lena and shop a bit!!
May 03, 2021
Quiet, well kept and nice general store! We will be back!
May 03, 2021
We've stayed here before (long time ago) and will stay here again. Well run, clean place. The only issue we had is that many of the RV full hook-up sites are pretty narrow. We had reservations well in advance but the site we were given was on the busiest stretch of road in the campground. Not much privacy or quiet. There are lots of really good sites though. Make sure you ask about them!
May 03, 2021
Want to spend a weekend away from your stressors. This is the place. We were treated like family for our stay. The store had normalized pricing not captive audience pricing. The cabin was wonderful. Being disabled, the cabin catered to my needs, in and out. The kids had a blast, they were asking to come again and we had not left.
May 03, 2021
Great family friendly campground! We had a great time and will be back soon.
May 02, 2021
Everything was very clean and the hosts were really nice. We stayed in a camping cabin with bathroom, loved it. The chairs on the deck and table and chairs outside, adirondack chairs, gas weber grill and fire pit. Definitely coming back. Pet friendly.
May 01, 2021
As always....a wonderful site, wonderful staff, wonderful stay!
May 01, 2021
Great KOA, have stayed there before and will again. They have GREAT WiFi.
Apr 29, 2021
Friendly staff & very nice campground with lots of nearby stuff to do. Very clean
Apr 28, 2021
Our favorite campground. Just the right amount of trees for shady areas but not overgrown and dense like state parks. Service and amenities are second to none.
Apr 28, 2021
Well maintained campground. Activities for kids include a pool, bounce area and playground. Campground staff were friendly and accommodating. Campground was quiet.
Apr 27, 2021
The location is off highway 20, but the noise level is low. Campground is clean and well kept and has wooded sites as well. Joe was very friendly and offers local knowledge to help you navigate the local area.
Apr 27, 2021
Awesome sites, we always feel welcomed here!
Apr 26, 2021
Excellent campground and hosts were attentive to many of the little details. Easy in and out. My suggestion is to make a larger dog off leash park. If your dog is more than 40 pounds, this park is too small for exercise.
Apr 26, 2021
Lena KOA is a great campground. Joe works tirelessly on the place and everything there is clean, well cared for and works properly. His staff is friendly, courteous and helpful. A wonderful place to stay and enjoy. A+++++
Apr 26, 2021
First time staying with KOA, very friendly staff clean facilities clean campground kids had a blast definitely come back!
Apr 26, 2021
Owner is friendly and helpful sight is large and clean
Apr 26, 2021
We were surprised how big the KOA actually is, we were thinking it was smaller. It was a nice surprise. The staff was very friendly and helpful, and the campground was nice and clean. We enjoyed the Kamp K9 and the numerous large pet walk areas. Thank you for helping to make our weekend relaxing and comfortable.
Apr 26, 2021
Owner and staff is hands on and very concerned that they make your stay an enjoyable one. I have stayed at this KOA several times in the past few years, and always have fun. We take the grand kids and they love the experience also.
Apr 22, 2021
Lovely stay. Very friendly staff. We spoke with the owner while he was hard at work. He was very friendly. Beautiful, well maintained campground with very nice views. Beautiful bathrooms. Thanks
Apr 21, 2021
This was our first trip with our first camper. Joe and everyone working there were very pleasant and helpful. All of the guests were very friendly and respectful of other campers. The campground was very clean and the bathrooms are a 10!! We enjoyed ourselves very much and will certainly return. Thanks Lena KOA!
Apr 20, 2021
This is our favorite place to get away! We just spent 5 days and 4 nights here and had an amazing weekend. Joe and his crew are amazing and we can't wait to go back!!
Apr 20, 2021
Enjoyable weekend stay.
Apr 20, 2021
Spent my 40th birthday in the best place I know. Thank you to Joe and staff for making it a great one
Apr 20, 2021
The park was very clean. The owner and staff are very friendly. Will definitely be back.
Apr 20, 2021
This is a great campground for anyone. Hosts are very nice and helpful
Apr 20, 2021
Beautiful setting, clean and big sights. A great spot for families.
Apr 19, 2021
Are favorite place when we have the grandkids they are friendly the place is clean the bathrooms and showers are clean nice playground for them
Apr 19, 2021
Wonderful and friendly as always!
Apr 19, 2021
Clean, orderly, and well kept. Very nice facility will definitely visit again.
Apr 19, 2021
We loved it. It was our first time. Very nice, clean & friendly place.
Apr 19, 2021
The site was not level but otherwise very nice
Nov 30, 2020
We broke down upon departing and ended up having to stay an extra five days after they closed for the season. The owner Joe was awesome and we can't wait to go back! Beautiful campgrounds, great sites and great people!
Nov 11, 2020
Stayed there the last week they were open! Very cold but had a good time.first time there this year Joe knew me by name the best koa I ever stayed in. See you next year.
Nov 09, 2020
It was a very cold weekend but we had a great time.
Nov 05, 2020
Best run KOA
Nov 03, 2020
I am a seasonal camper and this was another good year.
Apr 25, 2021
Nice KOA. The staff was very friendly and helpful! Larger that we were expecting, nice to walk around. There are multiple large pet walk areas as well, and Kamp K9, which our pups loved. If your looking to get away and just relax, this would be worth a look.
- James Bessert on Google
Jan 04, 2021
Very fun place! And away from most civilization, which I believe really shows the night sky potential
- Jonatan Reyes on Google
Nov 04, 2020
I'm not one for the outdoors, but this place was wonderful! Friendly people wonderful attention. The details were amazing . I would definitely go back and recommend this KOA.
- Marcia Souza on Google