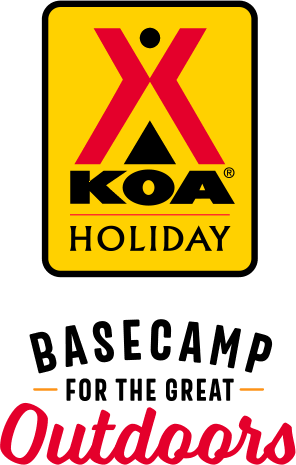 KOA Holiday Campgrounds
Whether you're exploring the local area or hanging out at the campground, KOA Holidays are an ideal place to relax and play. There's plenty to do, with amenities and services to make your stay memorable. Plus, you'll enjoy the outdoor experience with upgraded RV Sites with KOA Patio® and Deluxe Cabins with full baths for camping in comfort. Bring your family, bring your friends, or bring the whole group – there's plenty of ways to stay and explore.
KOA Holidays Feature:
RV Sites with a KOA Patio®
Deluxe Cabins with full baths
Premium Tent Sites
Group meeting facilities
Directions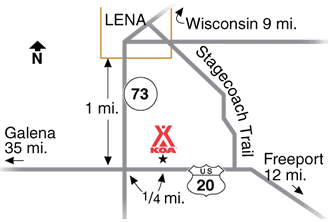 On US Hwy 20, 40 miles west of Rockford. From I-90 take US 20 Rockford Exit Freeport/Galena.  Galena is 38 miles west. Chicago O'Hare is 110 miles away.
GPS: N42.357085. W89.826536
Get Google Directions
Jul 22, 2021
We have been staying here for many years. Very upscale campground.
Jul 22, 2021
Stayed in site 15. It is loud with Rt 20 close. Also, dump station is right in front of site 15. With being said, campground is very well kept up and clean. Staff is very friendly and helpful. We will go back.
Jul 22, 2021
Always a great time at Lean KOA. Very relaxing and their pool is fun. We will be back.
Jul 22, 2021
Nice friendly campground
Jul 21, 2021
Very clean, well landscaped, very accommodating, comfortable cabin and nice site with swing and fire pit. Kids especially enjoyed pool and jumping pillow.
Jul 21, 2021
The Lena KOA is so much more than any camp we have visited! The staff were friendly, the grounds impeccable and the accommodations remarkable.
Jul 21, 2021
The campground is great! We were very lucky and got a site very last minute on the Fourth of July. The park is great and has many nice amenities. Live music in the evening was really nice. Pancake breakfast and activities for kids. The only downside is the highway is a very busy one that it is on. Traffic noise all the time.
Jul 21, 2021
Great KOA. One of the best we have stayed at across 20 states
Jul 20, 2021
My favorite KOA, we stay at every year. Super clean with exceptional staff. Always a great time that is close to several attractions. Chuck Nelson
Jul 20, 2021
The camp ground all the facilities are way better than expected. We total enjoy this KOA. We booked another trip next year. We told several other campers and they will also book again.
Jul 20, 2021
This was the best campground I've ever been to. Very clean and organized. Lots of stuff for the kids to do and the pool was very nice. We stayed in one of the cabins and was completely satisfied. The owners were so nice and stopped to talk when we seen them.
Jul 20, 2021
Stayed in deluxe cabin. Clean, fresh, well furnished, roomy. Loved the private patio area and fire pit for late night roasting & roasting. Pool was clean, warm, and not crowded. Fun activities for kids and adults. (Christmas in July, craft fair.). Staff was super friendly and responded quickly to any questions and requests. We have already made plans to return next year!
Jul 20, 2021
Grounds were very well kept. Bathrooms and bathhouse very clean. Very family friendly
Jul 20, 2021
Everything was great, the only suggestion I would make is that the mattress in the unit we stayed in was not comfortable. But other than that we will be back. It was our first time at a KOA.
Jul 20, 2021
We love the LENA KOA. The employees are always friendly and helpful, there are always things to do. Christmas in July was fun! We will be back soon!
Jul 20, 2021
Great place with very friendly staff. They even came around to all campers to tell them of a Tornado Watch for the area.
Jul 20, 2021
We purposely chose this campground based on several recommendations from local residents. There was a ton of activities for our family to do together. The bathrooms were very clean along with the rest of the campground. Our only complaint would be that we wished the camp store opened a little bit earlier...our coffee pot died and we could have really used some coffee early in the am!
Jul 19, 2021
The new spray foam activity for the kids is fantastic. It was nice to see something new and different, and the grandkids absolutely loved it! If you could put in a catch and release fishing pond, this place would be perfect!
Jul 19, 2021
Friendly staff. Beautiful campground. One issue is our cabin had a ton of dog hair but they came back in to sweep and vacuum which was greatly appreciated. Otherwise everything was very clean and well kept. My kids also enjoyed all the activities.
Jul 19, 2021
Very clean and friendly.
Jul 19, 2021
The campground was very nice, clean and had lots of activities for the kids! We were very impressed and will be back again!
Jul 19, 2021
As always, it was great. People are so nice and facility immaculate. The only complaint isn't even KoA related, but there are so many flies. I know it's out of their hands, but be prepared if you go this time of year to deal with them. Luckily, they sell fly swatters in the gift shop. ;) I loved it so much I bought a Lena KoA pen knife for my key chain to remember my stay.
Jul 19, 2021
Lovely campground, great staff, kid heaven, fun activities, great area.
Jul 19, 2021
We had an amazing time. The staff was super helpful, the facilities are well maintained. There is a lot to do for kids and families. We recommend this location very highly. Thank you.
Jul 19, 2021
Amazing place. Cannot say enough good things about this hidden gem. We thoroughly enjoyed our weekend. So many things for the kids to do, and everything was very clean and organized. We can't wait to return!
Jul 18, 2021
Loved everything about staying….BUT….internet connection needs to be upgraded!
Jul 17, 2021
This is our second stay and we rented a vacation cabin. We had 2 adults, 4 kids, and 2 German Shepherds and the cabin fit all of us. The KOA was beautifully landscaped, and all the staff were friendly. The large selection of amenities occupied our entire stay. Our kids loved it so much they didn't want to leave! The K-9 park was a bonus for our dogs, and it was kept clean. Highly recommended KOA!
Jul 17, 2021
It was great! Very nice campground. The owner was very helpful, both when we arrived and also when we left. Would definitely stay there again. Very neat and clean!!
Jul 16, 2021
Joe and the rest of the crew are so friendly and helpful! They keep this place immaculate! A fun place to visit!
Jul 16, 2021
Excellent experience! We brought our grandkids for the first time. They had a blast !
Jul 15, 2021
We love coming to the Lena KOA as often as possible.
Jul 15, 2021
Went during the week, quiet and very relaxing. We always enjoy coming to Lena KOA.
Jul 15, 2021
I would say that it is one of the best kept, clean, organized and comfortable campground we have ever stayed at.
Jul 14, 2021
We had a amazing time! The campground is beautiful, clean and well kept. All the trees and flowers throughout the entire campground made our walks so peaceful and joyful. It is very clean and maintained. Though we had rainy cloudy weather, we still enjoyed our stay. My son is 13 years old and has Autism. He was so comfortable and relaxed while there. The heated, gorgeous pool a BIG PLUS!!
Jul 13, 2021
We just got home from a group trip and had such a great trip. The kids had so much fun. We loved the playground, bounce pillow, pool, and activities. Staff was so friendly and helpful! Everything was great!!!
Jul 13, 2021
Stayed for 3 nights with our 4 year old grandson. The campground had plenty of activities to keep him happy. Also there was a nice playground and jumpee that he enjoyed and enough seating for us to keep an eye on him.
Jul 12, 2021
Great, as always.
Jul 12, 2021
Grounds were beautiful with all the plants and flowers. Pool area nice. Upgrades noted to some cabins. Great to have a gas grill for our use.
Jul 12, 2021
We brought our family here for the weekend and the grandkids loved all the activities available. It was a very friendly family oriented place to stay with lots of things to do!
Jul 18, 2021
Such a great place to meet friends, very nice and clean campground
- Connie Smith on Google
Jul 12, 2021
One of the cleanest campgrounds around! The owners are out working their tail off making sure everything is perfect. Excellent place for kids. Pool, volleyball, basketball, ga ga ball, and a jump pad. Hay rides and another ride for the kids. There is too much to list! They have a good camp store and sell good adult beverages that are locally made at the lena brewing company and wines from the local wineries. My kids love it there because there are so many other kids to play with. Very family oriented we make it a point to visit every year. Worth the few extra dollars to stay. Also lots to do in there area.
- Joel Martin on Google
Jul 09, 2021
Very clean, nicely spaced sites on the perimeter, great store and stuff for kids to do, decent rates, friendly helpful staff. We'll definitely stop here again.
- Thomas Kennedy on Google