Local Area Attractions Near Lena KOA Holiday
Spring, Summer and Fall, there is always something fun to do at our Lena KOA. We have planned activities for children and adults alike that include games, crafts, ice cream socials, movies, wine tastings, live music and much more. Our themed weekend events begin in May and run throughout the rest of our season. Our friendly staff at the front desk can provide you with all the information about specific activities available during your stay.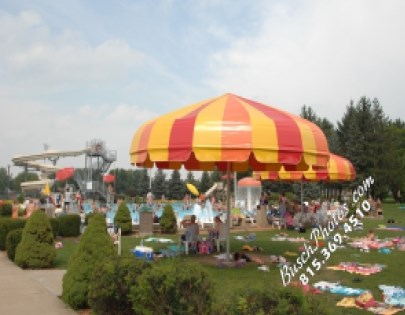 Lena Splashland & Mini-Golf
http://www.lenaparks.org/Facilities.html Located in Lions Park. the SplashLand Family Water Park includes a water park, mini golf course, and a food court. The water park has a large water slide, mushroom water fountain and a kiddie pool for the little ones.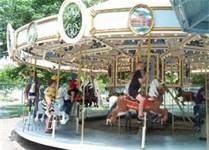 Freeport Krape Park
Heavily wooded Krape Park features a picturesque waterfall that tumbles down from a high limestone bluff, an operating one-of-a-kind carousel that costs just 50 cents to ride, tennis courts, multi-use trails, sledding hills, cross country skiing trails, a baseball diamond, numerous picnic tables and a duck pond.
In the summer, people rent canoes and paddle boats in the same area where ice skaters skate in the winter. Krape Park's challenging Yellow Creek Adventure Golf Course entertains people of all ages, as does the fishing pier on Yellow Creek. Children delight in Kids' Kastle, a 10,000 square foot structure built by community volunteers and Little Kids' Playground, designed for the youngest set.
Not to be overlooked is the Koenig Theater, an outdoor band shell that earned the "Outstanding Facility Renovation" award in 2000 from the Illinois Parks and Recreation Association. Throughout every season people gather to enjoy band concerts Under the Stars, hear vocalists, attend church services or graduation ceremonies.
Krape Park earned the "Outstanding Multi-use Facility" distinction because there is truly something for everyone to do. It is a regional gathering place for those that want a unique recreation experience.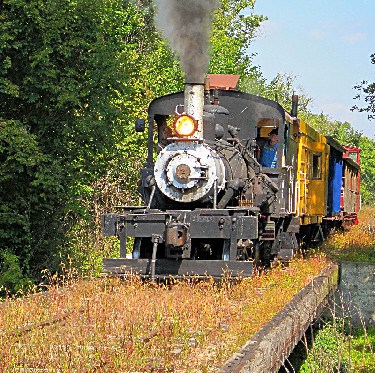 Silvercreek & Stephenson Railroad Antique Steam Train
The legends of railroading are filled with crack passenger trains speeding down the mainline to fame and glory. But, the golden age of railroading had another, more unsung hero in the numerous branchline trains that tied the small towns of a once more rural America to the outside world. These small workhorses had a sometimes eccentric and always fascinating appeal that is captured on our rustic track and equipment. Experience steam branch-line railroading behind our 1912 steam locomotive on a 3.4 mile round trip excursion into history. www.thefreeportshow.com