Lena KOA Holiday Recreation
Spring, Summer and Fall, there is always something fun to do at our Lena KOA. We have planned activities for children and adults alike that include games, crafts, ice cream socials, movies, wine tastings, live music and much more. Our themed weekend events begin in May and run throughout the rest of our season. Our friendly staff at the front desk can provide you with all the information about specific activities available during your stay.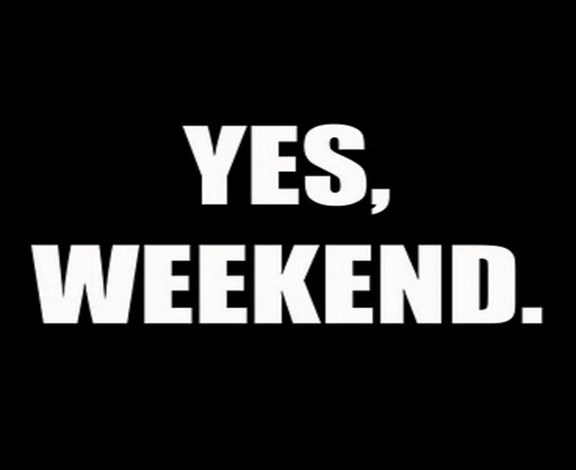 2021 Themed Weekends
Our 2021 weekend schedule is ready for you.  With COVID-19,  we are not able to host all of the same activities that we would normally be doing.  We will, however, be working our hardest to ensure that everyone has some fun. The activities listed on our schedule are designed with social distancing in mind.  We will be taking measures to make sure we maintain the recommended social distancing space and will be disinfecting regularly.  We ask that before you participate in any activity that you understand the need for and how to practice social distancing.  Parents are responsible for their children and we ask that you remain with them if they need help following our guidelines.

Jumbo Jumper
What do you get when you cross a trampoline with a bounce castle? A jumbo jumper!   This safe activity provides hours of exercise and entertainment for the young and young at heart.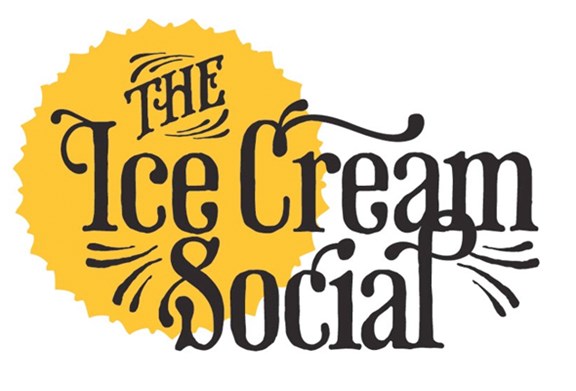 Ice Cream Socials
I scream, you scream, we all scream for sundaes and root beer floats! Top your own sundaes as we'll serve up your favorite toppings such as chocolate syrup, whipped cream, nuts and more. Enjoy the chance to mingle with your fellow campers. ($)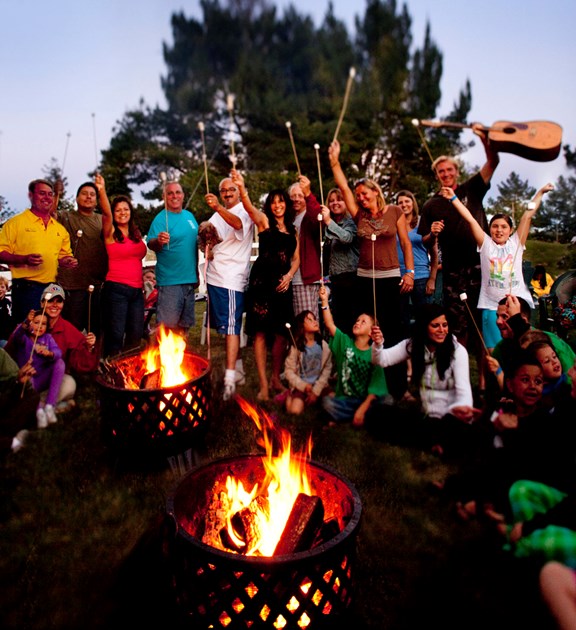 Group Campfires
When the sun goes down, group campfire time begins. Group campfire time brings lots of fun: toasting marshmallows, hot chocolate, cider, sing-a-longs and live entertainment.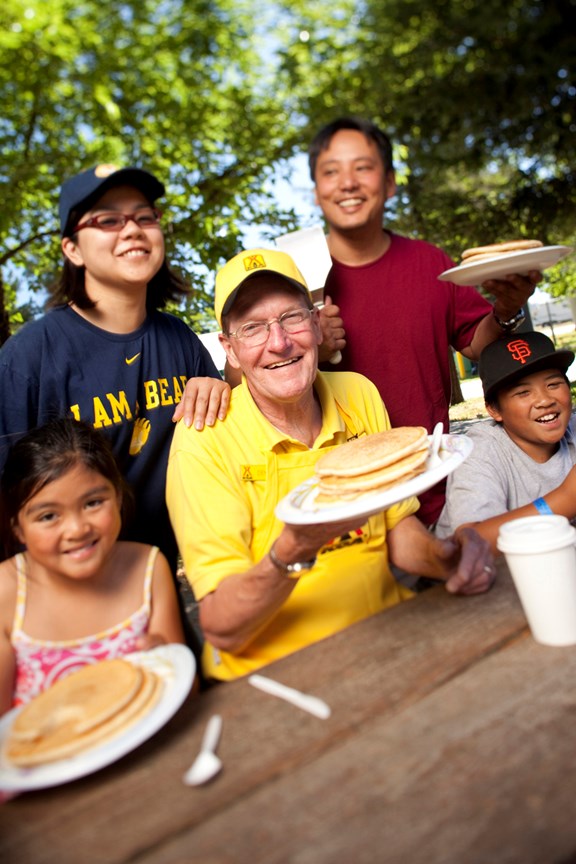 Pancake Breakfasts
On select Weekends throughout the season, we serve up a scrumptious stack of pancakes hot off the griddle. We round out the meal with sausage links, scrambled eggs, coffee, milk and orange juice. ($)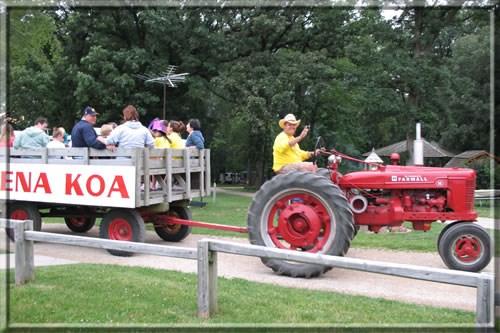 "Hey" Rides
Our "Hey" rides occur every Saturday evening, beginning the first weekend in May through the Columbus Day weekend in October. Our antique 1946 Farmall "H" tractor pulls our Lena KOA wagon throughout the campground as our KOA recreation team leads our participants with fun songs and activities.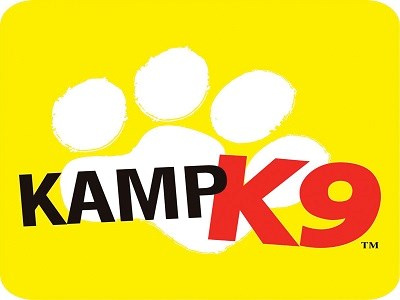 Four Legged Campers love our Kamp K9.
Your Pets will love our Kamp K9 pet playground. This off-leash area allows your pet a chance to play and exercise while under your watchful eye. It is also a great place for campers to socialize, not only with their pets, but with each other. We also have four dog walk areas throughout the campground for your convenience. We even have a treat waiting for your pet when you arrive at our KOA.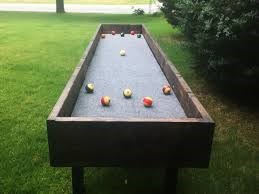 Carpetball
Carpetball is a game similar to pool and played with pool balls, played in a high walled table. Each player gets five balls to arrange however they want at their end of the table, and they take turns trying to knock each other's balls into troughs at each end of the table. The player who knocks down all five of the other player's balls first is the winner.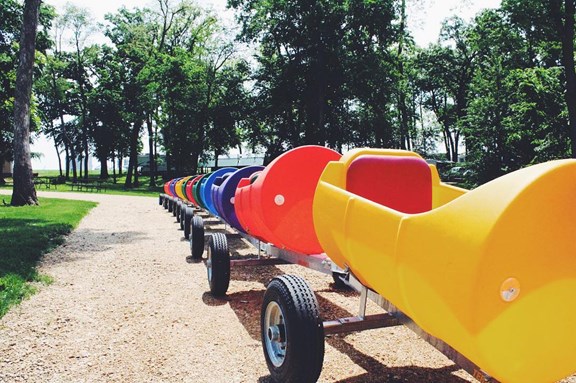 Fun Train Rides
Enjoy our awesome terrainable rides throughout the campground.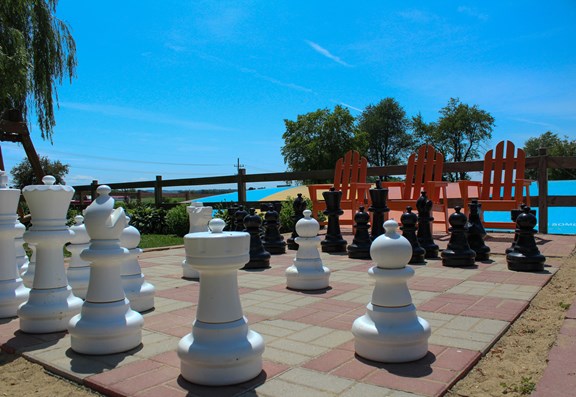 Outdoor Chess
Try your skills on our life size outdoor chess board!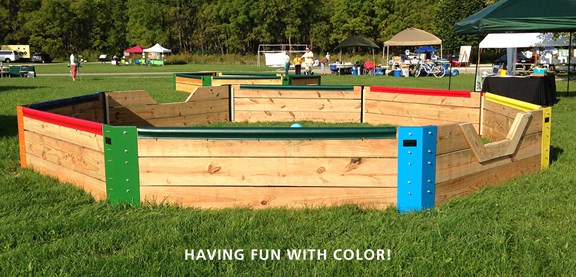 GaGa Ball
Ga-ga is a variant of dodgeball that is played in a ga-ga "pit". The game combines dodging, striking, running, and jumping, with theGa-ga is a variant of dodgeball that is played in a ga-ga "pit". The game combines dodging, striking, running, and jumping, with the objective of being the last person standing. objective of being the last person standing.
Cornhole
We offer two awesome sets of cornhole.  Fun for the whole family.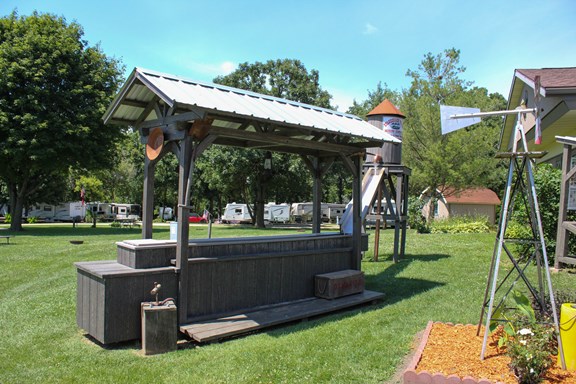 Gemstone and Fossil Mining
At our Stagecoach Trail Mining Company Sluice, you can pan for gemstones and fossils.  It's a great fun for individuals and families.