Kid-Friendly Things to Do in Kingston, ON
Kingston, Ontario, is known as one of the best freshwater sailing locations in the world and is one of the oldest cities in Canada. This city is rich with history and full of exciting things to do that the whole family can enjoy. With many waterfront trails and activities, as well as museums, parks, restaurants and shops, Kingston is a very kid-friendly place no matter what your family is into.
9 Family Things to Do in Kingston, ON
Here are nine of the top family-friendly things to do in Kingston, ON.
1. Kingston Waterfront
Because Kingston is so well-known for its shorelines, one of the best kid-friendly things to do in Kingston, ON, is to explore the waterfront. Wander or bike your way along the 8km of gorgeous waterfront and take in the amazing views of the sparkling water and many boats in the area. If you are feeling more adventurous, you can rent a boat, paddle boat, canoe, kayak or stand-up paddleboard.
You can catch a ride on one of the sailboats that Kingston is so famous for, too. The adjacent Lake Ontario Park offers plenty more opportunities for fun as well, including a recently renovated playground and splash pad that the kids will love. A performance area features live music and other events. Bring a picnic lunch and spend the whole day on the waterfront!
2. Miller Museum of Geology
At the Miller Museum of Geology, located at Queen's University, the whole family will love the fun exhibits and hands-on experiences. You can see dinosaur bones, fossils and rocks of all types. Check out the gorgeous collection of sparkling geodes and crystals, play in the Augmented Reality Sandbox and have fun learning all about geology and fossils together.
3. Fort Henry National Historic Site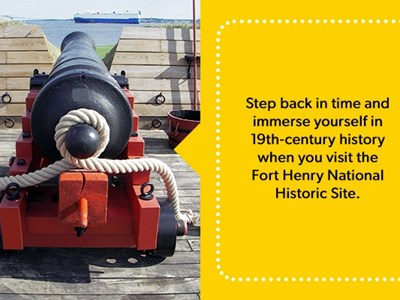 Step back in time and immerse yourself in 19th-century history when you visit the Fort Henry National Historic Site. You can experience military and civilian life with actors and tour guides in period dress. The original Fort Henry was built during the War of 1812, and later re-built to serve as a fortification for the intersection of several important waterways.
The fort has served as a museum and educational site since 1938, and today, families love visiting and learning all about life at the fort. See military demonstrations, musical performances and other special events during your visit, or take a guided tour to get the best experience.
4. Kingston 1000 Islands Cruise
One of the best kid-friendly things to do near Thousand Islands, ON, is a Kingston 1000 Islands Cruise. The whole family will enjoy seeing the beauty of the area from aboard a paddlewheeler or steamer cruise. You can choose from many different packages, from short sightseeing cruises, to longer dinner cruises that include a full three-course gourmet meal, open bar and live entertainment while you cruise around the many islands around Kingston. The boats are very kid friendly, and kids love the experience of getting to dine out while on a boat — it's an experience your family won't soon forget.
5. Frontenac County Schools Museum
Kids will love exploring the Frontenac County Schools Museum in Kingston. Here, you can see a replica one-room schoolhouse, as well as a display gallery that features plenty of artifacts and fun objects that preserve the history of all of the one-room schoolhouses of the area. These schools were in use from the early pioneer times up until the 1970s, and today, you can experience them for yourselves. Kids will love to see these old-fashioned school artifacts and compare them to their own schools. View the exhibits and participate in a sample lesson in the schoolhouse. It's a great way to take in the history of the area in a fun setting.
6. Engine 1095
If your kids love trains, be sure to stop by Engine 1095, located in Confederation Park, right near City Hall. Engine 1095 was in service from 1913 to 1960. It serves as a crucial link to Kingston's industrial past, and the Canadian Locomotive Company Ltd. (CLC) that used to occupy the space where Confederation Park now sits. This engine is beautifully restored and makes a great backdrop for a family photo op. Kids love seeing this authentic train engine up close, and they can also enjoy the surrounding park.
7. Grass Creek Park
With a little bit of something for everyone, Grass Creek Park is a perfect stop for families visiting Kingston, Ontario. This lovely park features a fun playground that the kids will love, as well as sweeping, gorgeous beaches, for the whole family to spend the day on the sand. Bring a picnic and enjoy playing in the water all day on this lovely family-friendly beach. While you're here, check out the MacLachlan Woodworking Museum, located right at the main gates to the park. Here, you can explore one of the largest collections of woodworking tools, and a small museum that preserves lots of additional local history.
8. The Boiler Room Climbing Gym
Kids can literally climb the walls at the Boiler Room. This fun, family-friendly climbing gym gets its name from its history as the boiler room of an old woolen mill in the 19th century. Today, climbers of all ages can choose from more than 80 different climbs, suited to different levels and abilities. It's a fun outing the whole family can enjoy, especially if the weather is not so nice outside.
9. Camping at 1000 Islands/Kingston KOA
Kingston and the 1000 Islands area has so much to offer families, and a stay at 1000 Islands/Kingston KOA can make your experience even more fun. You can spend your days exploring the Kingston area and then come back to your home base at the campground. Whether you choose to stay in your own RV or tent, or in one of our cabins, you will have a fun and relaxing space of your own in Kingston.
There is plenty to do right at the campground, too. If you are planning a trip to Kingston, be sure to schedule a day or two to just enjoy the fun recreation and amenities at the campground, like the pool, mini golf, jumping pad and sports like soccer, badminton, basketball and volleyball. Be sure to check out the oversized yard games, gemstone mining station, park and walking trails, and boat rides, too. The onsite snack bar makes quick meals and snacks convenient and fun during your stay. We even offer themed weekends and lots of special family-friendly events throughout the year. Make your reservation today at 1000 Islands/Kingston KOA!