Guide To Exploring 1000 Islands, Ontario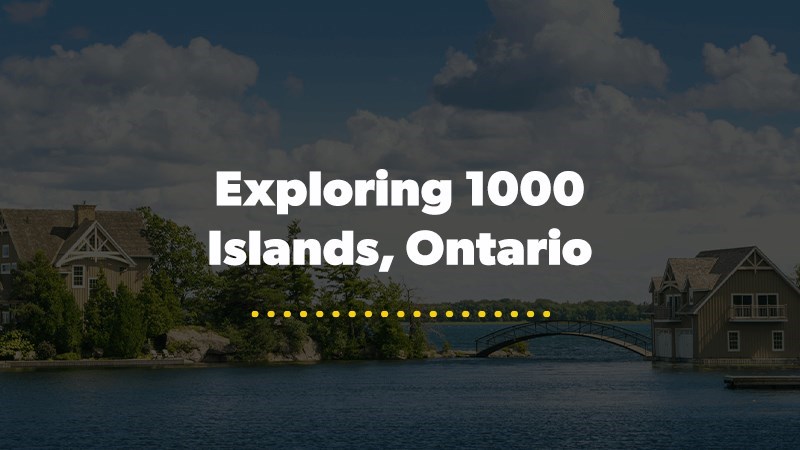 If you are looking to plan your next family vacation, you might consider the 1000 Islands. The "1000" Islands actually refer to over 1,800 islands, big and small, along the St. Lawrence River — right off of Lake Ontario. The area is perfect for nature enthusiasts, history buffs and explorers. Here is your Thousand Islands travel guide with everything you need to know.
History of 1000 Islands
The 1000 Islands have had a rich and varied history over the last few centuries, making the region that much more intriguing. You will find remnants of battle sites and military forts from the War of 1812. Those interested in history will appreciate Sackets Harbor, home to a 19th-century heritage community. Alongside the State Battlefield Historic Site are modern restaurants, boutiques and antique stores.
Not long after its military occupation, the 1000 Islands became a popular vacation spot for the rich and famous. Dotting the islands are beautiful mansions with stunning architecture. Beneath the water's surface are more relics of the past — you can catch a glimpse of history while shipwreck diving.
The islands have attracted tourists for many years thanks to their unique access to water and wildlife. You can find several museums celebrating the region's fishing and boating history, as well as performing arts, gallery exhibitions and other events. The 1000 Islands offer something for everyone.
Plan in Advance
If you want to see the 1000 Islands for yourself, it is best to plan ahead. Here are just a few considerations as you start planning your trip itinerary:
When should I start planning? If you are planning a long stay, you will want to start planning months in advance. Special events on the islands occur on specific days, so it's a good idea to know what will be happening when you are around.
Will I need a passport? If you are going to cross the border into Canada, you will need to have a passport or enhanced identification handy. Keep in mind, some restrictions apply for what you can and cannot take across the border.
How should I budget? To get an idea of how much you should budget, consider the activities you would like to do. You might also want to determine how many meals per day you want to eat out and what kinds of snacks and foods you can cook yourself.
Ways to Explore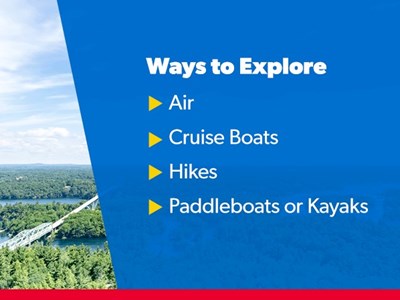 One of the most fun things about the 1000 Islands is that you can explore them in lots of different ways. Whether you prefer to see the islands from the air, water or riverfront, you will have plenty of options.
Air
If you would like to experience a bird's eye view, try a helicopter tour. You will have the opportunity to see spectacular views whether you opt for a pre-planned tour or a custom charter. Airborne tours are an exciting and special way to witness the stunning landscape and architecture of the 1000 Islands — perfect for thrill-seekers.
Cruise Boats
If you want to explore as much of the 1000 Islands as possible, a good option is a cruise. A cruise ship will carry you to various landmarks, lighthouses, shopping and dining areas and plenty of other attractions. You will also get to experience famous breathtaking sunsets right from the water. A cruise is one of the best ways to tour the Thousand Islands.
Hikes
For those who like to get active, hikes through the 1000 Islands are an absolute must. You will enjoy plenty of trail options ranging in difficulty from easy to challenging. The overlook views are unmatched, and Thousand Island trails present an opportunity to observe a variety of wildlife, too.
Paddleboats or Kayaks
Getting on the water offers a unique perspective — some small islands are only accessible by boat. You can bring your own kayak or paddleboat or rent one during your trip. Either way, you will come across both wilderness and bits of history. You can boat on your own or join one of the best Thousand Islands boat tours for a guided experience.
Top Places to See and Things to Do
With so many options, you might not be sure what to do in the Thousand Islands, Canada. To help you decide what to see on your trip, here are some of the most popular sites to visit:
Boldt Castle: Have you ever wanted to see a real, American castle? The 19th-century millionaire George Boldt commissioned his Boldt Castle in Alexandria Bay. He spared no expense in the design of its 120 room, six-story construction, planning the castle as a display of love for his wife. Sadly, his wife passed away before it was finished. Boldt halted construction and abandoned the castle, which sat untouched until 1977.
1000 Islands History Museum: If you are interested in diving deeper into the region's history, you will love the historical museum. This is a great option for tight-budget trips, as it is free of admission charge.
Boat museums: Boating has been an important mode of transportation in the area for centuries. You can check out antique boats and learn more about the region's history at one of several boat museums.
The playhouse: If you enjoy the arts, be sure to stop by the Thousand Islands Playhouse. The playhouse is a popular performing arts venue, showcasing plays and musicals.
The 1000 Island Tower: If you would like to enjoy a stunning view while keeping your feet on the ground, the 1000 Island Tower is the perfect attraction for you. Its elevator will take you up 400 feet above the St. Lawrence River, offering plenty of panoramic scenery.
Plan Your Visit at 1000 Islands/Kingston KOA
Visiting the Thousand Islands offers fun, exciting and one-of-a-kind opportunities for everyone. You can get a firsthand perspective of history as you tour military sites, 19th-century mansions and even underwater shipwrecks. The setting gives you the chance to explore by air, water or land. Whether you prefer the luxury of a cruise ship or a more rugged experience, you can find plenty to keep your family occupied in the 1000 Islands.
When you visit, you will also need a place to stay. Kampgrounds of America offers over 500 locations throughout North America, so you are sure to find a campground close to your destination.
When you choose KOA 1000 Islands/Kingston as your home base in the 1000 Islands, your family will be able to enjoy lots of additional activities like mini golf, swimming and playing horseshoes. Whether you stay in an RV, tent or cabin, you can take advantage of the unique amenities at this ideal location. Book your reservation at 1000 Islands/Kingston KOA today!