Kid-Friendly Things to Do in Cadiz, KY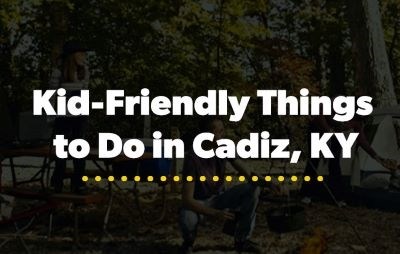 Cadiz, Kentucky, is home to Lake Barkley, Land Between the Lakes and a charming downtown historic district. With museums, landmarks, wildlife and plenty of outdoor recreation, it is the perfect place to take a camping trip with the whole family.
Land Between the Lakes National Recreation Area
Land Between the Lakes National Recreation Area houses more than 170,000 acres of undeveloped nature and diverse wildlife, and it is the place to go if you are seeking great outdoor activities for kids in Cadiz. Your family can spend the day — or weekend! — enjoying activities like these:
See elk and bison: The Elk and Bison Prairie is 700 acres of enclosed grassland full of animals thriving in their natural habitat. You can see the namesake residents, as well as turkeys, butterflies and small animals, from the comfort of your car as you drive the 3.5-mile loop road.
Visit a historic farm and museum: Homeplace 1850s Working Farm and Living History Museum is a must-visit destination for history lovers and groups looking for family fun with a twist. Here you will find a two-generation farm staffed by period-dressed interpreters who will introduce you to the museum's artifacts, property structures, livestock and thriving gardens.
Observe the sky at the planetarium and observatory: Experience the sky like you never have before at the Golden Pond Planetarium and Observatory, complete with educational programs, live presentations and engaging summer Star Parties.
Get close to nature and wildlife: With interactive and guided programs and events like Cool Critters Day, Woodlands Nature Station is perfect for families with kids of all ages. You can also stop by the station to learn more about taking a guided kayak, canoe or eagle-watching tour.
Enjoy a relaxing picnic: The recreation area has nearly a dozen designated picnic sites, each complete with tables, toilets and grills for a relaxing snack break or lunch with a view.
Stay Active With Family Fun Zones and Centers
Family centers are filled with activities for adults and kids, and they are ideal for a day-long outing during your Kentucky vacation. These are some of the top fun zones near Cadiz.
Prizer Lagoon Family Fun Zone
Prizer Lagoon Family Fun Zone has no shortage of outdoor fun for your family, with activities including:
Ziplining over Lake Barkley.
An obstacle-lined family rope course.
A summer concert series on floating docks.
An inflatable water park on the lake.
Picnic tables and volleyball courts.
Places to paddleboat, paddleboard and kayak.
Shops with refreshments.
KY Shores Family Fun Center
One of the most exciting family activities around Kentucky lakes is the KY Shores Family Fun Center in Gilbertsville, where you will find:
Go-carts.
Gellyball.
Ziplining.
Rock wall climbing.
Mini golf.
A train ride.
An arcade.
Inflatables.
A bouncy house.
Treehouses.
Water wars.
A super slide.
Magic Wheels Fun Center
Magic Wheels Fun Center in Clarksville, Tennessee, is less than an hour from Cadiz and well worth the trip if you are looking for indoor fun for the whole family. Whether you are celebrating a special event or staying out of the rain, you will love the colorful indoor roller skating rink, arcade games and two-story enclosed playground.
Experience the Great Outdoors With Fishing and Hiking as a Family
Fishing and hiking are popular kid-friendly things to do near Kentucky Lakes because the region is rich with trails, scenic views and abundant waters. These tips will help you prepare and stay comfortable while exploring the great outdoors:
Research trails ahead of time: Research trails ahead of time to check for their difficulty rating, length, terrain conditions, pet restrictions, points of interest and other relevant information. Consider packing a field guide to help you identify local plants and wildlife along the way.
Make it educational: Transform your outdoor adventure into an educational one by creating a scavenger hunt for the family. Include plant and animal identification, animal track identification, outdoor science lessons and more.
Get your fishing license: Kentucky has several fishing license options for residents and out-of-state visitors, including a one-day or seven-day nonresident license and a one-day or three-year resident license. Your fishing license is valid across all public Kentucky waters, but you will need a special permit for trout fishing. You can apply for your license online or by visiting a vendor near you.
Pack your daypack accordingly: Pack a daypack with rain ponchos, drinking water, snacks, sunscreen, bug spray and a first aid kit. Consider renting fishing and hiking gear, like trekking or fishing poles, if you are not ready to invest in your own. Remember to wear comfortable shoes with good traction before doing any hiking.
Stay cool outdoors: If you visit Cadiz in the summer, stick to the coolest parts of the day when hiking and fishing, like early morning and early evening. Remember to stay hydrated throughout the day and apply sunscreen regularly.
Turn your outing into a camping trip by reserving a stay at Kampgrounds of America, where you can enjoy the outdoors with fun, on-site activities without leaving the campground.
Dive Into the History of the Area
Fostering an interest in history at a young age will help your child learn diversity and have a greater understanding and empathy for the world around them. It is a great opportunity to teach them the value of nature and how it intersects with important historical moments — and who knows? You could even spark a lifelong interest or hobby that your child will pursue later on.
The Cadiz region has an abundance of historical sites and outdoor landmarks, including:
Historic downtown Cadiz: Historic downtown Cadiz is a picturesque town with shop-lined streets, local restaurants and a farmers' market full of locally sourced goods and produce. Visit during Cadiz's annual Trigg County Ham Festival to celebrate the region's hog history, or shop until you drop at the annual 400-mile Yard Sale along Highway 68 in June.
Fort Donelson National Battlefield: Located about 40 minutes away in Dover, Tennessee, Fort Donelson National Battlefield marks where Confederate Fort was surrendered to the Union in 1862, marking a turning point during the American Civil War. See the famous Dover Hotel, where the surrender occurred, and visit the national cemetery to pay homage to Civil War and modern-day veterans.
Round Table Literary Park: The Round Table Literary Park in nearby Hopkinsville — about a 30-minute trip from Cadiz — features a replica of King Arthur's legendary sword inside a stone Round Table. The area is surrounded by a Graeco-Roman amphitheater, making it a cannot-miss attraction for fans of history, literature or ancient legends.
The National Quilt Museum: The National Quilt Museum in Paducah is about an hour from Cadiz, with quilting exhibits and contests. Kids are welcome to participate in the junior quilting club or quilt camps to learn more about quilt art and creation.
Apple Valley Hillbilly Garden and Toyland Museum: Once an apple orchard, Apple Valley Hillbilly Garden and Toyland Museum in Calvert City is now a quirky museum and folk art garden with 3,500 toys and outdoor art displays, like the Lawn Mower Ranch and Thronehenge.
Don F. Pratt Museum: The Don F. Pratt Museum in Fort Campbell holds educational exhibits about the 101st Airborne Division — known as the Screaming Eagles — as well as other units, and tells a story spanning the 1940s to the present day.
Stay at KOA While Enjoying Family Things to Do in Cadiz, KY
Kentucky Lakes/Prizer Point KOA is your home base for fun in Cadiz and the surrounding area. Your family will enjoy campground recreation, like:
Rope courses.
Ziplining.
Boat rentals.
Indoor and outdoor pools.
Fishing, hiking and biking opportunities.
Movie nights.
A Jumping Pillow.
Basketball and soccer facilities.
Giant outdoor chess.
Reserve a stay in a comfortable lodge, with room for the whole family. Depending on where you choose to stay, Deluxe Cabins may include a private restroom, screened-in porch, fire ring or a charcoal grill. Furnished beds and linens are provided. Additional options include Fort Water, a two-bedroom cabin with a full kitchen and bath, and the Treehouse, a one-bedroom unit with bed bunks and a lake view. Learn more about Kentucky Lakes/Prizer Point KOA and start planning your stay today!