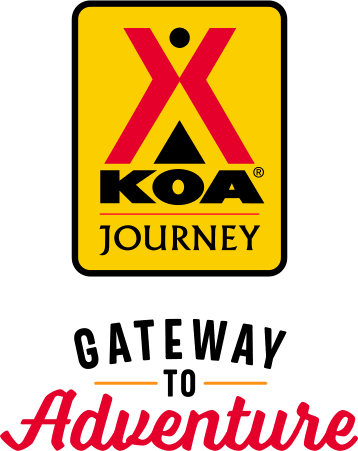 KOA Journey Campgrounds
KOA Journey campgrounds are the perfect oases after a day on the road. Whether it's along the way or a quick getaway, they've got you covered. Located near the highways and byways of North America with long Pull-thru RV Sites, they deliver convenience to the traveling camper. Pull in, ease back and take a load off.
KOA Journeys Feature:
Pull-through RV Sites with 50-amp service
Premium Tent Sites
Well lit after hours check-in service
Oct 05, 2022
One of the finest campgrounds I have ever seen. Spacious sites and the facilities are modern and clean.
Oct 03, 2022
Very nice spaces quiet!
Oct 01, 2022
nice relaxing place to stay!! Nice clean campground and bathrooms!! Our hosts were gracious enough to let us stay in the spot we pulled in to even though we were in the wrong space. I am sure they did some juggling around on the reservations. Much appreciated!!
Sep 30, 2022
This quiet and clean campground met our needs for an overnight stay while traveling through the area. For a longer stay, there is not much available in the immediate area. Friendly and helpful staff.
Sep 28, 2022
Showers are extremely small and need updating Plain grounds but great for dog walking Good half way spot to park
Sep 27, 2022
Great staff. Level pull through site. Clean park.
Sep 27, 2022
Very friendly and accommodating. Beautiful campground and a dog run for pets. We have two. Always stop if traveling with fifth wheel. Thank you!! �
Sep 24, 2022
Great location and nice place!
Sep 23, 2022
Nice, quiet, campground right off interstate. Extremely friendly staff.
Sep 23, 2022
Great communication with Kathy and a pleasant stay on our cross country move!
Sep 20, 2022
Small laundry but good place for one night.
Sep 20, 2022
Late season overnight stop. Was quiet and clean. Hosts were friendly
Sep 19, 2022
stayed two nights was great
Sep 17, 2022
Très petit camping , on a arrêter pour dormir seulement, personnelle sympa
Sep 17, 2022
We were there just 12 hours so we didn't need much. Just time to have dinner and sleep a couple hours. Way over priced as are most KOA campgrounds. We are currently at a campground in Spearfish which is an actual resort with 200 site and the rate is $35 per night with full hookups and more amenities that we would use in a week.
Sep 16, 2022
Staff very friendly & extremely helpful. Will definitely stay at this KOA again.
Sep 15, 2022
The staff at Kennebec KOA were very helpful and friendly. For us, it was just an overnight stop on a road trip. So we only spent one night. The bathrooms were clean and the park was well maintained.
Sep 15, 2022
Stayed there several times on trips to MN. Good campground
Sep 15, 2022
What a nice little oasis! Very seldom do I find the bathroom close to the tent sites, but here you are. Staff were friendly and the campground was very clean. Thank you!
Sep 14, 2022
We were only there one night. All was good.
Sep 14, 2022
Check-in office was very bare looking, not inviting atmosphere. Basketball area was bad was not able to play.
Sep 14, 2022
Great spot off of the highway.
Sep 13, 2022
Good location Friendly staff Level site
Sep 13, 2022
Very nice to have one of the few shady spot in hot summer temps. Only bummer was they close the pool after Labor Day when the temps were in the 90s. Very quaint and convenient that you can walk to a bar.
Sep 10, 2022
Perfect for an overnight stay, staff very helpful, and loved the pool!
Sep 07, 2022
Very Friendly
Sep 07, 2022
Friendly Owners, level sites
Sep 06, 2022
The site was nice, large, and grassy. However the pool was ice cold, and filled with bugs and leaves. There is nothing to do in Kennebec at all, so having nicer amenities in the park is a must. Staff was extremely friendly and nice.
Sep 02, 2022
Perfect stopping place for us. Clean, nice campground. Arrived late and still greeted by camp host. Would love a T-shirt that says "Where in the world is Kennebec, SD?" Great slogan!
Sep 02, 2022
Nice site with lots of shade trees, far enough from the Interstate that noise is minimal. Stayed 1 night in a MH while passing through
Sep 02, 2022
Nice and quiet! Thank you so much.
Sep 01, 2022
Lovely people and clean, quiet campground. Stayed here twice - going to and from Mt. Rushmore.
Aug 31, 2022
This is an older campground but nice and we loved the quiet and peacefulness of it.
Aug 31, 2022
Friendly, nice wide site, clean, would stay again
May 08, 2023
Camped here for one night while traveling across South Dakota. Loved the location. Facilities were clean and well kept. The owner was very courteous and helpful. Took a drive north of KOA, saw many pheasants and other birds. Turkey came strolling through the campground, along with about 8 deer. Very peaceful place to stay. I will put this on my list of KOAs to choose when traveling this way again.
- Jeff Anderson on Google
Sep 15, 2022
What a nice little oasis! Very seldom do I find the bathroom close to the tent sites, but here you are. Staff were friendly and the campground was very clean. Thank you!
- Christopher Christensen on Google
Aug 24, 2022
Perfect place to spend some vacation time! Nice pool and great owners
- Frank Marano on Google