Local Area Recreation Near 1000 Islands / Ivy Lea KOA Holiday
Advisory: Traveling to the USA including Boldt and Singer Castle? Please keep in mind, regardless of your nationality, the USA Border Services require a passport for entry into the USA.
You can travel around the castle but not enter without need of a passport.
There are lots of things to see and do in the 1000 Islands plus all our neighboring communities. Did you know just down the road from us is Eastern Ontario;s largest zip line course and a massive tree walk.
Or how about Landon bays nature trails that offer fantastic vistas of the 1000 Islands region. Ever thought about walking over the 1000 Islands International Bridge half way to get some of the best photos of the 1000 Islands!
Take in one of the many golf courses or ride your bike on the paved 1000 Island Parkway bike path right outside our entrance .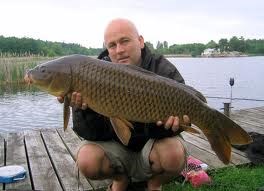 Fishing
The St. Lawrence River offers some of the best fishing in the world. Pickerel, crappies, walleye, muskies and lake trout are just a few of the available angling. Whether its family fishing or sport you can find it here. You may just catch the big one. Our staff can even arrange a fishing guide for you. Go off the shore or rent a boat at 2 of the marinas right across the parkway from the campground. Here is a good guide should you require one:
http://http://www.fishing1000islands.com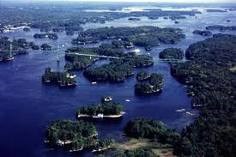 Boating
Bring your own or rent one, as long as you get out in the river. . You can spend days out there but never fear of getting lost, explore the magnificent St. Lawrence National Island Parks. Rental boats are available right across the street at  marinas. Visit Peck's Marina for rental availability. Tell them we sent you!  Traveling to Boldt Castle ? The USA will require a valid Passport for entry to the Castle.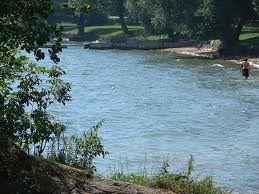 Swimming and Beaches
Deep water swim dock and sand beach can be found at the Gananoque Joel Stone Beach. Grays Beach is just along the Parkway and is great for windsurfers too. Landon Bay Point is a long narrow spit of rock that goes for many metres into the river. Browns Bay Day Park includes a sand beach, change facilities and playground. All the beaches are just a short trip from the campground.

Scuba Diving
Diving in the Upper St. Lawrence River can be many things. From shallow shipwrecks to 200-foot granite walls the waters between Kingston Ontario and Montreal Quebec has everything a fresh water diver could ask for. The river was the freeway of yesterday that the supplies to build two countries were delivered on. Many ships have gone to the bottom, leaving us time capsules to explore. We have two excellent dive companies just across the road from the resort. Some of the best Diving is only minutes from the campground.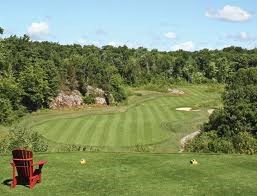 Golfing
With over 40 courses in the area there are plenty of places to lose a few balls and make some divots. Check out: http://www.gananoque.com/golf.html www.gananoque.com/golf.html for some ideas. When in the islands, play on the islands. There are several courses wonderful Island golf courses, that offer great golfing combined with panoramic views. Some are available by car and others only by boat or water taxi.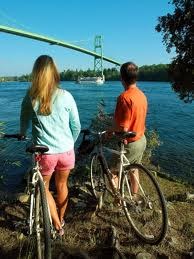 Biking and Hiking
A 37 km cycling and jogging path hugs the shoreline of the St. Lawrence in the heart of the 1000 Islands. Widely known as one of the finest bikeways in Canada, the parkway is well serviced with cycling rental and repair, restaurants and accommodations lining the water's edge. Day-trips to in-land villages and towns are a favorite pastime. Path goes from Gananoque to Brockville and is located right at our campground entrance! Plus we have extensive nature trails on the property to hike, bird watch, and that offer breathtaking views of the 1000 Islands and St Lawrence River.
PWC
Got a jet-ski? Have you cruised the islands yet? No! Well trailer them up and get on down here for some of the best touring, wave jumping, jetting you have ever done. Come down and stay in a Kabin or one of our lodges. Plenty of space to store them and dockage is available right across the street.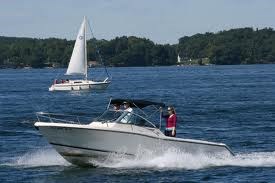 Island Hopping
Grab your boat or rent one and go island hopping. Explore the St Lawrence National Park Island system which offers a unique eco-system. Many islands are available for day use at a nominal fee. Take your family and friends and go touring, swimming, have a picnic, or just lay back and get a tan.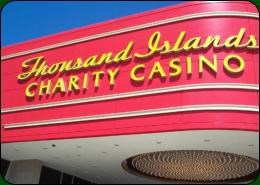 Gambling
Just down the road is Ontario's newest casino! At a cost of over $50 million dollars to build, this is an amazing place. Take Lady Luck with you and maybe you will win a car, a boat or just lots of money. Tables, slots, and roulette are all available. It is less than 9 km from the campground and we are the closest KOA to the Casino.
http://www.olg.ca/olg-casinos/casino_facilities.jsp?gamesite=thousand_islands
The Biggest Game In Town!
Straddling the historic communities of Leeds, Thousand Islands, and Gananoque, OLG Casino Thousand Islands is a first-class gaming experience in a magnificent natural setting. The Casino is located just 20 minutes east of Kingston and 10 minutes from the U.S. border. There are over 500 slot machines, ranging from 1¢ to $5, with favourites such as Wheel Of Fortune, Monopoly and coming soon - the Wizard of Oz. Try your luck at table games such as Texas Hold'em, Blackjack, Let It Ride, Roulette and more. When you're ready for a break from the gaming action, enjoy delicious cuisine at The Getaway restaurant. There is no end to the fun in store for you at OLG Casino Thousand Islands!
Museum Tour
Over 20 museums, galleries and historical sites all within a short drive of the campground. Ask our front desk for a list of all the sites to visit.From UNESCO World Heritage designated Fort Henry, you can view a landscape forged by tradition or see our history up close at the Cataraqui Archaeological Research Foundation where artifacts from centuries gone by are on display.Guided tours of Kingston City Hall allow you to explore one of the city's most notable architectural sites while costumed interpreters will welcome you to the home of Canada's first Prime Minister, Sir John A. Macdonald.Discover Canada's nautical heritage at the Marine Museum of the Great Lakes, including the 3,000 tonne ice breaker Alexander Henry or explore the Canadian tradition of hockey on display at the International Hockey Museum featuring memorabilia from top-calibre NHL players. Wonderfully unique, the Correctional Services of Canada Museum houses artifacts that highlight the evolution of Canada's prison.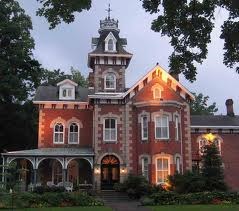 Shopping
Start right at the campground. Our buyers spend several weeks combining some of the best gift shows in the country to bring you a unique and fulfilling shopping experience. Hand made sterling silver jewelry, beautiful clothing, irresistible collectibles and fabulous housewares, we bring it all to you. Need more? Hill Island Outlet Stores, Gananoque Historical Village Boutiques, and quaint downtown Gananoque is just 10 minutes away. Just a bit farther away are major shopping areas including Eastern Ontario's largest mall. Still not enough? Make a day trip to Syracuse NY and the Carousel Mall, you will be delighted with the large variety of stores and boutiques as this is one of the largest mall in the United States.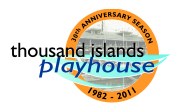 Live Theatre
The 1000 Islands Playhouse is one of Canada's finest small theatres, bringing excellent actors, performers and musician's to Gananoque. Set on the St. Lawrence River, the Old Canoe Club and the brand new FireHouse theatres allows the visitor to enjoy the breathtaking views of the river while enjoying fine live theatre.
Springer Theatre productions have ranged from light and bright to moving and mysterious, but always at the heart is a passion for storytelling and a commitment to top quality professional theatre. Known for its vibrant, colourful sets and intimate space that closely connects audiences with the actors on stage, the Springer Theatre is the perfect place to lose oneself in a world of quality entertainment and feel-good fun.
The Firehall Theatre was designed as a flexible performance space where new kinds of theatre experiences could be created for audiences. Built as a 'black box' theatre, consisting of adaptable seating with black walls and a flat floor, the Firehall is a blank canvas allowing directors and designers to experiment with new and unique environments for each production.
Seating: 360 seats, partial thrust stage, wheelchair accessible.
Performances: Tuesday to Saturday at 8 PM /Wed, Sat & Sun at 2:30 PM. There are no matinees on preview days.
Box office: Opens daily at 11 AM and serves as the main box office for the company.
Parking: There is no onsite parking at the Springer Theatre. The Playhouse lot is on William St. one block east and one block north of the theatre, or on nearby side streets.
Docking: Theatregoers attending shows at either the Springer or Firehall may reserve a slip by calling the box office. Show only: No charge. Overnight: $25 plus HST. (Reservations required.)
Amenities: There is a licensed concession in the lobby on the lower level of the Springer Theatre, open 1 hour before show time and at intermission. Seating: Up to 140 seats, flexible audience configuration, wheelchair accessible.
Performances: Tuesday to Sunday at 8 PM / Friday & Saturday at 2:30 PM.
Box Office: Opens 2 hours before a Firehall performance.
Parking: Parking in the Firehall lot is reserved for Patron Members. Parking is available on William St, one block east and one block north of the theatre, or on nearby side streets.
Amenities: There is a licensed concession in the lobby, open 1 hour before show time and at intermission.The Firehall Theatre may be rented by outside groups.
'…the most charming theatre in Canada.' – CBC Radio