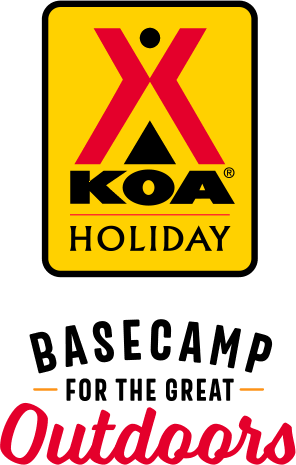 KOA Holiday Campgrounds
Whether you're exploring the local area or hanging out at the campground, KOA Holidays are an ideal place to relax and play. There's plenty to do, with amenities and services to make your stay memorable. Plus, you'll enjoy the outdoor experience with upgraded RV Sites with KOA Patio® and Deluxe Cabins with full baths for camping in comfort. Bring your family, bring your friends, or bring the whole group – there's plenty of ways to stay and explore.
KOA Holidays Feature:
RV Sites with a KOA Patio®
Deluxe Cabins with full baths
Premium Tent Sites
Group meeting facilities
Directions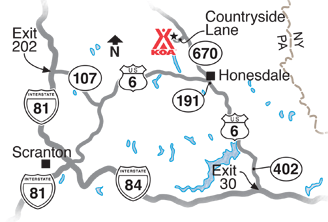 From Scranton and points west: Take Interstate 81 North to Route 6 East, to Route 191 North for 1/2 Mile to Route 670 North 6 Miles to Countryside Lane on left into campground.
From New York/Delaware River/Route 17: Take Interstate 84 West to Exit 30 Route 402 to Route 6, take left onto Route 6 West traveling Approximately 15 miles to downtown Honesdale. At light on North Main Street take right onto Route 191 North/North Main Street, 1/2 mile take left onto Route 670 North 6 miles, take left onto Countryside Lane.
RV campers: Do not follow GPS, stay on the above main roads.
Long Term Winter Sites Available, please call
Get Google Directions
Sep 17, 2021
Nice c/g restrooms need some help please remove the SPEED BUMPS
Sep 16, 2021
We had such a great time! Clean, friendly!
Sep 15, 2021
small and cozy. nice setting
Sep 15, 2021
Wonderful Fall like weekend. Celebrated my grand daughter's 6th birthday with visitors coming to the campground. Both the grandchildren and adults enjoyed the many amenities available. Very enjoyable and well run campground. Already booked for next year with our camping club.
Sep 15, 2021
Mr.Tim and Mrs.Debbie,very kind,cooperative,helpful nature and fulfill all necessities and Barn is very very cleanliness. Strongly recommend.
Sep 15, 2021
You should have a 5 star because the place is really nice, but here is why I gave a 3 star. The newest area is where we were, site 10. The absolute most un-level site I've ever been to. The site was about 2" off left to right and front to back I almost had to lay my rig on the ground at the tongue. The men's room toilets and stalls, tiny!! Staff was very friendly and enjoyed our weekend.
Sep 15, 2021
We stayed at the campground with another couple the weekend of September 10, 11th and 12th. We enjoyed the weekend very much and the campground is very well-maintained and the staff extremely friendly and helpful. The wagon ride for only couples was a blast. He gave us a few extra thrills during the ride going up and down some hills. It felt good to act like a kid again!
Sep 12, 2021
We stay at the same site every year. Its become a family tradition. Although it is a far drive and can be a lot of work. We look forward to it every year.
Sep 09, 2021
We always have a great time. Great activities all weekend, if you want to participate. Can't wait for next year.
Sep 09, 2021
Nice campground with updated amenities. Always have events scheduled, especially on holiday weekends. Owners work very hard, everyday maintaining the campgrounds. Recommend Honesdale/Poconos KOA to all.
Sep 09, 2021
Great campground with tons of activities for the kids !
Sep 09, 2021
Vey well managed and clean! Especially enjoyed the organized activities and the Sunday service. Highly recommend, the beat KOA and cleanest I've stayed at.
Sep 08, 2021
Like everywhere you go, the lack of "visable" help is showing at this campsite. Other than the guy on the golf cart that showed us our spot and quickly drove away left us confused
Sep 04, 2021
Very quite, shady and well maintained facility. Friendly and helpful staff made the stay even better.
Sep 04, 2021
Friendly and helpful staff. Main restroom needs loving, such as chalking around the door.
Sep 03, 2021
It was great to be back at Honesdale KOA. It's been 2 years . Our family reunion has been here for many years. Deb & Tim are the Best of the Best . Campground is always well kept & they & staff are always very helpful. They've made great additions to the place. We moved out of the area a year & 1/2 ago. My hope is that we can continue our tradition of family reunions here. Thanks, Deb,Tim & Staff
Sep 03, 2021
If I could rate this place an absolute 0, I would. The employees were VERY unaccommodating and made "us - the guests" feel as though we were bothersome and racist. An employee came to us and said I appreciate that people like you, kept the music down. What does people like you mean? Furthermore, in the store we overheard one of the employees talking about us as if we were garbage. unprofessional.
Sep 03, 2021
My kids had a wonderful time. All of staffs were very friendly! Absolutely we will visit again!
Sep 03, 2021
hones dale koa very pleased ,and very clean well keeper thank you
Sep 03, 2021
Great stay. Campground was clean and tidy. Staff were very helpful, especially since this was our first trip and I had a few questions. The guy that helped me back in also helped me get set up. Very pleased with our first trip and happy to stay here again in the future.
Sep 03, 2021
2nd time there with same WiFi issues. WiFi weak. Rained both days there and would have been nice to have stronger signal to help pass the time
Sep 03, 2021
It was our first stay, and we will definitely be back. Very clean and the employees very friendly!
Sep 03, 2021
Pleased with my campsite & stay. Had to deal with "Hurricane" Ida & didn't feel safe to stay. And there were no shelter available. I wasn't sure if the heavy rain would tear down my tent. Came back after the rain to finish my stay. All is ��� good.
Aug 27, 2021
Friendly staffs. So many activities for kids
Aug 25, 2021
nice place, friendly staff, nice sites had a great time
Aug 25, 2021
Very clean, extremely helpful and friendly staff, fun activities.
Aug 24, 2021
The only thing I might suggest are hooks and towel racks in the bathroom. Hooks next to the door (under the ladder) for keys and leashes, maybe jackets. More shelves in the bedroom instead of hangers for clothes. There was really no good place to put our things. Everyone there was more than kind and incredibly helpful! Thank you �
Aug 24, 2021
Sites were nice, bathrooms were spotless!
Aug 24, 2021
What a great little campground with super friendly staff. Just far enough out of the hub bub but still close enough to explore. The staff was great and fellow campers were super friendly. And you can see there is a grand plan for updates to the facility on top of all the work that has already been done. We had to leave a day early due to Hurricane Henri but we will be back for sure.
Aug 24, 2021
Grass was high, was disappointed my almost 4 year old couldnt do the tube slide even though she is tall enough but b/c she is 3 until october it was a no. I get safty rules i worked many years in a waterpark i never had an age issue just height. Leave jump pad open longer/more Pool needs attention, dog area was very buggy. Might try in a year or so as we can tell renos are happening.
Aug 24, 2021
Very friendly staff, camp is very well kept. Sites are a bit too small and was concerned over the fire pits too close to cars and trailers. It appeared that they were arranging campers by camper families that had kids or no kids. We thought that was very nice because kids need to be loud and have fun but us old timers like quiet. Maybe this was by accident, but worked for us!
Aug 24, 2021
We enjoyed our stay. The rain was a factor of which you have no control. The bathrooms were exceptionally clean. Lots of activities for children. We are pool people, so the one downfall was the pool. It was small and did not have slides, etc. All in all, we had a good time. Thank you.
Aug 24, 2021
Staff in general store and around the park were the best! Super nice and friendly. Sites were a little unkept. A lot of dirt which was mud from all the rain and very little gravel or grass. Wifi was absolutely awful.
Aug 23, 2021
Your miniature golf course was amazing. We enjoyed everything. Hope we didn't make to much noise.
Sep 11, 2021
Great rv Park, friendly staff, plenty of activities for kids. Nice bathrooms!
- Phil Lelievre on Google
Sep 08, 2021
Not cheap but very well maintained and scenic RV park. Sites are large but may require some "advanced" maneuvering with a big rig (42-ft fifth wheel).
- Joshua Warren on Google
Sep 06, 2021
The staff was really friendly they had a lot of activities for the kids mini golf, jump pad, pool. Would definitely go there again there were night hikes. The staff was always there. Inexpensive and was worth every dimegreat place to stay.
- Stevie Duke on Google