Hayward KOA Holiday Recreation
Our campground is packed full of kid activities that your whole family can enjoy!
Most recreational activities are from Memorial Day - Labor Day.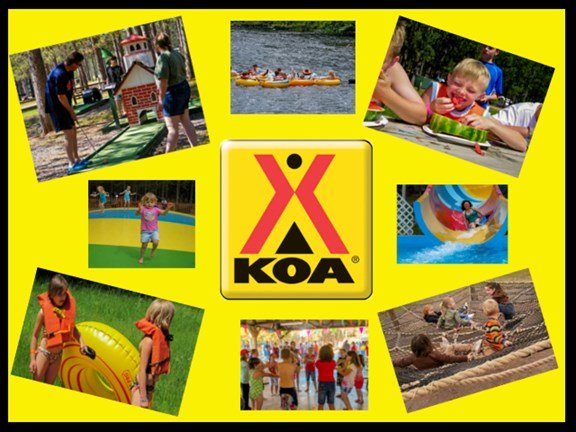 Please Note: Recreation activities open daily Memorial Day through Labor Day.
Pick up a newsletter in the office for daily activity information. Check the events page for themed weekend information. All activities may not be available every weekend.
* -  items require an extra fee.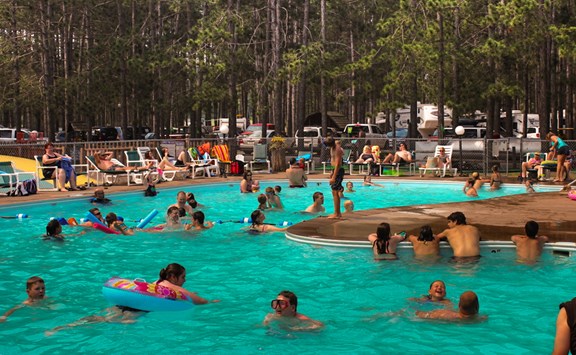 Heated Pool
Have a relaxing time lounging at the pool or playing Marco Polo with your family! What's even better? Our propane heater keeps the water at an awesome balmy temperature. You don't want to miss taking a swim!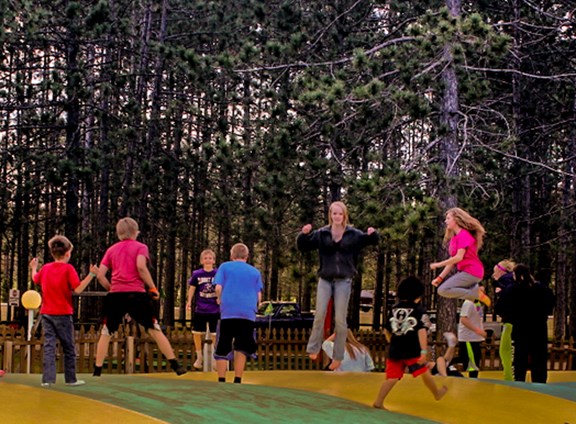 Jumping Pillow*
What do you get when you cross a trampoline with a bounce castle? A jumping pillow! This safe activity provides countless hours of exercise and entertainment for the young and young at heart. Wristband purchase required. Water Slide*
Check out our 300 foot waterslide!!! It is known for miles around and it's quite the ride! So jump in and give it a try, you can buy a five ride or all-day pass. Are you ready to join the 100 in one day club?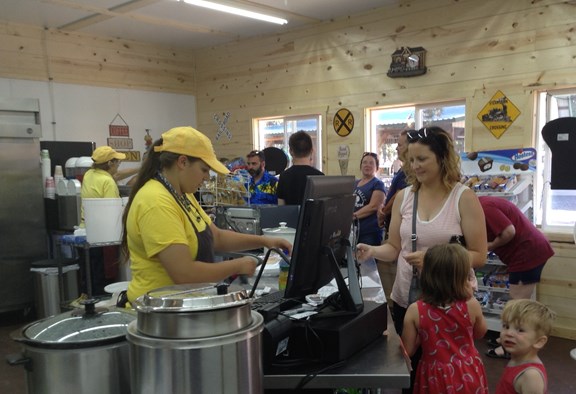 Red Pine Express*
You don't have to wait for ice cream any longer! It's available all day at our Red Pine Express! Come and enjoy the classic breakfast items our campers love from our award winning pancakes and French Toast to the delicious selection of pizzas, hot wings, chili dogs and hamburgers! Have a great morning breakfast or order pizza to be delivered to your site! It's a great option for Friday nights, when you've worked hard setting up your campsite for the weekend of fun!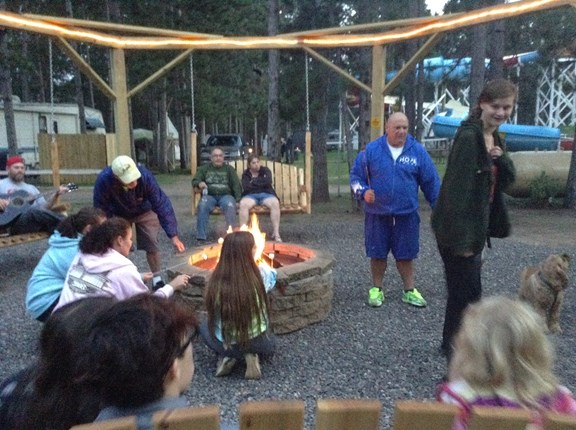 Friday S'more Time
When the sun goes down, it's campfire time... On Friday night, campfire time begins with a Free S'more Party! Memorial Day Weekend kicks off a well-known favorite with our guests as we spend time with them by eating free s'mores together! Yes, we said free s'mores! They'll start your weekend off right! Wagon Ride - Weekends
ALLL ABOARD!!!! Listen for the train whistle and meet by the Pirate Ship to hop on for a great ride around the campground. You can see your fellow campers, your campsite, and maybe our KOA Clown! But beware as she might attack the wagon ride with water!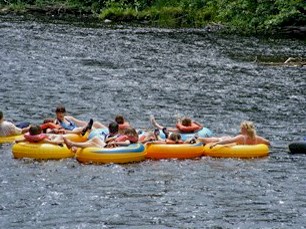 Tubing and Canoeing on the River*
Need an idea to spend a lazy afternoon during your stay? Go tubing on the Namekagon River! We have the tubes and our experienced staff will take you to the river and then be there to pick you up at the end of the ride. Sit back and enjoy the easy ride. Don't want to ride a tube? Try a canoe or kayak on an upper stretch of the river. You might see an eagle or two, maybe a bear or deer. Fish, ducks and many other varieties of wildlife inhabit the river. We have everything you will need for the trip.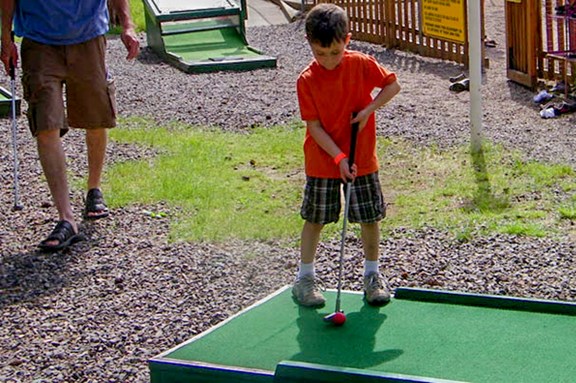 Mini Golf*
Try your hand at our newly refurbished 18-hole mini golf course! It'll be a treat for your family.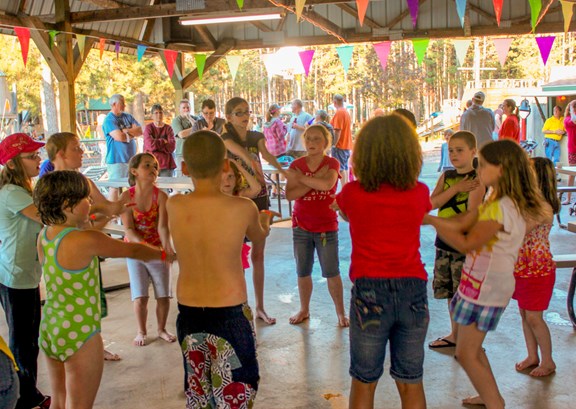 Friday Night DJ - Holiday Weekends
If you are not all worn out by the time the end of the day has come, break a move at our DJ Dance on Friday Night, at the Pavilion. We'll have some great line dances for all ages along with some favorite hits!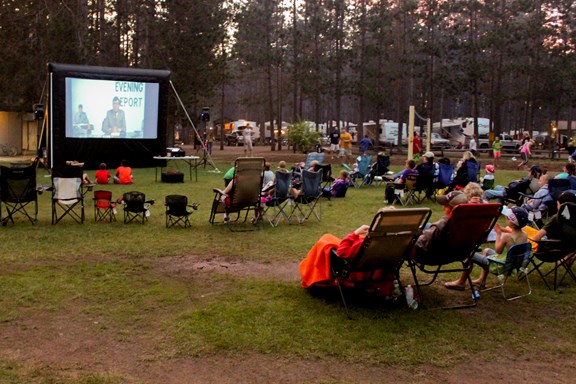 Inflatable Movie Screen
Every weekend, starting Memorial Day to Labor Day we show a free movie out on the field on our inflatable movie screen. Bring your lawn chairs or blankets and join us under the stars.
* Weather Permitting*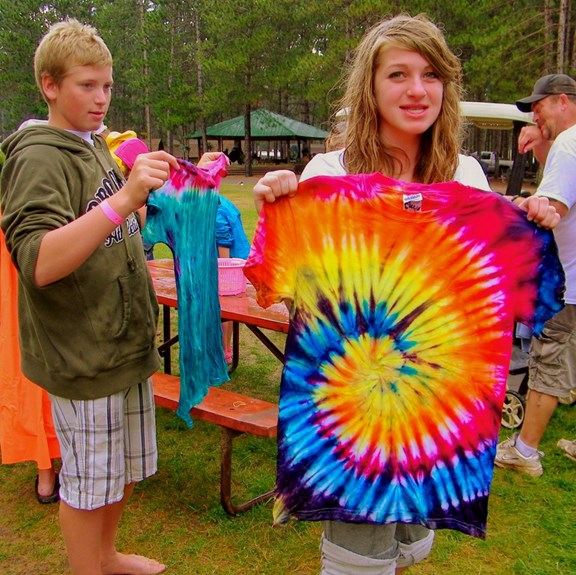 Tie-Dye T-Shirts* (available on Artistic Jamboree Weekend)
Want to bring a piece of your trip home with you? Then make a tie dye shirt during craft hour! Your t-shirt will be a wearable memento from your vacation. With a demonstration and all supplies provided, this retro activity satisfies campers of all ages. Remember, there is no right or wrong way to tie-dye!
*This activity requires an extra fee.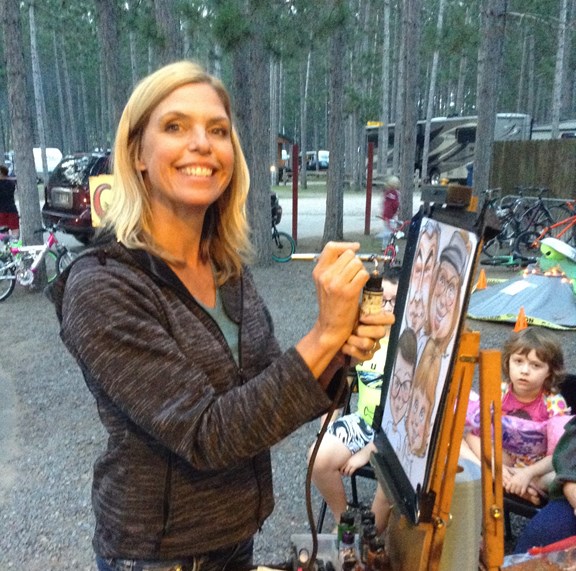 Caricatures by Rachel Murphy*
Want a memorabilia from your time at the Hayward KOA? Well get your family caricature done by Rachel Murphy, Hayward's local artist! She does a fantastic job on individual or family portraits and might even add your fluffy family friend to the mix! $