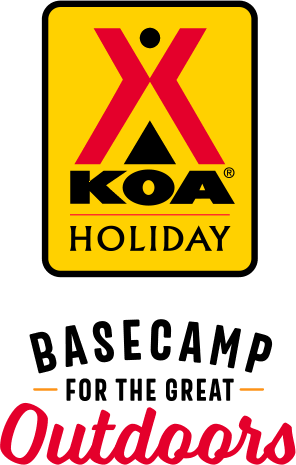 KOA Holiday Campgrounds
Whether you're exploring the local area or hanging out at the campground, KOA Holidays are an ideal place to relax and play. There's plenty to do, with amenities and services to make your stay memorable. Plus, you'll enjoy the outdoor experience with upgraded RV Sites with KOA Patio® and Deluxe Cabins with full baths for camping in comfort. Bring your family, bring your friends, or bring the whole group – there's plenty of ways to stay and explore.
KOA Holidays Feature:
RV Sites with a KOA Patio®
Deluxe Cabins with full baths
Premium Tent Sites
Group meeting facilities
Directions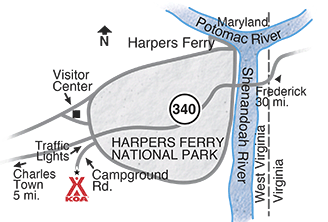 Exit WV Highway 340 at entrance to Harpers Ferry National Park. Take first right, proceed to KOA.
Get Google Directions
Oct 13, 2021
Always a great time !
Oct 13, 2021
We had a great time. Can't wait to come with you again very soon
Oct 13, 2021
We love Harpers Ferry KOA. The campground is clean, the staff is very friendly and the activities are great.
Oct 13, 2021
Overall, we have been coming here every October and do love the campground. It is nicely nestled in the woods for many of the sites, which we prefer. As much as we love it, we have noticed over the years many guests have not properly been abiding by the speed in the campground, or the quiet hours. No camping etiquette overall. Wood though is overpriced, and $1 pancakes...they used to be free.
Oct 13, 2021
No fuss. Halloween was great for the kids trick or treating.
Oct 13, 2021
We always enjoy our stay. The workers are so pleasant. Helpful. We walked out without taking our special bag and firewood. They made sure to remind us. Halloween is best at this koa
Oct 13, 2021
Great Halloween activities for the kids and very well kept campground.
Oct 13, 2021
Great time, friendly staff. See you next year
Oct 13, 2021
We had a wonderful time. Staff and all the activities were great. Thanks for a great stay.
Oct 13, 2021
Love the campground! Love the location! We stayed at Site #33 and were surprised there was only one bathroom and one shower for that whole top area of campers. That bathroom needs some cleaning and an update.
Oct 13, 2021
As a KOA I expected more cleanliness in the shared facilities. Also the staff did not enforce the quiet time policy. Fellow campers were very disruptive during quiet time hours.
Oct 13, 2021
Site was extremely unlevel. We were unable to sit at our table, use the fire ring, or drain the sewer because of the huge tilt. Only 2 campers in our group of 6 were able to drain sewers or get their camper level side to side (we will bring more boards next time) or front to back.
Oct 13, 2021
This was a very nice campground. We had a great visit! There were a lot of activities including trick or treating, a haunted house, site decorating context, tie dye, etc. Other amenities were good including camp store, Gaga out, basketball court etc. Great location and experience all around! Would definitely recommend and will be returning!
Oct 13, 2021
Drove 900 miles to go to a wedding nearby. When arrived had to stand in long line of people checking out purchases from store before we could check in. Went to site assigned and someone was in that one. Had to return and wait in line again and finally assigned another site. The electrical box was outdated switches and box looked really old. Site was fairly flat. Prices are really high.
Oct 13, 2021
Only reason we stayed and I'd recommend is due to the parks proximity to the National park. The campground is very tight, campsites are narrow. Roads are not big rig friendly, many times campers had to move vehicles to allow another camper exit. Our site had a lot of trash on it and our fire pit wasn't clean.
Oct 13, 2021
Extremely busy campground. Our spot was a pretty good challenge to park our travel trailer. very steep, hard to level it out and then the hoses were not long enough. Bathrooms are ok, when you go early. They upgraded everything nicely, except the tilework.
Oct 12, 2021
2 years in a row that there was noise complaints after quiet time and nothing done to correct the issue . This is a serious issue. We were with a group of 25 and knew at 10 pm to stop and quiet down. Tons of little children in area (not with us) and still no consideration
Oct 12, 2021
Fun time for family. Would like to see a hay ride for younger children
Oct 11, 2021
Our annual stay was perfect as usual!
Oct 11, 2021
A lot of stink bugs on window and curtain we had to take curtains down take outside to get them off we killed about 50 or more and door shade is broke so you couldn't close at night
Oct 11, 2021
Due to unforeseeable reasons we had to cancel our trailer space but was able to get a cabin for this past weekend. The price that was charged for such a tiny cabin was absolutely ridiculous to an extreme! I would not recommend a cabin stay for that price to anyone. If it wasn't for being with family I wouldn't have rented. I understand the demand but let's be realistic!!!
Oct 11, 2021
I love the cabins in the back by the woods. It's so secluded and quiet. Would be great to have cabins with bathrooms back there though since it's such a long walk to the bathhouse. We had a great time though.
Oct 11, 2021
staff not very friendly, "deluxe" cabin was very tiny...only would sleep 4 if 2 are tiny children (~toddlers), very densely packed, fire ring on slope making seating on one side impossible; however nice views and amenities
Oct 11, 2021
We enjoyed our stay for the most part. The only negative was the stench of sewage. There appears to be sewage treatment onsite that is close to the recreation area (jumping pillow) and some camping sites. I wouldn't be able to recommend to others because of that.
Oct 10, 2021
Great experience.
Oct 10, 2021
We stayed Oct. 4th til Oct. 8th. The campground is in a great location to access the national park and Harper's Ferry. The camp store is great! The ladies' bathroom could have been cleaner and better stocked with toilet paper. Unfortunately a loud group of campers moved in Thurs. night that had no regard for quiet hours and were awake all night,which I am sure disturbed other campers besides us.
Oct 10, 2021
The location and staff were great! The site was pretty awful, tiny, cramped and on top of our neighbors. When we were disconnecting we had to apologize to our neighbors who were eating breakfast. Our sewer, electric and water connections were near their picnic table.
Oct 10, 2021
Site was not very level. Mini golf was a blast though!
Oct 09, 2021
The staff was helpful. The first site we were assigned has a large washed out area and we could not get level. When I asked in the office we got another site that worked gfine. Convenient to Harpers Ferry NP, which was the purpose for our trip. Dog park was smaller than average for KOA. I had to pay extra for my dog. No one else does this (Been to 48 states in 5 years. NO ONE else charges for pets
Oct 09, 2021
Great facilities and friendly staff.
Oct 09, 2021
Very nice, clean place. The only thing that would improve it would be a few more patio sites. I think I read that an activities fee is included in site fees, which isn't fair to those who don't care to use them though. I may have this mixed up with a different KOA though, not positive. Otherwise, great place & well stocked store.
Oct 08, 2021
Stay was good Free wood was great Only drawback is I had no cable hookup 2nd time back and from Texas thanks
Oct 07, 2021
When we checked in they didn't have anyone to guide us to our site … the girl with the nose ring told me it was over behind the dumpster! Cable TV never worked correctly and after complaining several times they did send someone over but didn't correct the problem … why even assign those sites if cable doesn't work & never offered to reduce the site price …
Oct 06, 2021
Would like to suggest to not rent out site until you leave. My son loved his site but when he tried to rent it next year same time they had already booked it
Oct 06, 2021
Our stay was generally what we would expect at a KOA. The sites were nice, but close together. The Friday night of our stay was very loud even well past quiet hours and calling the night patrol did not have any affect. However, during the week the campground was quiet.
Oct 06, 2021
The facilities are great however , the CATV reception was horrible there was some type of cable rigged up at our site #14 . The WIFI was spotty also. I mentioned this to the front desk person . Nothing seemed to get done
Oct 06, 2021
Overall we enjoyed our visit to this KOA. We enjoyed the haunted house, mini golf, and grapes and grinds. The bathrooms however were pretty gross most of the time we were there. Also the quiet time hours were definitely not observed or regulated. We heard drunk people yelling at 11 pm and kids screaming at 7 am and no workers enforcing quiet hours so we couldn't sleep much. Mostly a good stay.
Oct 05, 2021
We loved all the Halloween activities. The activity directors were terrific!
Oct 05, 2021
My granddaughters and I thoroughly enjoyed our stay. We'll definitely be returning!
Oct 04, 2021
Excellent Halloween program/events! Great family fun.
- David Martin on Google
Sep 28, 2021
Was the cleanest campground we have ever stayed at. Super friendly staff, and maintenance folks. Will definitely go back. Beautiful scenery all around.
- Bill Black on Google