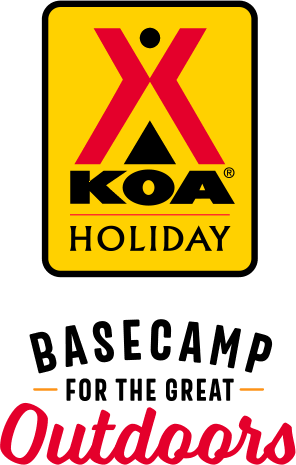 KOA Holiday Campgrounds
Whether you're exploring the local area or hanging out at the campground, KOA Holidays are an ideal place to relax and play. There's plenty to do, with amenities and services to make your stay memorable. Plus, you'll enjoy the outdoor experience with upgraded RV Sites with KOA Patio® and Deluxe Cabins with full baths for camping in comfort. Bring your family, bring your friends, or bring the whole group – there's plenty of ways to stay and explore.
KOA Holidays Feature:
RV Sites with a KOA Patio®
Deluxe Cabins with full baths
Premium Tent Sites
Group meeting facilities
Directions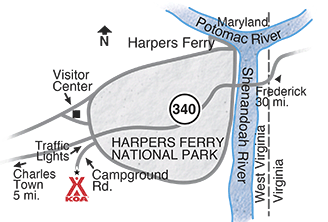 Exit WV Highway 340 at entrance to Harpers Ferry National Park. Take first right, proceed to KOA.
Get Google Directions
Jul 24, 2021
Every thing was good suggestion maybe post open times on the door of Grapes & Grinds was not sure really when open. Went up 3/4 different times was closed.
Jul 24, 2021
The campground it's self was really nice but the bathhouse behind the store had no ac and was almost unusable!! There also should be markers that outline the sites!! We came back to our site and people had put a tent right behind our trailer!!
Jul 24, 2021
Site 58 shaded lot but very unlevel. Downhill slope, nice pool that has been repaired since the last visit. Love $1 pancakes. Upgraded mini golf course, work still in the progress to replace rotted wood. Nice campground
Jul 24, 2021
Nice site, many amenities nearby, refuting, wineries, historic Harpers Ferry, good restaurants. Great , large pool with lots of shade umbrellas available.
Jul 24, 2021
We stayed in one of the camping cabins and the kids enjoyed a bunch of the amenities (pool, jumping pillow, playground). The general store and cafe had a lot of food choices available. Areas for improvement:1) the bathroom facility nearest our cabin had water on the floor the entire time we were there and only one stall door locked. 2) more clearly posted times for amenities would be helpful.
Jul 24, 2021
The overall stay was ok, however I'd rather have level site than a fancy patio, had to put 3 blocks on one side to get it close to level, very disappointing.
Jul 23, 2021
Sites are tight, mini golf needs upgrade because there is a lot of rotting wood, the hall and arcade need updating
Jul 23, 2021
Staff were friendly, campground well maintained. Greatly recommended this campground.
Jul 22, 2021
Disappointed with the power on my site (191). Was told by maintenance that the power was below 30 amps and we wouldn't be able to run all our appliance which was true. I paid for 30 amps, but didn't get what we signed up for.
Jul 22, 2021
Way too expensive
Jul 21, 2021
Super friendly staff. Great breakfast. Just wish the bathrooms weren't closed at 9am for cleaning. Clean them after checkout.
Jul 21, 2021
Busy campground but staff was nice. There was trash around the campground and trash cans were full so it looked like trash hadn't been picked up for awhile.
Jul 21, 2021
Love the campground and area. People that work there were very nice. Only complaint is women's bathroom stall doors half do not lock. And when I tried to use bathroom there was no toilet paper.
Jul 20, 2021
We have been coming to your park for 19 years. I have to say that this year was no where near as good as previous years. Few kids activities on 4th of July weekend. Our daughter had an air conditioner issue in her cabin and was really disgusted with the attitude of the Manager, lots of the arcade games were broken. Not many options in Snack Bar. Chg $12.00 day pass/not swimming just visiting
Jul 20, 2021
They staying was great alot of finally to do especially for teenagers.We all loved it will decently be back.Every thing was clean staff very friendly and helpful Love that it is close to everything if you want to venture out and explore.
Jul 20, 2021
Upon arrival, our site had a broken table, beer cans, and trash littered around. This was not a pleasant experience.
Jul 20, 2021
Four visit. Great time, great service, great staff.
Jul 20, 2021
Great Campground will be back. Couple small things Mini Golf course could use some updating. Gameroom area had trash laying around could use some attention daily.
Jul 20, 2021
The playground needs a lot of attention. It had missing steps to the platform and the slides were both broken. I did not like letting my child play there. I would hope that it could be fixed before someone gets seriously injured. Other than that the place was wonderful. Bath house was nicely updated and super clean, and the sites were well kept.
Jul 20, 2021
We had a nice stay with family. As always the facilities were nice and clean. It was our first time in an RV spot with are renovated popup! It was so quiet.
Jul 20, 2021
Good site, very popular, friendly staff and close to everything that we wanted to see.
Jul 20, 2021
Great location to everything to do! The sites were tight and lots of tree roots made it hard to set up camp. Great store, one of the best we've seen at a KOA!
Jul 20, 2021
Campground does have many ammenities and is located in a nice area. The campsites (RV) are very small, probably the smallest I've ever camped at. Your neighbors will be very close! Did not have much interaction with the people who worked there so really cannot comment on that. There was only bath house that I could find. They say they welcome your pets, but you cant take them inside anywhere.
Jul 20, 2021
Close 2 everything. Staff friendly. At checkin yngman kept asking if we needed a car pass? Why wudn't we? The laundry compared 2 last stay was disgusting lot of bugs live/dead, machines very dirty. 2 ladies from outside the park came w/5 very lrg bags of laundry, put in commercial washer & left. Inside washers very dirty. We found RRties uneven & trip hazard, our daughter fell. No check space p/lv
Jul 20, 2021
Such a great camp ground . The kids had such a great time . The bathrooms are little ehhhh but to be expected .
Jul 20, 2021
We had a blast!
Jul 20, 2021
Way too crowded, sites too close to each other and not equipped until you hunt someone down to bring the bare minimum.
Jul 20, 2021
The campground offered lots of great amenities that we enjoyed, but we found that lots of the facilities were in need of upkeep (playground missing wooden boards, wobbly toilets in bathrooms). Also instances where we visited bathroom but found no toilet paper and walked by empty campsites and grounds with much trash littered.
Jul 20, 2021
My Family's stay was awesome. The staff were helpful and friendly. Thank you very much. DK
Jul 19, 2021
Very clean, good time. However the 10:00 curfew is a bit much. Also, the Internet is horrible. If you would upgrade, I am sure people would pay for it. Especially because a lot of folks work remote.
Jul 19, 2021
The view was beautiful from our cabin, but early in our stay, we reported a loose faucet in the bathroom, as well as both TVs had channels that had heavy static and reported the grill was filthy. Nobody ever came out to even look at any of these things. Also, we strongly recommend you build a second pool or have the last hour or two be "adult swim" only. The wifi left a lot to be desired as we
Jul 19, 2021
Campground was nice but wi-fi was useless. Could not even connect the first night. Got connected the 2nd day but could not even upload email.
Jul 19, 2021
Nice campground, friendly people, lots of activities! Sorry that we had to cut our visit short because of sickness. Also, it was sad to discover we could not get to the restaurant we wanted to try because the quaint little town of Harpers Ferry with it's interesting buildings is not at all handicap accessible. All parking at bottom of a very steep and narrow street.
Jul 19, 2021
Our stay overall was good. Staff was super friendly! Here are a couple things that need work: 1. people working food stand in gameroom using gloves to ring up people and SAME gloves to prepare food 2. bathroom in room where the pool table is was very dirty and smelly, lots of trash on the floor and trash cans over flowing in video game room/gameroom and bathroom NOT cleaned from night before.
Jul 19, 2021
Enjoyed having the pool so close, friendly staff, and clean bathrooms. Smores were nice and breakfast was a great option for when we didn't want to cook. We liked the tourist shop and the theatre was an unexpected pleasure.
Jul 18, 2021
The KOA is wonderful and the staff were friendly and helpful. The grounds and wash rooms were clean, the pool, bounce pad and arcade were great. Our site was very small and not all that level. Our 34' TT barely fit the site end to end, which left me with no room to park. I had to bounce from empty site to empty site as they filled. We needed every leveling block we had to get level.
Jul 18, 2021
nice campground. pool very nice, camp store great. our campsite was a little small, we had to drive on to camp site across the road to hook up and disconnect. other than that it is a very nice campground.
Jul 15, 2021
Bathrooms were pretty clean for a campground, except our first night. Looked like a chocolate bomb went off in 3 out of the 4 stalls in the men's room. Gave it a little 'atmosphere'.
- Brandon M on Google
Jul 13, 2021
The campgrounds are amazing and the staff are very kind and helpful.
- Tabitha Dearth on Google