Local Area Recreation Near Hardin KOA
Our biggest attraction is the Little Big Horn Battlefield National Park, just 13 miles away. During the end of June is the reenactment of the battle and many activities in town as well as food venders, jewelry venders, arts and crafts are held on Center Ave. The streets are blocked off and a Saturday night street dance is always a hit. All of Hardin get involved in this week long celebration. The local parade on Saturday is awesome.
Pompey's Pillar National Monument is within an hour from our KOA campground. On July 25, 1806, William Clark of the Lewis and Clark Expedition visited Pompeys Pillar, carving his name and date upon the rock
.
Big Horn County Historical Museum is one exit down I-90 east on exit 497. 5 minutes away! It has 26 Historic Structures, self-guided tours or Guided Tours upon request. They have a lovely gift shop with many interesting items from the area. It is also the visitor center for the state of Montana.
Yellowtail Dam, within an hour, is a must see1
Little Big Horn Stampede,  PRCA rodeo, Big Horn County Fairgrounds.  June 21 and 22 at  7 PM.  Indian Relays and Mutton' Bustin'.  Live Music Friday night,featuring  Exit 53  Local band from Hardin.  Ice Cold Beer.!!!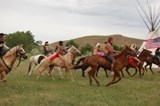 Local things to do for our campers as they visit.
Hardin has a friendly, welcoming atmosphere as you stroll down Center Ave. Local shops include The Farmer's Daughter, The Jailhouse Gallery, Cinema, an old time theater, 3 Brothers Bistro, BIg Horn BBQ Boys, Do It Best, Jimmies Variety Store and Bud's Meat Market  are among some of the must see spots. Many casinos, restaurants, motels, pawn shops,coffee shops, and local churches and parks add to the friendliness of this Cowboy and Indians town. We love it here and I think you will too!!!  Not to forget Lamers Trading Post and Second Chance. Hardin offers a nice Flying J and a new Loves Truck stop plus other gas stops for your traveling needs. Hardin has a nice IGA grocery store and a Family Dollar Store. We also have repair shops for some traveling problems you might have while traveling.  Bill's Auto might fit your needs.  For our golfers, Fort Custer Golf Club.
Billings is the largest city in Montana, I reckon, and has everything you could ever think of. Really!!!! Just a short drive on I 90 west. About 40 miles and I must say a beautiful drive there and back to Hardin.
RR 1
PO Box 1009
Hardin, MT 59034