Local Area Attractions Near Hardin KOA Journey Yellowtail Dam
The Yellowtail Dam is within an hours drive away. Beautiful scenery and wild animals can be seen along the way. Big Horn Canyon is a site to see!!! Don't miss the visitor center next to the Yellowtail Dam with all the information about the area. You can even drive to the marina and walk into the waters of the lake of Big Horn Canyon.  Check the internet for the latest update.
Little Bighorn National Monument ("Custer's Last Stand")
During June the Reenactment of The Battle of Little Big Horn is and you can meet the actors after the show. Some actors stay right here at the Hardin KOA. How fun is that? Custer visited and had ice cream at our ice cream social. Pompey's Pillar
Pompey's Pillar is less than 45 minutes away. Pompey's Pillar is a National Monument that rises 150 feet from a 2 acre base on the banks of the Yellowstone River. Captain William Clark of the Lewis and Clark Expedition, arrived at Pompey's Pillar on July 25, 1806, on his return trip from the Pacific. Clark marked his visit by engraving his name and date of his arrival. Clark named this rock Pompey's Tower and it was renamed Pompey's Pillar in 1814 when the Lewis and Clark journals were published. The Farmer's Daughter General Store
Home Decor. Antiques, Gifts, Souvenirs, Scrapbooking, Boutique, and Soda Fountain.  Owner Landa Uffelman.
She is located downtown Hardin.  206 N. Center Ave.  406 665 2078.
The store is so unique and a big positive addition to Hardin.  It is in the original structure of the Fort Custer General Store, owned by her Grandmother and Grandfather.  Harvey and Charlene Warren.
Don't forget to buy Papa Harvey's seasoning.  I also sell it in my store here at Hardin KOA. 3 Brothers Bistro
Wine Bar, Casino, and Tap Room.  Featuring 10 Montana Craft Beers on Tap!!!
Great place for pizza and specialty sandwiches and salads.  They also scoop Billings made Wilcoxson's Ice Cream.
I also sell Wilcoxson's Ice Cream bars in our store here at the Hardin KOA.
By the way the hometown theater (Cinema) is connected to the Bistro with great movies and the popcorn is to die for.
316 N. Center Ave
Hardin, MT 59034
Local Area Recreation Near Hardin KOA Journey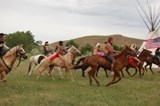 Local things to do for our campers as they visit.
Hardin has a friendly, welcoming atmosphere as you stroll down Center Ave. Local shops include The Farmer's Daughter, The Jailhouse Gallery, Cinema, an old time theater, 3 Brothers Bistro, BIg Horn BBQ Boys, Do It Best, Jimmies Variety Store and Bud's Meat Market  are among some of the must see spots. Many casinos, restaurants, motels, pawn shops,coffee shops, and local churches and parks add to the friendliness of this Cowboy and Indians town. We love it here and I think you will too!!!  Not to forget Lamers Trading Post and Second Chance. Hardin offers a nice Flying J and a new Loves Truck stop plus other gas stops for your traveling needs. Hardin has a nice IGA grocery store and a Family Dollar Store. We also have repair shops for some traveling problems you might have while traveling.  Bill's Auto might fit your needs.  For our golfers, Fort Custer Golf Club.
Billings is the largest city in Montana, I reckon, and has everything you could ever think of. Really!!!! Just a short drive on I 90 west. About 40 miles and I must say a beautiful drive there and back to Hardin.
RR 1
PO Box 1009
Hardin, MT 59034