Local Area Attractions Near Hagerstown / Antietam Battlefield KOA Holiday
Ten-mile Rail Trail along the C & O Canal, Farmers Market, Whitetail Resort for year round fun, Museum of Fine Arts, Antietam Battlefield, Hager House, Hagerstown Roundhouse, Miller House and Gardens, City Park, Hagerstown Ice & Sports Complex, Home of the Hagerstown Suns.
For more information see http://www.marylandmemories.org .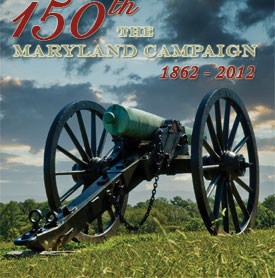 Antietam Battlefield 12 miles from us, worth the visit!
One of America's best-preserved battlefields, Antietam was the site of the bloodiest one-day battle in United State's history. September 17, 1862, more than 23,000 men were killed, wounded, captured or missing in General Robert E.Lee's first invasion of the North. The driving tour highlights historic Dunker Church, Bloody Lane, Burnside Bridge, more than 350 monuments, tablets and markers, and 41 cannons. Also located on the grounds is the National Cemetery, the final resting place for 4776 Union soldiers (1,836 unknown) who lost their lives at South Mountain, Antietam, Monocacy and other battles in the area.

Knob Hall Winery
Just a few miles from our KOA is Washington County's first winery! Join us for a tasting Mondays, Thursdays, Fridays, Saturdays from 11- 6 and Sundays from 12- 6, or attend one of our many events held throughout the year. Wine tastings and tours are only a part of the experience at Knob Hall. Come be a part of the history of this estate: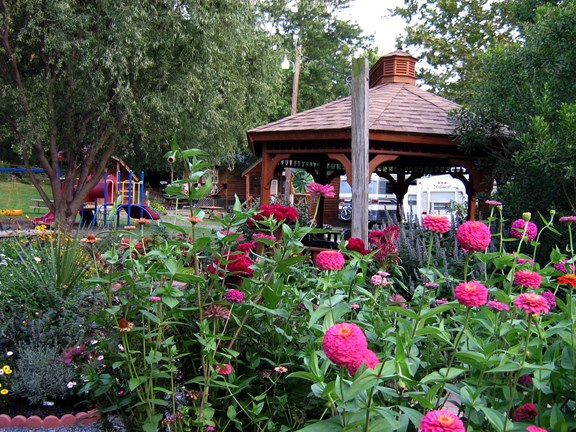 Beautiful landscaping:
Stroll our gardens and see the many species we have collected over the years. Enjoy a peaceful time sitting in the garden gazebo. Your welcome to pick a tomato or fresh herbs for your dinner.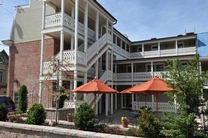 Boonsboro, MD home of author Nora Roberts
Nestled at the foot of South Mountain, between Hagerstown and Frederick, lies a rural town at the crossroads of regional heritage tourism. Founded in 1792 by George and William Boone, cousins of Daniel Boone, Boonsboro forms a gateway to relevant colonial and Civil War heritage sites including Washington Monument State Park, South Mountain, and Antietam National Battlefield. The C&O Canal Towpath and Harpers Ferry Historical Park are only minutes away, and the proximity to the Appalachian Trail makes Boonsboro a welcome respite for hikers.
Boonsboro offers visitors an array of local attractions: a charming town museum featuring historical artifacts, a restored 1902 trolley station, a state of the art library situated amidst the newly expanded Shafer Park, and the Inn BoonsBoro - a beautifully restored historic bed-and-breakfast located on the square, owned by New York Times Bestselling author Nora Roberts. Enjoy lunch at her sons new restaurant Dan's Restaurant and Tap House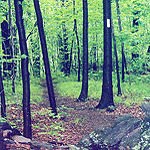 Appalachian Trail
The Appalachian Trail is a 2,181-mile long public footpath. Conceived in 1921 and completed in 1937, private citizens built the trail and thousands volunteer each year to help maintain it. From Maine's Mount Katahdin to Georgia's Springer Mountain, it traverses the wild, scenic, wooded, pastoral and culturally resonant lands of 14 states in the eastern U.S.
Local Area Recreation Near Hagerstown / Antietam Battlefield KOA Holiday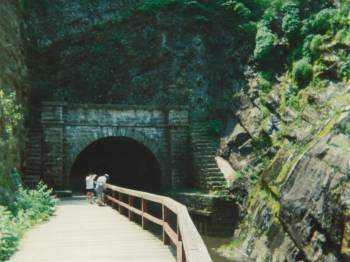 Hiking Walking Biking
C & O Canal for hiking and biking, take a look in the Visitors center.
Antique shopping
Antique Crossroads just 15 minutes, largest in the area. Funkstown, shops scattered through this small quaint town. Adventurous, Hancock Mall and Bunker Hill are a fun day trip for more shops.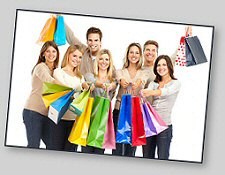 Shopping.....we have shopping galore!
Prime Outlets of Hagerstown, just 8 mile from the KOA . Valley Mall, 1 million square feet of shopping, including food court, JCPenney, Sears, Bon-Ton and many more. R/C Theater 16 screen megaplex.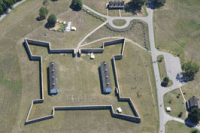 Fairs, shows and festivals in our county
Interstate Coin Show, Annual Flower and Garden Show, April 26-28 Market Fair and Rifle Frolic, National Pike Festival & Wagon Train, French & Indian War Grand Encampment, Halfway Park Days, Western Maryland Blues Fest, Annual Strawberry Fest, Battle of Funkstown,July 6 MD Symphony Orchestra Annual Independence Celebration at Antietam, Smithsburg Pride Days, Jonathan Hager Craft Days, Ag Expo, Peach Festival, Oldiesfest, Augustoberfest, C & O Canal Days, Boonesborough Days, Canal Apple Fest, Sharpsburg Heritage Festival, Smithsburg Steam and Craft Show, Hagerstown Indian Pow-Wow, Alsatia Mummers Day parade, December 1st Antietam National Battlefield Memorial Illumination, Old Tyme Christmas.

Golf courses in our area.........
Hagerstown Municipal, Beaver Creek, Black Rock, Musket Ridge, and The Woods.
Yinglings Golf Center, 3 par, great for beginners