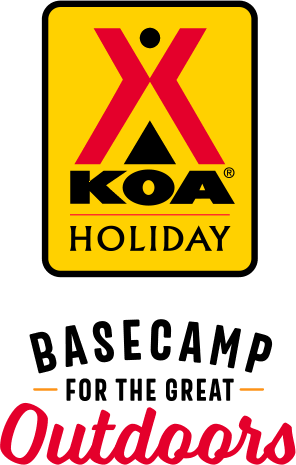 KOA Holiday Campgrounds
Whether you're exploring the local area or hanging out at the campground, KOA Holidays are an ideal place to relax and play. There's plenty to do, with amenities and services to make your stay memorable. Plus, you'll enjoy the outdoor experience with upgraded RV Sites with KOA Patio® and Deluxe Cabins with full baths for camping in comfort. Bring your family, bring your friends, or bring the whole group – there's plenty of ways to stay and explore.
KOA Holidays Feature:
RV Sites with a KOA Patio®
Deluxe Cabins with full baths
Premium Tent Sites
Group meeting facilities
Directions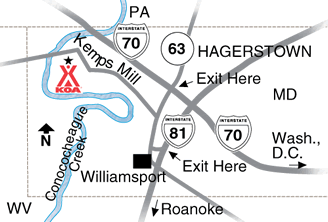 LODGES, There is a grill outside, flat top stove, refrigerator/freezer.  There is signage from both I-81 and I-70. We are approximately 3 miles off the interstate.
PLEASE DO NOT FOLLOW GOOGLE MAPS OR YOUR GPS! FOLLOW DIRECTIONS BELOW.
From I-81 N or S the EASIEST way to get here is to take Exit 4 and Follow 70 W.  From 70W take Exit 24.
Turn left onto 63 and take the VERY FIRST RIGHT onto Everly Rd. ( EVERLY PLAZA )
Take a left onto Rock Hill and then bear right onto Kemps Mill.  We are straight ahead 1.4 miles.
The KOA Signs are at Exit 2.  You can come this way BUT IT WILL TAKE YOU THROUGH TOWN.
From Exit 2 you will go South on Route 11 and North onto 63.
PLEASE DO NOT FOLLOW GOOGLE MAPS OR GPS !
If you are coming East on I-70 you will need to take Exit 24. DO NOT TAKE EXIT 18!!
Make a right onto 63 and take the first right onto Everly Rd. ( EVERLY PLAZA)
Make a left onto Rock Hill and bear right onto Kemps Mill. We are straight ahead 1.4 miles.
PLEASE DO NOT FOLLOW GOOGLE MAPS OR GPS !
From 70 West you will take Exit 24.  Make a left onto 63 and take the VERY FIRST RIGHT onto Everly Rd. ( EVERLY PLAZA)
Make a left onto Rock Hill and a right onto Kemps Mill.  We are straight ahead 1.4 miles.
Get Google Directions
Apr 06, 2021
Extremely crowded and RVs where on top of one another.
Apr 06, 2021
Our site the picnic table was on the other side of the RV. The fire ring was out by the road. This campground is not very well set up for camping. The overall look was very junky.
Apr 06, 2021
It was my second stay at this KOA. Off the beaten path bordering a farm and a stream. I woke up in the morning to walk my dog and was greeted by a group of cows, in the farmers pasture, grazing behind my RV. Very nice and relaxing.
Apr 05, 2021
We were very pleased with the cleanliness of the campground and our site. The views of the stream were very pretty and we wished it were warmer so we could go tubing. The staff was helpful, attentive, and available throughout the campground. The sites were not huge but we had enough room and they were arranged so you didn't feel cramped. Our only complaint was that the firewood was green.
Apr 05, 2021
We love it there, but there seems to be new management. All new rules. Now you must wear armbands. No curbside trash pick up (blamed on COVID). Bathrooms have codes. This campground had been written up as one of the best KOAs in the country and we love it there. It's still a great campground, just hope the new management doesn't try to fix something that was not broken!!
Apr 05, 2021
We were only there for an overnight stay. There was a bit of a mix up with our reservation but they did all they could to make it right and for us to have a pleasant experience which we did. They seem to be quite accommodating. We would stop there again.
Apr 05, 2021
Check in was a breeze with very friendly staff.
Apr 04, 2021
Staff was helpful, friendly. Cabin was clean with easy access. Unfortunately, the cabin view was horrible, we had our choice of gazing at green water pool or backside of the office/RVs. All lots were cramped and not spread out. The men's shower had an exposed tile corner which was very dangerous and there was an open well with over a ft of standing water. We liked being there but place was crap.
Apr 04, 2021
Nice level sites. Diner was a great plus. The crab cakes were delicious!
Apr 03, 2021
Staff and owner go out of there way they treat the campers.he also supports the armed forces.
Mar 31, 2021
Our family had a great time. The kids enjoyed visiting the chickens and have named each one. We will be returning for sure
Mar 31, 2021
As always wonderful stay!
Mar 31, 2021
Every year we go there seems to be a site scheduling problem. It is a break down between the KOA portal and the camp ground management office. It always gets worked out, but it could be better.
Mar 31, 2021
Level campsite. Sites are spaced far enough apart as not to feel on top of your neighbors. Staff was extremely helpful and friendly.
Mar 31, 2021
The ownera were very friendly and the site is a nice change from other KOAs where we have stayed.
Mar 31, 2021
Friendly people. Pretty area.
Mar 31, 2021
Once again, my 2 dogs and I had a great time at Hagerstown/Antietam Battlefield KOA! The staff is so friendly and welcoming and our cabin was perfect for the weekend. We look forward to many more trips to this KOA!
Mar 31, 2021
site was to small there was an empty site next door that was bigger. wood we bought was wet
Mar 31, 2021
Perfectly peaceful, cozy campground and wonderful people!
Mar 29, 2021
Always a friendly staff. Very accommodating. Clean campground.
Mar 29, 2021
We rented a deluxe cabin on two separate occasions. The first night was the opening of the campground and there were some issues. However on our return the following week the turn-around was 200% and we had a very pleasant stay I would stay again and recommend them whole heartedly
CAMPGROUND RESPONSE / COMMENTS:
Thank yo so much for the kind comments!
Mar 28, 2021
Only one night stay, staff was very friendly and helpful. Calpgrounds very clean and well kept
Mar 28, 2021
Friendly staff. More rustic than some other KOA sites but very peaceful and close to many historical attractions
Mar 27, 2021
It was awesome. This campground was perfect. We will be staying here again
Mar 26, 2021
This was our first RV trip and the folks here couldn't have been nicer or more helpful. They went out of their way to make sure that we had everything we needed and then some. Highly recommend.
Mar 24, 2021
We enjoyed our stay at this campground. The hosts were very helpful and the site was nice and clean. The bathroom and showers were spotless.
Mar 23, 2021
Very clean campground and nice location. Staff were friendly and informative.
Mar 22, 2021
We love Hagerstown KOA. It was the first time we stayed here in a camper and not a tent and everyone was very helpful and friendly. We cant wait to come back.
Mar 22, 2021
Very Friendly. Pretty by the lake. Gave it only 4 stars because the WiFi was only usable at the office.
Mar 22, 2021
Was awesome. Amazing staff. Their to "help" us all out on any questions we may have had. Have already told several people about this hidden gem of a spot!! See u this summer 2021!!
Mar 22, 2021
We enjoyed every minute. Friendly and helpful staff- even Daisy the duck was happy to see us, that could have been the cone full of grain we had:)! Thank you for a great stay.
Mar 22, 2021
They are very friendly, and my daughter enjoyed feeding animals too! Great experience!
Mar 21, 2021
I made a last minute reservation for a weekend getaway in one of their Deluxe Kabins. The couch was nearly falling apart, something inside smelled like fecal matter, and the deadbolt was set nearly a half inch lower than the receiving hole in the frame. I left and won't be back. While the staff was friendly and helpful, they simply had too much to overcome to keep my business.
Jan 19, 2021
We love this campground. With that being said it is in desperate need of cleaning. EVERYTHING is filthy from the air conditioners in the cabins, to the common sitting areas, the landscaping, the bathroom/showers and the horrible odor in there. The area around the dumpster by the store, things need swept, sprayed off with a hose, porches & windows need cleaned, spider webs. Very neglected. A shame
Jan 10, 2021
Awesome staff family friendly
Dec 27, 2020
I do this twice a year. Spring and late fall. Except this spring, cause of covid. Been doing this since 2017. 2016, when I was in Montana, is when I found out that you had cabins. Stayed in Whitefish KOA for 3 days and loved it. That's why I do this twice a year. Get away for the weekend.
Dec 02, 2020
Just need better wifi
Nov 30, 2020
What a disaster, it was the SINGLE MOST UNPLEASANT stay that I have EVER EXPERIENCED!!! The number one thing was the NON-STOP screaming of the kids across from us!! We could tell they left the campground Saturday because the noise stopped. I don't even want to waste my time explaining everything else because it does not matter, we will NEVER be back!!!
Nov 30, 2020
It was a nice campground, very quiet. The owners were very friendly. Loved the texting option to communicate with them and the fact that food and items from the store could be delivered right to the campsite and ordered via texting. Would recommend and stay again.
Nov 30, 2020
Great service! Everyone was very polite. The center-back of campground needs some attention. The long term residents-campers need to clean up their areas. Kinda of an eye sore. I would still return regardless.
Nov 29, 2020
Very quiet and owners very friendly and helpful. Loved camping right on the creek.Close to lots of attractions. Will visit again.
- Kelly Poniatowski on Google
Nov 15, 2020
Other than being a little brisk. My 12 yr old daughter & I had an AMAZING time. Everybody was very nice. There was 3 awesome guys that helped us... one by hooking up a battery charger to my car since the battery died, the other turned on the big light at the end of our site so we had a good lit area at night & the 3rd brought us a gator of wood. We went to see Mr. Dean's Magic Show & that was the best. Alyssa mined for stones. All the ladies in the office were nice but Donna was the best. She really took care of us & even made sure my daughter & I were warm enough. Will definitely be back next season but when it a little warmer.
- Wendy Sommers on Google
Mar 31, 2021
We enjoyed our one night stop. Staff was friendly. Campground is older and gravel roads. Next to a River so fishing, kayaks and canoeing. Great location for touring the battlefields. Sites are small but there are a few pull through sites that fit our 40ft RV with tow car without unhooking. The roads from the highway to the campground and in the campground are narrow with hills and turns and trees. Take your time and you can do it but it will be tight. Call and get directions, do not follow GPS! There is a one lane bridge just before the campground entrance from one direction. You do NOT want to go that route. From 81N exit 2 there are signs to follow which was helpful.
- busymom111 on Trip Advisor