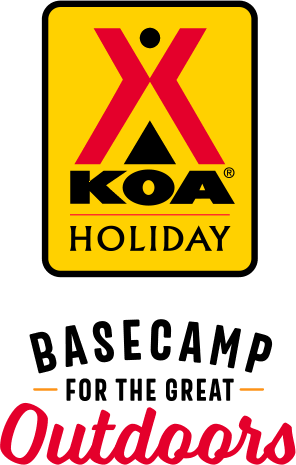 KOA Holiday Campgrounds
Whether you're exploring the local area or hanging out at the campground, KOA Holidays are an ideal place to relax and play. There's plenty to do, with amenities and services to make your stay memorable. Plus, you'll enjoy the outdoor experience with upgraded RV Sites with KOA Patio® and Deluxe Cabins with full baths for camping in comfort. Bring your family, bring your friends, or bring the whole group – there's plenty of ways to stay and explore.
KOA Holidays Feature:
RV Sites with a KOA Patio®
Deluxe Cabins with full baths
Premium Tent Sites
Group meeting facilities
Directions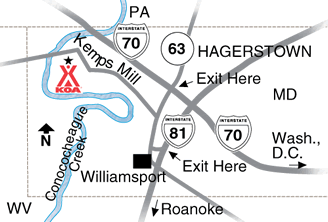 LODGES, There is a grill outside, flat top stove, refrigerator/freezer.  There is signage from both I-81 and I-70. We are approximately 3 miles off the interstate.
PLEASE DO NOT FOLLOW GOOGLE MAPS OR YOUR GPS! FOLLOW DIRECTIONS BELOW.
From I-81 N or S the EASIEST way to get here is to take Exit 4 and Follow 70 W.  From 70W take Exit 24.
Turn left onto 63 and take the VERY FIRST RIGHT onto Everly Rd. ( EVERLY PLAZA )
Take a left onto Rock Hill and then bear right onto Kemps Mill.  We are straight ahead 1.4 miles.
The KOA Signs are at Exit 2.  You can come this way BUT IT WILL TAKE YOU THROUGH TOWN.
From Exit 2 you will go South on Route 11 and North onto 63.
PLEASE DO NOT FOLLOW GOOGLE MAPS OR GPS !
If you are coming East on I-70 you will need to take Exit 24. DO NOT TAKE EXIT 18!!
Make a right onto 63 and take the first right onto Everly Rd. ( EVERLY PLAZA)
Make a left onto Rock Hill and bear right onto Kemps Mill. We are straight ahead 1.4 miles.
PLEASE DO NOT FOLLOW GOOGLE MAPS OR GPS !
From 70 West you will take Exit 24.  Make a left onto 63 and take the VERY FIRST RIGHT onto Everly Rd. ( EVERLY PLAZA)
Make a left onto Rock Hill and a right onto Kemps Mill.  We are straight ahead 1.4 miles.
Get Google Directions
Sep 18, 2021
Everything was great friendly and very helpful staff. To all future campers of this wonderful Campground do not use Google maps use the directions you get on the email from the owners. Trust me!!!
Sep 18, 2021
Arrived late, everyone was very pleasant.
Sep 18, 2021
Great campground beautifully kept grounds would recommend we just stayed overnight
Sep 18, 2021
checked in late. could not find paperwork. Site not level.
Sep 17, 2021
Friendly staff , very clean - well maintained
Sep 16, 2021
We live in a High Tech World - you can't use high tech stuff in KOA CAMPGROUNDS with STONE AGE WIFI AND INTERNET, which are most KOA's!
Sep 16, 2021
Friendly staff, clean facilities, enjoyed the live music
Sep 16, 2021
Very personable
Sep 15, 2021
We loved the peace and quiet and the beautiful flowers everywhere! Checkin was a breeze on a very busy day for them - no glitches; everything ready. We hope to return for a multi-day vacation.
Sep 15, 2021
helpful staff and great amenities. we were only here for 1 night but found it to be a great experience. We arrived after hours but there was someone there to still help.
Sep 15, 2021
The lady's in the camp store an the other staff are very friendly an ready to help. Nice koa that is well up kept. I will be back.
Sep 15, 2021
Non existent WiFi, at least at the site I was in. Site required several LYNX blocks on one side to level. But you may get fresh eggs and goats milk as they have live chickens and goats for the kids (not sure the eggs and milk are available).
Sep 15, 2021
Fine and relaxing but we did have the impression our site would have sewer hookups. It did not and we could have used such. We had a tow attached and were not gonna unhook all the other utilities and TRY to maneuver around the park to access the community dump station.
Sep 14, 2021
Stayed one night camp was clean and well maintained Staff very friendly nice store Pool was open but very cool
Sep 13, 2021
always a fun relaxing weekend trip
Sep 13, 2021
Very tight campground. Grateful to be on the outskirts in a water/electric only site. Unfortunately, the dump station was located behind us, so we had to wind our way through the campground to get in line to dump before we left. We waited 30 minutes to dump because there was only one sewer hole. Pretty? Sure. Inconvenient? Yes. We will not be back.
Sep 13, 2021
Had to listen to 3 hours of rock music after a long travel day. No bath facility anywhere near us.
Sep 13, 2021
Everything was wonderful! The campground is kept clean and quiet!
Sep 13, 2021
For us it was just an over night stay. We slept comfortably and got well rested.
Sep 12, 2021
The bathrooms were dirty. The shower stalls were dirty(I have photos of the same garbage laying in the shower stall for two full days.) The shower stalls (mens')were extremely tiny. We stayed in cabin number five. The step up into and out of the cabin was nearly insurmountable without placing large flat stones at the base. Cabin number five was very dusty inside. Sarah was nice but…???
Sep 12, 2021
Wow. Don't see how this KOA got the great reviews. It was just ok. Very tight spots with little room to park tow vehicle. Signs were good on getting to the park, but roads were less than desirable. Very small two lane road, not made for RVs. Thankful we did not meet another motorhome on that road.
Sep 12, 2021
We stay at KOAs when possible because of their reputation. Unfortunately for this KOA Resort, we are sooiled by a Resort 30 miles from our house. As seen in my reviews, this KOA is ok. Noted issues were low water pressure and poor WIFI. This is not a review about the staff, they were all awesome. Comparing this to the Shelby/Mansfield KOA Resort, I think this "Resort" needs a little face lift
CAMPGROUND RESPONSE / COMMENTS:
We are not a resort at all. We do not advertise ourselves as a resort. I apologize for the low water pressure, we found a leak. It has been very hard keeping up with little to no staff.
Sep 11, 2021
Nice size back in site that was clean and level. Pool was still open a few days after Labor Day. Roads are fair size. Major issues were seasonal or work camper flying in back entrance at 30+ and gunning engine to intentionally throw gravel. Also leash laws not enforced - scary with a large Shepard 200" away off leash.
Sep 11, 2021
This KOA is woodsy, very clean, and quiet. I loved visiting with the goats. Unfortunately, we could not connect to the WI-FI from our site and had to go to the pool area to connect and use it.
Sep 11, 2021
We booked a pull-thru for one night on our trip to Virginia. The location was excellent right along the water. We will book more than a night in the future. The staff was great!
Sep 10, 2021
Always great.
Sep 09, 2021
Site 33 not very level for my 36' class A even with liberal use of blocks…significant issue with ground height differences from left side of site to right side
Sep 08, 2021
We had a great Labor day weekend here. The weather made it a challenge in getting in and the staff was extremely helpful. The facilities were all well above expectations. The camp sites need a little attention though, in addition there was little to no grass in the campground. We had a deluxe patio site and all we could smell was the on site septic system and the dump station on the other.
Sep 08, 2021
Small campground but big hospitality. Kids had an awesome time. Thanks.
Sep 08, 2021
Staff members are very polite and friendly!!! We will definitely continue camping here at this campground.
Sep 08, 2021
It was great thanks yoy
Sep 08, 2021
The kids were busy all weekend long, and the food was great!
Sep 08, 2021
Very nice place. Smaller than other KOA sites. Limited drive thru
Sep 08, 2021
Awesome place to stay.
Sep 12, 2021
This is one of my favorite campgrounds ever. There's so much to do for both kids and adults, yet it still manages to be quiet and peaceful. Not only that, most of the staff were friendly, helpful, and seemed genuinely happy to be there. Everything we touched was clean and relatively modern. The lighting and decor in the bathrooms was soft and relaxing, and the showers were hot, spacious, and had good water pressure (unlike 99% of the campgrounds we've stayed in in recent years). Our RV site was large and (mostly) easy to back in to, although the site we were in on our first stay, which was close to the playground and next to the pavilion, was easier to park in than the river side site on our second visit. This campground is great for families and couples of all ages. Our 7 year old son loved the clean, well maintained playground (with lots of shade nearby!) and the jumping pad (basically an open air bouncy house without the sides & top). He also enjoyed playing checkers and Connect Four on the GIANT game sets behind the diner. (There's an abnormally large checkers set on the wooden deck in front of the bathrooms and near the gazebo, but there is a truly HUMONGOUS set on the pool side of the diner. If you stay here, you must check it out!) There is also a sparkling clean swimming pool and beautiful landscaped walking paths between and around everything. I really liked the landscaping throughout the campground and the beautiful butterfly gardens next to the playground. Also, there are, like, 15 huge, healthy hanging spider plants in front of the diner & office that are the biggest, healthiest spider plants I have ever seen. I really want to know what they feed those things! One of our favorite parts of the campground was the small farm near the main buildings. There are free-range chickens wandering around the area and nearby campsites - on our first visit, one of the hens had several fluffy little chicks following behind her! - and several goats inside the enclosure. There were also two friendly campground cats, one of which came right up to greet us as we were setting up camp the first night. The only negative thing I can say about either of our visits is that the free wifi was always overloaded with traffic and rarely useable. It was even worse at the river side site where the signal seemed to be too weak to do much more than briefly show up on the AP list on either of our devices. I could sometimes connect, but the signal would drop almost immediately. However, this is pretty common with most free wifi networks, especially when there's a lot of people trying to use it all at once. At the end of our stay we were sad to leave, but we hope to be back next summer!
- Sarah Decoteau on Google
Sep 09, 2021
Enjoyed the facilities.
- Linda Post on Google
Sep 08, 2021
Hermoso nos encanto
- Raquel M Coreas De Gomez on Google