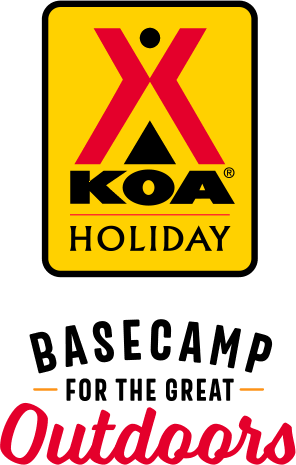 KOA Holiday Campgrounds
Whether you're exploring the local area or hanging out at the campground, KOA Holidays are an ideal place to relax and play. There's plenty to do, with amenities and services to make your stay memorable. Plus, you'll enjoy the outdoor experience with upgraded RV Sites with KOA Patio® and Deluxe Cabins with full baths for camping in comfort. Bring your family, bring your friends, or bring the whole group – there's plenty of ways to stay and explore.
KOA Holidays Feature:
RV Sites with a KOA Patio®
Deluxe Cabins with full baths
Premium Tent Sites
Group meeting facilities
Directions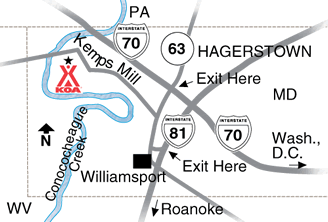 LODGES, There is a grill outside, flat top stove, refrigerator/freezer.  There is signage from both I-81 and I-70. We are approximately 3 miles off the interstate.
PLEASE DO NOT FOLLOW GOOGLE MAPS OR YOUR GPS! FOLLOW DIRECTIONS BELOW.
From I-81 N or S the EASIEST way to get here is to take Exit 4 and Follow 70 W.  From 70W take Exit 24.
Turn left onto 63 and take the VERY FIRST RIGHT onto Everly Rd. ( EVERLY PLAZA )
Take a left onto Rock Hill and then bear right onto Kemps Mill.  We are straight ahead 1.4 miles.
The KOA Signs are at Exit 2.  You can come this way BUT IT WILL TAKE YOU THROUGH TOWN.
From Exit 2 you will go South on Route 11 and North onto 63.
PLEASE DO NOT FOLLOW GOOGLE MAPS OR GPS !
If you are coming East on I-70 you will need to take Exit 24. DO NOT TAKE EXIT 18!!
Make a right onto 63 and take the first right onto Everly Rd. ( EVERLY PLAZA)
Make a left onto Rock Hill and bear right onto Kemps Mill. We are straight ahead 1.4 miles.
PLEASE DO NOT FOLLOW GOOGLE MAPS OR GPS !
From 70 West you will take Exit 24.  Make a left onto 63 and take the VERY FIRST RIGHT onto Everly Rd. ( EVERLY PLAZA)
Make a left onto Rock Hill and a right onto Kemps Mill.  We are straight ahead 1.4 miles.
Get Google Directions
Jun 20, 2021
Campsites are very close to one another, so you're on top of your neighbors. Late check in was easy and already prepped which was a plus. Bathrooms, showers especially, could be kept cleaner. Meh, for a KOA.
Jun 20, 2021
Wonderful family oriented campground!
Jun 19, 2021
Easy in and out which was important to us as we were just passing through the area.
Jun 19, 2021
We Splurged and rented "River View Premium Deck site with Lower Fire Pit area" Beautiful Site....HOWEVER they do not mention that you are right at (within 6 feet) of the main Entrance/Exit to the Campground...Continual In/Out Traffic....a Plus WELL Traveled gravel road Directly in Front of site also! Internet Signal Never worked..."Working on it" Site 33 IS NOT Worth the Price.
CAMPGROUND RESPONSE / COMMENTS:
Then why didn't you ask to be moved to another site instead of being miserable for 5 nights? We would have certainly been more than happy to try to make you happy.
Jun 19, 2021
Road into park is dangerous for larger rv's Narrow and tree limbs hang out in the road Park is tired, needs updates. Small sites, many hard to get level in. Road is tight and narrow thru the park
CAMPGROUND RESPONSE / COMMENTS:
In 33 years we have not had one mishap coming or going. It is one way in and out, it is not a two way highway in the park. Tired, yes...we have been super busy.
Jun 18, 2021
Road and sites very narrow!
Jun 18, 2021
Everything was perfect, cabin was very clean, supplied linens and towels were like you get in a nice hotel, and we had everything we needed. Staff was very courteous and one item we asked for was immediately taken care of.
Jun 18, 2021
Enjoyed the scenery
Jun 17, 2021
We only stayed overnight but it was a very nice one. Quite and very clean also looked like plenty to do there.
Jun 17, 2021
We enjoyed time on the playground, at the pool and riding bikes/walking on the trail and other parts of the campsite. It is also close to several attractions that give many options for a stay. Staff are kind, patient and helpful and work gard to provide information and services that make for a great visit!
Jun 17, 2021
Only stayed the night but it was easy late check in. Great spots. Clean campground. Very nice people that work there. Hope to stay again.
Jun 16, 2021
Over priced and unpolished. Sorry, I've stayed at much nicer places for far less. Will never stay at Jonestown KOA again either. $30 membership waisted. Dan Mc
Jun 16, 2021
The wifi SUCKED! other than that it was a nice place to stay.
Jun 16, 2021
No escort, trash pickup, not friendly
Jun 15, 2021
We just stayed over night but it is a beautiful place to stay
Jun 15, 2021
Had a very nice stay at your campground. It was very well taking care of. the bathrooms were very clean, the campground people were very friendly and helpful
Jun 15, 2021
Clean and friendly. Love the critters to feed.
Jun 15, 2021
Everyone was friendly and the park was clean and nice sites
Jun 15, 2021
Enjoyed the farm animals. Camp store had a good variety of items. Creekside site was shaded by mature trees. Sites were small, however, and very close to each other. Worst part was people walking through my site to get in or out of the creek.
Jun 15, 2021
We had such a nice stay at this KOA. Our site was down by the creek. It was fun to watch the other campers fish, and see people canoeing or kayaking as we lounged in our rocker chairs. The staff was so friendly and helpful too. We especially appreciated Donna's assistance at the office, and Kelly who guided us through a sip and paint class! Our marshmallow campfire pictures turned out so good. :
Jun 15, 2021
Jay (train driver) was so great and helpful! My toddler got a kick out of him.
Jun 15, 2021
The campground was hard to get to and hard to get out of. The WIFI was nonexistent and there cable TV was snowy. The showers and restroom facility was reasonably fine even though I felt like I was in the middle of nowhere the whole time I was there. There was no trash pickup. If in that area again, I would try to find another place.
CAMPGROUND RESPONSE / COMMENTS:
We discontinued trash pick up over a year ago due to sanitation reasons We are sorry you felt you were out in the middle of no where. Actually 3 miles to =the interstate and 6 miles to any Mall, Walmart or shopping. Ask about the wifi, you were right under the box, you should have gotten it.
Jun 14, 2021
Great place. Will definitely be going back.
Jun 14, 2021
Very clean and well kept campground! Lots of activities for the whole family!
Jun 14, 2021
Great place to stay, wonderful staff
Jun 14, 2021
Park was not well kept. Petting zoo of goats and chickens smelled. Not a place an older couple just staying overnight should choose. $75.00 for one night. Not up to what I consider KOA standards
Jun 14, 2021
Wonderful people and great food. Very well maintained and beautiful surroundings .
Jun 14, 2021
We stayed 3x overnight w/ good experiences. Staff is knowledgeable, friendly & campground well kept. Sites are pretty level. The camp store has some fun things to offer as well the usual food & necessities & we love their diner! Food was very good, reasonably priced & delivered to our door! It's very accessible from I70 yet off the beaten path being tucked back in a pretty creekside setting.
Jun 14, 2021
We really enjoyed our stay! It was a perfect getaway while going to a soccer tourney. Kids were able to have fun at the pool and all the amenities. We would come back to enjoy some more activities. The only negatives were the Kamping Kabin we stayed in had a very dirty floor. It needed a really good mopping and sweeping. Also super weak wifi.
Jun 14, 2021
Overall we had a great stay. We enjoyed all the amenities. Although our kids are older we enjoyed watching the kids on the train and the swimming pool. We didn't try the cable TV until after 7 PM when a technician is available we couldn't get the cable TV to work on either 72 or 73. We'll be back…
Jun 13, 2021
As always, our little group adapted to the weather and had a very enjoyable stay. Campground activities were enjoyed, good food was shared (including the dozen fresh eggs you gave us for Sunday breakfast!), and we enjoyed some beautiful, warm campfires. Thanks for your hospitality!
Jun 13, 2021
Staff very friendly
Jun 13, 2021
The campground was very nice. The staff was friendly and helpful. But we were not all that happy with our site. It was narrow, and the neighboring site was so close we could lean back on their trailer while sitting at the picnic table. We were also next to the playground. Being woken at 7am by happy but shrieking children was not fun.
Jun 12, 2021
My son loved the chickens, ducks and goats. We enjoyed canoeing, bike riding and swimming. We stayed in a cabin/lodge. It was a good size. Thankful for the full bath and the kitchen. cons: the mattress seemed really old. Our stay was 7 nights. Seemed surprised that I asked for additional towels/washcloths and a little put out about it. Son's bedding was a sleeping bag (too hot), no pillow.
Jun 12, 2021
Nice site and lots of gardens make this a unique campground.
Jun 11, 2021
This KOA is right on the river and has lots of very old huge trees. We were only there one night, our site was not very level but we saw several sites which looked like they had recently been re surfaced. Staff was very helpful.
Jun 11, 2021
Nice and Quiet Good Location Great Staff Thanks Again ps need a little boast on the WiFI
Jun 11, 2021
Well kept, natural setting, level sites. We've stayed overnight several times thru the years as a halfway stay in travels. Always been a good stop. Serenaded by cicadas until dark and again in the morning
Jun 10, 2021
Wonderful campground and hosts and close to everything. Store is well stocked. Bathroom is ok, showers could be better but are suitable. Petting zoo is cute; place is very dog friendly. Main reason for lack of 5 stars is that neither Wifi network would connect. One never appeared and the other would never connect-said it was disabled. Tried on 4 different devices. Would return with better Wifi.
Jun 10, 2021
We came from the east and followed the gps. Not a good idea. You should definitely tell people not to follow the gps. We came across the one way bridge and had to turn right. We took the car off further on on that road and turned around. While we are responsible to get our own directions it would be helpful if you added this to the confirmation email. Thx
CAMPGROUND RESPONSE / COMMENTS:
The directions ARE on our website, on our confirmations and in the KOA directory...if you take the time to read everything you will notice that.
Jun 09, 2021
Beautiful park! Staff very friendly and helpful! A friendly fellow even took my 30 pd propane tank in his cart to be filled up so I would not have to un hook my truck to carry it. Will definitely be back to this park.
Jun 09, 2021
Our site was on the outside perimeter of the campground so afforded more privacy and less traffic. This was our 2nd time staying here & the process was easy to book (I called in person). Staff is friendly & knowledgeable. Didn't use the bathhouse, pool, etc. but the campground was clean and quiet and all utilities worked worked fine. We will book again. Stayed in a motorhome.
Jun 09, 2021
Nice campground.
Jun 09, 2021
Had a great time but too short of one. Loved the river and restaurant. Everyone is friendly. Will go back again!
Jun 09, 2021
VERY cramped campground, narrow sites and roads. Site we had was not even, let alone level. Food wrappers, straws, soda can in the fire ring, and straw wrappers in the site. Several unsightly oil stains on the gravel.
Jun 20, 2021
I really liked this place. We didn't explore up the hill but I think there was a trail. Either way the staff was super friendly including the owner who came by to chat about our trailer before we left. We came here to buy a Gypsy wagon from roadgypsy who is only ten minutes from the KOA and they were very accommodating of the fact that we were going to just be in a van the first night and then have a trailer the second night. The pizza was also really good! And that was all we had ordered but I saw the staff going all day and evening bringing people wood and other supplies and it seemed like all around great service. There weren't a ton of extra things to do like I've seen at some KOAs but I think the differences are based on whether it's a 'Journey', 'Holiday', or 'Resort'. Haven't figured that all out. But the area is so beautiful with the river right there and all the tree cover it felt much more like camping than many KOAs that I've been to that just have a bunch of sites out in the open and feel more like RV parks.
- Sean Anderson on Google
May 31, 2021
What a great family place
- ron wiley on Google
May 29, 2021
Nice place to stay and bring the family. Plenty of things for the kids to do
- George Best on Google