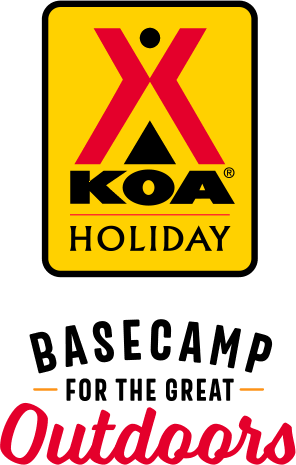 KOA Holiday Campgrounds
Whether you're exploring the local area or hanging out at the campground, KOA Holidays are an ideal place to relax and play. There's plenty to do, with amenities and services to make your stay memorable. Plus, you'll enjoy the outdoor experience with upgraded RV Sites with KOA Patio® and Deluxe Cabins with full baths for camping in comfort. Bring your family, bring your friends, or bring the whole group – there's plenty of ways to stay and explore.
KOA Holidays Feature:
RV Sites with a KOA Patio®
Deluxe Cabins with full baths
Premium Tent Sites
Group meeting facilities
Directions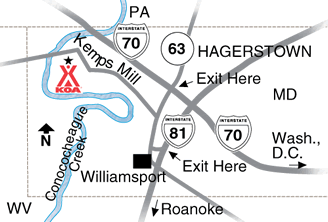 LODGES, at this time we are not equipping them with linens or dishes.  There is a grill outside, flat top stove, refrigerator/freezer.  There is signage from both I-81 and I-70. We are approximately 3 miles off the interstate.
PLEASE DO NOT FOLLOW GOOGLE MAPS OR YOUR GPS! FOLLOW DIRECTIONS BELOW.
From I-81 N or S the EASIEST way to get here is to take Exit 4 and Follow 70 W.  From 70W take Exit 24.
Turn left onto 63 and take the VERY FIRST RIGHT onto Everly Rd. ( EVERLY PLAZA )
Take a left onto Rock Hill and then bear right onto Kemps Mill.  We are straight ahead 1.4 miles.
The KOA Signs are at Exit 2.  You can come this way BUT IT WILL TAKE YOU THROUGH TOWN.
From Exit 2 you will go South on Route 11 and North onto 63.
PLEASE DO NOT FOLLOW GOOGLE MAPS OR GPS !
If you are coming East on I-70 you will need to take Exit 24. DO NOT TAKE EXIT 18!!
Make a right onto 63 and take the first right onto Everly Rd. ( EVERLY PLAZA)
Make a left onto Rock Hill and bear right onto Kemps Mill. We are straight ahead 1.4 miles.
PLEASE DO NOT FOLLOW GOOGLE MAPS OR GPS !
From 70 West you will take Exit 24.  Make a left onto 63 and take the VERY FIRST RIGHT onto Everly Rd. ( EVERLY PLAZA)
Make a left onto Rock Hill and a right onto Kemps Mill.  We are straight ahead 1.4 miles.
Get Google Directions
Jan 10, 2021
Awesome staff family friendly
Dec 27, 2020
I do this twice a year. Spring and late fall. Except this spring, cause of covid. Been doing this since 2017. 2016, when I was in Montana, is when I found out that you had cabins. Stayed in Whitefish KOA for 3 days and loved it. That's why I do this twice a year. Get away for the weekend.
Dec 02, 2020
Just need better wifi
Nov 30, 2020
What a disaster, it was the SINGLE MOST UNPLEASANT stay that I have EVER EXPERIENCED!!! The number one thing was the NON-STOP screaming of the kids across from us!! We could tell they left the campground Saturday because the noise stopped. I don't even want to waste my time explaining everything else because it does not matter, we will NEVER be back!!!
Nov 30, 2020
It was a nice campground, very quiet. The owners were very friendly. Loved the texting option to communicate with them and the fact that food and items from the store could be delivered right to the campsite and ordered via texting. Would recommend and stay again.
Nov 30, 2020
Great service! Everyone was very polite. The center-back of campground needs some attention. The long term residents-campers need to clean up their areas. Kinda of an eye sore. I would still return regardless.
Nov 30, 2020
Sites are way too close together and my site was right next to a pavilion. It smelled like sewer. Did not meet criteria to be a KOA
Nov 30, 2020
This was second time and was very happy first time but there was trouble with the 30amp breaker I had 50amp converter but would hope this was checked before. Overall all the place was very clean and a great campground
Nov 24, 2020
Kinda tough driving a 45' rig in
Nov 23, 2020
We had a reservation for a pull thru with full hookups. We received a site where we needed to drive up and back in, and the hook ups were water/electrical. We were disappointed, but this gave us the opportunity to test out our new RV. We were able to use the dump station before we left at the end of our stay. The chickens and goats were neat for the kids to be able to see.
Nov 23, 2020
Excellent little spot. Great staff. Only complaint is all the campfire smoke sits in the campground.
Nov 21, 2020
Although we only spent one night, we had a lovely stay. We had a nice site
Nov 21, 2020
Thight fit on large 5th wheel. Also grade needs to be more level for the allowable length. Up hill at a side to side angle doesn't work well.
Nov 18, 2020
Everyone at this KOA was welcoming and accommodating. The infrastructure prevents us from enjoying the campground more. Most of the grounds are crushed stone and the remainder mud, so it is not a pleasant place to explore or walk a dog. Both of our visits have been in the "off-season", April and November, I would expect it to be beautiful in the summer.
Nov 18, 2020
Very nice campground.
Nov 17, 2020
Awesome stay over the weekend! This animals are so fun to feed. We stayed in the 2 room Kamping Cabin & it was perfect for what we needed. We brought extra foam for the beds to sleep better. The heaters worked great! Since this visit was during Covid, extra measures we're taken for guest safety such as putting codes on the bathroom doors to limited exposure. I appreciated that!
Nov 17, 2020
Our stay was great. My only recommendation would be to tell anyone getting the cabin about the hot water switch. I didn't see it as we unloaded our car and filled that counter and my one shower was cold. Other than that it was great.
Nov 17, 2020
Great service, always clean campsites every time we go here.
Nov 17, 2020
Sites are very close together. Staff was great but disappointment in the facility itself. Not what we expected from a KOA.
Nov 17, 2020
Campsites are too close together We had to move the picnic table by ourselves to get into our site The hosts never checked to see if everything was ok. When I booked reservations, I accidentally made it for 1 night instead of 2 We were to have full hook up our site had water and electric only; however I was charged full hook up price for the first night. First time at a KOA ,won't be back.
Nov 16, 2020
We had a wonderful 5 days for our last stay of 2020! The staff were, as always, very friendly and helpful and my dogs and I enjoyed our time there this year. Looking forward to visiting again in 2021!
Nov 16, 2020
Everyone was very friendly. I liked the text message reminders.
Nov 16, 2020
We love it there, so private and people are friendly considering the covid times we are going thru
Nov 16, 2020
VERY tight campground for a large rig. staff was friendly enough with me. camp was EXTREMELY busy and the electrical pedestal and water worked fine. I did not use the dump station. Beware the rooster that crows quite early each morning, and the abundance of loud children. A word to the wise- DO NOT follow Google maps directions. Use ONLY the directions provided in your confirmation email.
Nov 16, 2020
For a last minute reservation, we got into a nice space. The campground is nicely maintained, bathrooms are convenient and clean, all around one of our favorite KOAs in this area. This was our second visit and worked out well. Hosts are friendly and responsive, cable worked great and cell service was five bars. Roads are great for biking - found a great old fashioned candy store about 3 miles away
Nov 16, 2020
Terrible sewage near bathroom area. There were two RV campers/vehicles displaying large confederate flags in this campground. For a family friendly location, this was completely unacceptable, especially with so many children on site. To allow this is not right. It sets a bad example to others that this campground is supportive of this flag and what it stands for. Water pressure very low.
Nov 16, 2020
Staff was excellent from office staff to person that backed us into a very tight spot. Pizza and wings delivered to our site was great. Would definitely stay here again.
Nov 15, 2020
My husband and I absolutely loved this campground... We took a site right along the river and to our delight, we had no one on either side of us. It was so peaceful and quiet. But being by the river meant the Wi-fi was shoddy, but it didn't matter. We weren't there to be on the internet anyway...just some major r&r during a stressful covid time... It was a short but really great stay...
Nov 15, 2020
Very nice campground. The staff was very friendly and helpful. We stayed in a kamping cabin which was clean and comfortable. The campground is located close to a variety of other destinations/activities/restaurants/state and national parks. Not much to do at the campground this time of year, but it is beautiful and close to other stuff. Definitely plan to return in the future.
Nov 14, 2020
We have been to your KOA twice now. Both times had a nice stay. Especially appreciate the nice dry firewood! Our granddaughters enjoyed the chickens!
Nov 13, 2020
NOT set up to accommodate large fifth wheel trailers. You can't make the turn to enter the site. (required a 4 mile detour) Staff was rude not helpful when we asked about other KOA's Grounds dirty & bath house disgusting. All gravel and tiny playground. NOT kid friendly. Grossly overpriced. $88 for a 11 hour stay. Then they unauthorized another $45 fee that I am currently fighting. Worst of worst
Nov 12, 2020
Had a great time - thank you
Nov 11, 2020
The camp sites are extremely small. Larger RVs are too close to the fire pit so you cannot have a fire. Very close to neighbors as well. Bathrooms at the bathhouse are gross. Not cleaned properly. There is nowhere to hang up your towel or clothes in the bathhouse. No hooks in one stall at all.
Nov 10, 2020
Service was fine, and cabin was nice. The campground is very small compared to other locations, and it felt very crowded. Cabin was located right beside playground, so noise was an issue, and woke up at 5 am everyday because of roosters.
Nov 10, 2020
Everyone we dealt with was friendly and helpful! Gave it 3 stars because the cabin had not been cleaned prior to our stay. It looked like they just relied on whoever checked out before us to clean it. With Covid I would have thought they would make sure it was clean and sanitized but it was obvious by the dirty toilet, a used bar of soap on the floor in bathroom, dirty microwave, etc they had not.
Nov 10, 2020
We had a very enjoyable stay. Lots of fun things to do. Beautiful scenery to enjoy. Quaint little restaurant on site. Cabin was clean, air and heat. Nice place to visit.
Nov 10, 2020
It was great! Friendly and helpful staff!
Nov 10, 2020
Look the people who registered us were great and the place was fine. We only stayed one night. BUT then when we went to empty our Blackwater tank the sewer was plugged up! We shut the valve off, but had a whole hose of blackwater!! Yuck! And neighbor right next that faced this mess. We went and notified the office and the guy that came wasn't very helpful. He got us a couple buckets!!! Yuck!
Nov 10, 2020
The staff was super friendly and very responsive. The facilities were clean. We'll be back!
Nov 09, 2020
Had a great time as usual. Been camping here for 20 yrs.
Nov 09, 2020
stay was great, site was great. Only did not like how adjacent campers walked through camp site constantly. making my dogs bark and get excited.
Nov 09, 2020
Staff were friendly and helpful. Bathrooms and showers are clean. Campsites are too close, unattractive, and dusty. Roads should be paved to keep down the dust.
Nov 29, 2020
Very quiet and owners very friendly and helpful. Loved camping right on the creek.Close to lots of attractions. Will visit again.
- Kelly Poniatowski on Google
Nov 15, 2020
Other than being a little brisk. My 12 yr old daughter & I had an AMAZING time. Everybody was very nice. There was 3 awesome guys that helped us... one by hooking up a battery charger to my car since the battery died, the other turned on the big light at the end of our site so we had a good lit area at night & the 3rd brought us a gator of wood. We went to see Mr. Dean's Magic Show & that was the best. Alyssa mined for stones. All the ladies in the office were nice but Donna was the best. She really took care of us & even made sure my daughter & I were warm enough. Will definitely be back next season but when it a little warmer.
- Wendy Sommers on Google
Nov 08, 2020
Nice campground to spend a few days away from the house.
- Ruth Fuller on Google