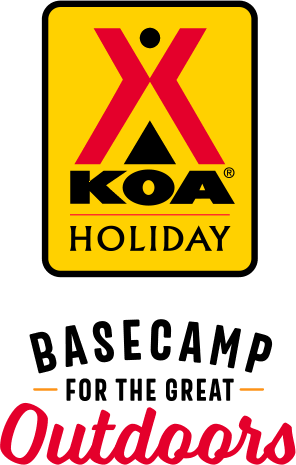 KOA Holiday Campgrounds
Whether you're exploring the local area or hanging out at the campground, KOA Holidays are an ideal place to relax and play. There's plenty to do, with amenities and services to make your stay memorable. Plus, you'll enjoy the outdoor experience with upgraded RV Sites with KOA Patio® and Deluxe Cabins with full baths for camping in comfort. Bring your family, bring your friends, or bring the whole group – there's plenty of ways to stay and explore.
KOA Holidays Feature:
RV Sites with a KOA Patio®
Deluxe Cabins with full baths
Premium Tent Sites
Group meeting facilities
Directions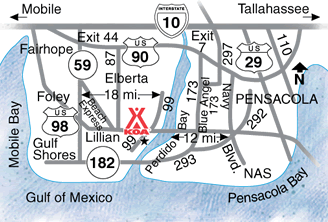 From I-10 heading East: Take Exit 49 (Gulf Beach Express) take beach express to hwy 98 turn east on hwy 98. Go 14 miles, turn right before the bridge on 99. Go 2 miles. KOA on left.
From I-10 heading West: Take FL Exit 7, turn left and go to Blue Angel (173), turn right and go to 98, turn right and go 7 miles. Cross bridge, turn left at light (99), go 2 miles.
GPS: N30.395856, W87.454446
Get Google Directions
Sep 21, 2021
Great location that is a short drive to Orange Beach and Gulf Shores. Friendly staff and very quiet. I couldn't get the cable to work but other than that it was a great stay!
Sep 21, 2021
Nice little cabin, plenty of room, comfortable beds. Could use updating, but still completely adequate and pleasant. Friendly staff and nice area.
Sep 21, 2021
We had a great time. The campground was clean and very pleasant.
Sep 21, 2021
My family and I have stayed at KOAs all over the nation, we rather have the camp like experience as opposed to hotel stays. We enjoyed our stay here (lodge queen bed, single bunks) the bay was nice to enjoy coffee to, it was Quiet and most of all close to all the gulf beaches we wanted to visit. We will definitely be frequenting this koa for all our gulf adventures (twice a month)
Sep 21, 2021
Had us all the way to the back of the property in a very wet sandy unlevel area where water drained right next to two other campers but yet there were plenty of open spots much better and not so close. No idea why they put people so close together instead of spreading spots out especially with Covid. Paid for a pull through but had to detach jeep because space too tight so why not give move me!
Sep 20, 2021
Uneven gravel and concrete broken sections proportions and could prematurely destroy an expensive rv!!!! Not a place for anything over 50k Upon arrival we were literally pointed to our site and given no further information. After we settled in we realized that we didn't have cable and told them several times and nothing happened. The park is clique of permanent rv residents. The bathroom is moldy
Sep 19, 2021
Loved it. Very nice staff, campground clean. Will definitely be back. Highly recommend.
Sep 17, 2021
This KOA is outstanding. The staff is super friendly and always insuring everyone is enjoying themselves. The bathrooms are spotless and the whole campground is kept clean and orderly. We look forward to returning to this very family friendly spot again soon!
Sep 16, 2021
Was great stay. Was able to switch my lot after arriving to a great location of the bay. Pool, playground and bathrooms kept up and clean. Sitting area on the dock needed tending to, but overall beautiful view. Swings and benches all around for sitting. Would stay again if in the area.
Sep 15, 2021
Staff was super helpful and squeezed us in last minute on Labor Day weekend.
Sep 15, 2021
The patio sites were great! We were even able to get a spot with shade from the extreme heat. Good folks and easy to work with. Pleasant experience. Grounds could be kept better and the pool could have been cleaner but it was a nice week.
Sep 14, 2021
Site shrubbery needed trimming. Grass cut and blown onto patio, never cleared causing tracking of grass into camper. Pool nice but mold all the way around sides never cleaned. Hot tub full of sand everywhere. Showers small-outdated/smelled. Quiet time not enforced. Noise from cabins and pool area past midnight. Beach promoted but didn't meet hype. No railings on boardwalk to fishing pier risky.
Sep 14, 2021
The campground was nice. A lot of trees made for many shady camp spots. The staff were very friendly. We enjoyed our stay.
Sep 14, 2021
Very nice camp ground
Sep 14, 2021
Enjoyed our stay. We stayed in DK4. It was clean and provided the basic comforts we needed.
Sep 14, 2021
Very nice staff.Nice and quite ,
Sep 13, 2021
It was a wonderful stay. Grounds were clean, bathrooms well maintained, the bathhouse were clean, friendly staff. One member even helped us pitch our 6 man tent. Dogs were well managed by owners. Excellent location. I would camp here again.
Sep 13, 2021
One of the best, if not the best, KOA we've stayed at this year.
Sep 13, 2021
Sites are set up so the entrance doors face. This is an issue with dogs coming out at same time and privacy. There are no fire pits, a portable can be borrowed but the sites are so close there is no where to set up except behind the camper. This was the worst set up KOA we've been too. Also while it's technically on the water there isn't any view because the cabins and neighbors block it
Sep 13, 2021
Nice stay but the campground needs some improvements. Grass needed mowing. Spaces need paving. Pool was very nice. People are friendly.
Sep 13, 2021
Cabin was cute. Pool was nice and clean. Hot tub was amazing. Would have given 5 stars but the bugs in the cabin grossed me out... especially the dead cockroach in the silverware drawer.
Sep 13, 2021
Everything was awesome love love our stay!!!
Sep 10, 2021
We had a wonderful time with you all, relaxing and beautiful place
Sep 10, 2021
Great people. Well kept facility. Great!!
Sep 09, 2021
We paid for a "deluxe" patio site with the red bricked pavers... upon arrival we were assigned something different. Management didn't correct and gave us round about excuse... we dropped it due to it being a short stay. Bath house definitely left something to be desired. We felt like we needed a shower after our shower. Not very clean. Camp store was nice. Pool is decent. Unlikely to return.
Sep 08, 2021
The RV sites may be okay but the cottages need to be updated and cleaned. Cable didn't work, AC was replaced by window ACs, bed was horrible, futon could not sleep two and the whole place needs a good cleaning. Way too much money for what you get.
Sep 08, 2021
The camper cabin on Perdido Bay proved very comfortable, with excellent views and amenities. Families nearby seemed respectful, the bathrooms and showers appeared to be cleaned daily, and my son loved the pool!
Sep 08, 2021
We loved our stay and almost everyone was very friendly. The spots are great and we love the private beach so we can swim with our dog and the whole family can have fun together. We did have 1 rude neighbor for a few hours but they were in and out. I won't let them mar me for camping! I love the fact there's a restaurant right within walking distance on "too tired for cooking' nights.
Sep 08, 2021
Could not put slide out all of the way due to brick patio on one side and shrub row on the other. Site J10 was advertised as a spacious site. It was anything but. Furniture at site was rotting and ratty. Sleeve used to repair sewer hookup at site leaked onto the ground when draining tanks. Too many other campgrounds to stay at in this area to ever want to stay here again. Rewards Member.
Sep 08, 2021
My stay was amazing, the staff was wonderful, cabin was perfect, I will be back.
Sep 07, 2021
We were their with our son, his girlfriend and her parents for a super special weekend. They went above and beyond to help us. We love camping in lillian.
Sep 07, 2021
We enjoyed our stay at the park very much. It was an incredibly quite park even though they were near max capacity. We took advantage of the swimming pool and the bay for kayaking. Beautiful sunrises on the pier. We stayed in the A row. Didn't care for the front to front, back to back set up. Fortunately we came with the people that was to our front. Our awnings were touching once we were set up.
Sep 07, 2021
Staff went above and beyond to make our stay awesome!
Sep 07, 2021
I stayed in KK1. It was very comfortable and I very much enjoyed the peace and quiet. And especially the lovely sunrise over the bay.
Sep 07, 2021
This was an evacuation stay for us from New Orleans. We previously stayed here several years ago on a vacation. Very nice KOA. The sites on the F row are just a little too close. I was literally under my neighbors canopy to disconnect my power and water lines. Everything else was fine. The staff is wonderful.
Sep 07, 2021
Refurbished camp site. white gravel pad, flowering plants surround, little blue picnic table. Level parking staff made sure all was good. Pizza shop was right next door, good pizza.
Sep 05, 2021
Wonderful staff, very accommodating. Facility was clean and linens were provided. Proximity to the pool and dog park from my cabin was nice. Thoroughly enjoyed my stay even if it was due to evacuating from Hurricane Ida.
Sep 04, 2021
Very friendly staff
Sep 01, 2021
Nice campground and well kept. Very friendly staff who took us to our spot. Our site was tight and we could not put the full slide out because of hedges. If you have a big rig you need to make sure when you reserve that you can extend all of your slides.
Sep 23, 2021
this was a great way to enjoy the coast, we don't have a camper so the cabins were perfect for our family and we will visit here often.
- Melissa Haig on Google
Sep 13, 2021
This was our first time visiting a KOA camp ground. It was clean and well kept. The bay was beautiful. No problems pulling in our camper and had full hookups. They also have cabins. We will definitely visit again.
- Lexine Muza on Google