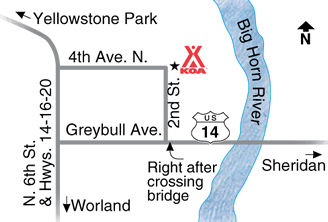 FROM SOUTH on Hwy 16/20.- Come over bridge into town.  Continue through the stop light 4 blocks. Turn Right onto 4th Ave N (at Brandies Candies & across from Family Dollar).  Continue straight into the Park; OR
FROM NORTH on Hwy 16/20 - Come into town, continuing past the gas stations on your right.  Turn Left onto 4th Ave N (at Brandies Candies & across from Family Dollar).  Continue straight into the Park; OR
FROM Hwy 14 - Shell - BIG RIGS should continue through town to the Stop Light. Turn Right on Hwy 16/20 -Then go 4 blocks, turning Right onto 4th Ave N and continuing straight into the Park.
(Smaller rigs can turn Right at  Lisa's Restaurant; then go 4 blocks, turning Right into the Park.)   
NOTE:  GREYBULL DOES NOT HAVE STOP SIGNS ON CROSS STREETS!!  YIELD TO THE RIGHT (or better yet - always look & yield!).
OF SPECIAL NOTE: Do not blindly follow your GPS out west - the shortest route may not always be suitable for RV's.
For instance - From Buffalo on Hwy 16 over the Big Horns - DO NOT turn at Ten Sleep to Hyattville/Manderson or you will be on a back country road.  It's beautiful UNLESS you are in a big rig - then its challenging. 
Continue on to Worland and take Hwy 16/20.  Believe us - you will be happier!
Get Google Directions