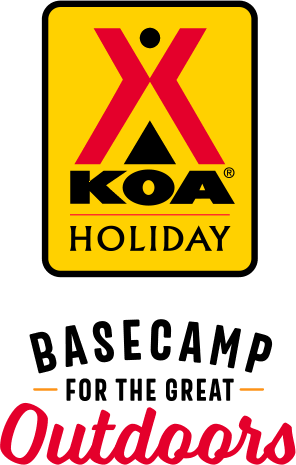 KOA Holiday Campgrounds
Whether you're exploring the local area or hanging out at the campground, KOA Holidays are an ideal place to relax and play. There's plenty to do, with amenities and services to make your stay memorable. Plus, you'll enjoy the outdoor experience with upgraded RV Sites with KOA Patio® and Deluxe Cabins with full baths for camping in comfort. Bring your family, bring your friends, or bring the whole group – there's plenty of ways to stay and explore.
KOA Holidays Feature:
RV Sites with a KOA Patio®
Deluxe Cabins with full baths
Premium Tent Sites
Group meeting facilities
Directions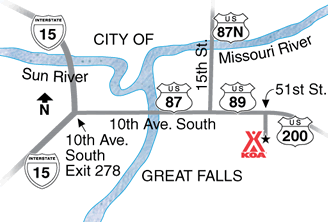 On 87-89 southeast edge of city. I-15 Exit 278 (10th Ave S Exit), go east 5 miles to 51st Street
Get Google Directions
Mar 31, 2021
Appreciate the military discount. We had good WiFi and enjoyed the nature walk. The washers, dryers, and showers served us well.
Mar 05, 2021
Owners were exceptionally accommodating and friendly.
Mar 04, 2021
We had a nice site, the hosts are always friendly and professional. The restrooms were clean. We stay there regularly and will stay there again.
Nov 14, 2020
It was nice that it was so close to Walmart so that we could stock up on supplies. While the dog park was nice, it was a real pain to have to walk all the way around to the one entrance to go in. Also, it would have been nice to have some recycling facilities. If there were some there, they weren't very obvious.
Nov 04, 2020
Nice park. The owners were very nice, as were the girls that worked in the office. I was there for a few months while working on a construction project. I ordered supplies for the project, and they always delivered the packages to my trailer. Nice and quiet. I would stay there again and I would recommend it to anyone staying in the area.
Oct 31, 2020
We stayed last year & loved it. We rated it a 10.This year, no regard for masks or social distancing & we didn't feel very safe or that guests were protected. Staff is very friendly though & the grounds are nice. Beautiful Deluxe sites with pergolas The trash needed to be emptied as two dumpsters were full. Also very nice office and store. We didn't buy anything because of no masks or distancing.
Oct 30, 2020
A snow storm came in while we were there (mid October) and the staff was very helpful. The bathrooms were open and maintained but the roof leaked and was in the process of repair.
Oct 20, 2020
We love it here the park is kept up beautifully views are spectacular it's the nicest park in town not to mention how lovely the owners and staff are
Oct 17, 2020
Very nice and courteous people. Brandi was very good.
Oct 15, 2020
Very nice place and since it was so late in the year we didn't see anyone in the office so I can't say much but the spot and the time we spent there were both great.
Oct 15, 2020
very nice staff and willing to assist in any way.
Oct 15, 2020
My only compliant is that I believe it is expensive. KOA should offer a week rate, a month rate, or something like this. I thought 71 dollars a day was high. The Park is beautiful, our site was exceptional. The owners were great.
Oct 15, 2020
We had a great site and are planning next summer to visit Great Falls again
Oct 15, 2020
This KOA is great ! They always do their best to accommodate us !!!
Oct 07, 2020
The hosts do a great job and it is one of our favorite KOA sites.
Oct 06, 2020
Easy place to get in and out of, had everything we needed for our stay. We extended and they were very nice about the change in our plans.
Oct 06, 2020
We paid extra for a nice patio area. This was so comfortable and relaxing the added lights at night helped with the fire. I was let down with no propane for the bbq grill, no phone number to call for anything and no one in the office even thought it was posted it was open. Seems to us the campground was under construction, which was loud.
Oct 05, 2020
Bobby and Brandi are awesome! Me and my partner have been staying in are camper all over the US for 2 years, and this is the best place we stayed. Our cat loved going for walks around the campgrounds, and down to see the goats and chickens! My nephew came to visit and loved the water park. We loved our stay at the Great Falls KOA, and can't wait to come back and visit!
Oct 05, 2020
The best KOA we've enjoyed all month!! Wonderful stay!!
Oct 03, 2020
Needed a place to stay between houses. While the cabins are small for a 6 member family, it's worked out great for us. Thanks again!
Oct 02, 2020
We had the best time during our stay at Great Falls Koa the Brandy and her staff is so friendly we will definitely be back.
Sep 30, 2020
Met the owner and her kids-very nice. Really cared about the property!
Sep 30, 2020
Nous ne sommes restés qu'une seule nuit. Difficile de dire quoique ce soit. Mais les sanitaires était propres les places entretenues. Il se situe derrière une grande zone commerciale pas le plus sexy.
Sep 30, 2020
Perhaps wonderful in the past, we found the campground seriously in need of some TLC. Dead grass, overgrown trees with broken limbs, leaking irrigation pipes (hence the dead grass) making a mud mess of the streets. From appearances, it has been this way all year. Plus side, lots of empty sites (except for the 20 or 30 "permanent" travel trailers and 5th, some falling apart where they sit).
Sep 27, 2020
No contact with staff. Site was pretty much a weed patch. Police at the capmground. Very sketchy long term trailers. Did not feel safe. Left one day early informing staff of early departure. Still gave not received a credit for the shorter stay.
Sep 26, 2020
Quiet, plenty of room for truck and fifth wheel. We had a great view overlooking East towards Belt. We stayed five weeks. Thank you, Brandi!
Sep 26, 2020
Of all the koas i have been to, this one was lowest- grounds in horrible condition, no grass, all weeds, office n store were closed, construction debris lying around, sewer hookups must have been full as they off gassed constantly both inside and outside rv and garbage dumpster was hard to find and completely full. Would not recommend, only plus is its next to Walmart if you need anything
Sep 25, 2020
Campground needs attention. The older area is overgrown and the campground was very noisy even though it wasn't super busy. The coyotes howling at dusk was a nice bonus.
Sep 25, 2020
We really enjoyed our stay. The check in person was able to meet our needs for or length of stay. We will stay there again. Great job.
Sep 25, 2020
Nicely laid out, but rather primitive with the dirt, gravel and weeds. Great hook ups and dump choices.
Sep 25, 2020
Perfect place to be
Sep 22, 2020
The large pull thru and back in sites are fully exposed to the wins across the plains. Otherwise it is a nice campground.
Sep 21, 2020
No toilet paper in multiple stalls. Lights did not work in one of the shower stalls. Kids making noise and running around after midnight. Really below the standard set by other KOA's.
Sep 18, 2020
Nice place. Was disappointed they only had 2 showers stalls open in the whole campground. I can't fit in my campers tiny shower and besides I don't have my hot water heater hooked up. The showers they have are very fancy and nice, but be prepared for a long wait if you camp there and want to take a shower
Sep 16, 2020
It was fine. It is a very large park and undoubtedly takes a lot of effort to keep it maintained. I spent a good night there.
Sep 13, 2020
Many journey amenities were closed. Disorganized mgmt and $79 did not provide value.
Sep 13, 2020
Very nice, quiet KOA. Owner's are very friendly. We very much enjoyed our stay here.
Sep 13, 2020
Unacceptably filthy! At 8am every toilet was clogged and hadn't ben cleaned. Shower house looked like a derelict abandoned building: trash heaped outside the door, indoor trash cans overflowing, filthy floors and toilet, hair in the shower. Not a single Covid sign on any of the doors. Sidewalk smeared with poop. Trash left in gardens. No mask wearing. Blamed "dirty tenants". Unconcerned staff.
Sep 12, 2020
They have a very nice campground and the staff was great. We will definitely stay there again
Jun 02, 2021
The people running this place were awesome and accommodating. Best KOA I've ever stayed at,
- Jeremy Osborne on Google
May 24, 2021
Stunning camp ground with amazing stuff!
- heidi j. on Google
Jun 11, 2021
Charge you 130$ Plus dollars For one night in a dinky little cabin. no Blankets no pillows for that price, they should At least have that. Very disappointed. So don't forget everybody bring your own pillows in your own blankets and your own sheets. and they have a broom for you so you can clean up. I'm renting one with electricity and a tiny, tiny, tiny little refrigerator.
- Bari D on Google