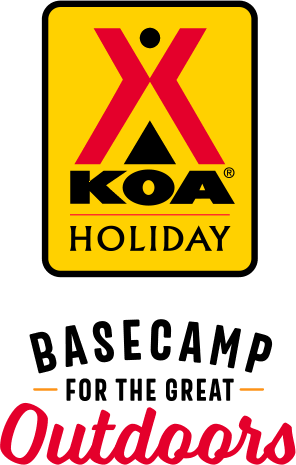 KOA Holiday Campgrounds
Whether you're exploring the local area or hanging out at the campground, KOA Holidays are an ideal place to relax and play. There's plenty to do, with amenities and services to make your stay memorable. Plus, you'll enjoy the outdoor experience with upgraded RV Sites with KOA Patio® and Deluxe Cabins with full baths for camping in comfort. Bring your family, bring your friends, or bring the whole group – there's plenty of ways to stay and explore.
KOA Holidays Feature:
RV Sites with a KOA Patio®
Deluxe Cabins with full baths
Premium Tent Sites
Group meeting facilities
Directions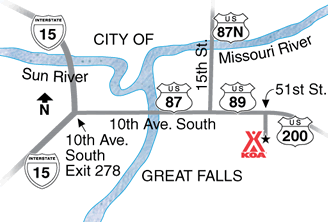 On 87-89 southeast edge of city. I-15 Exit 278 (10th Ave S Exit), go east 5 miles to 51st Street
Get Google Directions
Jun 07, 2021
Our stay was good and workers are supper nice. Lots of activities on site. Pool, play ground, train, little zoo and trail. I would have given it a 5 but our remote control was sticky and low batteries would not work after 2 days. Top of fridge was supper dusty.
Jun 07, 2021
We always love the great falls KOA. The bathrooms could use a little maintenance. We were unable to get into a couple of them, soap was empty, TP holder on the floor etc. Seemed like there were several new employees that could have used some training but other than that it was good!
Jun 02, 2021
stayed in deluxe cabin had a couple of issues, That was worked out. the owners very lovely young lady was so nice, If I get back up there will stay at this KOA in Great Falls again. and we also enjoyed our son wedding at Ryan Dam.
Jun 01, 2021
We stayed in Cabin #30. It was a chili night outside but was amazing! The Dish wasn't working but we weren't there for the TV. Lol. We loved the inside was cozy and well kept. My daughter had a birthday party there and it was so amazing! We definitely will want to stay again! You don't even feel like you're in Great Falls! Love the activities all around and so well kept!
May 31, 2021
We always enjoy our stays with you. The grounds are fun to walk around . The camp staff are friendly and helpful.
May 23, 2021
Brandie is an amazing host. We will be back!
May 22, 2021
We stayed at this campground twice. After leaving, I checked my credit card activity and this campground put a charge on my card in the amount of $230 for cable tv services. At no time was I told that watching tv was an additional charge. I can only assume they charge the monthly total for the bill every single day. Great money maker for them and I hope the hotel industry never catches on.
CAMPGROUND RESPONSE / COMMENTS:
Hi there! We do not provide cable for RV sites nor do we charge for satellite tv in our cottages. Please reach out to us so we can resolve any mischarges. Have a Great Day!
May 19, 2021
I am so grateful to have had the opportunity to work in Great Falls Montana and to stay at the KOA Kampsight we had a great stay the rooms were very clean and nice we didn't have any problems at all when ever I'm in Great Falls Montana We will stay with you guys again and Thanks so much
Oct 03, 2020
Needed a place to stay between houses. While the cabins are small for a 6 member family, it's worked out great for us. Thanks again!
Sep 13, 2020
Very nice, quiet KOA. Owner's are very friendly. We very much enjoyed our stay here.
Sep 08, 2020
We had alot of fun ans it was very relaxing.
Sep 08, 2020
We stayed in cottage 30, we had no reliable internet it tv. I was also told there was a gas grill, nope charcoal which I have never used before. The man put front is very rude. The rest of it was great.
Sep 08, 2020
Loved the live music and how quiet it was.
Aug 28, 2020
Loved the environment.. Loved the playground and animals.. Makes it a creative and enjoyable stay.. Saw a few spots that would like to stay at when back there.. Enjoyed the breakfast and the walk around under the trees. Should work on the comunity kitchen but still a very nice campground and one id come back to
Aug 26, 2020
Our stay was AMAZING only problems were that there were earrings that had been left in front window seal, beer bottle caps on our deck/patio , and when we booked online it said sleeps 8 comfortably which it only sleeps 4 comfortably so had a couple kiddos sleeping on floor :(
Aug 25, 2020
Staff checking in were wonderful-friendly and helpful. The cabin was missing a working smoke alarm in the living room/kitchen area. Neighbors were partying until after 2 am which made it hard to sleep and bed mattress wasn't very comfortable. Live music was wonderful!
Aug 24, 2020
Absolutely loved our stay in the Glamping Tent! The bed was incredibly comfortable, great view and quiet. Mary was super helpful and very accommodating. The best KOA we have stayed at by far!
Aug 19, 2020
Awesome management! Awesome staff!
Aug 18, 2020
A camping cabin is a better choice than a hotel room. No camping trailer needed! Wonderful outdoor atmosphere with families and couples.
Aug 17, 2020
Great stay in one of the Kamping Kabins. Very friendly staff. The fact that the campground is completely covered in trees is the absolute best part. We didn't bake in the sun. The RV spots and Tent sites look just as good and we will try one next time.
Aug 16, 2020
This KOA is rustic and natural. A definite plus. We enjoyed picking raspberries, apples and chokeberries for eating and feeding the goats, chickens and horses. The water park is top notch. Our cabin was perfect except only one stove eye worked which was ok because we grilled out most meals. The views are spectacular. Thanks Bobby and Brandi and Spencer for a great week of fun and adventures.
Aug 11, 2020
Had a fun time
Aug 09, 2020
LOVED our stay!! The cabins were awesome and everyone enjoyed them. The kids all loved the pool and we enjoyed the hottubs. Will definitely stay again. Thank you!
Aug 09, 2020
We had two guys walking by our glamping tent at three in the morning . It really scared my girlfriend . When I confronted them they did not have much to say as of why they where intruding
Aug 04, 2020
Kids loved the water park but the staff was very crappy no hidden gold coins. the cabin was unsafe stove turned on and off by its self the bbq was Nasty dirty all and all for over 200 bucks a night way over priced and not up to par
Aug 01, 2020
Stay was great, canin a little small for 4, but very cozy had all we needed. Woll definitely be back
Jul 30, 2020
Gorgeous Campground! Managers and staff are friendly and accommodating. Plenty of things to do for all ages. Don't forget the pancake breakfast in the morning!
Jul 28, 2020
The fridge was stinky and did not work. And in the little cabin the a.c. did not work. Other than that it was a good stay..
Jul 28, 2020
My cabin was extremely dirty, it looked like no one had taken the time to clean or wipe it down in months. There was dust piled up and so many dead bugs laying in the floor, bed, windows, ect. Due to coronavirus being a concern I would think that the koa management would use extra precautions for cleanliness . Unfortunately I did not see that this time around with my stay.
Jul 22, 2020
Young people working there could not show us how to hook up iPad to internet so it would continue to work. We had to leave the campground at about 8:30 PM and get another room in town. Two young couples were so loud and vulgar next door we couldn't put up with it anymore. There was no one that could put a stop to it.....what do you expect a couple of young women to do. Campground was filth
Jul 22, 2020
Great KOA. The kids loved the pool and spent a lot of time there. The bathrooms could be cleaned much better. Out of toilet paper and garbages over flowing. Also love all the trees for shade, just needs some landscaping upkeep done. We will definitely stay here again. Loved the pancake breakfast too!
Jul 16, 2020
Cabin was dirty and not been cleaned. Hair in shower and fridge. I had to clean for an hour. Beautiful cabin and campground but disappointed in the cleanliness. COVID-19 Issues should be more clean for health reasons. Cabin had a bad odor and no coffee cups for coffee.
Jul 16, 2020
We were greeted by a rude old man, he made us follow him to the cabin in the farthest route there asked for firewood he didn't bring us any. The cabin was very dirty. So I was going to sweep the dirt out and the broom provided was a child's play broom took a rag and washed the floors. The bathrooms were nice but some were not cleaned. They should be cleaned after each guest uses one with coVID19.
Jul 13, 2020
We love Great Falls KOA. Have for years. It's a relaxing getaway when you can't get away. Great Falls is our home and the KOA makes you feel like you're out of Town when you can't go out of town. Thank you!!
Jul 12, 2020
We loves the splash pad. It was epic!
Jul 06, 2020
I rented a cabin, cabin said it had a bath & shower, all our cabin had was a shower and it was difficult for our son to shower with a broken arm. The cabin was not cleaned very well, dishes were dirty and there was white dog hair all over the floor. However, the beds were comfortable and the staff was very friendly. Overall, the stay was very relaxing.
Jul 06, 2020
The goats in the petting zoo are starting to get crippled by their untrimmed hooves:( they need to be cut immediately. that was the sad part. circumstances beyond the campgrounds control were loud neighbors and fireworks. The rest was absolutely fantastic. we will definitely stay again as it was a perfect place for my children!
Jul 01, 2020
It was so much fun the kids had fun until the dreaded rain came which was not your fault it was so clean and wonderful
Jun 30, 2020
Fantastic experience
Jun 30, 2020
Stayed in the Deluxe cabin for 1 night with the wife and dog. Everything was great until we go back to our cabin and get locked out with no one answering our 10 plus calls. "Coincidentally" when we were a 1/3 of the way home and a voice-mail from the wife we were locked out and have been calling them, we finally recieve a call back saying there was an issue with their phone system. Had fun but idk
Jun 02, 2021
The people running this place were awesome and accommodating. Best KOA I've ever stayed at,
- Jeremy Osborne on Google
May 24, 2021
Stunning camp ground with amazing stuff!
- heidi j. on Google
Jun 11, 2021
Charge you 130$ Plus dollars For one night in a dinky little cabin. no Blankets no pillows for that price, they should At least have that. Very disappointed. So don't forget everybody bring your own pillows in your own blankets and your own sheets. and they have a broom for you so you can clean up. I'm renting one with electricity and a tiny, tiny, tiny little refrigerator.
- Bari D on Google