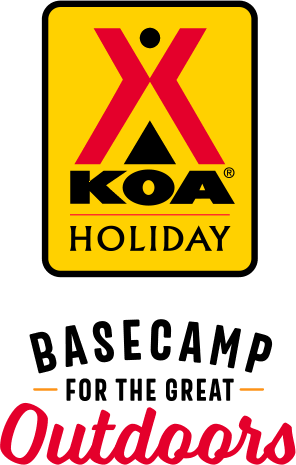 KOA Holiday Campgrounds
Whether you're exploring the local area or hanging out at the campground, KOA Holidays are an ideal place to relax and play. There's plenty to do, with amenities and services to make your stay memorable. Plus, you'll enjoy the outdoor experience with upgraded RV Sites with KOA Patio® and Deluxe Cabins with full baths for camping in comfort. Bring your family, bring your friends, or bring the whole group – there's plenty of ways to stay and explore.
KOA Holidays Feature:
RV Sites with a KOA Patio®
Deluxe Cabins with full baths
Premium Tent Sites
Group meeting facilities
Directions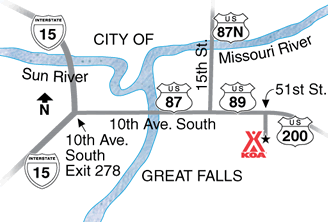 On 87-89 southeast edge of city. I-15 Exit 278 (10th Ave S Exit), go east 5 miles to 51st Street
Get Google Directions
Jun 04, 2021
Stayed in a campsite one of their "pods" with a roof and storage area. Site had nice grass and was wonderful.
Aug 31, 2020
Great location, clean, and friendly staff. This is on the pricier side of KOAs but worth it. Clean and warm showers, a place to do dishes, free firewood, fun playground and free pancakesb(although I was out hiking before breakfast started). It is close to the city, but I liked that option.
Aug 25, 2020
People were great. Bathrooms super great. Campsite was nice, but faced the street entering from the Walmart and it was loud of cars and people coming/going.
Jul 14, 2020
Neighbors tent camping three spots away from us basically partied until 2am, swinging on the swingset (which we were right next to), walking and driving up and down the road screaming and laughing and shouting and shining their lights into our tents, and no one from KOA appeared to have any interest in enforcing the quiet hours. We got no sleep. Also the sites are crammed so close together.
Jun 30, 2020
Loved the tent village. What a great concept!
Jun 25, 2020
It was great!
Jun 25, 2020
Most Excellent. Only issue was lack of WiFi in the tent area.
Jun 20, 2020
Everything was clean, easy to find, and just lovely. The pancakes and lemon water in the morning were lovely, and though we didn't need anything, the office/shop was wonderfully stocked with food and other goodies. The goats were also a fun bonus!! They really nailed it with calling this an "oasis on the prairie".
May 27, 2020
Bathrooms dirty And need maintenance. Campground great.
Sep 18, 2019
GF KOA certainly has gone downhill since our last stay several years ago. The place is a dump. Landscaping has been neglected -- 1" thorns on trees around tent sites! Branches and leafy debris everywhere. Grumpy staff. Washrooms were deplorable -- dirty floors around the edges, one door handle fell off, fan not working. The entire campground screams management neglect.
Aug 17, 2019
unsatived with the cancealtion policy after at least 8 stars had to cancel last stay on short notice and was charged full price
Jul 28, 2019
Out of all my various stays in campgrounds this summer, this is the one I enjoyed the most.
Jul 02, 2019
Good site great entertainment Super great restrooms and showers
Jun 21, 2019
The light was not working in the gazebo tent site we paid for the night. I called the office and told the gentleman about the problem .informed him that the vacant gazebos had working lights and can he pls take the working bulbs and put them in our gazebo. We were already settled in our space He said he could not. We ate our dinner in total darkness with only a flashlight. Why couldn't they help
Jun 19, 2019
Clean, quiet, with the most beautiful landscaping of any KOA I have stayed at... and I have stayed at a lot. There is lots for the family to do onsite, and great places to walk nearby. Definitely at the top of my campground list.
Jun 17, 2019
Very clean and friendly would stay again
May 15, 2019
Service is Great here & everyone always does there best . Still not completely up & running for summer yet , We end up staying at least 3 times a year now . Love this place !
Nov 19, 2018
Manager was very helpful and pleasant despite my late arrival in the cold and snow. Facility was spotless. Very pleased with my stay!
Oct 10, 2018
Beautiful sites. Too bad charges are the same even though the pool, store, office, all but one shower are closed. The manager was also not friendly but again the sites were lovely.
Sep 09, 2018
The bench was covered with mud when we came. So, we had to clean it before sitting at the table. The cabins with shower and toilet were very clean and generally it was very nice to have an individual restroom.
Sep 07, 2018
Had a great time! I'll be back!
Sep 02, 2018
Everything about this KOA was great, although we did not get to explore the grounds as we would have liked due to the weather and our time line. The price is very high as others have noted.
Aug 28, 2018
Stayed in a tent in a tent circle. Bathrooms were clean. Water park is great for kids u see 8 or 9. Coffee wasn't very good. Cookies available in the evening were very tasty. Trees and bushes could use a good trim. The view from the far south cabin sites was great but there are no bathrooms. I for one could not make it to the bathrooms by the office so the campground should definitely more .
Aug 27, 2018
Outstanding service. Wonderful staff. Very clean! Lots for the kids to do. We will be back.
Aug 22, 2018
Will come back again. I love it ��
Aug 22, 2018
We had a perfect time. Everything was clean and we really enjoyed the water park, the hay ride, the music and the breakfast. Thank you!
Aug 15, 2018
We had a great time! Very clean bathrooms/showers! The pool area was so much fun for my kids! We will definitely try to visit again in the future!
Jun 02, 2021
The people running this place were awesome and accommodating. Best KOA I've ever stayed at,
- Jeremy Osborne on Google
May 24, 2021
Stunning camp ground with amazing stuff!
- heidi j. on Google
Jun 11, 2021
Charge you 130$ Plus dollars For one night in a dinky little cabin. no Blankets no pillows for that price, they should At least have that. Very disappointed. So don't forget everybody bring your own pillows in your own blankets and your own sheets. and they have a broom for you so you can clean up. I'm renting one with electricity and a tiny, tiny, tiny little refrigerator.
- Bari D on Google