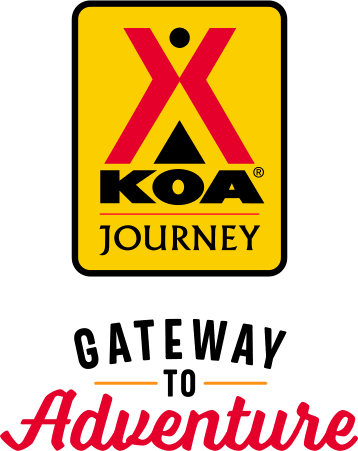 KOA Journey Campgrounds
KOA Journey campgrounds are the perfect oases after a day on the road. Whether it's along the way or a quick getaway, they've got you covered. Located near the highways and byways of North America with long Pull-thru RV Sites, they deliver convenience to the traveling camper. Pull in, ease back and take a load off.
KOA Journeys Feature:
Pull-through RV Sites with 50-amp service
Premium Tent Sites
Well lit after hours check-in service
Directions
Exit 54 off I-74 follow signs to 150 East. Campground on the left 1 mile.
Get Google Directions
May 15, 2023
We stayed in half bath cabin! Loved it the workers that where next door where absolutely amazing good times. There is only one thing I feel should be done there and that is the ramp going into the cabin are severely slip when raining I think those black tired strips should go on each bored 4 us stayed in that cabin and we each almost fell down to rain.just a suggestion. I still rank it 10
CAMPGROUND RESPONSE / COMMENTS:
Thank you for the great review! We were happy you came and stayed with us a second time. Thank you for letting us know about the ramp we will address the issue. We look forward to seeing your smiling faces again!
Apr 24, 2023
Great staff as soon as you walk in office friendly willing to help pleasant. Cabin was excellent well insulated cause we sure picked a cold weekend. We didn't do much because of the cold. But it was a relaxing get away. All ready booked another weekend
CAMPGROUND RESPONSE / COMMENTS:
Thank you for the kind words! Yes it was very cold early in our season here at Galesburg East KOA during your stay, but we are happy you are coming back! Looking forward to much warmer weather!
Oct 24, 2022
Friendly staff, clean cabin.
Oct 24, 2022
Our cabin was great. Bed very comfortable, appreciated the mini-fridge and microwave. Campground bathrooms were amazingly upscale and extra clean, although showers were disappointing - very restricted flow, brief bit of hot (actually, warm) water, and then it got cool again very soon, while still rinsing off. The hosts were super, friendly, very accommodating with late check-in. Would come again.
Sep 21, 2022
We had a great time. The staff was so friendly and the kampgroud was well located to everything we wanted to do.If we ever get back to galesburg, we will definitely stay here again!
Sep 13, 2022
This was my first experience staying in a cabin at a KOA and I highly enjoyed it. This KOA campus was beautiful. The natural walk was an unexpected gem! So peaceful and well maintained. A+ rating to this KOA!
Jul 21, 2022
The staff couldn't be nicer or more helpful. The campground is very clean, and the grandkids had a great time. I would like to see longer store hours. 8-8 would be better than 10-6. The door on the cabin would be better with an actual door knob. Opening the door each time by pulling on a rope from the outside and pushing up a wooden board on the inside is just too difficult.
Jul 06, 2022
Clean facilities and friendly staff. Well done!
May 16, 2022
Clean quiet peaceful stay. Many rv's nearby but no noise from any of them. Bad storm the first night, I was glad to be in a cabin and not a tent. I would stay there again.
May 16, 2022
We had the best time. Definitely will be back!
Jun 02, 2023
Wonderful campground. People and facilities were great. Swimming pool, activities, disc golf, fishing pond and more are waiting for you.
- Kelly Staples on Google
May 28, 2023
Amazing location, friendly staff, very clean sites. They had a plethora of activities for kids.
- B K on Google
May 19, 2023
Excellent campground!! Definitely will be back. The entire staff is wonderful. One of the best walking trails, dog friendly, CLEAN UPDATED facilities. We will see you again soon. Oh and thanks for the welcome bag. NICE TOUCH!!
- D Stan on Google