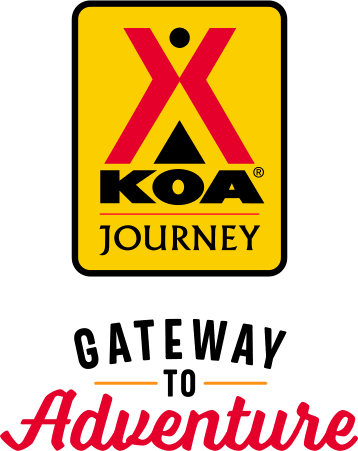 KOA Journey Campgrounds
KOA Journey campgrounds are the perfect oases after a day on the road. Whether it's along the way or a quick getaway, they've got you covered. Located near the highways and byways of North America with long Pull-thru RV Sites, they deliver convenience to the traveling camper. Pull in, ease back and take a load off.
KOA Journeys Feature:
Pull-through RV Sites with 50-amp service
Premium Tent Sites
Well lit after hours check-in service
Directions
Exit 54 off I-74 follow signs to 150 East. Campground on the left 1 mile.
Get Google Directions
Oct 01, 2022
Great campground…great stay…thank you!
Sep 30, 2022
Super clean quiet and enjoyable stay
Sep 30, 2022
We stayed 2 nights as part of a cross-country trip. This was one of the best maintained KOAs I have stayed at. The restrooms and showers were new and very clean. The sites were gravel pull-through with nice grass—no mud. One night was pretty quiet, but the next, we did get noise from the interstate. Would highly recommend for any I-74 traveler.
Sep 30, 2022
This is the greatest campground ever!
Sep 30, 2022
the stay was very good. the only downer for site 12 was the noise from I-74 Great job on KOA transition.
Sep 27, 2022
Beautiful campground with many trees. Awesome staff. Easy on and off highway and away from highway noise.
Sep 27, 2022
nice and cleanshower very great
Sep 26, 2022
We always love our stay at Galesburg East! Clean, quiet, and very kid friendly!
Sep 26, 2022
It had a very welcoming feeling when entering the grounds. Everything was clean and pleasing. Staff was pleasant and friendly.
Sep 26, 2022
Very clean and quiet! Beautiful view of the pond, prairie and wildlife. Excellent catch and release fishing with blue gill, bass and crappie
Sep 25, 2022
got there late. our map was ready and our site easy to find. very little highway noise compared to others close to one. our site was a little uneven but not enough to affect our stay of one night. one of the nicer koa's we've stayed in. keep up the good job. we'll make sure to earmark you for a future stay on our way home from the south.
Sep 25, 2022
Such nice hosts! Very clean facilities! Bathrooms and showers were meticulous. We will come back this way again.
Sep 25, 2022
The KOA was so clean spacious for our 43 foot rig we did the night check in all the paperwork was there very easy to fill out I would love to stay again when we had more time thank you
Sep 24, 2022
We can't say enough good things about this campground. The sites are large, there are so many trees, the bathrooms and laundry room were above and beyond. The owner takes great pride in this campground and it shows. We highly, highly recommend this campground and will definitely be staying here again. Thank you to the owner and staff for a great stay!!
Sep 24, 2022
Beautiful park. Staff was great. Nature trails were a very nice surprise and well maintained. Sites were level, mostly shaded and fairly spaced.
Sep 23, 2022
This was by far the very best KOA we've stayed at. New laundry facilities and kept spotless. The owners and wonderful faces that greeted us were just incredible. The grounds, the walking trail, the catch and release pond, the dog park and playground were exceptional. If I could I'd never miss this gem of a campground!!!
Sep 23, 2022
Very well kept with nice trees.
Sep 23, 2022
Lovely quiet campsite with beautiful shade trees. Everything was neatly manicured. Bathrooms very clean. Definitely stay again!
Sep 22, 2022
Cute put put coarse. Very helpful staff, nice and clean grounds!
Sep 22, 2022
It was a perfect placement for our trip from Colorado to Indianapolis. Thank you. Very polite and helpful.
Sep 22, 2022
nice place, helpful staff
Sep 21, 2022
We had a great time. The staff was so friendly and the kampgroud was well located to everything we wanted to do.If we ever get back to galesburg, we will definitely stay here again!
Sep 21, 2022
We appreciate that so many pull thru sites are offered. The bathrooms are amazing. Not sure why the one sink in the women's bathroom was not working but the newly remodeled bathrooms are beautiful.
Sep 20, 2022
Nice clean, quiet campground. Beautiful pond and grass hiking trail through the woods. We saw a deer on our hike. Very friendly and accommodating hosts.
Sep 19, 2022
We were looking for quiet country setting for a close getaway. Our first time here. Owners are making BIG upgrades! New power, freshly graveled sites, spotless remodeled bathrooms, etc.. We really like this place! Close to lots in Galesburg, but very quiet! Lots of shaded sites. Had end site w patio w view of pond, trees & fields. Yes, we'd recommend you check them out.
Sep 19, 2022
A very kind and considerate group of staff members. They made our first time out a huge success.
Sep 18, 2022
Excellent experience, nicely renovated facilities all around. Clean park.
Sep 18, 2022
They staff were knowledgeable, friendly and helpful. It is my favorite campground thus far..
Sep 16, 2022
We arrived late (8:30 p.m.) and were assigned to a site under the security light. While they probably thought it would be helpful for us to hook up, it proved to be an irksome light shining into our RV all night long. I went to the women's shower facility in the morning. The stall was updated by adding 12x12" tiles to the walls and floor. It was VERY slippery and I almost took a fall. Otherwis
CAMPGROUND RESPONSE / COMMENTS:
We are sorry any inconvenience, our intentions were good. We hope to see you again next time.
Sep 15, 2022
Staff was amazing
Sep 14, 2022
Easy stay nice drive through lots. Staff was awesome!
Sep 13, 2022
Great campground. Very friendly staff and owners. One drawback is having to pay for mini golf. Camping fee is high enough to have mini golf included free.
Sep 13, 2022
This was my first experience staying in a cabin at a KOA and I highly enjoyed it. This KOA campus was beautiful. The natural walk was an unexpected gem! So peaceful and well maintained. A+ rating to this KOA!
Sep 13, 2022
Beautiful campground, well maintained and clean. Used the pool, took a walk on the nature path and got some photos of a couple of deer on our walk. A very quiet and relaxing stay for us
Sep 12, 2022
Great playground. Nice pool. Clean, nice bathrooms. Clean campground. We enjoyed our stay!!!
Sep 12, 2022
This is such a beautiful Campground! There's plenty of amenities & activities to keep everyone in our family entertained. Plus, super friendly, welcoming owners & employees who work hard to keep their campers happy and the facilities clean.
Sep 12, 2022
I really like the upgrades they have done to the park, It is more expensive than it was before it was a KOA and the sites could be a little wider but other than that we had a good time and the people in the office were really nice.
Sep 12, 2022
Beautiful campgrounds and environment--definitely clean and cared for and it shows. The staff was very accommodating, helpful and pleasant. We will be back there soon!
Jun 02, 2023
Wonderful campground. People and facilities were great. Swimming pool, activities, disc golf, fishing pond and more are waiting for you.
- Kelly Staples on Google
May 28, 2023
Amazing location, friendly staff, very clean sites. They had a plethora of activities for kids.
- B K on Google
May 19, 2023
Excellent campground!! Definitely will be back. The entire staff is wonderful. One of the best walking trails, dog friendly, CLEAN UPDATED facilities. We will see you again soon. Oh and thanks for the welcome bag. NICE TOUCH!!
- D Stan on Google