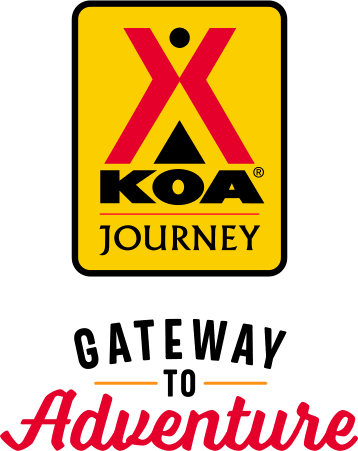 KOA Journey Campgrounds
KOA Journey campgrounds are the perfect oases after a day on the road. Whether it's along the way or a quick getaway, they've got you covered. Located near the highways and byways of North America with long Pull-thru RV Sites, they deliver convenience to the traveling camper. Pull in, ease back and take a load off.
KOA Journeys Feature:
Pull-through RV Sites with 50-amp service
Premium Tent Sites
Well lit after hours check-in service
Directions
Exit 54 off I-74 follow signs to 150 East. Campground on the left 1 mile.
Get Google Directions
Oct 25, 2022
Absolutely wonderful KOA! So beautiful and easy on off the highway. Train noise at night, but all of Galesburg is like that so it's expected. Beautiful grounds and pull through sites were gravel and easy to get into and out of. We spent 5 nights there and will be staying again.
Oct 25, 2022
We had a wonderful restful long weekend! This was the first time at this campground and we definitely will be back!
Oct 24, 2022
Friendly staff, clean cabin.
Oct 24, 2022
Our cabin was great. Bed very comfortable, appreciated the mini-fridge and microwave. Campground bathrooms were amazingly upscale and extra clean, although showers were disappointing - very restricted flow, brief bit of hot (actually, warm) water, and then it got cool again very soon, while still rinsing off. The hosts were super, friendly, very accommodating with late check-in. Would come again.
Oct 24, 2022
Very nice campground! We had a really good time! Super friendly staff!
Oct 23, 2022
Love the area. Host we A plus
Oct 22, 2022
Nice sites. We liked that they didn't crowd all the campers together just because it was end of season and there were empty spaces
Oct 18, 2022
When the campground is mostly empty, why put all the overnights in one place? I had trailers on all sides with the rest of the campground empty. Spread us around please.
Oct 18, 2022
Great staff! Great place to camp! Enjoyed our 3 days here even if the weather was windy & cold We will be back!
Oct 17, 2022
Great staff, nice shady sites, clean and convenient laundry room. Lots of activities for families.
Oct 17, 2022
Staff are very friendly. My kids had a great time for their Halloween weekend celebration! Keep up the great work. We will be back.
Oct 17, 2022
We have been here before it was a KOA. WOW!!!! The improvements are unbelievable and top many to list. Brand new sites, old sites with new gravel and improved roads. Great place to camp.
Oct 17, 2022
loved, loved, loved this KOA! it was a sanctuary after a harrowing day on the road. the restrooms and showers were super clean and the best laundry facilities I've seen yet! clean and they take a card so you don't need $6 in quarters! the best thing was receiving a text that there would be trick or treaters so I could be prepared with treats! thank you Galesburg for a restful and fun stay!
Oct 17, 2022
I paid for both sites ahead of time and when I showed up to the campground they told me I was in different sites then first agreed on , then I was told no sites are guaranteed, I said that was never discussed. They said for an extra fee they could reserve it, when I pay my money ahead of time I am guaranteed the spots mentioned !
CAMPGROUND RESPONSE / COMMENTS:
KOA policy does not guarantee sites ahead of check in. There is a fee for guaranteeing your site online. As I recall you were given the site you wanted even though we went thru the trouble to put you closer to your family ahead of your visit. Thanks again for care camp donation. See you next time!
Oct 16, 2022
Nice park, recently upgraded. Lots of trees. People are great. Site 12 was very uneven, especially left/right. Used all of my Lynx Levelers and couldn't get level.
Oct 15, 2022
Really nice place. Lots of fall colors. The trees were just amazing.
Oct 14, 2022
The park is clean and fairly easy to move into site. The problem I have is I used a travel site to look at my route. As I did I looked at campgrouds on the route and looked at average cost. I had info the night stay $34.00 to $38.00, and was charged almost $70.00. Just stayed over night, electric only , but I can stay in a Truck stop and use the propane generator cost less to fill a tank of propan
CAMPGROUND RESPONSE / COMMENTS:
We cannot be held responsible for inaccurate information on other websites. our website and the KOA app is best for current locations and pricing.
Oct 11, 2022
Carlos and Tina are always so helpful and accommodating. The campgrounds are clean and well maintained--and we love the hiking paths. It is rare, too, that you have a campgrounds that is so welcoming to pets. On this trip, we met so many wonderful people... it was like being with family!
Oct 10, 2022
Campground is very well kept. Restrooms have been recently remodeled & are very clean. Clubhouse was great.
Oct 09, 2022
The campground is perfect for families it's VERY well maintained. There's allot of things to do mini golf, fishing, frisbee golf, and a playground with jumpy pad. The campsites are a little close to each other but luckily we didn't have anyone by us since we stayed in October during the week
Oct 07, 2022
Great and no early check in like the one in Greensboro NC , will never go back there: not worth 105.00 per night + early beck in fee . They should take lessons from this one in Knoxville
Oct 06, 2022
Great place! Friendly staff (Carlos & Tina). Met the owner. Very nice. The campground was clean. Would stay there again. Easy to get there from the highway.
Oct 05, 2022
Nicest people at a KOA that we have even been to. Very on the ball! Enjoyed this easy stay while traveling.
Oct 05, 2022
What a special KoA hidden off the highway. We enjoyed our overnight stay and would have loved to stay longer.
Oct 04, 2022
I enjoyed the nature trail. The new restrooms are really nice. I stay at this campground every year and it is always clean and the people in the office are always friendly and ready to help if need be.
Oct 04, 2022
Clean,neat,level,and friendly hosts!
Oct 04, 2022
Everything was great less the $20 check in fee
CAMPGROUND RESPONSE / COMMENTS:
We looked into your stay... You checked in early morning which should be an extra day charge. The $20 fee is for 11am -130pm early check ins. Glad you enjoyed your stay otherwise.
Oct 04, 2022
Fantastic Campground. You can see the love going into this campground. Amazing stay thank you!!!
Oct 04, 2022
We stayed for two nights. The entire facility is very clean and well taken care of. The owner and employees are second to none. They welcome you and make sure you enjoy your tine there. We will be back again. I just hope all KOA camp grounds are this nice.
Oct 03, 2022
Staff are extremely helpful and nice. Grounds are clean and level. Kid friendly for kids of all ages!
Oct 03, 2022
Excellent campground. Very clean and well maintain. Look forward to staying there again.
Oct 03, 2022
Very relaxing and very friendly staff. Liked it so much we are coming again this next weekend :)
Oct 03, 2022
We appreciate the pull thru sites and the very clean bathrooms. Therefore, we returned 2 weeks later on our way back home.
Oct 03, 2022
Paid for "XXL" site. Sites were plenty long but very tight. The "XXL site that I paid extra for looked no different than the sites in the next row over. When checking in I purchased 2 bundles of fire wood and it was delivered to my site, which was nice. However, my fire pit was so close to my neighbors RV, I didn't feel comfortable lighting a fire. Sites were level and fairly easy to maneu
CAMPGROUND RESPONSE / COMMENTS:
we're glad you had a great experience here. XXL sites refer to length and are the best sites for large rigs (As you said "easy to maneuver" in and out of). Most of our sites are the similar width but different lengths. We will look into firepit placement and correct where we can.
Jun 02, 2023
Wonderful campground. People and facilities were great. Swimming pool, activities, disc golf, fishing pond and more are waiting for you.
- Kelly Staples on Google
May 28, 2023
Amazing location, friendly staff, very clean sites. They had a plethora of activities for kids.
- B K on Google
May 19, 2023
Excellent campground!! Definitely will be back. The entire staff is wonderful. One of the best walking trails, dog friendly, CLEAN UPDATED facilities. We will see you again soon. Oh and thanks for the welcome bag. NICE TOUCH!!
- D Stan on Google