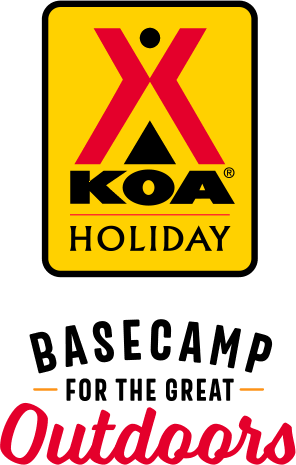 KOA Holiday Campgrounds
Whether you're exploring the local area or hanging out at the campground, KOA Holidays are an ideal place to relax and play. There's plenty to do, with amenities and services to make your stay memorable. Plus, you'll enjoy the outdoor experience with upgraded RV Sites with KOA Patio® and Deluxe Cabins with full baths for camping in comfort. Bring your family, bring your friends, or bring the whole group – there's plenty of ways to stay and explore.
KOA Holidays Feature:
RV Sites with a KOA Patio®
Deluxe Cabins with full baths
Premium Tent Sites
Group meeting facilities
Directions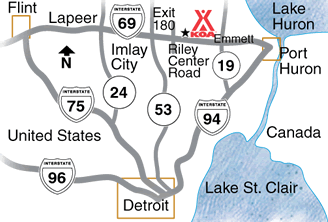 From Junction I-69 & Riley Center Road: Exit 180, north 1/4 mile on Riley Center Road to Burt Road, west 1/4 mile to Breen Road, north 1.5 miles on right.
Get Google Directions
Oct 28, 2020
Halloween Camping 2020 was another great weekend at Emmett despite the COVID-19. Lots of fun!
Oct 28, 2020
Our favorite campground!! We always have a enjoyable stay at KOA Emmett �ϋ�
Oct 27, 2020
Great family weekend!
Oct 27, 2020
Best campground and campers in the world ! Thanks for everything !!! KOA Emmett you rock!!
Oct 27, 2020
Awesome time. Great staff. Great campground. The only thing missing was bingo and Sunday morning breakfasts, hopefully these will be back next year.
Oct 27, 2020
The Pietras family make this park great place to stay. They are very accommodating to all your needs. I would highly recommend this campground to anyone.
Oct 27, 2020
Always a great time at this beautiful campground! Owners and staff are the best, always making sure you have what you need. My favorite place!
Oct 27, 2020
The campground was very nice, we have been here multiple times. The teens that work here were all amazing with smiles. Bathrooms by cabins were locked when we arrived, we were told to use the ones further away. Yikes, lol. Great haunted forest setup, that would bring us back. Some of the cabins seem to have nicer mattresses then others. Would recommend this location :)
Oct 27, 2020
Beautiful park. Campsites are not super small, but not too large, which makes Trick-or-Treating easier for tiny little legs. Always have a fantastic time staying here. People are pleasant and the employees are extra helpful. Will be back again next year!!!
Oct 27, 2020
Bathrooms were very clean. Enjoyed the activities for the kids,especially the "Hauted Forest"
Oct 27, 2020
We love Emmett KOA it's our number one campground choice!
Oct 27, 2020
Always a great time staying at Emmett KOA! The staff is very friendly and accommodating!
Oct 26, 2020
Campground well kept up, friendly staff, and fair pricing
Oct 25, 2020
Other than they couldn't stop the rain, it was a very pleasant stay as usual. We always feel very comfortable and welcome here. We usually stat twice a year and will be going back.
Oct 24, 2020
We just love Emmett KOA. We have been take our son there since he was 2 (he is now 17) and loves it as much as we do. So many things to do for all ages. Will definitely be back. Owners and staff are awesome people. Super friendly and helpful. Beautiful place and very clean. A+A+A+
Oct 24, 2020
The staff were helpful and friendly
Oct 24, 2020
Beautiful place. Weather didn't allow us to fully experience everything; we will be back. Only criticism is that I wish firewood would be available for self service purchase after hours during the week.
Oct 20, 2020
Had a wonderful time the owners are fantastic
Oct 19, 2020
Love this place
Oct 19, 2020
Perfect time!
Oct 19, 2020
Thank you for letting us reserve for next year when we check in. That really made the stay enjoyable!
Oct 19, 2020
Great place for Halloween camping! However, do not book online as they don't assign site numbers when you do. So I wound up with the worst site of a few available. Also, kind of frustrating that there is only 1 dump station for all the campers to use. Makes getting out of there on a busy weekend a long task. But other than those annoyances, the park is great for kids. Lots of stuff to do!
CAMPGROUND RESPONSE / COMMENTS:
Thank you for coming and your feedback! If you decide to book online you can always email or call for site requests. We do our best to accommodate. Departure days the empty full hook ups are always an option to use if there is a slight back up at the dump station.We look forward to seeing you soon
Oct 19, 2020
Halloween weekend was tremendously awesome!
Oct 19, 2020
Had a great time
Oct 19, 2020
It was a great stay and our first time doing the halloween camp and we will definetly do it again!!
Oct 19, 2020
This past week was our 3rd stay here this year, and first ever Halloween weekend. It was an AWESOME time, and we cannot wait to go back!
Oct 17, 2020
Wonderful....as usual, family fun weekend.
Oct 15, 2020
Love your park
Oct 14, 2020
We have been coming for a few years and have really enjoyed the Halloween weekends. There's so much for kids to do and all the decorating by the campers is so much fun.
Oct 14, 2020
The bathrooms are always super clean! Thank you!
Oct 14, 2020
This was our first Halloween weekend experience and we LOVED it. Even with the Covid changes. We rebooked our site for next year and cannot wait to be back. Our only complaint is the WiFi doesn't work at the sites. I know, I know "it's camping" however my job requires me to work on occasions and I need a good connection and I wasnt able to get that. Next year I'll need to prepare ahead of time
Oct 14, 2020
This was our first time here. We really enjoyed it and would definitely stay again in the future. We would recommend it.
Oct 14, 2020
Wonderful experience. One of the very best KOAs I have stayed in. God Bless!
Oct 13, 2020
Thanks for a great weekend!!!
Oct 13, 2020
Always have a great time when staying at this KOA. Nice family friendly campground. Awesome owners.
Oct 13, 2020
This is my 9th year for the Halloween weekends and my family and I absolutely love it! Everyone is very friendly and we always have an amazing time! We look forward to it every year.
Oct 13, 2020
We love this campground. We recommend it whenever we can. We brought new campers to the campground last weekend.
Oct 13, 2020
We had a good time this past weekend except for the loud group that was behind us. They were noisy well past the 11 pm quiet time.
Oct 13, 2020
I love the KOA and everyone that works there!
Oct 13, 2020
Great time as always!
Oct 13, 2020
We had the best time! The facilities were well maintained and the campground is beautiful!!
Oct 13, 2020
We were in a deluxe cabin and had a fabulous stay. All the activities for the kids did a great job of socially distancing, and the cabin was very nice. We will stay again.
Oct 13, 2020
Always well managed, clean and well kept
Oct 13, 2020
This review has been removed by the moderator for inappropriate or incorrect content.