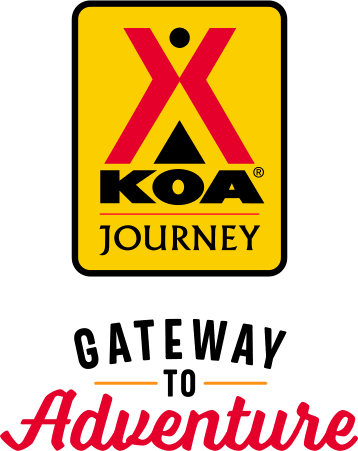 KOA Journey Campgrounds
KOA Journey campgrounds are the perfect oases after a day on the road. Whether it's along the way or a quick getaway, they've got you covered. Located near the highways and byways of North America with long Pull-thru RV Sites, they deliver convenience to the traveling camper. Pull in, ease back and take a load off.
KOA Journeys Feature:
Pull-through RV Sites with 50-amp service
Premium Tent Sites
Well lit after hours check-in service
Directions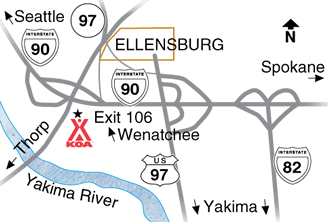 From I-90: Take Exit 106. If coming from the west, we will be immediately on the RIGHT on the off-ramp.
If exiting from the east, go left from the off-ramp, taking you over I-90 and we will be on your immediate left.
If coming from SR 97, stay to the right at the stop sign, then right again at the end of 97.
Get Google Directions
Jun 10, 2021
Upon our arrival the we decided the patio site we reserved wasn't quite what we expected. The KOA was very accommodating, they moved us to a very nice site which had a large grassy area with plenty of shade. The check-in person was very friendly.
Jun 09, 2021
$80/night was high rate for area. Our water hook up leaked terribly and so did the man's next door. They had reported problem but nothing was fixed. We asked dto move to river site - were allowed but not told that river site didn't have full hookups (or we wouldn't have moved)...Dog park was EXCELLENXT and kids (not ours) seemed to love the kids swing area. Showers were fine and clean.
Jun 08, 2021
We had a great spot along the river, all employees were friendly and helpful and the camp host was fantastic. Kamp K9 was a fantastic surprise. We will stay again.
Jun 08, 2021
Everything was great, less the pollen and tree sap that covered our RV and truck. Maybe avoid having anybody park in #54, #55 and #56 until that tree get through the bloom season. Have a great day Bryan
Jun 08, 2021
This site had everything high winds the first day, wind and rain the second day and sunny with a slight breeze the third day. Site is on the river with very friendly employees.
Jun 08, 2021
Great location, dusty roads, dead grass, needs updating, too expensive, friendly staff
Jun 07, 2021
The staff is so friendly and helpful. We stayed in a river site and really enjoyed the view. As other reviews have said you can hear the freeway pretty well but once you are in your camper it's quiet.
Jun 07, 2021
Very nice camp grounds right on the river. Staff were very friendly and bathrooms clean.
Jun 07, 2021
Very friendly staff, helpful and no rush. Quite campsite, and well maintained.
Jun 07, 2021
Was my first time camping in an rv and the experience was great. Friendly and helpful staff and good location.
Jun 06, 2021
Another great stay. Lawns need water!
Jun 06, 2021
Friendly staff.
Jun 05, 2021
The cabin was very clean. Maybe too clean, in the sense that there was a strong Lysol smell for the first day. We appreciated the nice-size frig and the microwave. A larger bathroom sink would have been nice, since we were washing plates and such in it sometimes. The outdoor table and chairs were nice. Everybody in the office was friendly. More food selection in the store would be good.
Jun 04, 2021
Speed limits need to be enforced, ten o clock quite hour needs to be enforced, dogs barking, kids at play ground up to 12 o clock, music at camp sites seemed a little loud. Been going to this park for years, and this trip we where a little discouraged, also the park grass and sites seemed in dire need of water, lots of dust.
Jun 04, 2021
Loved our spot by the river and the staff was very helpful -thank you!
Jun 04, 2021
Friendly staff! Sites close together and fire pits close together. Could only fit one chair between. Could use some kind of shade at the pool. Even though over 90 degrees out, pool was cold. Liked firewood delivery, garbage pick up and noon check In. Would like "pick your site" for fee added and could use some updated playground equipment for the kids. Didn't notice road noise by the river.
Jun 03, 2021
The new owners have taken away the trash bins and have the customers leave there trash in front of the camp sites. They removed the garbage can at the trailer dump. Not watering the grass. Refuse to take reservations for individual sites. Bathrooms filthy. We have been going to this KOA for 20 years and has never been this bad. Also almost double the price. These new owners are worthless.
Jun 03, 2021
Staff was very friendly and helpful. Nice place.
Jun 02, 2021
Well managed and caring staff
Jun 02, 2021
I visited your campground with a group of 4 other RVs. We all enjoyed our stay there. The only reason I didn't give the Ellensburg KOA 5 stars was because of the dusty roads. Lots of traffic in and out on Memorial Day weekend caused a lot of dust to be kicked up. Other than that a wonderful experience. Love the playground for the kids and the cookouts on the patio.
Jun 02, 2021
Staff was friendly and stayed busy keeping the facility in good shape.
Jun 02, 2021
Service was more than expected. Staff was friendly and helpful.
Jun 02, 2021
Clean campground & friendly staff. We also loved that it's pet friendly.
Jun 02, 2021
Major plumbing issue in one restroom and the other bathroom could be cleaner and is due for a major renovation. Staff was nice but could have used more over the long weekend.
Jun 02, 2021
Currently good facility but expect better things to come with the new owners!
Jun 02, 2021
The staff incl office/store & site escorts were friendly & efficient. Only downside was the sticky cottonwood tree debris covering the entire ground of most sites, mine incl. Not fun to deal with at all. Don't plan to return.
Jun 02, 2021
Beautiful grounds, great attitude from the staff
Jun 01, 2021
Great place. One of our favorites! Only complaint is we (our rig and family with us) had reserved a specific spots, back in December for Memorial day weekend, we got shifted down a few spots into smaller spots. Still a great weekend though!
Jun 01, 2021
Very nice campground. Staff is very polite and attentive.
Jun 01, 2021
Staff are very friendly and helpful. Its clean and they have fun activities. Love our spot by the river!
Jun 01, 2021
We loved it !!! The staff was amazing . Very friendly !!! Came around all day and checked on you . Gave out glow sticks So the kids were visible at night. The spots are a little small if you have a big trailer not much space to park . But other then that everything was perfect . Hamburger, chips and beer $3 on Friday nights you can't beat that
Jun 01, 2021
This was my first disappointing stay. I called a couple of months in advance to book a particular site. When I got there, they had moved us to a different site because of some unknown issue. They said the site that they booked was comparable. It was not since it had not a single tree at the site. Bummer.
Jun 01, 2021
Our stay was fantastic. If this is to be posted for this rating. I was a guest and NO part of staff or friend of stall. Just a camper. CHARLEE
Jun 01, 2021
Sadly, this KOA was party-central. Lots of pro gun, very conservative flags (fine for some, but makes us feel unsafe), super loud music from multiple sites near us (to be fair music went off at 10 pm but blared until then), women fighting at 1 am, screaming and threatening violence. If you want to party & camp, this is your place. The actual site is beautiful and Jim was the nicest guy ever.
May 29, 2021
Park is under new ownership. It was nice before and even better now. Fresh paint everywhere and a huge new dog park.
May 29, 2021
Traveling with my husband in a 23 ft. trailer in May. We were assigned a beautiful site next to the river. Restrooms and laundry are very well maintained and clean. New owners are making some nice improvements.
May 29, 2021
Had a great time. The river was 100 feet away from campsite, beautiful setting.
May 29, 2021
Nice place.. Little noisy due to the freeway.. Sites are set up with lots of them being buddy sites. If your not traveling with someone, your buddy site might be with someone you do not know. Strange. We changed sites to a riverfront site. It was GREAT......Brian was a really good man to deal with. Honest and got back to you if you needed anything.. Thanks
May 28, 2021
We arrived after you closed. The after hours check in was easy & accurate. Our space #57 was perfect & level, which is always welcome....making set up & break down so very nice.. We have stayed at this KOA many times & love it. Your staff should all get raises..Bill & Sheilah Messing Stayed 1 night...26MAY21��
May 28, 2021
Super friendly staff.
May 26, 2021
Beautiful setting. Lots of highway noise. Overall good stay.
May 25, 2021
Enjoyed the surroundings and the staff were nice, especially the woman who checked us in. It was very cold in the Tipi the 1st night and additional blankets available in the Tipi would have been helpful the first night. The little heater would work, but it was essentially worthless, honestly. We got additional blankets for the 2nd night and it was better. I would stay in a cabin the next time.
Jun 08, 2021
Very well maintained and close to gas station and grocery store. The campground $10 stone oven pizzas are really good.
- Demetrios Consolo on Google
May 27, 2021
Campy
- Gary Prince on Google
May 23, 2021
Amazing location and a wonderful staff.
- Steve Koep on Google