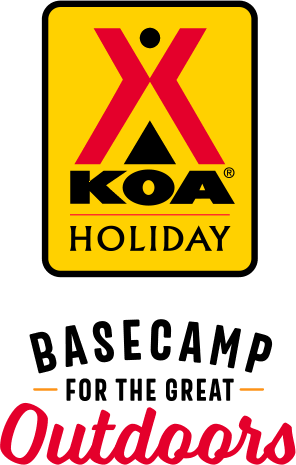 KOA Holiday Campgrounds
Whether you're exploring the local area or hanging out at the campground, KOA Holidays are an ideal place to relax and play. There's plenty to do, with amenities and services to make your stay memorable. Plus, you'll enjoy the outdoor experience with upgraded RV Sites with KOA Patio® and Deluxe Cabins with full baths for camping in comfort. Bring your family, bring your friends, or bring the whole group – there's plenty of ways to stay and explore.
KOA Holidays Feature:
RV Sites with a KOA Patio®
Deluxe Cabins with full baths
Premium Tent Sites
Group meeting facilities
Directions
Located in the heart of Dubois. Take Hwy 26/287 into town, turn south on Riverton St at the Conoco station and go one block. Look for the largest elk in the Rockies.
Get Google Directions
Aug 31, 2020
The KOA seemed well run and in a nice area. The gentleman at the desk was friendly and helpful, however he directed us to a site that didn't match the "Riverfront" site that we had reserved and already paid for. He even made a point of saying, unprompted, that the site we were getting was a "nice site." It in fact was a smaller site that backed up to a fence and a dirt road.
Aug 31, 2020
Nice campground. We reserved a creek side spot but was moved to a spot with 50 amp instead. Kind of disappointed because those creek front spots are much better.
Aug 31, 2020
Always Super Clean! Very nice facilities, and everyone is so nice and accommodating. They always make sure we're comfortable and enjoying our stay. We will definitely be going back, we love this place. Thanks guys!
Aug 31, 2020
Friendly check-in. A lot of fulltimers on property. Quiet. Bathhouse very clean. Walking distance to lake. Flamingo Grill was awesome. Wish there was more grass or trees by big rig sites.
Aug 30, 2020
The Deluxe cabin was nice. The river and outdoor seating and firepit outstanding. However, you should modify your description as follows: Please note the following items are not provided during your stay: cooking utensils, dishes, towels, sheets & pillows. There is a grill but no range to cook other items.
Aug 30, 2020
Great � KOA very nice
Aug 29, 2020
Friendly owners, and beautiful location!
Aug 29, 2020
Our stay was super! We are so impressed with KOA. Your staff looked out for us to make sure our experience was more than we expected! Thank you.
Aug 29, 2020
The staff was so friendly and helpful. The campground and facilities were super clean. Will definitely stay again and recommend to anyone going to the Grand Tetons and Yellowstone
Aug 28, 2020
Disrespectful employee. This KOA lists a heated indoor pool on site but has been closed for two years. Playground is old and unsafe. Only one garbage site at the exit. We were going to come back next year but going some place else where guests are respected.
Aug 28, 2020
The staff made the stay worth while, best ran KOA I've been to.
Aug 28, 2020
Great place!!!!
Aug 28, 2020
This was one of the nicest KOAs we have stayed in. We had a lovely site by the river. There was good spacing between RV sites and it was very clean. The hosts were friendly and helpful. Highly recommend this place. Also it was within walking distance to the Cowboy Cafe which has delicious food. Make sure you visit the new National Military Vehicle Museum when in Dubois. It is a treasure
Aug 27, 2020
Loved it there. So peaceful right beside the river. Very helpful and friendly staff.
Aug 27, 2020
We had an absolutely incredible stay here! The staff was exceptional and delievered the best customer service. They were well organized, clean faciloities. and even offered to drive and deliver firewood to our campsites at night while we were out. 10/10 service. The river running through the property was beautiful and totally private for the KOA customers.
Aug 27, 2020
Very friendly folks. Clean rest rooms. Quiet location. Very nice stay
Aug 26, 2020
We were there 3 wks this year Made our reservation for 6 plus wks next year. Have been coming yearly for last 6 yrs as my sister retired in dubois. Koa Location excellent for us. Facilities very nice. Only suggestion I could make and I heRd from others, need a couple more wash machines and dryers
Aug 26, 2020
Only stayed one night for a quick stop over. Covid looks to have limited some this things (pool). Nice sites, pleasant staff.
Aug 26, 2020
Great place, clean facilities, nice staff
Aug 26, 2020
Felt spoiled at this KOA. Not only are the employees super sweet and go out of their way to make sure everything is perfect but the dishwashing sink is indoors and has hot water- after camping for a week at Yellowstone this felt like luxury. We stayed in a camping cabin and it was so clean. The bathrooms were also incredibly clean. Will definitely be back.
Aug 26, 2020
Great staff, wonderful location, very clean and organized place. Once again, truly nice people and clean establishment.
Aug 26, 2020
I had a fantastic experience, staff was very friendly! They went out of their way to accommodate me. Definitely would stay there again if I am in the area..
Aug 25, 2020
Beautiful campgrounds. Thank you.
Aug 25, 2020
Bee was great for service. Park was clean and quiet.
Aug 25, 2020
Everything was great except 2 tings. 1. the pool was closed and the weather was warm. 2. The deck at our cabin had a couple high boards we tripped on. My daughter tore a ligament in her foot when she tripped on it. It needs to be fixed! We would stay there again. The staff, view and river were great!
Aug 24, 2020
Pull through sites are too narrow and one also has a path others use as a shortcut to go through the campground. The campground map is very inaccurate in describing the site layouts. No discount for the pool being closed making the cost more than it s/b for what you get. Seems like the pool was closed part of last summer also so it doesn't seem to be just a COVID related thing.
Aug 24, 2020
Clean KOA with all the amenities stated on the website!
Aug 24, 2020
We traveled to Wyoming to visit our National Parks. The Dubois KOA is in a great location, close to both the Grand Teton's as well as Yellowstone National Park. The park was clean, well maintained, and the staff was incredibly friendly. We will be back!
Aug 24, 2020
Highly recommended - some spots do not have trees, but most do and good river views.
Aug 24, 2020
Very friendly staff here. Love the town and the river. Firewood is high quality and burns well. It seems that maybe enforcing of or a regular search and clean up by staff, for dog poo would be a good idea. Very good tent site. Love the access to water and power. Thank you.
Aug 23, 2020
It is beautiful, staff is so friendly and everything very clean. Highly recommend this area to stay.
Aug 23, 2020
So relaxing and enjoyable. Very clean. We appreciate all the extra work to maintain a nice clean campground. Our hots were very friendly and made us feel welcome. Loved the River site it was phenomenal. We'll definitely be back and will recommend Dubois Wind River to friends/family going to that area
Aug 22, 2020
Great people.
Aug 22, 2020
Lovely KOA site with clean bathrooms and friendly staff. The river is a bonus! Kids enjoyed playing at the park as well.
Aug 21, 2020
Skinny sites, no room to be outside and it is extremely dusty since it is mostly dirt and rocks. Employees are very nice and will do what they can to make you happy.
Aug 21, 2020
Wish you had 50amp service by river. Thought the 50amp spaces were not as nice as other sites. Beautiful park just wish you would upgrade the big rig spots.
Aug 21, 2020
This was one of the best campgrounds we have stayed at. A beautiful river right behind our rig, and they delivered firewood to our site upon request. Wonderful customer service with great wifi. We will be returning again!
Aug 21, 2020
Nice spacious site on the river. Beautiful setting!
Aug 20, 2020
We had a beautiful site, right on the river. Nice campground with great customer service. Plenty of open space, nice store, free ice delivery to site. Only negative thing is there is only one trash disposal site for the entire campground, at the back gate, on your way out. If we ever come to Dubois again, this is the place to stay.
Oct 06, 2020
Beautiful park!
- Alisha Combs on Google
Sep 28, 2020
Excellent stay, kind and helpful owners and friendly clientele. It was my first KOA experience and plan to visit KOAs everywhere now.
- Eddie B on Google
Sep 26, 2020
They were very helpful in finding a spot for us. Thank you for your kindness!
- Jeanette K. Jones on Google