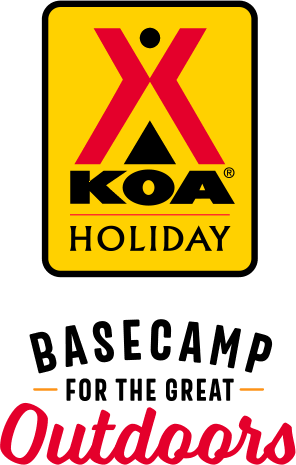 KOA Holiday Campgrounds
Whether you're exploring the local area or hanging out at the campground, KOA Holidays are an ideal place to relax and play. There's plenty to do, with amenities and services to make your stay memorable. Plus, you'll enjoy the outdoor experience with upgraded RV Sites with KOA Patio® and Deluxe Cabins with full baths for camping in comfort. Bring your family, bring your friends, or bring the whole group – there's plenty of ways to stay and explore.
KOA Holidays Feature:
RV Sites with a KOA Patio®
Deluxe Cabins with full baths
Premium Tent Sites
Group meeting facilities
Directions
Located in the heart of Dubois. Take Hwy 26/287 into town, turn south on Riverton St at the Conoco station and go one block. Look for the largest elk in the Rockies.
Get Google Directions
Oct 17, 2021
Great place to stay, safe, very clean bathrooms and showers, a few hours from Yellowstone and so much more natural wonders to observe!
Oct 15, 2021
The campground was lovely with beautifully laid out sites. Our site was on the River and it was lovely to look at and hear. The only downside of the stay was the lack of downtown opportunities. We loved having the downtown area within walking distance however the town appears to be dying and too many shops were closed.
Oct 12, 2021
We only stayed 2 nights and It may have been off season. The pool and game room were closed and we could not buy fire wood. as the store closed early. Campground was very clean including the bathrooms. I did not like the saloon style doors on the showers.
Oct 09, 2021
We loved Dubois! Your staff were super nice and the location was spot-on! We hope to visit again.
Oct 09, 2021
A++++ Campground
Oct 08, 2021
We had a nice site next to the small stream.. nice facility and super nice bath/shower houses..
Oct 06, 2021
Beautiful facility. We had a perfect site on the river. Clean restrooms. Very good selection of gift and camping items.
Oct 05, 2021
Friendly people, clean facilities . Enlarging the dog park would be nice
Oct 04, 2021
We had a back in site on the river which was super. WiFi and Verizon signal was ok. Hookup were good. Bathrooms were spotless. Staff was great. This was our second trip to Dubois KOA and we will return again. Roads in and out have a learning curve but it was fine.
Oct 04, 2021
When I first arrived all I could think is "WOW!" The only thing I would have changed is a little more protection from the wind. Everything was kept clean. Everyone was friendly. I will be staying with them again and probably a little longer so I can have more time to explore.
Oct 04, 2021
Good location. Nice campground but no provision to getting back to my pull thru site without backing down the road.
Oct 03, 2021
The cabin was very clean and inviting. We had a bit of a problem with the sleeping arrangements because yes it probably sleeps 5 as advertised if it is a family with 2 adults and 3 small children. We had 4 adults so it was a tad cramped. Bed frame could be a bit longer as two people were 6 feet tall and complained that the frame was too short for them. Campsite was gorgeous. Loved the river.
Oct 03, 2021
The camp was impeccable. We loved the river side site. The hosts were friendly and accommodating. We will be back.
Oct 02, 2021
We stayed here two years ago and had a site along the River. It was wonderful! DON'T let them offer you sites 21-22-23 or 24. They will entice you with a dog pen for your pets. You might as well be staying in a car lot, old buildings and a rock pile as amenities. Plus they are the highest priced KOA we've ever stayed in. We stayed at a luxury RV park out of West Yellowstone for less then this.
Oct 01, 2021
Great staff. Very clean and well maintained and care for. Staff was very helpful on anything asked of them. No doubt one of the best KOA sites I have ever stayed at. Highly recommend this site. Beautiful views and on the river. Reasonable drive to Teton park as well as Jackson Hole.
Sep 30, 2021
Staff were great! The "puppy playpen" is a fabulous asset
Sep 30, 2021
We LOVED it. I felt like the husband and wife team had been our friends forever. I was so excited to see a grizzly bear that day that I ran in to tell her……and she listened. They have renewed our faith in KOA's. The site was perfect, the store had awesome items for purchase, and some sites have dog kennels. The bathrooms/showers were spotless clean and warm for a morning shower. Thank y
Sep 30, 2021
Our stay was very nice.The accommodations were clean and maintained.Loved being by the river!Very friendly and helpful people.
Sep 29, 2021
The location on the Wind River was beautiful and we enjoyed the friendly staff.
Sep 29, 2021
This was my 2nd time to this campground. What a great location right on the Wind River. People who work at this KOA are great. Always very helpful with local points of interest. At the end of a long day you can walk into town for a great dinner. I will come back again. Next time i hope o bring our grown Children and the Grandkids. Keep up the great work. Jim and Mariann Johnsburg Il
Sep 29, 2021
A very pretty KOA campground. We have stayed at many other KOA's and this is a lovely spot. The people were warm and welcoming. I would rate it much higher if the price per night wa more reasonable. The cost per night was nearly double the average price we pay for other KOA locations.
Sep 29, 2021
Way over priced pool wasn't open, even when they said they have heated indoor pool
Sep 29, 2021
Staff was excellent and very helpful when we wanted to move sites. Everyone was very friendly. Good experience overall . Thank you!!
Sep 28, 2021
The campground hosts have been fantastic to work with for the last six months while we are planning a wedding to be held campground grounds.They were very helpful and accommodating. they made us feel very welcome. my daughter said that her wedding was perfect. we would not have been able to do it without the hosts. The campground was clean, and organized. every aspect of our stay was good!
Sep 28, 2021
Beautiful setting, close proximity to downtown, cabin was clean, facilities were very clean. We enjoyed our stay. Staff was very friendly and helpful.
Sep 27, 2021
Beautiful sites that back-up the river. Clean and quiet. The showers are not very private with short swinging doors that I couldn't latch. Sign warning that floors slippery when wet did not keep me from falling due to step down thru swinging doors!
Sep 27, 2021
This was so crowded, I was in the tent area and was kept awake by loud diesel truck trying to manuever a camper into back in spot for 30 minutes. At 9 pm, had bright lights back and forth, nearly hit my suv, the they kept their outside light on til10:30. My first stay last year was perfect, but new configuration leaves tent campers behind. Very sad, I love Dubois but cannot afford camper.
Sep 27, 2021
Loved the area and the staff were great! Park was well kept. Hope to return next year.
Sep 27, 2021
Very friendly and nice staff, quiet location! We will be back next year!
Sep 27, 2021
Great spot great neighbors
Sep 26, 2021
Bathrooms very clean.
Sep 26, 2021
Great stay at this KOA. Wonderful staff and well-maintained park.
Sep 26, 2021
Great campground with great staff
Sep 26, 2021
Everything went smoothly, staff was very nice
Sep 26, 2021
Great for short or long stay! Staff and town are very hospitable!!
Sep 26, 2021
Beautiful setting, very friendly and helpful staff. Very quite.
Sep 25, 2021
Overall not a bad place to stay. There are not a lot of options near the Tetons for bigger trailers. It was clean and quiet. We were disappointed with the WiFi connection which kept going in and out.
Sep 25, 2021
Great park and people. Being in a very remote are, WIFi was pour until 11:00 at night. :-) National Museum of Military Vehicles in town was a great highlight.
Sep 24, 2021
Very nice Campgroud, big spacious sites great staff. Would stay here again
Sep 22, 2021
Beautiful site, great, friendly staff. We will be back!
Oct 19, 2021
The husband and wife team are so friendly and gave great advice about the area. The KOA was spotless clean. Including the store, the grounds and bathrooms/showers. The owners care about dogs and have put a kennel at some sites. I would definitely stay here again!! We went sightseeing for a day and when I returned I had to run to office to share that I saw my first ever grizzly bear and two yearlings. The manager is such a positive person and a good listener. She's exactly who you want greeting people. Thank you for a wonderful and friendly stay! I forgot to mention: they have great internet, so bring your Hulu, Netflix, Amazon logins.
- Cindy Rinaldi on Google
Oct 01, 2021
The staff was very helpful and pleasant. Backing up to the river was enjoyable, but because of the cold nights , we kept the windows closed. The recently opened National Military Vehicles Museum is a must see . It is very well displayed and I would recommend taking the guided tour . The speaker was very knowledgeable and kept our interest for three hours. It is about 9 miles east of Dubois.
- Regina Crawford on Google
Sep 22, 2021
Very nice office staff. Very clean campground. Great laundry facilities and not expensive. Showers were clean and plenty of hot water. Kind of far from Grand Teton but the drive back and forth is pretty. We enjoyed our stay here. Would definitely stay again if in the area.
- Scenic02704878215 on Trip Advisor