What To Do in Door County, Wisconsin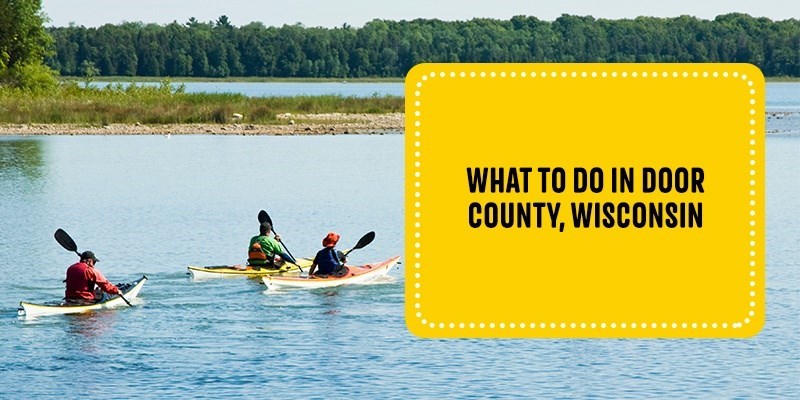 Door County, Wisconsin, is the peninsula that encompasses dozens of culturally rich towns and separates Green Bay from Lake Michigan. Thanks to its prime location, the region is full of outdoor recreational activities and events. What is there to do in Door County? You can camp, visit wineries and cherry orchards, spend the day on an island, go for an adrenaline-filled ATV ride, go birding in the woods or visit one of the many parks and trails — the possibilities are endless.
Learn more about some of the area's most exciting activities and attractions.
Go Camping
We may be biased, but we believe one of the most fun things to do in Door County, Wisconsin, is to go on a camping trip. There is so much to do and see outdoors, and a camping trip is a great way to experience it all. When you stay at a place like Kampgrounds of America, you have everything you need for a comfortable and memorable trip, all in one place. Door County KOA is safe and pet-friendly, which makes it a great place to spend your vacation during any season.
While you are on your camping trip, keep an eye out for the northern lights. You can see this night sky light display from many parts of the peninsula. A northern lights show can happen any time of year, so the best way to catch one is to use a Kp tracker to monitor activity and search the skies on clear nights.
Learn About the Local History
Door County has been home to inhabitants since 10,000 BC, including several nomadic groups, Native American tribes and large Belgian and Swedish populations. Throughout each town, you can spot the influence of these cultures. To see Door County through a historical lens, you can:
See the Belgian chapels: Many parts of Door County, including the town of Brussels, were settled by Belgian families who helped establish the area. You can still see this influence around the county, including several Belgian chapels that are still standing. While some of these chapels are under private ownership, some have limited and open access to the public, including the Saint Odile Chapel, the Saint Ghislain Chapel and the Our Lady of the Snows Chapel.
Visit the Door County Maritime Museum: Door County is known for its shipbuilding, especially during the first and second World Wars. Learn more about this shipbuilding history and see maritime artifacts at the Door County Maritime Museum in Sturgeon Bay.
Experience the Swedish influence: You can see the impact of early Swedish settlers in various architecture, festivals and restaurants around the county. Experience it for yourself at Björklunden, part of the campus at Lawrence University, which is full of Swedish architecture and design. You can also sample Swedish flavors at places like Al Johnson's Swedish Restaurant or Grandma's Swedish Bakery.
Tour the Alexander Noble House: Tour the Alexander Noble House in Fish Creek to learn more about daily life in the 1800s and 1900s, including exhibits featuring period clothing and typical domestic duties of the time.
Do not leave without participating in a classic Door County cultural tradition — a fish boil! A fish boil is a complex and delicious way of preparing whitefish for a large crowd, and there are many local eateries you can visit to experience it.
Visit Washington Island
Washington Island is a 35-square-mile island that is only a short ferry ride away from the mainland. You can visit the island year-round and explore Schoolhouse Beach, go fishing, take a boat ride or take a hike. Head to the Mountain Park tower to get a breathtaking view of the surrounding area, or visit the limestone-crafted Thordarson's Rock Island Boathouse to snap a picture. While you are there, visit a local restaurant and order a plate of lawyer, a local favorite coldwater fish.
Go Birding
Door County is a great place to go birding, and there are dozens of bird species to see, such as:
Great blue herons
American robins
Northern cardinals
Brown thrashers
Indigo buntings
Ospreys
House finches
Ruby-throated hummingbirds
Turkey vultures
You can see these birds and many others from several vantage points across the county, including state parks, hiking trails and nature preserves.
Visit a Scenic Lighthouse
Some of the most popular attractions in Door County, Wisconsin, are the 11 scenic lighthouses that dot Lake Michigan's shores and the surrounding area. Several of these lighthouses were built as far back as the 1800s, and some are open for tours to the public. To see all of these lighthouses at once, consider visiting during the spring or autumn Door County Lighthouse Festival, where you can participate in a tour of each lighthouse, including those normally unavailable to the public.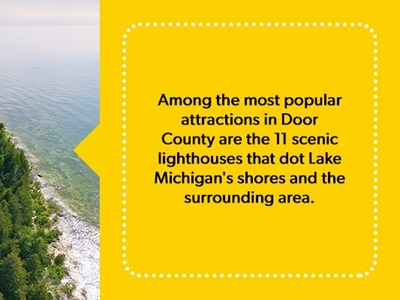 Go Cherry Picking
Door County has another rich history — cherries. Since the 1940s, it has been one of the most significant cherry producing regions in the entire world, which you can still see evidenced today at local cherry orchards. Check local restaurant menus for cherry-themed desserts, or stop by a cherry orchard to pick your own cherries to take home with you. Many orchards also sell cherry-infused products, including cherry wines, cherry sausages and themed gift baskets.
Explore an Underwater Shipwreck
With more than 350 miles of waterways connecting the Great Lakes to the ocean — including the infamous strait that connects Green Bay with Lake Michigan known as Death's Door — the Door County area has seen its fair share of shipwrecks over the centuries. Some of these shipwrecks were due to storms or onboard fires, while others were a result of pirates.
You can see the remnants of many of these shipwrecks while on the water in your boat or kayak, but in Door County, you can explore even further with an underwater shipwreck exploration. There are two types of underwater shipwreck adventures: a snorkeling expedition in 60-feet or less of water or an advanced tour in 100 feet or more of water, which requires focused training and special equipment.
Spend the Day at the Beach
One of the top things to do in Door County, Wisconsin, is to spend a warm summer day at a breezy lakeside beach. You have several beaches to choose from, including local favorites like:
Nicolet Beach: At Nicolet Beach, you can rent a kayak, paddleboard, paddleboat or bicycle to explore the area after you have had your fill of swimming and sunbathing on the sand. When you get hungry, you can hit up the concession stand before playing a round of beach volleyball or watching the sunset on the water.
Waterfront Park: Waterfront Park in Sister Bay is the ultimate family-friendly destination, with a playground, picnic and barbecue area, outdoor stage for concerts and 600 feet of sandy shoreline.
Whitefish Dunes State Park: The beach at Whitefish Dunes State Park is one of the most popular in the area. It has sand dunes, rocky shoreline and a mile of available beach to enjoy. It is also just steps away from the forests of the state park, making it a great place to spend the day.
Go Fishing
Sturgeon Bay is the bass fishing capital of the world, but that is not the only fish you can catch in Door County. It is also a popular region for salmon, walleye, northern pike and trout. You can cast in Lake Michigan, Green Bay or any of the several inland rivers in the area. Fishing is not limited to the warmer months, either — autumn fishing is the ideal time to catch chinooks and brown trout, and ice fishing for whitefish and trophy walleye continues to gain popularity. Remember to get your non-resident or single-day fishing license before heading out.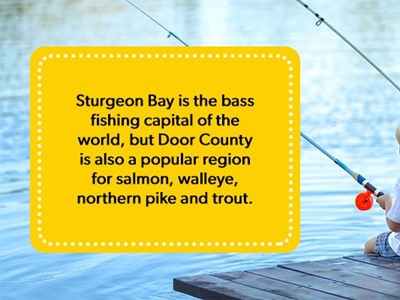 Find the Perfect Hiking or Biking Trail
Spend your Wisconsin vacation getting active and exploring the great outdoors of Door County with a hiking or biking trip. Choose from one of the county's several parks, including:
The Ridges Sanctuary: The Ridges Sanctuary is a nature preserve in Baileys Harbor, where you can see the famous namesake ridges caused by Lake Michigan. The Sanctuary is an official Wisconsin State Natural Area, a Wisconsin Wetland Gem and a National Natural Landmark due to its 1,600 acres of diverse animals and plants. Learn more about the area at the Cook-Albert Fuller Center or hike one of the numerous trails.
Peninsula State Park: At Peninsula State Park, you can hike by the water's edge, play a round of golf, lounge on the beach, climb towering stone bluffs and go sightseeing for wildlife.
Rock Island State Park: Rock Island State Park is a primitive area with no vehicle access. Instead, you take a ferry from the mainland to Rock Island and spend the day hiking to different historic lighthouses or enjoying the beach.
Cave Point County Park: Cave Point County Park is known for its deep above-water and underwater caves, which meet the rolling waves to create large sprays and splashes of water.
Play a Round of Golf
Choose from 20 different golf courses across Door County, including those with natural hills, waterfront views and a picture-perfect look at the vibrant autumn foliage. Some of the area's most popular courses include:
Peninsula State Park Golf Course
The Orchards at Egg Harbor
Deer Run Golf Course
In addition to traditional golf, you can also play a game of mini golf at The Red Putter Miniature Golf course or try a game of disc golf, which continues to grow in popularity across the county.
Go Boating
So much of Door County culture is due to its location as a peninsula, so one of the most authentic ways to experience the area is by boat. Door County has several boat marinas and kayaking destinations that span across bays, estuaries, harbors, state parks and islands.
Depending on the type of experience you want to have, you could:
Go kayaking, canoeing or paddleboarding on the lakes or rivers
Bring a group of friends or family and rent a pontoon boat for the day
Take a guided boat tour of the area
Rent or bring your own sailboat or speedboat
Charter a fishing boat or guided fishing trip
If you choose to go boating, remember to pack your day bag with everything you need for a day on the water, including sunscreen, sunglasses, a map of the area, a jacket, a life vest and plenty of drinking water. You could also shop at local stores and markets to assemble a Wisconsin-inspired picnic lunch.
Tour a Local Winery
See a full-scale winery in operation and sample the offerings at one of Door County's many wineries and orchards. Follow the Door County Wine Trail to visit seven of the region's most popular stops, or go on a self-guided quest for the best glasses of wine on the peninsula.
Some of the most popular local wineries are:
Simon Creek Vineyard and Winery in Sturgeon Bay
Lautenbach's Orchard Country Winery and Market in Fish Creek
Stone's Throw Winery in Baileys Harbor
Harbor Ridge Winery in Egg Harbor
If you cannot make it to the wineries, many local restaurants feature regional wine on their menu so you can experience the tastes of the county whichever way you prefer.
Go ATVing
If you are on the peninsula looking for an adventurous, action-packed way to spend your vacation, Door County has you covered. ATVing is an excellent way to experience the area because you can access otherwise tough to reach spots. The region is filled with dozens of ATV trails, including the Southern Door along Green Bay and most of Washington Island.
If you need some help getting started or want to learn more about ATV riding in Door County, there are several outdoor clubs and rental stores that can guide you in the right direction.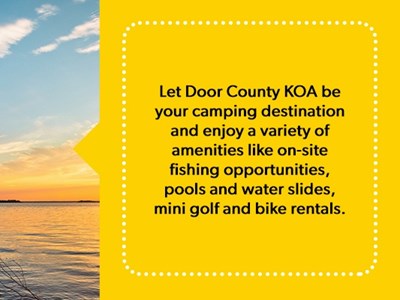 Reserve a Stay at Door County KOA
Hiking, boat trips, fish boils, historical attractions, ATVing — with so many different things to do on the Door County Peninsula, you are guaranteed to have a good time no matter what you choose. Let Door County KOA be your camping destination and enjoy a variety of amenities like on-site fishing opportunities, pools and water slides, mini golf and bike rentals. You can also enjoy other on-site recreation like a game room, a horseshoe pit, splash park and themed weekend events.
Although certain events and amenities vary depending on seasonal availability, there is always something to do and new campers to meet. Reserve your campsite today!