Kid-Friendly Things to Do in Door County, WI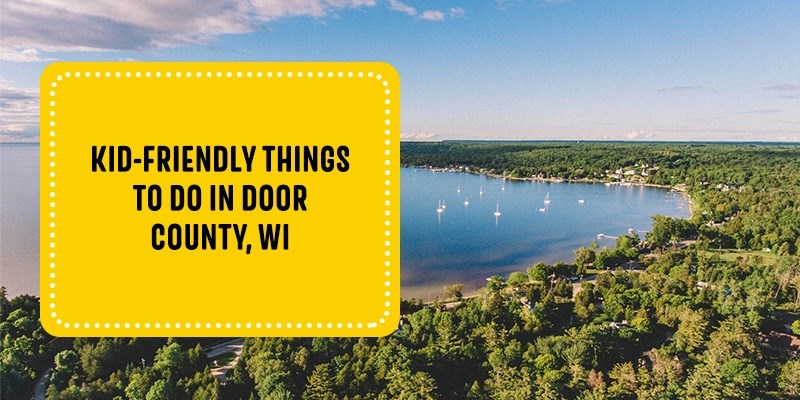 Door County, Wisconsin, is home to some of the most beautiful sights in the state. Just north of Green Bay, the county features 300 miles of shoreline, where you will find gorgeous cliffs, serene waters and rich history to explore. You are sure to discover plenty of kid-friendly activities in Door County, perfect for the whole family.
If you're hoping to take the kids on a fun-filled adventure, follow our guide to enjoy some of the best parks and activities the county has to offer.
Tips for the Best Door County, WI, Family Visit
Whether you are traveling from out of town or you're a resident looking for new ideas for your kids, you will find bountiful family activities to do in Door County. To ensure smooth travels, we've compiled a list of some tips for your family to help plan your trip:
Map out your itinerary: After you read through our list of family-friendly things to do in Door County, WI, create a list of activities your loved ones would most enjoy. It takes about an hour to travel from Sturgeon Bay to the peninsula, so mapping out these places will ensure less time driving and more time exploring.
Research: Make sure you research weather changes and closures before your trip. The lake can get quite windy and cool at night, so be sure to pack hoodies and pants for the family.
Carry out for a picnic: Order food ahead of time to skip the lines. Pick up your food and picnic with the kids at a .
Schedule down-time for relaxation: Some of the best family memories happen outside of those scheduled activities. Remember to be present and set aside time for spontaneity and relaxation.
Door County Historical Activities With the Kids
Door County has plenty of places to visit when your kids want to interact with and learn about its unique history. From the interactive historic villages to the reenactments and stories, the area has something for the whole family to enjoy. A few of the most fun places for kids include:
The Noble House
Kids will enjoy visiting the home of Alexander Noble, one of the founders of historical Fish Creek. On certain days, you will get to hear about the house's history from an actor who plays Alexander Noble. The home is listed on the National Register of Historic Places, making it a bucket-list entry for any history enthusiast.
The Noble House is located at 4167 Main St., right in the middle of downtown Fish Creek, WI.
Door County Maritime Museum
If your child has a love for maritime travel, plan a visit to this museum. The Door County Maritime Museum celebrates the area's history with galleries that showcase the lives of ship captains, fishermen and lighthouse keepers. Get a view of scenic Door County from the Jim Kress Maritime Lighthouse Tower to round out your visit.
Visit the Door County Maritime Museum at 120 N. Madison Ave., Sturgeon Bay, WI.
Anderson Dock
Along the northern scenic shores of Lake Michigan lies the town of Ephraim and this historical dock. Kids can learn about the big ships from Milwaukee and Michigan that docked here and even write their names on the dock's warehouse walls to be included among the boaters of history.
Find Anderson Dock at 3083 Anderson Lane, Ephraim, WI.
Fun and Art Activities for Kids in Door County, WI
Enjoy fun-filled activities for the kids in Door County, including mini-golf, go-kart and art, at these locations:
Egg Harbor Fun Park
Enjoy exciting activities for the family all in one place. Egg Harbor Fun Park has a lot to enjoy — mini-golf, go-karts, bounce zone and zip line await. The park is open seasonally, so plan your trip accordingly.
Find Egg Harbor Fun Park at 7340 State Highway 42, Egg Harbor, WI.
Hands-On Art Studio
This DIY art studio offers daily projects for the kids, including painting, mosaics and ceramics. Drop in with the family and be ready to express your creativity together.
Hands-On Art Studio is located at 3655 Peninsula Players Road, Fish Creek, WI.
Outdoor Adventure With Kids in Door County, WI
Take your kids to some of the most scenic parks in the country in Door County. Browse this list of kid-friendly activities that include parks and outdoor recreation:
Cave Point County Park
Known for its limestone ledges and underwater caves, Cave Point County Park is a beautiful and exhilarating place for residents and visitors alike. Kayak, hike and explore with older kids while observing the gorgeous surroundings.
Visit Cave Point County Park at 5360 Schauer Road, Sturgeon Bay, WI.
The Ridges Sanctuary
Take your kids on a self-guided or naturalist-guided hike of this National Natural Landmark. Explore the unique area while learning about the natural and cultural history of the ridges.
Hike the Ridges by visiting 8166 State Highway 57, Baileys Harbor, WI.
Stay at Door County KOA for Kid-Friendly Amenities
If you are searching for a fun and comfortable place to stay on this side of Wisconsin, . This campsite sits among 58 acres of lush, wooded land for an enjoyable retreat with your family. Door County KOA provides a wide range of , including:
Spray Park: Fun and interactive water activities are sure to keep the kids busy. You can even enjoy outdoor pools and water slides that are fun for all.
Arcade: Arcade games are perfect for the family when you are looking for some indoor fun.
Playground: Kids can slide, swing, climb and let out that energy at Door County KOA playgrounds.
Bike rentals: Enjoy precious time with the kids while exploring the picturesque surroundings on bikes.
Themed weekends: The Door County KOA campsite features themed weekends with games, crafts, food and more to enjoy.
Sports: Hit the sand volleyball courts or visit the mini-golf course for some family-friendly competition.
Explore Door County KOA for Kid-Friendly Fun
Door County is a beautiful and exciting place for kids and adults alike. With its scenic parks, local art galleries and unique history, there are a variety of activities for kids to enjoy.
When you stay at Door County KOA, you will find the recreation you need for a fun retreat with your kids while exploring the area. Door County KOA has unique amenities and various sites to choose from, including RV sites, Deluxe Cabins and tent sites.
Bring the kids to Door County KOA for an unforgettable trip. today!