Hiking in Door County, Wisconsin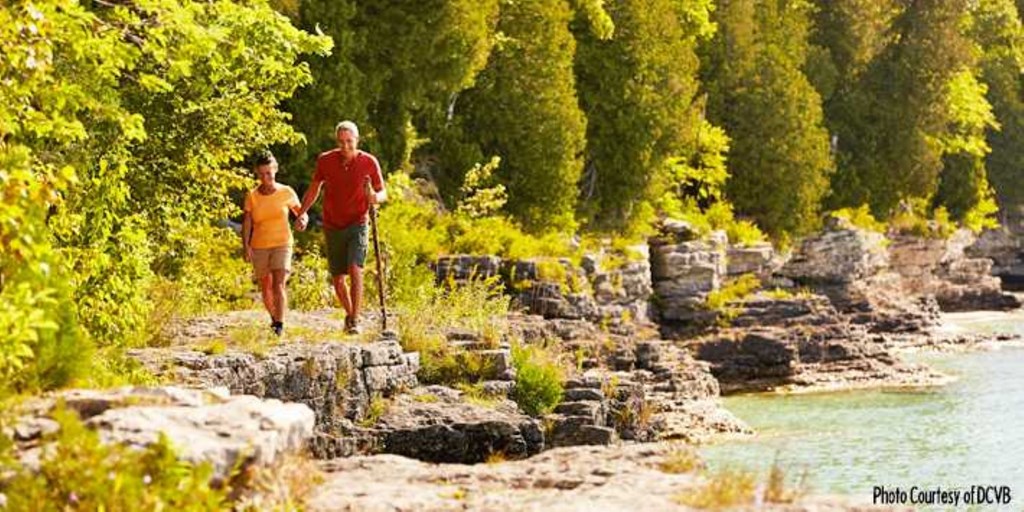 Hiking in Door County, Wisconsin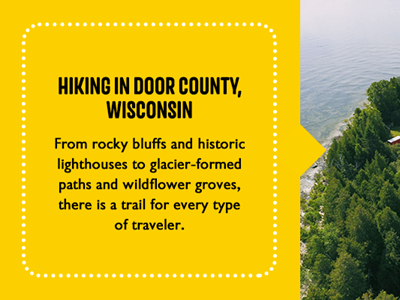 One of the greatest parts about visiting Door County is the abundance of nature trails, state parks and scenic coastal sights at every turn. From rocky bluffs and historic lighthouses to glacier-formed paths and wildflower groves, there is a trail for every type of traveler. These are some of the best hiking locations in Door County, WI.
Beginner-Friendly Hiking Trails
Beginner-friendly trails are easy, level and simple enough to complete in one day or less. Remember, though, that even trails rated easy might change during and after significant rainfall or snow — always plan ahead and prepare accordingly.
Trail Tramper's Delight Trail at Peninsula State Park
Trail Tramper's Delight Trail at Peninsula State Park is an easy, mostly shaded trail that got its name from the original hikers who traveled the path to and from the nearby lighthouse and shore to seek respite from the hot summer sun. The path is 0.5 miles one way. You can access the trailhead for Trail Tramper's Delight near Eagle Bluff Lighthouse on Shore Road.
Ridges Sanctuary Trails
Whether you prefer a self-guided tour at your own pace or seek the education and immersion you get with a guided outing, the Ridges Sanctuary at the Cook-Albert Fuller Center on Highway 57 has both. The sanctuary is home to diverse ecosystems that showcase colorful flowers, lush green forests and wildlife.
The Ridges includes five separate trails that are accessible between 9 a.m. and 5 p.m. each day, season and weather permitting:
Hidden Brook
The Sanctuary
The Family Discovery Trail
Appel's Bluff
Logan Creek
There is a small trail fee, and if you are interested in a winter hike, several paths at the Ridges are also open for snowshoeing, with rentals available on-site.
Intermediate and Advanced Hiking Trails
For experienced hikers, there is nothing like the challenge of an intermediate or advanced hiking trail to stay active and feel renewed. Trails are rated as intermediate or advanced if they have tricky terrain conditions, are unlevel or take a long time to complete.
Thordarson Loop at Rock Island State Park
To get to the 5.2-mile Thordarson Loop — which was named for the Thordarson family, who were former owners of the island — you have to first take a ferry ride to Rock Island State Park. The loop will take you around the entirety of the island, providing breathtaking views along the way.
After arriving on the island, you will start near the Thordarson Boathouse and travel until you return near the boathouse from the south side. You will see the lake, Pottawatomie Lighthouse and plenty of trees during your hike.
Eagle Trail at Peninsula State Park
Eagle Trail is a challenging 2-mile loop at Peninsula State Park that takes hikers near steep limestone bluffs, around caves and through patches of wildflowers. It is a complex path for experienced hikers only, but the views make it well worth the effort.
You can access Eagle Trail from Eagle Terrace, Eagle Panorama or Tower at the park.
Horseshoe Island
Not to be confused with the Horseshoe Road trail, Horseshoe Island is an experienced hiker's destination about two miles off the shore of Peninsula State Park. The trail takes hikers over the island's entirety.
What makes the hike challenging is how you get to the island. Adventure seekers prefer to take a kayak, canoe or boat from Nicolet Bay Beach to reach Horseshoe Island.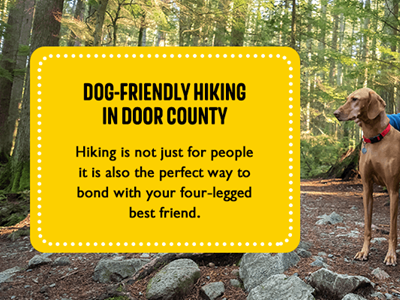 Dog-Friendly Hiking in Door County
Hiking is not just for people — it is also the perfect way to bond with your four-legged best friend. Always bring a leash and doggie bags to clean up after your pet and keep them close on outings.
The Beach at Whitefish Dunes State Park
From November 1 to April 1, leashed dogs are permitted on the 0.75-mile stretch of beach near the parking lot at Whitefish Dunes State Park beach. Your dog will love playing in the cool waters and digging around in the sand — do not forget your furry friend's favorite toys!
All leashes must be no longer than 8 feet long, and dogs are not permitted in any indoor buildings or picnic areas.
Europe Bay Trail Loop at Newport State Park
You and your dog will enjoy invigorating exercise and shady trees on the 7-mile Europe Bay Trail Loop at Newport State Park near Ellison Bay. The path is relatively easy, with mostly level terrain and sweeping views of sand dune shores, Lake Michigan, Detroit Island and the Pilot Island lighthouse.
The loop was originally used as an old logging road, but today, it is home to hikers, bicyclists and leashed pets alike.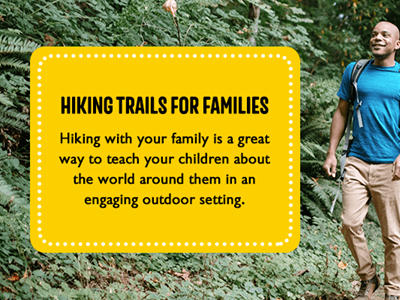 Hiking Trails for Families
Hiking with your family is a great way to teach your children about the world around them in an engaging outdoor setting. These trails are educational, interesting and perfect for all visitors.
Sentinel Trail at Peninsula State Park
Follow the forest ecology signs that lead the way down the 2-mile Sentinel Trail loop at Peninsula State Park. The markers will teach you and your family about the area, including the types of plants and forest birds you might see. You can access Sentinel Trail from Eagle Tower parking lot, or you can come in from the Eagle Trail connection.
Poetry Trail at Newport State Park
If you are looking for good hiking in Door County with an unexpected twist, Poetry Trail at Newport State Park is the perfect fit. The trail itself is about a mile long, with occasional spots of rocky terrain and convenient benches for resting. What makes Poetry Trail so unique are the 10 stanchions that display the work of various local and famed poets.
You can access Poetry Trail through the Visitor Center parking lot.
Brachiopod Trail at Whitefish Dunes State Park
Brachiopod Trail is a 1.5-mile interpretive trail at Whitefish Dunes State Park, where your journey is led by a brachiopod mascot named Byron. A brachiopod is a marine animal with two shells, like a clam, that was once common in the area waters.
The trail is accessible from the shelter building near fossil rock wall at the shore.
The Ice Age National Scenic Trail
The Ice Age National Scenic Trail stretches one thousand miles across 30 Wisconsin counties and offers refuge for millions of hikers, bicyclists, snowshoers, cross-country skiers and backpackers every year. The trail is a result of 12,000-year-old glacier formations that left the land with sculpted and varied terrain — a fascinating sight for visitors of all ages.
For an easy day trip, head to Potawatomi State Park and find your entrance near the old observation tower for a 2.8-mile stretch of the trail.
Kampgrounds of America Is Your Basecamp for Door County Hiking
With so many hiking trails to choose from, why pick only one? Reserve a stay at Door County KOA Holiday and create the perfect outdoor itinerary with all your favorite stops along the way. After a full day of exploring, you can end your day sitting by a comfortable campfire and get quality outdoor rest at a Tent Site, RV Site or Deluxe Cabin. Start planning your Door County vacation today!