Directions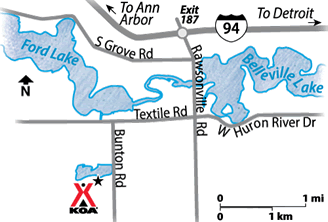 I-94 exit Rawsonville Rd - exit #187. Turn south onto Rawsonville Rd. Continue for 10.4 miles to Textile Rd. Turn west on Textile Rd for 3.1 miles. Turn south on Bunton Rd drive for 2 miles. Campground is on the west side of Bunton Rd.
Get Google Directions
Apr 06, 2021
The first night the temp dropped to 20 degrees. We had never camped when it was that cold. Our water line froze. Worse our trailer connection cracked. The facility showers and restrooms were not in service at that time. We noticed several trailer had unhooked their water lines for the night. A quick text or visit by staff to warn us of the freeze would have prevented the cost to fix.
Apr 06, 2021
Being a new campground we were happy to be there. Sad that the restrooms and showers were unable to be used and there wasn't actually a camp k9 as of yet, wish this had been a notification On their website. They did a lot of Easter activities and the kids enjoyed that. This campground and the people have a good potential to be an amazing campground. Keep up the good work!
Apr 06, 2021
Great. We appreciated that you were able to accommodate us and Tom was great.
Apr 06, 2021
This was our 1st camping trip of the season. It also was KOA Ann Arbor's Opening Weekend. While we definitely had a wonderful time. There were some hiccups along the way. I would recommend stronger communication within the KOA campground staff and also some better training on the new system. There was also problems with public bathrooms not being up and running yet.
Apr 06, 2021
Our stay was great. The staff is very helpful. The park has already improved with the new management. I can't wait to see what they have in the future. We will definitely be back.
Apr 06, 2021
The friendliest staff members I have ever met. Everyone was very helpful and very polite. This place is under new management and it's two thumbs up for me. Great place for kids and only a few seconds away from a great little lake.
Apr 05, 2021
I love this place, it's so beautiful, I love the walking trails, the activities for kids, there is so much to do they will never get bored.
Apr 05, 2021
The prices have increased since last year, and none of the amenities were open for our stay - mini golf wasn't open, the toilets and showers weren't turned on. So I paid $70/night for nothing special. Also, the lake-side spots on the east side of the campground look at the trailer park on the north side of the lake. These spots are not worth the premium price.
Mar 25, 2021
Very nice park. Very friendly staff. Loved the trail around the lake. There was a place to walk the dogs, however a fenced in area would be great. We stayed off season while working in the area and very grateful they had a place for us to stay. The new look in the office will also be great, The new manager will do great things there,
Mar 12, 2021
Excellent park, wonderful people, recommend some gravel to combat the potholes on the drive. Overall a great place to stay.
Apr 11, 2021
Beautiful, quaint little place to pull your camper. Full hookups. The lake was gorgeous, the hike around it is nice and we had successful fishing in it. Staff was super friendly. Close to several restaurants.
- kitten Perg on Google
Sep 04, 2018
We are here for 4 days. We wanted 50 amp but they were all taken. Ended up on a very sunny site with 30 amp which is ok for our big rig. The sites are mostly grass with some gravel. Nothing great about this RV Park except it's location.
- Robertcopeland on Trip Advisor
Sep 12, 2016
This campground is no longer a KOA but now privately owned. It has a lot of sites, some in shaded areas and others in the open. Some sites are beside the lake. The hosts are very helpful and friendly. We camped at site 112 which is a full hookup site in the open and is a good size. These sites are grass covered with a fire pit and a picnic table. The fire pits are holes in the ground and need to be marked so you don't drive into them while parking. The laundry has about 6 washers and driers and cost $1.00 per load. The laundry and bathrooms just need to be updated and a fresh coat of paint. We stayed here and drove to the Henry Ford Museum, approx 40 minutes away but very easy to get to. No cable but internet is available. We would not hesitate to stay here again. The roads need to be graded and gravel added and the potholes filled in.
- Gilliedog on Trip Advisor