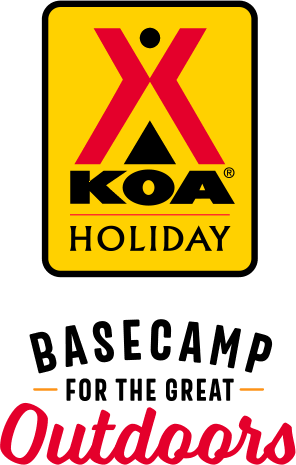 KOA Holiday Campgrounds
Whether you're exploring the local area or hanging out at the campground, KOA Holidays are an ideal place to relax and play. There's plenty to do, with amenities and services to make your stay memorable. Plus, you'll enjoy the outdoor experience with upgraded RV Sites with KOA Patio® and Deluxe Cabins with full baths for camping in comfort. Bring your family, bring your friends, or bring the whole group – there's plenty of ways to stay and explore.
KOA Holidays Feature:
RV Sites with a KOA Patio®
Deluxe Cabins with full baths
Premium Tent Sites
Group meeting facilities
Directions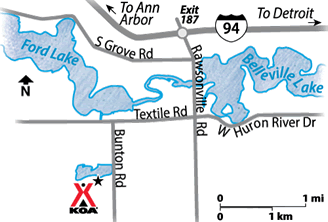 I-94 exit Rawsonville Rd - exit #187. Turn south onto Rawsonville Rd. Continue for 1 mile to Textile Rd. Turn west on Textile Rd for 1 mile. Turn south on Bunton Rd drive for .07 miles. Campground is on the west side of Bunton Rd.
Get Google Directions
Sep 14, 2021
Was there to go to the Michigan game, staff was very friendly and helpful with everything. Will definitely stay here again in the future.
Sep 14, 2021
Staff was friendly. Wish more campsites had grass and not just dirt. The playground was also quite small. The slide looked like it was for toddlers.
Sep 14, 2021
very nice stay, the staff was friendly and helpful, could use another bathroom facility in the park tho..
Sep 14, 2021
Everyone friendly and helpful.
Sep 14, 2021
Great waterfront full hookup campsite!
Sep 14, 2021
Very relaxing, me and my wife really enjoyed ourself.
Sep 14, 2021
Todd and Christina were very helpful and nice. Sammy successfully gave directions to us. I Love the lake area. Will definetly will return.
Sep 14, 2021
Loved all the shade from trees! Kids loved the water slide and beach! Dogs loved the water and dog park! Will be back! Would love to see enhancements to the dog park and maybe a playground??
Sep 14, 2021
We had a great stay!! We will be back!
Sep 14, 2021
Stayed at site #46, narrow with trees on both sides with gravel, fairly level. My 16' trailer fit fine. People were very nice, helpful with directions, etc... Quiet at night, nice neighbors. No problems with noise nor to much light at night. Slept great. Lake was nice, nice walking trail. My dog liked it too.
Sep 12, 2021
Great place to stay in the Detroit area! Close to everything!
Sep 11, 2021
Very friendly staff and easy to park campsites
Sep 10, 2021
We were back near the water, pretty but very muddy after the rain. No grass. Very little gravel. Too many trees for big RV's. Next time we would stay in the front field. More grass there. Lots of potential for a nice park but not there yet
Sep 10, 2021
Just enjoyed the peace and quiet. Plenty of shade for the hot summer days. Was easy to get to. Friendly worker's.
Sep 10, 2021
The park has good views and a beautiful lake but it's way too expensive for the overall quality of the park. You charged me $60 for one night minus my 10% and I didn't even have 50smps! That was the most expensive night out of my whole trip from Ocala, FL to Michigan UP.
Sep 10, 2021
We booked our reservation online the morning of our first day. It said there was only 1 full hook up pull through site available. We booked it and were placed on site 5. During our stay the other pull through full hook up sites on that end of the campground were NEVER completely full. So why the lie on the website about how many sites were left? Very dusty due to gravel. Expensive to stay here.
Sep 09, 2021
We stayed over Labor Day weekend and the place was packed and noisy. Loud music blaring. The day after when most went home it was very pleasant. We were in a nice shady, quiet area,
Sep 09, 2021
We had a great time the new general managers are awesome. Can't wait to camp there again.
Sep 09, 2021
We decided to camp over Labor Day weekend, pretty last minute and your KOA happened to have a spot available. The staff was very friendly and was kept very busy with a full campground that weekend. Thankfully we decided to stay until Tuesday so it was nice to be able to relax while everyone else was leaving. The store has a lot of fun things as well as essentials.
Sep 08, 2021
Looking forward to this campground growing. Everyone was so friendly and we love the wooded campsites. A toddler swing would be a nice perk. I was also surprised about the lack of beach/sand at the lake. Luckily the playground had some sand to play in.
Sep 08, 2021
Our campsite was ridiculously small.
Sep 07, 2021
Extremely disappointed in the rate increase. We have been coming to this campground for over 20 years and have never paid so much to camp. Your upgrades do nothing for a self-contained camping unit. The roads were way too dusty to enjoy sitting outdoors. We will not be back to this campground and I will be reaching out to corporate KOA about this.
Sep 07, 2021
The staff were all so nice and friendly. I just feel the campground needs some TLC. There were a lot of dead branches falling, I was worried about our awning. The beach area really needs some work. If them 2 improvements were made, it could be a lot better
Sep 07, 2021
Nice clean campground with plenty of activities!
Sep 07, 2021
Beautiful campground and very friendly staff! Great activities for the family!
Sep 07, 2021
Had a great weekend! The campground is clean. The playground left a bit to be desired, but my daughter loved the swings. All in all a great place.
Sep 07, 2021
The staff there was great! Especially all the girls that help run the front desk. They do a great job of making sure there were not only fun things for the kids to do, but us adults as well. We will definitely be coming back!
Sep 07, 2021
Best camping trip this year
Sep 07, 2021
This is now our go to for campgrounds everyone was so friendly and helpful it was my husband and his brothers first time camping and we could not have picked a better place...
Sep 07, 2021
Labor Day Weekend Great campground Little dusty with all the stone drives.
Sep 06, 2021
Water was out, mgmt did not seem really concerned on getting it fixed. Then had to beg for one nights refund due to the water outage. That should have been automatic for everyone paying for water... Will NOT stay here again due to their IMHO "shady practices".
Sep 04, 2021
Great stay except last night with all the noise trying to repair water line. Hoping for nice night with a fire.
Sep 04, 2021
Always enjoy our stays at Detroit/Ann Arbor KOA! Pleasant staff and lots of great work going on to upgrade roads and sites. Good work staff!
Sep 04, 2021
Had a good stay.
Sep 03, 2021
The campground is a fun place with lots of activities planned by the park. Lake is great on a warm day, with kayaks, slides, and a very nice beach area.
Sep 03, 2021
Easy access in to the Grounds that are nicely kept. Rest rooms clean. Needs more gravel on road surface to cut down on dust. ( being addressed as we were leaving)
Sep 03, 2021
Great park, lots of activities.
Sep 03, 2021
It was nice. We can see all the improvements you are making. The roads were being worked on and that made them so much smoother. We will be back.
Sep 03, 2021
The entire camp was a dustbowl with a clean coach and car when we pulled in. As you know, RV washes are $100 or a lot of work. The spots were not well numbered as we were told it was spot "005." That did not exist. Very difficult to drive 55' of rig past the river and back to the office. We normally love KOA but this was far and away our worst stay.
Sep 06, 2021
We loved our first trip here! The staff is super friendly and helpful. They had a lot of fun activities for all ages. The water slide is a hit. We will definitely stay here again.
- Lindsey Tocco on Google
Sep 05, 2021
Clean but some of the spots next to the lake really small
- betty poore on Google
Sep 04, 2021
Fun place to stay..staff is awesome..lots to do
- Tim Smith on Google