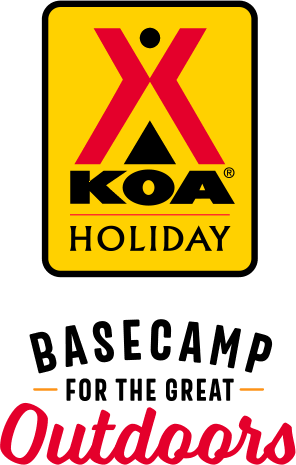 KOA Holiday Campgrounds
Whether you're exploring the local area or hanging out at the campground, KOA Holidays are an ideal place to relax and play. There's plenty to do, with amenities and services to make your stay memorable. Plus, you'll enjoy the outdoor experience with upgraded RV Sites with KOA Patio® and Deluxe Cabins with full baths for camping in comfort. Bring your family, bring your friends, or bring the whole group – there's plenty of ways to stay and explore.
KOA Holidays Feature:
RV Sites with a KOA Patio®
Deluxe Cabins with full baths
Premium Tent Sites
Group meeting facilities
Directions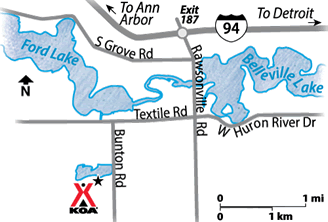 I-94 exit Rawsonville Rd - exit #187. Turn south onto Rawsonville Rd. Continue for 10.4 miles to Textile Rd. Turn west on Textile Rd for 3.1 miles. Turn south on Bunton Rd drive for 2 miles. Campground is on the west side of Bunton Rd.
Get Google Directions
Jun 17, 2021
We had such an enjoyable long weekend. The sites on the water are the best. My family and I have been coming to this location for the last four years, we are so happy to see the improvements going on, when they are done the rate increase (now that it's a KOA) will surely be worth it! We'll be back
Jun 17, 2021
Hope you get all the out of order showers fixed soon.
Jun 17, 2021
Very good staff, take you to your site and help guide you in, clean well maintained and a pleasant to be there.
Jun 17, 2021
It was alright, considering the location
Jun 16, 2021
Sight was very good level and tree saved part of the day
Jun 16, 2021
Unorganized checking. Our site was dirt. Looked unkept. Too crowded. Numbered incorrectly. If nothing else was available would stay again but not likely.
Jun 16, 2021
The bathrooms were filthy, After the fourth day of no cleaning, I asked if someone was going to clean it. The WiFi didn't work at our site. No cable or reception. The putt golf was closed and full of weeds. The flower pots and beds were full of weeds. The roads are not paved, muddy and dusty. Large planes were flying in and out of an airport. Park needs lots of maintenance. Very unorganized.
Jun 16, 2021
Very nice campground very friendly people only thing is I wish the showers were finished but it didn't put a damper on my trip
Jun 16, 2021
Great staff, very helpful. Clean campground. Looking forward to seeing what else they upgrade as they transition to a KOA.
Jun 16, 2021
Terrible billing process. Encountered site problems and was told we won't charge you for stay. Charged/ prepaid on 6/10 then charges reversed on 6/14. Then Recharged again on 6/14. So am I paying for this stay or am I not? It appears there needs to be some kinks yet worked out. Disappointed
Jun 15, 2021
It was very pleasant staff was very pleasant and was there if you had questions
Jun 14, 2021
We were super disappointed that we paid so much more this year than last year yet nothing was different. The showers we "out of order" all weekend and the main bathroom was out of toilet paper twice!! If my camper bathroom didn't work, you would still expect me to pay full price yet your facilities weren't functioning and I STILL had to pay full price? A disappointment and probable last visit.
Jun 14, 2021
Our lakeside site was wonderful and our stay incredibly enjoyable. The staff was courteous and kind. I would like to specifically commend GM Todd for how well he handled a situation with guests fishing in the beach area. Thanks to the staff who continue to be helpful through the changeover, new site numbers and computer system challenges. A highlight of my weekend was a ride in the big slide!
Jun 14, 2021
We camped there before and came to see the improvements they advertised. I hope they are not finished. The roads were the same. There were sewer pipes near our campsite without caps and they smelled. The restrooms appear unfinished. The showers were "out of order" and someone was painting them. It seems like there is still so much to be done to be a KOA quality campground.
Jun 14, 2021
It was as I expected accept of not knowing that the outside showers was closed. I extended my stay for two days. But I wasn't please after I was directed to pack up and move just two sites down because of someone who made reservation for that site. I clearly understand the process, but to load up and disconnect my trailer just to move two sites over is not showing hospitality or consideration.
Jun 14, 2021
Very responsive to our requests for cleaning our site. Disappointed in overall facility. Two showers only? All others out of order! Grass not mowed. Shabby looking overall. Unfortunate not like I remember KOA for $70/night!
Jun 14, 2021
Very disappointing! The staff member(Kim) leading us to our sight had no idea how to get a large unit into the spot. He took us the wrong way twice! Another staff member took over to assist us in getting parked in the right direction. After a rain there was 3 inches of standing water in front of our camper. 2 of the 7 showers were out of order. Only 2 showers working for the whole campground!!
Jun 14, 2021
It has very nice lake spots and a waterslide for the kids but I felt it was a little unkempt. Many trailers have been there a while and are dirty, run down and the sewage smells as you walk by. All the boats and kayaks by the docks were half filled with water. The staff was friendly but very slow on the computer. They maintained the quiet times and it was not rowdy on weekend.
Jun 14, 2021
Amazing Staff, nice hiking trail around the lake, camp store has Ice Cream, lots of Trees for nice shady spots. Nice park for Bicycling.
Jun 13, 2021
We stayed here because we have family in the Ypsilanti area and wanted to visit places near Ann Arbor and Detroit. The camp sites were well shaded in most spots, it was clean and quiet. The location was great for the things we wanted to see. Close to I-94 and easy to get to all the places we wanted to visit. The staff was friendly and helpful. We'd definitely stay again.
Jun 13, 2021
Only one shower worked, water was shut off for an hour and a half. Pull thrus are not accommodative for large rigs.
Jun 13, 2021
Nice park with potential to be a great park. As noted by others, roads and sites need gravel and drainage improvement. Nice wooded section like camping in a forest. Easy access to interstate and groceries, yet quiet. Beautiful lake. We'll be forever grateful to the gentleman from the office who, with gentleness and compassion carried our beloved dog to our truck when she became ill and passed.
Jun 12, 2021
Was very good. Staff were excellent. There had been a miscommunication (my fault( about exactly what I wanted (pull through, full hookup, 50 amp) and i had failed to male myself clear, when we arrived, even though the store/chck-in was closed, staff went out of their way to remedy the situation and lotus settled into a suitable site
Jun 11, 2021
friendly staff, new and improved. Exciting to see the possibilities for even more fun changes.
Jun 09, 2021
Very pleasant staff. Helpful and courteous. Special Kudos to Bobbi!
Jun 09, 2021
Wonderful place to stay. Nice quiet campgrounds.
Jun 09, 2021
Needs updating needs more employees in the middle of the week
Jun 09, 2021
Had a great time liked all the updates.
Jun 08, 2021
Great site on the lake.
Jun 08, 2021
Very friendly staff. Needs some TLC and gravel. It's a little dusty but seems like a work in progress. Overall I would stay again.
Jun 08, 2021
Size of our site was very disappointingly small. All other sites in our row were double the size. There was no room to even have a campfire safely without burning down our neighbors camper. Quiet time was observed by all campers. Campground was staffed well and very clean.
Jun 08, 2021
Nice, family friendly! Great lake and trails.
Jun 08, 2021
Spot was so narrow we couldn't put our awning out. The store closed at 11 am on Sunday for "inventory ". There were many people wanting ice and ice cream etc. close it on a late afternoon during the week or something. We won't stay there again.
Jun 08, 2021
When we got there and got all set up on our site the electricity went out on us so they moved us to another site and the same thing happened. One of their staff (Sam) who was absolutly wonderful fixed our problem and it was smooth sailing the rest of the weekend. The only downfall I can give the campground is the smelly water. I didn't want to wash dishes in it let alone take a shower.
Jun 06, 2021
Our site had a storage trailer on it, so we were put on an overflow site that was not big enough for our trailer. There was not enough supplies for the children's activities. The only positive thing was that the staff was very friendly.
Jun 06, 2021
Wonderful staff, very welcoming and helpful. The grounds are beautiful, even without the lake! The trail around the lake was an added bonus and refreshed our travel-weary spirits. Highly recommend this KOA.
Jun 05, 2021
Everything was great, except I got a text message wood was one price, and when I went to purchase wood I was told. . .the price just changed, and now it's more, from $18 to $24. . .that was kinda weird��
Jun 05, 2021
great stay very happy with this campground
Jun 04, 2021
I liked how they have cleaned it up nice young couple. people cant stand them trying to make it nice. To many cry babies just remember Rome wasn't built in a day give them some time. Activities were good for kids loved the efforts of all.
Jun 04, 2021
I did not stay due to the muddy conditions. The electrical service had a special outlet that I did not have or have ever seen. You need to put gravel down and grade the site so water doesn't pond around the electrical box. I request my money back please.
Jun 14, 2021
Staff is very polite. Bathrooms very clean. Great camp site for all types of camping rather rv , tent or cabin! Very quiet and not far from the city but far enough! Im a regular! Lol thanks again !!
- LandLDistribution Duane Grigsby on Google
Jun 11, 2021
Great place For family an kids An great lil cabins to rent w beds an electric just enough 😜😜😜💯🎯❤️❤️
- Karen Durand on Google
Jun 06, 2021
Had a good stay
- Carl;Ray Edwards Jr. on Google