Detroit/Ann Arbor KOA Camp Recreation
Our campground has a wide variety of activities and events for campers of all ages. Our Greenfield Lake has many activities for the adventurous campers in your party. Swimming is allowed from the time you are able to brave the water. The Waterslide and Water Course are open from June until Labor Day. A Fun Pass gives you access to the Water Park, Waterslide and Jumping Pillow on Friday, Saturday and Sunday for $10 daily. Lifeguards are on duty in the Waterslide and Water Course areas so you can enjoy your time in the water. If you're under 42 inches tall, you can enjoy the Jumping Pillow and Miniature Golf for $6 a day. Have a fishing pole? Our KOA fish are just waiting for someone to catch them. No license is necessary, as we have a private 35-acre lake. We have paddle boats, row boats, kayaks, water boards and a canoe to paddle around the lake. Some activities require signing a waiver or adult supervision.
Swimming Beach
Swim in the beautiful lake in a sectioned-off area. The swim zone opens daily at 9 a.m. and closes at dusk. Wear floaties or life vests, if needed, while you cool off in the water. A lifeguard is not on duty at the swimming beach. 
Hay Rides
Experience a hay ride in the fall when you attend a Halloween-themed weekend at our campsite and travel through a mini-tour of campgrounds. Wear your costumes on the hay ride for added fun for everyone!
Lakeside Picnics
Our lakeside picnic tables provide a relaxing spot in nature where you can have a romantic couples picnic, lunch with friends or a family meal. Bring your tasty campfire food after cooking it or purchase snacks from the convenience store. You can also play card games at the picnic table or bring a book for some afternoon reading. 
Outdoor Games
Detroit / Ann Arbor KOA Holiday offers everything you need to play several popular outdoor games, including: 

Volleyball: Play a fun team-building game with friends or family at the sand volleyball court. 

Horseshoes: Ready for a game of horseshoes? We have the pits and shoes.

Ax throwing: Practice your accuracy and aim for the target with our campsite ax-throwing activity. 

Ninja warrior obstacles: See who's the best ninja warrior with this exciting obstacle course. Maneuver, dodge, jump and crawl with your super speedy ninja skills! 

Basketball: Do you like to play basketball? Bring your ball and have fun on our basketball court.

Golf: Play a fun game of mini golf at the Playground with family and friends. You can also challenge each other to a free nine-hole game of disc golf at the Waterworks Park. 

Kids Park
For the kids, we have a playground with swings, slides, a Jumping Pillow, miniature golf and gym activities for all ages. 
Nature Trail
Do you enjoy walks? Take a stroll around our lake and embrace the beauty of the outdoors. Relax in the shade and see if you can spot any squirrels, ducks or mallards. Catch a view of the water activities at the lake or take a walking break at the picnic tables. 
Skate Park
Head to the Ypsilanti Township CommUNITY Skatepark for 9,000 square feet of thrill. Skate on various sized rails, ledges, ramps and stairs. You're welcome to bring roller skates, skateboards and scooters. 
Shopping and Eating
Visit the convenience store and gift shop for souvenirs, groceries and essential campfire items like firewood, propane, sunscreen and bug spray. Cool off with Hershey's ice cream treat with 12 different flavors, and eat your delicious ice cream in a bowl, waffle cone or cake cone. One scoop costs $2, and three scoops cost $3. We also offer ready-made ice cream sandwiches and other treats in the camp s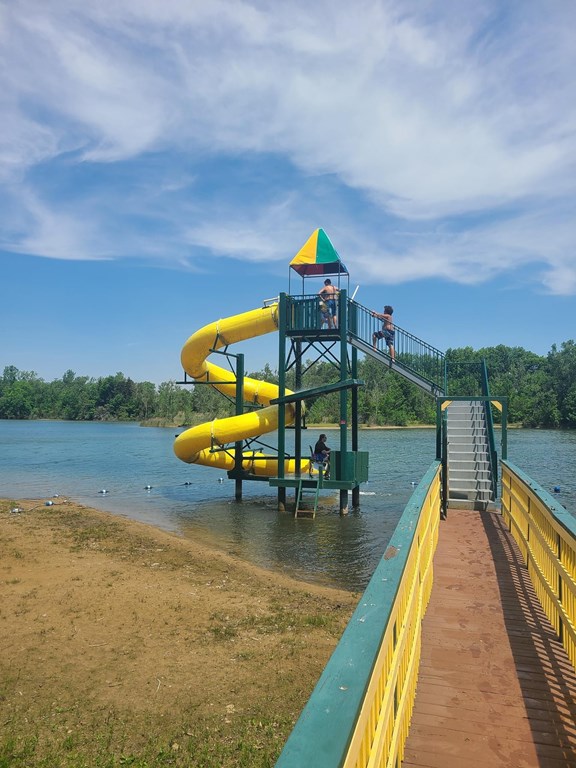 Waterslide
What's fast, hot, wet and 96' long? Our Waterslide! Take off on a fun ride that stops in our lake. The Slide is $5.00 for all-day riding as long as you are 42" tall.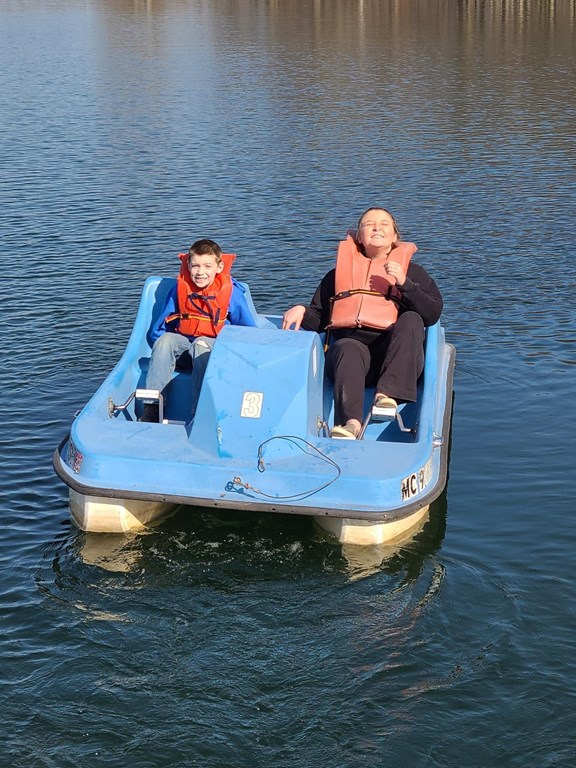 Boats
Survey the lake or fish from one of our wide selection of boats. Kayaks, paddle boards, paddle boats, canoes and row boats are available for your family's use, costing just $5.00 for a half-hour or $8.00 for an hour.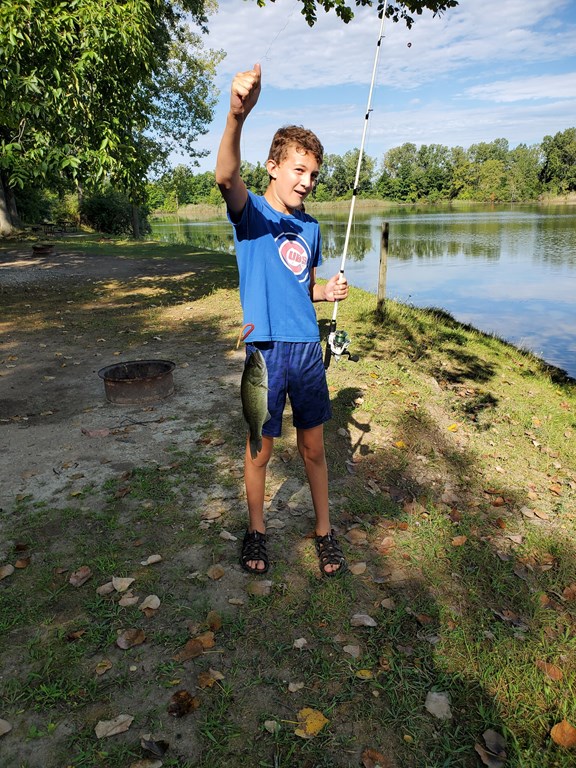 Fishing
Fishing is a fun activity for the whole family. Our lake has a variety of fish, from bass to sunfish to catfish. Because it is a private lake, a fishing license is not required. Our fishing is catch and release.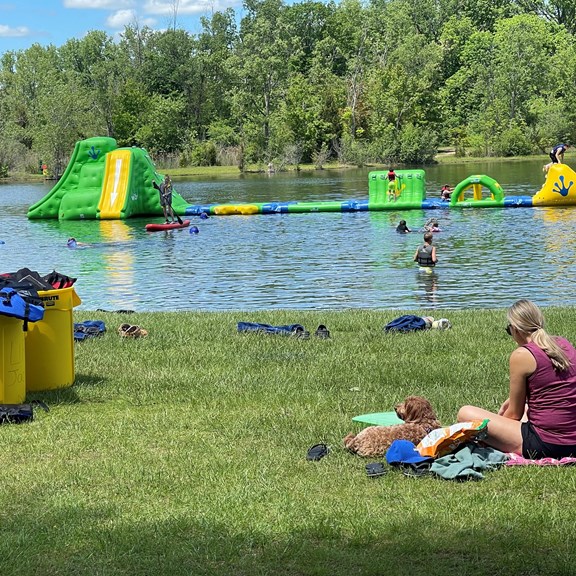 Water Course
Try your climbing, agility and splashing ability on our new Water Course! Swim out to our fun-in-the-sun Water Course using the provided life jackets and have some fun. While seeing it, you can climb to the top.
Test your agility as you move along from one end of the course to the other. And, of course, the most fun is sliding down the slides into the water.
The Water Course is available for those over 42" in height with the purchase of the Fun Pass.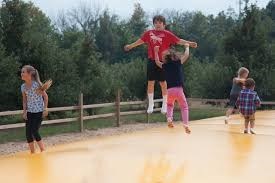 Jumping Pillow
Trampolines are a lot of fun, but Jumping Pillows are even more fun! Test your skill at jumping as high as you can on the Jumping Pillow made for kids of all ages and adults too!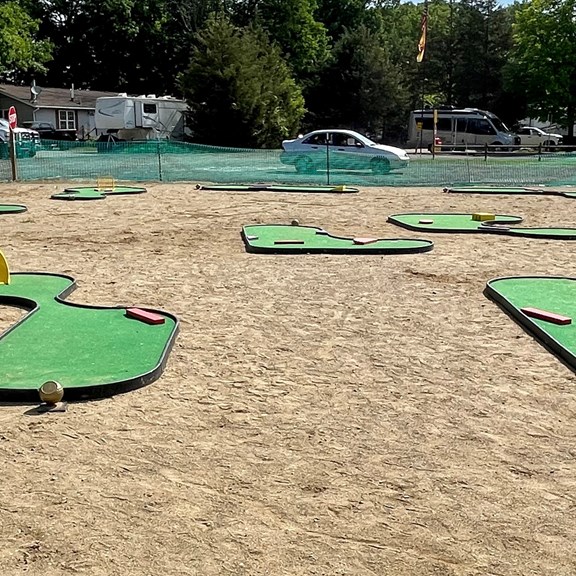 Miniature Golf
Come in front of the Camp Store and you will find our Miniature Golf Course. The 9-hole miniature golf course is free to everyone staying at the campground.
Local Area Recreation