Delaware Water Gap / Pocono Mountain KOA Recreation
We are so excited that you have chosen to stay at the Delaware Water Gap~Pocono Mountain KOA. With so much safe, family fun available on the campground parents and their children can have fun trying out our many activities while spending quality time together.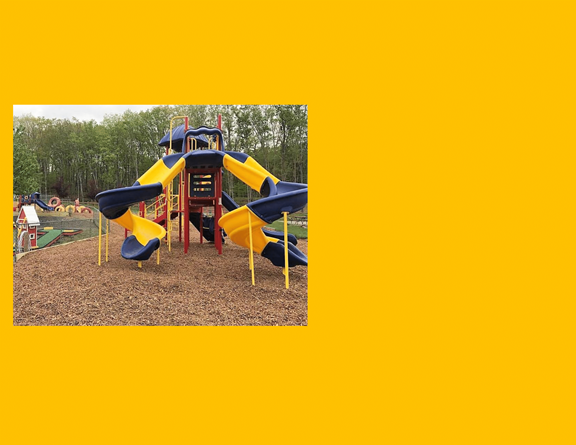 Playground
Check out our playground!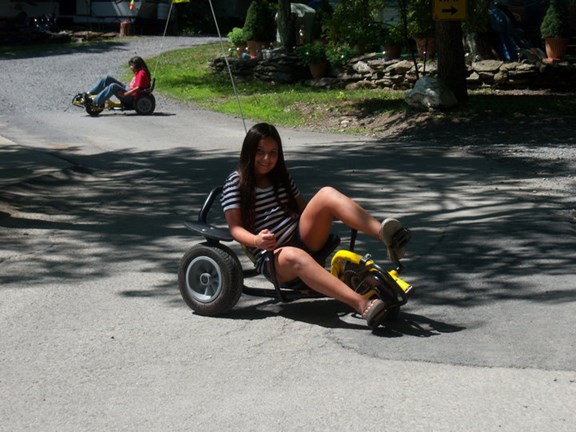 Banana Bike Rentals
"Check out those bikes, Dad!!!"
Next think you know Dad and son are each riding a banana bike and we can't tell who is having more fun.
Rented by the hour or half hour at our campground, you are sure to be the envy of the campground while you are riding the bike!! Bicycle Rentals
Bicycle rentals are available to our customers for use on the campground.
Every rental comes with a helmet.
We have bikes to fit every size camper.
Two wheel bikes are rented by the hour or by the day.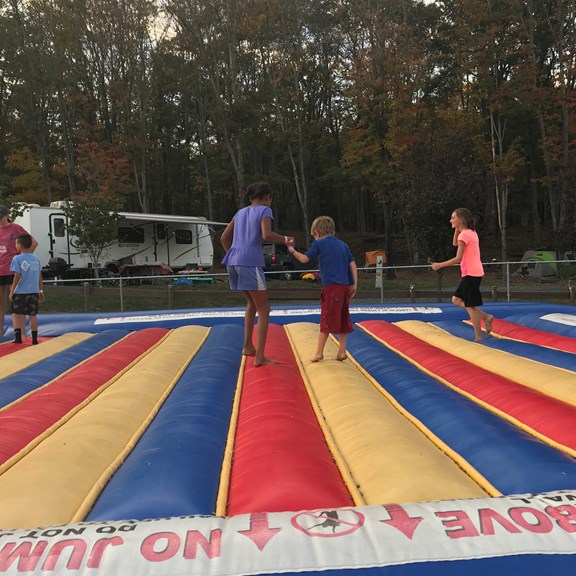 Bounce Pad
Jump one, jump all!
Chocolate Pudding Slip N Slide
Join us for dessert.
Not to eat it, but to slide in it, lay in, writhe in it, throw it!!
Kids and grown ups enjoy this activity but be warned a cold hose down follows it!!
Check out our Campground Events Calendar for when this great activity may be scheduled.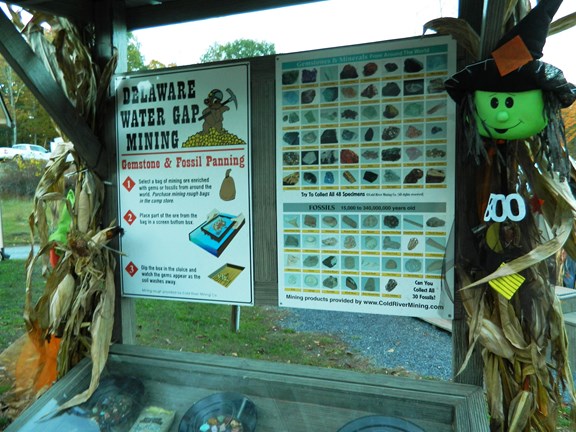 Delaware Water Gap Mining - Gemstone & Fossil Panning
At one time or another every kid in America will have a rock collection of some sort. Now Gem Mining can be a fun activity on your family vacation.A gem mining sluice is a trough where water circulates over and over again. The Panner purchases a bag of mining rough enriched with gems and fossils. They take their bag to the sluice and sift through it. The water washes the sand away and what is left is all the pretty gems and fossils that they get to keep. Each Panner also receives an identification brochure so they can take it home and identify their new gems.Children and adults LOVE this activity because it combines the adventure of not knowing what you will find, identifying what is found and then the best part of keeping everything they reveal. Every bag is different so it will be an activity they'll want to do again and again.
GAGA PIT
Ga-ga is a variant of dodgeball that is played with one ball. The game combines dodging, striking, running, and jumping, with the object of being the last person standing.
This fast paced game is a hit at summer camps and now it has come to the Delaware Water Gap~Pocono Mountain KOA for children and adults!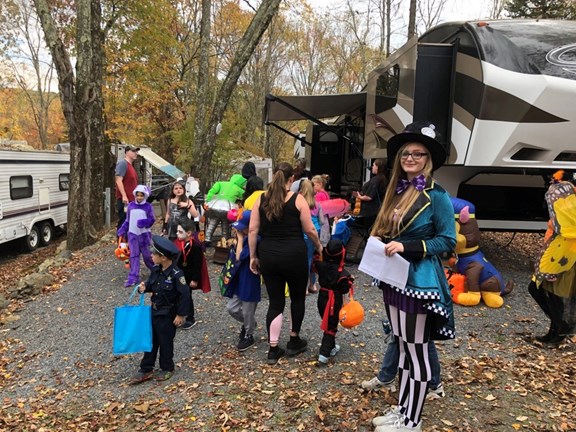 Halloween Weekends
Join us at the Delaware Water Gap~Pocono Mountain KOA on Saturdays in October (select weekends in October- please check our Events Calendar or call 570-223-8000 for exact dates) for a fun-filled haunted time.
"I was so scared in that trail I was afraid to go forward but even more afraid to go back!" - June P. Hoboken, NJ
"It was so much fun and I wasn't scared of anything." - Kyle P. (June's 12 year old son)
"All the campers gave out candy to the kids that were trick-or-treating, that was so nice." - Mary M. Islip, NY
"The hayride was fun and scary at the same time, but not too scary for the little kids." - Carlos Pottsville, PA
Our Campers take Halloween very seriously from decorating the haunted trail to trick-or-treating, fun is had by all!!
During your stay you will enjoy the Pocono Mountain's beautiful fall foliage at it's prime.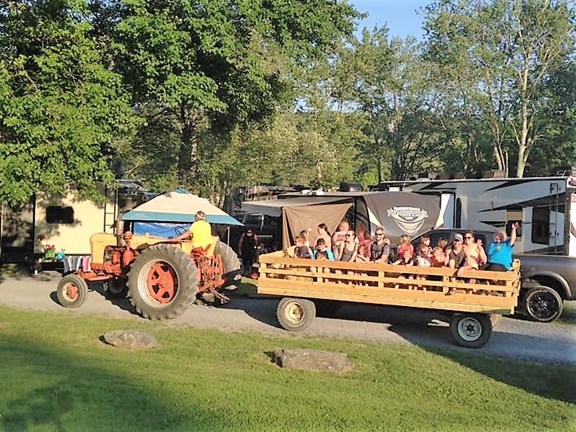 Hay Rides
Enjoy a fun yet scenic hayride through the campground on a Saturday afternoon.
Whether it be a sing-along, wet and wild, haunted or singing Christmas carols we always try to keep those on the hayride engaged with the campers on their sites.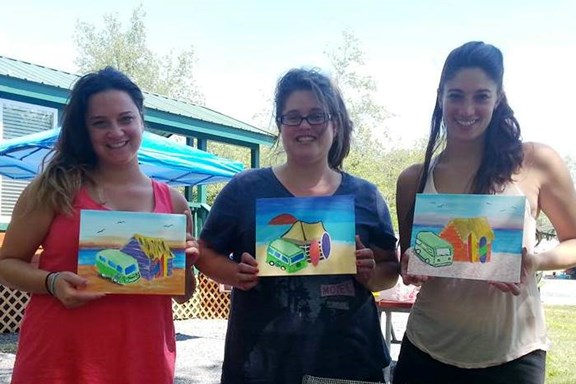 Learn to Paint with our Local Artist
When you camp you should be able to relax and be crafty.  Here is your chance!  You'll spend time creating a one-of-a-kind masterpiece guided by a local artist or craftsman. Each weekend is a new painting or craft!  We have the supplies; you bring your sense of humor and a few good friends and together we will have a wonderful time!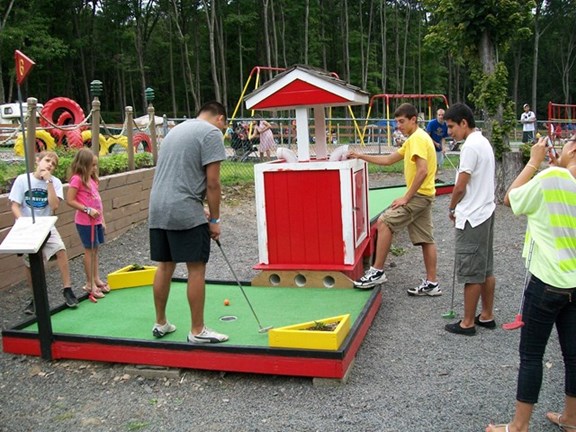 Mini Golf
Can you get a hole in one on our nine hole mini golf course?
Enjoy a friendly game of mini golf or a fierce competition with your kids in our brightly colored nine hole course.
A favorite past time of all campers...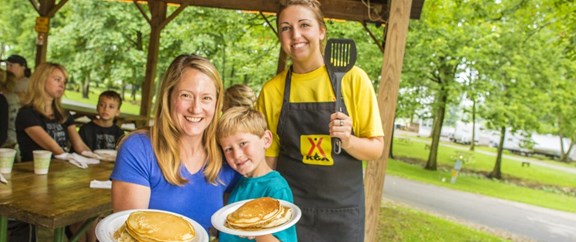 Pancake Breakfasts
Come on down to our Country Kitchen for our Pancake Breakfasts.
Served on Saturdays and Sundays during July and August.
Our chefs cook your pancakes, eggs, and side to order.
Juices, milk, coffee, and tea are all available.
Cereal, yogurt, muffins and bakery items sometimes available.
Fruit available with the season.
Sand Volleyball
Enjoy an afternoon with friends or make new friends playing volleyball on our sand volleyball court.
Need a volleyball? No worries, use one of ours.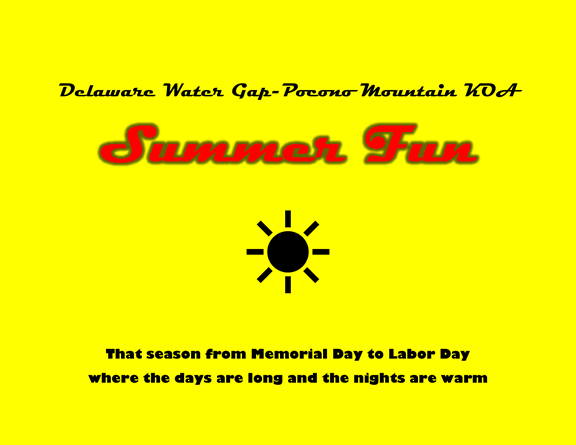 Summer Fun
Whether you're hanging out on our playground or playing sports, our Activities Director bring fun to your vacation. Seasonal activities & events are run on weekends from Memorial Day to Columbus Day.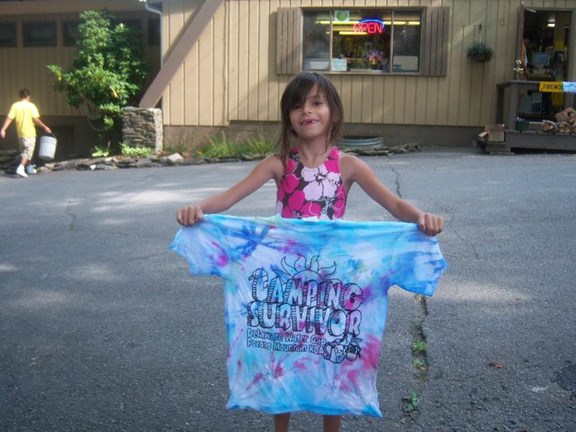 Tie Dye Fun For All
Tie dye is not only fun to wear it is fun to prepare.  Join us in making your very own "one of a kind" souvenir here at the KOA on select weekends.  We stock a wide variety of Delaware Water Gap~Pocono Mountain dyeable merchandise in our camp store.
Local Area Recreation