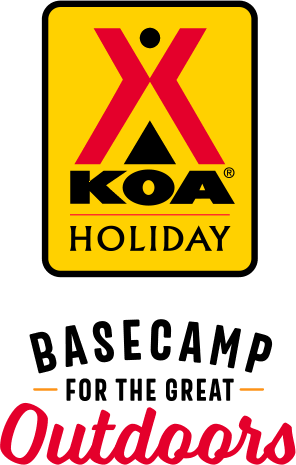 KOA Holiday Campgrounds
Whether you're exploring the local area or hanging out at the campground, KOA Holidays are an ideal place to relax and play. There's plenty to do, with amenities and services to make your stay memorable. Plus, you'll enjoy the outdoor experience with upgraded RV Sites with KOA Patio® and Deluxe Cabins with full baths for camping in comfort. Bring your family, bring your friends, or bring the whole group – there's plenty of ways to stay and explore.
KOA Holidays Feature:
RV Sites with a KOA Patio®
Deluxe Cabins with full baths
Premium Tent Sites
Group meeting facilities
Directions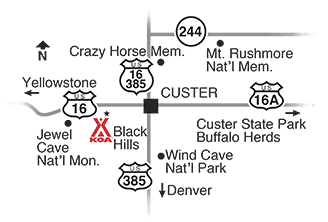 3 miles west of Custer on Hwy 16 on the way to Jewel Cave and Newcastle, WY.
GPS reliability is inconsistent across brands and types and some campers have been misdirected when entering only our address.
GPS Coordinates:
Latitude: N 43.74143
Longitude: W 103.65418
Call us when you get close and we'll bring you home!
Get Google Directions
Jul 19, 2021
I found this KOA very pleasant. Customer service was exceptional the cabins were very clean and it was peaceful. I have stayed at three different key always in the Black Hills and found this to be my favorite. Thank you so much for a wonderful experience.
Jul 19, 2021
We only live couple hours away and stay here each time we go to the area. It is always well maintained and fits our need.
Jul 19, 2021
The front desk ladies were absolutely wonderful and made us feel right at home during our stay! Beautiful location and a very pleasant stay! Will absolutely be back again.
Jul 19, 2021
Poor upkeep of grounds...loose rocks everywhere. Doesn't look like anyone rakes or keeps areas around rv spots clean. Noisy maintenance shop nearby. Generally looks rundown. Poor wifi lousy tv reception.
Jul 18, 2021
We absolutely loved the campground.. everybody was very friendly.. they kept it very clean. Also pet friendly. Love the camp K9 area for the pups.. also very close to all the sites we wanted to explore.. we would stay there again..
Jul 18, 2021
Very nice campground, close to everything. The bathrooms/showers we clean.
Jul 18, 2021
Very scenic campground in the Black Hills. The staff was very friendly and the campground was very tidy.
Jul 18, 2021
Friendly staff, patio site was perfect for us! We have a family member in a wheelchair and it was excellent for her to get around! Nice, quiet and clean!
Jul 18, 2021
Excellent campground
Jul 18, 2021
Great location, very clean camp. Was annoyed when the camper next to us pulled in at 12:30am and continued to make noise and shining lights in our windows till 2am.... I was setting up a tent for my supplies. Since it was not see through, I was told I can't since someone can sleep in it making it a two sleeping camp site. Once another (senior?) employee came around, he said no problem.
Jul 18, 2021
We have stayed here in the past and as usual everything was perfect! Our favorite KOA in the Black Hills.
Jul 17, 2021
We have stayed at many KOA. This one was subpar. The store had minimal things. We made a request to life and they wouldn't even though there were other cabins empty. It was not the KOA experience we were used to.
Jul 17, 2021
Nice place. Required us to move, however no one had moved into our previous spot?
Jul 16, 2021
Smooth check in with amazing staff, great cabin, quiet, restroom/showers were always clean, convenient to Custer and Custer State Park.
Jul 16, 2021
We enjoyed our stay at the Custer/Mt Rushmore KOA. The staff is friendly, accommodations are clean and the overall campground is well-maintained.
Jul 16, 2021
My stay was wonderful and the staff went out of their way to make sure I had everything I needed. All other guests also seemed happy! Very conveniently located. My only suggestion would be to stock some meds (allergy meds, tums, gasx, etc) in the store.
Jul 16, 2021
First time at a KOA and it was fantastic. Staff were super friendly and courteous. Cabin was clean and upkept. Pool was clean and warm and jump blob was a bonus for the kids. Definitely recommend the Custer/Rushmore/BlackHills KOA!
Jul 15, 2021
Very beautiful campground. We stayed in a deluxe cabin it was perfect. The location is great to all the attractions and downtown Custer. The people at the KOA were friendly and very helpful. We will definitely stay there again.
Jul 15, 2021
The staff were friendly and helpful. The bathrooms and showers were clean and neat. Thee sites are narrow and it felt like everyone was on top of each other. The campground is hilly and sites could be graded better.
Jul 14, 2021
Staff was very friendly! Wonderful camping in the woods! Campground location is good for visiting Crazy Horse, Mt Rushmore, Needles Hwy and areas of Black Hills around Custer.
Jul 14, 2021
Super friendly and helpful staff.
Jul 13, 2021
Friendly and helpful staff. Quiet for a good nights sleep.
Jul 13, 2021
Had a wonderful time. Wish we could have stayed longer.
Jul 13, 2021
The stay was great! Awesome folks to do business with in the store. They were always happy and welcoming. We had an awesome spot near the restrooms which was great for the kids but far enough away that we never felt bothered by traffic heading to and from the restrooms. The kiddos enjoyed the park, pool, and large jump pillow. We will definitely stay again.
Jul 12, 2021
The stay was excellent, very well kept campground. Bathrooms were spotless, hot water in the shower. It was great if you need ice, fire wood, or even more water, they would deliver it to your campsite so you didn't have to carry it back. Everyone was very polite and very helpful. Highly recommend staying at this KOA location
Jul 11, 2021
Loved everything about the park except the site we were on for 10 nights was to short.
Jul 11, 2021
We had a wonderful time at this KOA and plan to visit again. The host and hostess are very kind and accommodating. Great place to stay and play while visiting the Black Hills!!
Jul 11, 2021
This was our first time staying at a KOA. We have camped in the past at state campgrounds. This was an awesome place to stay, great location for making day trips to a variety of places throughout SODAK. Had excellent service and staff was always helpful and friendly.
Jul 10, 2021
Our site was very small - awning was nearly touching the slide of neighbor. Asked to be moved and they were snippy and declined, however we saw several larger empty sites for the 3 nights we stayed. Also, they did not promote the beautiful town of Custar at all. Custar had tons of 4th of July activities which we only happened upon. They should have been promoting these great events.
Jul 10, 2021
Si beautiful.! Clean and pleasant.
Jul 10, 2021
Friendly staff helpful in many ways enjoy our stay
Jul 09, 2021
Very pleasant! Only suggestion. Is to have grates in fire pits for cooking and allowing for extra space to park my car so it's not right next to fire pit or grill at cabin
Jul 09, 2021
Wonderful, friendly staff. Exceptionally clean showers and restrooms.
Jul 08, 2021
Staff was extremely helpful and courteous. The ladies at the desk always had a smile on their faces!!
Jul 08, 2021
Campgrounds are extremely close to Jewel, Wind Cave and Crazy Horse. Very clean and extremely friendly staff.
Jul 07, 2021
Great location, very peaceful. Close to everything you want to do, yet just a short trip to calm!
Jul 07, 2021
This is our home when in Custer. Owner, managers, and staff all friendly and helpful. Well maintained campground and facilities. Great location.
Jul 07, 2021
The staff was great. We enjoyed the 2 cabin room for our family of six.
Jul 06, 2021
Super friendly staff. Exceptionally clean and updated restrooms and showers. Really nice KOA!
Sep 28, 2021
Amazing experience here. When we arrived we realized our travel trailer tire was nearly flat and the folks working at the campground went way out of their way to help us block up our trailer extra while we waited for a tire change. They had all the amenities anyone would need, sites were large, campground was quiet, nice amount of tree coverage. Will definitely return!
- Jennifer Johnson-Blanchard on Google
Sep 25, 2021
Friendly staff,convenient location, peaceful. Stayed 12 nights .Would stay again.
- Philip Jens on Google
Sep 22, 2021
We were so lucky to have found this place. After seeing a ton of other campgrounds while we were here this is the place. You don't feel like your in a parking lot. This places gives you plenty of space and your surrounded by tall trees. The bathrooms and showers are very clean. Staff is also amazing.
- Lindsays A Happy Camper on Google