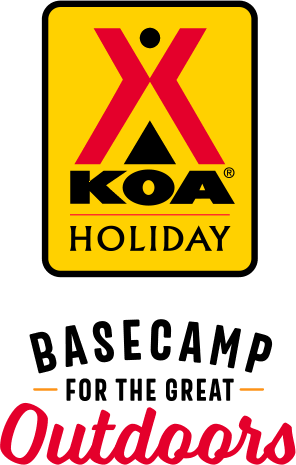 KOA Holiday Campgrounds
Whether you're exploring the local area or hanging out at the campground, KOA Holidays are an ideal place to relax and play. There's plenty to do, with amenities and services to make your stay memorable. Plus, you'll enjoy the outdoor experience with upgraded RV Sites with KOA Patio® and Deluxe Cabins with full baths for camping in comfort. Bring your family, bring your friends, or bring the whole group – there's plenty of ways to stay and explore.
KOA Holidays Feature:
RV Sites with a KOA Patio®
Deluxe Cabins with full baths
Premium Tent Sites
Group meeting facilities
Directions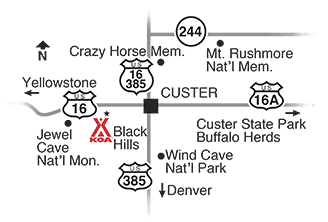 3 miles west of Custer on Hwy 16 on the way to Jewel Cave and Newcastle, WY.
GPS reliability is inconsistent across brands and types and some campers have been misdirected when entering only our address.
GPS Coordinates:
Latitude: N 43.74143
Longitude: W 103.65418
Call us when you get close and we'll bring you home!
Get Google Directions
Sep 18, 2021
It was a mostly a great stay. Unfortunately while staying here my enclosed trailer was hit and run while parked in the campground. I understand that the owners aren't and shouldn't be responsible for someone else's actions. When I reported it to the campground they pretty much blew me off. They could have at least asked if they could call law enforcement and said they would ask around the place.
Sep 18, 2021
Great clean campsite with so much to do in the surrounding area of South Dakota.
Sep 17, 2021
Nice place to stay but in my opinion, it's overpriced.
Sep 16, 2021
Cabin was clean. Heat did not work. Let management know. Maintenance came around and told us to let the customer led air blow out and heat would work, well it didn't. Also hot and cold shower fixture was installed backwards so the first morning everyone took a cold shower and maintenance let us know things were backwards.
Sep 13, 2021
We had a problem develop in our cabin during our stay. When we notified the Office, they immediately took measures to correct it going over and above. Great Customer Service! Thank you Staff!
Sep 11, 2021
The stay was fine. Bathrooms were clean. Cabin was clean (I thought) The pool was less exciting than I had thought from the pictures. We were disappointed that we were unable to get a refund for the firewood we purchased and never used during our stay but the thing that will keep us away from KOA in the future is that I got eaten alive by bed bugs. Bites all over my body from the trip.
Sep 09, 2021
We went with 3 families for a family/friend vacation and the kids loved the bounce pillow and pool. We all loved the cabins and hanging out by the fire pit. It was truly a great time. Cosmos, wine tasting and reptile gardens is all about a 1/2 hour away.
Sep 07, 2021
Lovely clean well shaded campsite. Very friendly staff with a great knowledge of the area. Restrooms always clean. Well maintained cabins. Will definitely stay here again next time we're back in the area. Thanks for a great vacation ��
Sep 06, 2021
It was very nice and clean. Only thing I would like is water for the cabins even if it's a shared water spicket.
Sep 05, 2021
Cabins were amazing! Worth the stay and the price, absolutely!
Sep 04, 2021
We stayed there with our 12 & 14 yr. old grandsons. They had a blast. I do wish the cabins had a few more electrical outlets .
Sep 04, 2021
Very nice cabin.
Sep 03, 2021
This is a great camp ground. It was very clean and enjoyable to stay at. I would stay there again.
Sep 01, 2021
Loved our cabin and the staff too. Very clean restrooms and showers.
Aug 31, 2021
Very nice and clean park. Front morning and night desk was very helpful and nice to talk to. The golf cart guys were great also.
Aug 30, 2021
Outstanding in every way ! Beautiful clean cabin. friendly staff. Couldn't have been any better.
Aug 30, 2021
Staff very friendly. I wish I would have gotten his name but the gentleman that delivered firewood was approached by several of my granddaughters that were starting a rock store and he took the time to look at all the rocks they collected, and talk to them. Bathrooms were clean and so were the cabins.
Aug 28, 2021
I was traveling alone, and I couldn't have asked for a better stay. My cabin was super close to the office, bathrooms, and showers. This location was very close to town, so if you needed anything, it was just minutes away. Well worth the money, and better priced than any of the hotels or motels in town. ���
Aug 27, 2021
Very clean, well maintained campground. Staff was friendly. Men and women's Bathrooms were clean. Very glad we chose this campground. We enjoyed our stay in camping cabin.
Aug 21, 2021
The people that work there were extremely friendly. The swimming pool and jump pillow were used by my grandson who enjoyed them both a lot.
Aug 21, 2021
Very friendly people in the office
Aug 17, 2021
Everything was fantastic on koa side. Its the guests dogs on the other hand was an issue for me. Very inconsiderate
Aug 14, 2021
Very friendly people.
Aug 10, 2021
Helpful and concerned staff. Quiet campground. Great place to visit the Black Hills. area.
Aug 10, 2021
We had a terrific stay! Very well laid out campground with all amenities. Clean and well cared for. The office staff were very pleasant and helpful. It will be our home away from home the next time we visit western South Dakota
Aug 09, 2021
Couldn't have been better. Convenient to everything and friendly people!
Aug 09, 2021
Wonderful people working, very clean and comfortable cabin. Met a ton of great folks during our stay! Highly recommended.
Aug 09, 2021
Our third stay here. Very relaxed and quiet camping even at the onset of Sturgis. Nice people. Hope to come back soon.
Aug 08, 2021
Our stay was wonderful. The staff were helpful and very friendly. Thank you for a great stay.
Aug 08, 2021
the customer service was great, really enjoyed our stay, bathrooms was spotless - so clean, was going to a hotel
Aug 07, 2021
Great family camping experiences at this KOA. Close enough to Custer and Mt Rushmore to explore these treasures but far enough to feel relaxed and unhurried.
Aug 07, 2021
Only wished we had a refrigerator… great location really enjoyed our visit
Sep 15, 2021
Wonderful staff, very friendly and welcoming. Clean campground and bathrooms. Showers get a little busy mid morning so it pays to be an early bird. Only night time noises were a bit of traffic from the road and the pack of night-owl coyotes down yonder. Will definitely go back. Had a great time.
- Mary Bongard on Google
Sep 11, 2021
This area of National Parks, state parks and scenic byways is a must see and experience for every American. I will love to return someday.
- Norma Haynes on Google
Sep 10, 2021
Very nice campground. Wish my site was more level.
- Tesh Watson on Google